Ashley Madison is one of the most popular online dating sites available on the market, and for good reason The platform caters to single, married, and attached individuals looking for a discreet relationship or affair. Launched in 2002, Ashley Madison has become a prominent brand in the dating world by helping users find a hookup, casual date, or long-term affair. 
Despite the moral complaints about Ashley Madison's business concept, the platform is undeniably popular. In fact, the affair dating site recently hit a new membership milestone of 80 million registered users. The Ashley Madison tagline, "Life is short. Have an affair," captures people's attention and has enticed millions to give it a try.
Ashley Madison is a premium dating site and app, which means it doesn't give away all the goods for free. This article will explore the costs and benefits of the Ashley Madison side to help single people determine whether it's worth the price tag – and the risk of discovery! 
It's Free to Create an Ashley Madison Account
Ashley Madison is a popular dating site designed to make the online dating experience fun, easy, and safe for married people who want new adventures outside their marriage. It only takes a few minutes to sign up with minimal personal information (age, nickname, email address, or phone number). 
A single person can boost their chance of finding a match by filling out their profile with personal information, including age, location, and the kind of relationship they're seeking (Something Short-Term, Something Long-term, Cyber Affair/Erotic Chat, Whatever Excites Me, Anything Goes, or Undecided). This will let people know what to expect.
Ashley Madison is an extramarital dating site with over 80 million profiles in its private database, and it is full of temptation. The site and app offer a judgment-free zone where married people can consider their options and chat with singles who are willing to get together on the down-low.
A uniquely open-minded dating network
Privacy-conscious features
Over 1.4 million matches per month
You can fill out as much or as little as you want on your Ashley Madison profile, but our dating experts recommend completing all the sections as that tends to make a good first impression.
Ashley Madison's interface is user-friendly, and you don't need to be tech-savvy to navigate it. Women get a free pass to all features in Ashley Madison, while men need to buy credits to start new conversations. This credit system gives male users the freedom to choose the features that matter to them instead of paying a blanket monthly fee. 
Male Users Can Upgrade by Using the Credit System
Male users are the primary source of revenue for Ashley Madison. Much like in the traditional dating world, men cover the costs while female users enjoy free perks. Ashley Madison uses a credit system rather than a monthly subscription to make the dating experience more affordable for single guys. Basically, the more credits a user has, the more features they can access on the Ashley Madison platform.
This credit system helps to deter fake profiles and scammers, as it makes it expensive for them to operate. Unfortunately, It doesn't eliminate scammers entirely. If you run into a fake account or get harassed by other members, Ashley Madison will issue a refund.
Now, let's discuss how much money men need to spend on Ashley Madison to get things going. Ashley Madison credits come in packages:
$250 for 1,000 credits.
$150 for 500 credits.
$49 for 100 credits.
From the price structure, buying more credits at once is more cost-effective. If you're a man who plans to use Ashley Madison often, it makes sense to buy a large number of credits at once.
After you get your credits, you can access all of Ashley Madison's premium features for the best experience on your naughty adventures. Credit allows you to use the following features:
Priority Man: Use this feature to highlight your profile among the top three search results on Ashley Madison. This increases your chances of getting clicked on by 10 times, which might lead to a new adventure.
Priority Mail: This feature will place your message at the top of another Ashley Madison member's inbox, increasing the chances of it getting read.
Virtual Gifts: You can send virtual gifts, like roses, and purchase certain virtual gifts to members who catch your attention.
Traveling Man or Woman: Use this feature to find potential matches when you're out of town. This lets you plan in advance to skip the chit-chat and jump into the fun stuff once you arrive at your destination.
A male user on Ashley Madison needs to make an investment if they want a shot at online dating success. Without investing in credits, landing a date will be very difficult because men can't initiate a conversation without spending credits. Essentially, the more you want to engage in the Ashley Madison dating pool, the more you need to pay.
You can start buying the smallest amount of credit to limit the risk and learn about how Ashley Madison works. If you feel it's worth your time and money, you can purchase more credits for more wiggle room to explore and continue the fun. 
How much Ashley Madison costs really depends on you and your dating activity on the platform. The more adventurous you are, the more you might end up spending with Ashley Madison.
Female Ashley Madison Users Don't Need to Buy Credits
Regardless of the popularity of Ashley Madison, this dating platform has one flaw: an unbalanced gender ratio leaning toward men. This is a common problem among dating sites across the board. Unfortunately for Ashley Madison, the gap is vast, with 71% male and 29% female users. 
Ashley Madison aims to offset this imbalance by granting all women free access to profiles and communication tools. This gives some assurance to male users that their female matches will always be able to respond to incoming messages and likes.

Ashley Madison empowers female users to find, contact, and make a spark with another person free of charge. When women join Ashley Madison, they can send and receive unlimited messages, indirect access to things like virtual gifts, and enhanced privacy features, including private photo albums. 
But some bonus features are pay-to-play, such as boosting visibility on search results or your messages appearing at the top of someone's inbox. But even without paying for these features, the fact that Ashley Madison desperately needs ladies to sign up to keep the ball rolling already gives women a huge advantage.
For female members, joining Ashley Madison is like a free entry into a club. If you like the vibe, jump in to have some fun. But remember that every man on Ashley Madison is looking for fun, so don't expect too much when you engage with them. Just like when you're in the club, a man might come right at you and buy you a drink, but it doesn't mean he's your prince charming.
FAQs: Is Ashley Madison Worth the Cost?
Our dating experts get this question a lot, and the answer depends on the individual. For female users of Ashley Madison, it is absolutely worth it. Women have an edge when using this platform because they can chat for free. Women don't need to spend a penny to send messages, send virtual gifts, and attract potential dates. All you need to do is sign up and put in an effort to get what you want.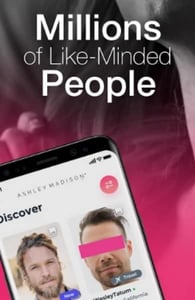 For male users, Ashley Madison requires payment to make any real progress. The Ashley Madison credit system is flexible, so there's no saying how much you will spend on the app. It could be worth it if you're serious about meeting a romantic partner in person.
If you're new to the game, you can start with the basic credit package of $49 for 100 credits. Hang out on the app to see if you like the vibe and use credits to messsage someone special online. Ashley Madison has an affair guarantee policy that promises you a refund if you don't find a match in three months. This policy shows how confident Ashley Madison is that most of the paid users will be satisfied with its dating service.
Once you dip your toe into the Ashley Madison world, you can decide whether it's worth the expense. Personal experience is the ultimate test. If the free membership doesn't match your expectations, you can always delete your account and move on with your life.
What Are Some Free Alternatives to Ashley Madison?
Ashley Madison is not the only dating site catering to married people. If you're looking for love or just want to keep your dating life discreet, these four platforms below offer the same features and benefits as Ashley Madison with a slightly different twist. Let's explore each platform and its features before you decide to choose Ashley Madison.
Match.com has come a long way since it launched in April 1995. This well-reputed dating site has honed its match algorithm to identify long-term compatibility and facilitate countless first dates, serious relationships, and successful marriages. Match's esteemed dating experts go to great lengths to guide singles to a seriously good match.
Match is the world's longest running dating site
The Discover section has search filters by interests, looks, lifestyle, and more
Match is available in 50 countries and 15 languages
Since launching in 1995, Match has become known as the most successful dating site on the market. Its membership base tallies over 42 million members and counting. This large pool of users makes it easier to find any type of relationship you want, including casual dating and hookups. It all depends on how you approach your potential match.
You can start your journey with Match by creating a free dating profile that never expires. Once your profile is set up, the Match algorithm will curate personalized matches compiled in your Top Picks. You can also use Match's filter to sort your match based on age, gender, location, sexual orientation, religion, appearance, and personal interests.
When someone in your Top Picks catches your attention, you can start connecting with them without paying a cent. The catch is you have no control over who gets into your Top Picks. If you want total freedom to choose your match and start a conversation, you need to upgrade to a premium membership.
Here's the price of Match's premium membership:
$20.99/mo for 12 months.
$23.99/mo for 6 months.
$27.99/mo for 3 months.
The 12-month subscription offers the best value, especially for serious daters. To help you decide, Match even allows you to try all its premium features for free in an all-inclusive 3-day trial. With over 30 years of experience, Match is confident enough to guarantee that if a paid member doesn't find a serious relationship within six months, they will receive an additional six months of membership for free.
In 2004, OkCupid's founders decided to create a fool-proof formula for love, and they launched a free dating site to delve into what personal attributes made relationships work. OkCupid members can send unlimited messages for free. It's easy to discover mutual interests and compatibility on the platform's information-rich dating profiles.
Free, unlimited communication for everyone
Singles can swipe or search for a compatible date
Over 91 million connections every year
OkCupid was launched in 2004 by four Harvard students named Chris Coyne, Christian Rudder, Sam Yagan, and Max Krohn. They wanted to quantify human relationships by asking a range of personal, funny, and unusual questions such as, Would you ever eat something out of the trash? and Underarms can be a hairy subject. How do you maintain your pits? Two of the most answered questions are: 1) Are you vegetarian or vegan? 2) Are you looking for a partner to have children with?
Today, OkCupid has a list of 4,000 questions for its users, but don't worry, you don't have to answer them all. You can start answering 30 questions to start a profile and connect with new people. Over the years, OkCupid has gathered people's answers to the questions and packed them into the science of online romance, right down to the best words to use in a first message. These can be used on any platform and undeniably help a lot of people to get dates.
OkCupid claims to be responsible for 50,000 dates per week and makes 91 million connections every year. To find your match, the OkCupid algorithm considers the basic criteria you're looking for, any dealbreakers you set, and how important each question is to you on the questionnaire. Then, it creates a match percent score and connects you with users who have similar priorities, interests, and preferences.
The best thing about OkCupid is that it offers a forever-free dating service that allows you to create a profile, send messages, and arrange dates. Despite being able to message anyone, the recipient will only see your message if they also swipe right on your OkCupid profile. You can use OkCupid to find any type of relationship you want, from casual hookups to serious relationships. 
You can always upgrade to the A-list subscription to enjoy OkCupid with no ads, change your username once a month, see who has liked your profile, and receive more filters and search options in the match search. However, Many OkCupid users say the free membership works just as well though if you're just looking for casual conversation with potential dates.
Facebook launched a dating service, cleverly dubbed Facebook Dating, on a mission to expand its ability to connect people in meaningful relationships. The dating app is completely free to use and provides unique matchmaking features, including the Secret Crush option that taps into your Friends list to find mutual matches. Facebook Dating is only accessible through the Facebook app, and it has yet to gain as much traction as the more established names in the industry.
Totally free communication for all users
Dating activity is separate from the mainstream FB newsfeed
Detailed profile information includes Facebook events and interest groups
During a conference in 2018, Facebook CEO Mark Zuckerberg announced his intentions to disrupt the online dating industry with Facebook Dating. This social dating platform has created over 1.5 billion matches and is available in 20 countries, including the U.S., Mexico, Canada, and Brazil.
For the time being, Facebook Dating offers a totally free dating service. The social media platform will likely offer a premium membership once it has built a large enough following and proven to be effective. But for now the free features include unlimited messaging, swiping, and the ability to identify crushes in your Facebook friends list.
The Facebook Dating algorithm learns to adjust to individual date preferences. The more you swipe, the more the Facebook Dating algorithm understands your romantic type and adjusts your match suggestions accordingly. You can also set requirements in terms of distance, gender identity, age range, height range, language spoken, education, religion, and other lifestyle traits.
Despite the Facebook Dating hype, it has yet to make a groundbreaking impact in the dating scene. Our dating experts only give Facebook Dating an overall rating of 3.8 stars because of its lack of online activity and popularity. But it is free, so that alone may be worth giving it a go.
4. Victoria Milan
Victoria Milan is a dating platform where married people can embrace their secret fantasies. The platform encourages users to step out of their comfort zones in a safe, anonymous setting. It's been dubbed the fastest-growing platform for married people or partnered users seeking affairs in Europe, and has over 6.5 million members around the world.
With "Relive the Passion — Find Your Affair" as its motto, some people view Victoria Milan negatively. But, astonishingly, many Victoria Milan users say having an affair makes them happier in their long-term partnerships and helps them stay married.
"We believe that an online dating platform like Victoria Milan provides a service that many need. It helps a great deal of people to keep their marriages alive," said Sigurd Vedal, CEO of Victoria Milan.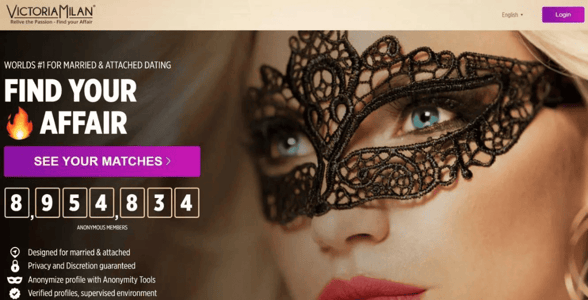 Victoria Milan monitors screen names to ensure they don't give away identifying information. Users can disclose what type of relationship they're looking for, whether a casual fling or a long-term affair. The dating profile also asks personal questions about their best features and their sex drive.
One of the key components of Victoria Milan is security. The team ensures the extramarital affairs on its site remain private. Victoria Milan has developed the AnonymousBlur™ tool to keep a member's face blurred and unrecognizable in photos appearing on the site. It also provides the Public/Private toggle feature, which lets users hide their pictures until they trust other users enough to share the images.
Victoria Milan allows you to view other users' profiles without swiping and also sends notifications about new profile views. To show interest, you can send a wink, a like, or a direct message. If you want to stay anonymous, you can chat with potential matches through anonymous texting. And just in case your spouse comes to snoop, the panic button offers an easy out by quickly navigating away from Victoria Milan to an innocent website.
What Happened During the Ashley Madison Hack?
In July 2015, hackers called "The Impact Team" announced they had stolen the personal data of 32 million Ashley Madison users. The hackers copied personal information such as users' real names, email addresses, usernames, passwords, home addresses, search history and credit card transaction records, and other personally identifying information. They threatened to release that information unless Ashley Madison was immediately shut down. Ashley Madison initially denied its records had been compromised and continued to operate.
But five years later, the Ashley Madison breach returned to haunt its victims. The hackers sent highly personal and embarrassing emails to some victims. The victims are given a limited amount of time to pay a Bitcoin ransom worth around $1,000. The hackers primarily targeted users in the United States, Australia, and India, resulting in an estimated $1.5 million in payments to Bitcoin wallets.
Years later, the Ashley Madison hack remains an unsolved internet mystery. Given the nature of the site, Ashley Madison has always been a prey for hackers. Ashley Madison has since beefed up its security system, and the fact that the business has been running for decades shows that the risk is minimal. 
Is Ashley Madison Safe to Use for Hookups & Affairs?
The folks at Ashley Madison definitely want to have fun, but more importantly, safety always comes first. When you sign up, Ashley Madison will ask for your valid email address and ZIP code, and moderators review every photo and public text exchange. This is a precaution to avoid fake accounts and scammers. If you encounter any problems, you can contact customer support via phone and mail, as well as 24/7 email support.
Considering the nature of the married dating site, discreet and anonymous are major themes for Ashley Madison. First and foremost, you don't want your online dating profile to be easily recognized by someone in real life. So you can opt for anonymous profiles with blurred or masked photos. 
When you access Ashley Madison, you can use the Panic Button to redirect your browsers to a generic website to preserve your privacy. This feature will hide your activity from those around you, especially your nosy spouse.
Ashley Madison is a breath of fresh air for single or attached folks experiencing a sex slump. This exciting dating site and app offer tons of opportunities to mingle, match, flirt, and hook up discreetly. Over 80 million profiles await you on Ashley Madison, and it's free to create an anonymous account.
Discreetly arranges one-night stands and extramarital affairs
More than 80 million profiles worldwide
Travel-friendly features for seeking matches in other cities
If you feel uncomfortable when engaging with anyone on Ashley Madison, you can use the Block or Report feature to end the connection. When you block someone, they won't be able to view your profile. If you report a profile, the moderators will check whether the account is complying with Ashley Madison's terms and conditions. If it isn't, it will be removed.
Now, let's talk about your safety from a financial perspective. If you are a user of Ashley Madison, the last thing you need is Ashley Madison written on your credit card or bank statement. But don't worry, the charge will appear on your bill as an 'online service,' guaranteeing your peace of mind. For added privacy, Ashley Madison allows you to pay for your purchase with PayPal, iTunes, or Google Pay, and other retailer gift cards, including a Starbucks gift card.
Ashley Madison Review: The Membership Has Many Benefits
Ashley Madison is no stranger to scandal, but the dating platform has managed to stay successful as a business concept. The affair site facilitates discreet dating for married people as well as other types of daters. 
Ashley Madison continues to be the go-to app for sexual secrets and extramarital connections. This dating platform not only encourages affairs, but it empowers sexually active adults to explore relationships outside the bounds of monogamy. Singles and poly couples can benefit from this playful and nonjudgmental atmosphere.
The massive popularity of this naughty niche has inspired countless conversations and new connections over the years. Ashley Madison is the best dating site when it comes to discreet courtship and affairs, and it could be well worth the price if that's what you desire. Ashley Madison may stir up controversy on occasion, but the married dating site isn't going to shy away from its mission to connect casual daters in secret. If that sounds like what you need, sign up for free and have fun exploring!
Advertiser Disclosure
DatingNews.com is a free online resource that offers valuable content and comparison services to users. To keep this resource 100% free, we receive compensation from many of the offers listed on the site. Along with key review factors, this compensation may impact how and where products appear on the page (including, for example, the order in which they appear). DatingNews.com does not include the entire universe of available offers. Editorial opinions expressed on the site are strictly our own and are not provided, endorsed, or approved by advertisers.
Our Editorial Review Policy
Our site is committed to publishing independent, accurate content guided by strict editorial guidelines. Before articles and reviews are published on our site, they undergo a thorough review process performed by a team of independent editors and subject-matter experts to ensure the content's accuracy, timeliness, and impartiality. Our editorial team is separate and independent of our site's advertisers, and the opinions they express on our site are their own. To read more about our team members and their editorial backgrounds, please visit our site's About page.