Singles have a lot to contend with in the modern dating scene. Getting ghosted or stood up is a horrible feeling, and awkward first dates don't feel much better. One thing singles shouldn't have to worry about – but unfortunately must – is dating safety.
Personal safety apps have become increasingly popular as more of our social lives occur on the internet. Online dating, rideshare services, and social networking have allowed connections between people who never would have met were it not for these services. While this aspect of an increasingly virtual world is often beneficial, it has its drawbacks too. Unfortunately, even someone who comes across as the kindest person online can have nefarious motives in person, possibly putting potential romantic partners at risk.
Using personal safety apps is a simple and easy way for singles to protect themselves while dating. Regardless of how much situational awareness or well-toned intuition a dater may have, it's never a bad idea to add one more layer of protection.
SafeDate
SafeDate wants to keep dating fun by giving singles peace of mind. Co-created by Emma Sayle, one of the U.K.'s most influential female entrepreneurs, the app is free to download and easy to use. SafeDate users select emergency contacts and input date information before going out, so they have a network of people who know their date information.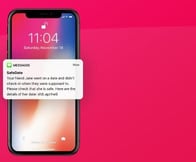 App users allow SafeDate access to their phone contacts, and from there can add contacts to their list of Safe Mates. Safe Mates are Safe Date's emergency contacts. Then, users input date information, including time, location, the name of the person they're going on the date with, and any notes. The last step is selecting a Safe Time for check in.
Safe Time is the predetermined time when the user should be able to check in for during or after the date. If users fail to check in, an alert will be sent to their Safe Mates. This alert includes all the date information and a request to check in with the user.
More About SafeDate
Free to download, free to use
Created in 2020
Compatible for use with all dating apps
SafeMeet Alert
SafeMeet Alert was designed for all kinds of people who use the internet to schedule in-person meetings. From real estate agents to online daters, every one connecting with people they only know virtually must take steps to protect themselves. SafeMeet Alert, which launched in 2023 and is still in Beta testing, offers a simple interface for these kinds of users.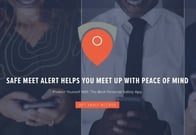 Users download the app and create a profile. After that, they can add trusted family and friends as their emergency contacts. Whether they're parents, close friends, coworkers, or roommates, these emergency contacts should be trusted people who can help the user in case of an emergency. Users can then enter the details of their date, including time, location, and the name of the person they're meeting.
A push notification will be sent to the user at a preselected time. This notification will prompt the user to enter their security pin and mark themselves as safe. If not entered, SafeMeet Alert will send a notification to the user's emergency contacts. 
More About SafeMeet Alert
Interested users can join SafeMeet Alert's beta testing group
Created in 2023
Flexible and personalized subscription plans
Noonlight
Protecting over 3 million users, Noonlight is America's number one safety app. Noonlight allows users to create a profile with their own personal information and create a safety network. This safety network should be made up of folks the user trusts and who can help in case of an emergency.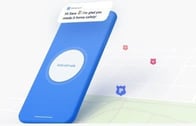 During a date, users can update their timeline with information about who they're meeting and how things are going, just in case something goes wrong. Noonlight's main feature is the safety button, which displays once the app is opened. Users who feel unsafe while on a date can hold the button down, which silently summons help to their location. Once they're safe, they release the button and enter a safety code. Noonlight also tracks location and battery percentage.
If the code is not entered, Noonlight will notify the police with the user's exact location and emergency. Noonlight uses 24/7 help centers that screen calls and better connect users with the kind of help they need. Noonlight's sleek and simple interface and high compatibility with other phone features makes it one of the most popular personal safety apps.
More About Noonlight
Advanced location and tracking abilities
America's No. 1 Safety App
Integrated compatibility with Tinder and Apple Health
Arlo Safe
Arlo Safe reinforces the features of standard personal safety apps with a team of live, medically trained security experts at their call center. Arlo Safe is designed to connect users who may have limited phone access to emergency services when they need them.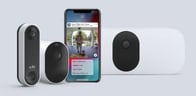 App users can enroll in one of Arlo Safe's many subscription plans depending on the features they require. The individual plan, most commonly used by daters, includes Guardian Mode and alerts to emergency contacts, among other features. Guardian Mode allows users to press down a button if they are in a dangerous situation. If the user needs emergency services, they can tap the button to call for them.
Arlo Safe uses location and tracking information to connect users with emergency services. The app will also send information to predetermined emergency contacts. The Arlo Safe Button Accessory, which is discreet and perfectly keychain-sized, allows users to alert the Arlo Safe call center team without ever opening their phone.
More About Arlo Safe
Free to download, individual plans are only $5.00 a month
24/7 Access to Personal Safety Experts
Location tracking and direct connect to emergency services
WalkSafe+
WalkSafe+ was founded in 2020 to protect users by giving them up-to-date information about their surroundings. The app combines police crime data, community reported data, and soon CCTV data and plots these pieces of information on an app. WalkSafe+ users can open the app and see what is happening along their route, and plan accordingly.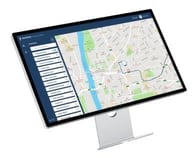 Emma Kay, creator and Chief Marketing Officer for WalkSafe, created the app to help make neighborhoods safer. WalkSafe+ users can check their neighborhood before going out and report activity themselves. The app relies on verified and accurate community and police input, framing personal safety as a community-wide effort.
Daters who choose to get to their date on foot can plan their walk to and from the date location using WalkSafe+. Users can add a network of friends who can be updated throughout their journey, including alerts when they arrive at their location or home safely.
More About WalkSafe+
U.K.'s leading walking safety app
Woman founded and owned
Encourages communities to watch out for one another
UrSafe
UrSafe is a leading personal safety app and the first hands-free 911 integrated app. The app features an extensive list of services, all of which work together to increase personal safety and give users options in case of an emergency. Features include safety checks, emergency contact information, and the fake calf feature.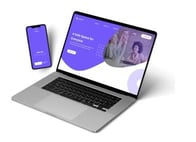 Users can enter their 'squad' information into the app. A user's squad is their group of trusted friends and family who are their emergency contacts. The user and their squad have access to location information, and if date information is entered into the app, the squad also has access to that. UrSafe's leading feature is the Safeword Trigger, which allows users to send an alert to their squad by using their voice and never having to open their phone.
UrSafe combines the best of location tracking, connection to emergency services, and audio and video live streaming to help keep its users safe. In case of an emergency, app users would have a variety of resources at their fingertips, all within the same app.
More About UrSafe
Offers several subscription plans to fit user needs
Voice-activated help button
Fake Phone Call feature to help in awkward situations
Hollie Guard
Hollie Guard is the U.K.'s largest safety app with over 500,000 users. The app is touted as the best value safety app in the world, with comprehensive subscriptions that connect users to emergency services, friends, and their own professional response team. Hollie Guard's features include an alert button, audio and video recording, and journey mapping.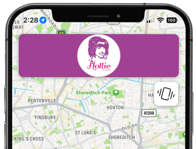 Users can set a start and end point for their journeys. The app will monitor them and send alerts to designated emergency contacts if something goes awry. The leading feature of Hollie Guard is the combination of the alert button and evidence gathering technology. If a user presses the alert button, the app will automatically initiate the camera and microphone to capture the user's surroundings. This information is stored and can be sent to emergency contacts or Hollie Guard's 24/7 call center.
Hollie Guard offers enhanced levels of protection using a simple interface. Advanced location tracking and audio and video recording services allow users a comprehensive layer of security, all in one place. Hollie Guard is free to download and use, and premium subscriptions are less than $10.00 a month.
More About Hollie Guard
U.K.'s largest personal safety app
Audio and video recording features
Free to download, premium membership is reasonably priced
bSafe
bSafe was created so its users would never have to walk alone. Consistently ranked as one of the top security solutions available on mobile devices, bSafe has a comprehensive list of features that allow users to connect with emergency contacts and first responders in case of an emergency.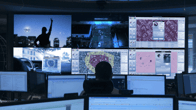 The app offers an SOS Alarm, which when activated begins audio and video recording. This alarm can be activated on the phone or just by voice. Users can livestream to emergency contacts using bSafe, so friends and family can see everything happening in real time. Location services built into the app allow trusted contacts to track the user, as well as send safety notifications.
Seen on NBC, CNN, and ABC, bSafe uses an advanced emergency management system. This system allows quick and accurate communication with emergency services by directing the location, audio, and video information seamlessly to them. bSafe is not only making communities safer, but also making emergency responder's jobs easier.
More About bSafe
Voice or button-activated SOS Alarm
Audio and Video livestreaming
Uses advanced safety technology
Silent Beacon
Silent Beacon is a personal safety system that combines a mobile app and a wearable device for advanced protection. The system was designed to serve anyone who needs an extra level of security, including seniors, people who work alone, and daters. Silent Beacon's wearable safety device is the only device on the market that allows users to choose which phone number to call during an emergency.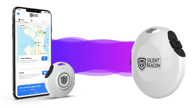 The device's buttons can be programmed to call an emergency contact or notify emergency services of an emergency. The device is designed to be used in conjunction with the app, which stores location information that can be shared with authorities or emergency contacts in case of an emergency. The app also allows users to monitor the battery level of their device.
The Silent Beacon app allows users to build a network of friends and family who also use Silent Beacon. With this feature, users can see the locations of the important people in their life, offering an additional level of safety. Silent Beacon wants to build safer communities by encouraging users to take responsibility for their personal safety.
More About Silent Beacon
Wearable, Bluetooth-enabled device
Location tracking for friends and family
Tiered subscriptions allow users to select the features they need
Circle Alert
Circle Alert takes a non-intrusive and simple approach to personal safety. The app was created to give people who live alone, specifically seniors, and their friends and family an easy way to check up on each other. Circle Alert allows users to set times for regular check-ins. If the user does not check in, an alert will be sent to their predetermined emergency contacts.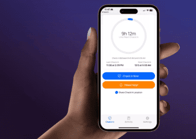 Some people may feel that other personal safety apps are too intense. Location tracking, sending updates, and live video recording can feel too burdensome for people who want to maintain independence while ensuring their safety. Users have to do very little to use Circle Alert. They simply input the contacts they would like notified when they check in and then set intervals for check-in time. When it's time for a check-in, all they have to do is press a button to notify contacts.
Daters can use Circle Alert to let friends and family know they're safe without having to take any extraneous steps. It's a simple solution that has been featured on USA Today and Fox, among other media outlets. Circle Alert has users all over the world and over 50,000 safety check-ins have been completed through the app.
More About Circle Alert
Simple and nonintrusive safety solution
Designed with people who live alone in mind
Dating Safety Apps Bring More Security to Online Chats
These apps help singles take safety precautions before, during, and after dates, like inputting emergency contacts and sharing location information. Automated, timed check-ins allow daters to update their status throughout the night. And, if needed, these apps can call for help. 
Advanced security features like wearable devices and audio and video livestreaming offer top-tier protection that's discrete and reliable. Many of these apps are free to download and use, so there's no excuse for not prioritizing dating safety. 
When it comes to dating, taking personal safety measures is not just a good idea – it's crucial to being a responsible dater. These apps offer a diverse array of unique services within the arena of personal safety, and instill daters with a confidence that won't just keep them safe, but also possibly land them a second date.