The Scoop: As online dating continues to gain popularity, many platforms are making strides to innovate their services. They find new ways to increase engagement, build trust, and improve the online dating experience. We spoke with several CEOs at the frontier of innovative dating services about what users can expect from the future of online dating and what they can find now from unique sites.
Online dating is rapidly changing how people view relationships. According to Pew Research Center, 30% of Americans have used a dating site, and this number is even higher for certain age groups and demographics. In its early days, online dating had a reputation as a niche activity for the lonely or eccentric But today it is a fundamental part of modern romance and how singles of all stripes connect with each other.
Of course, new technology is never perfect, and modern dating companies need to have an innovative spirit to address and solve issues that arise along the way. Catfishing, swiping fatigue, and general burnout can deter users from creating a dating profile or keeping their account active. While 57% of Americans surveyed said they have had an overall positive experience with online dating, the remaining 43% said they have not. The pitfalls can turn users off the online dating process, and cause them to miss out on the potential for love.
We spoke with several CEOs from premiere dating sites about what their companies are doing to better the online dating process. These organizations are creating new features to attract users and create better pathways to promising matches, thus making dating more invigorating than it has ever been before. 
Using Technology to Protect Users
A staggering 46% of Americans say they believe that online dating is not safe. It's impossible to entirely eliminate the risks that come with dating in any capacity, whether you meet your new partner in person or online. Still, it's important that online dating platforms find ways to make their services safer and make their users feel more comfortable. When singles feel safe and at ease on their dates, they are far more likely to enjoy themselves and truly connect with their potential partners.
One app innovating safety technology is happn. Happn's team is dedicated to ensuring user safety. The international dating app's CEO, Karima Ben Abdelmalek, explained the organization's thorough process for dealing with user complaints and reports of dangerous individuals. 
If a user feels disrespected, intimidated, or unsure about another person, they can decide to report it on the app. In that case, the user would tap the three dots in the top right-hand corner of the offending person's profile and then indicate the reason for the report.
Once a user is flagged, happn's customer service department begins its investigation. Customer service will check for the bad behavior that has been highlighted and respond based on the severity of the actions. This ranges from a written warning to the user via email, to banning the user from the app entirely. In any case, happn does not share personal information with the person who made the report. However, if a user believes they are the victim of a scam, happn can take further steps, including contacting police.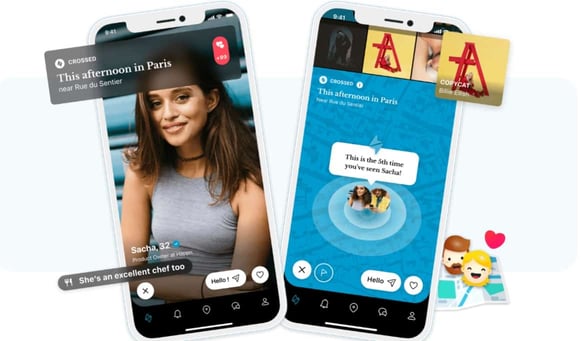 "It is essential that we communicate our process to current and prospective users," Karima said. "It's not always easy to be safe online – sometimes, we fall into traps that we think we never would, so I encourage users to be vigilant at all times. If something or someone doesn't appear to be all that they say, follow your gut and ask for advice from friends or family in the first instance."
In addition to user-reporting, several apps have begun using background check software to ensure the safety of their users. Match works with Garbo, a nonprofit background check platform, to make online dating safer one background check at a time.
"Before Garbo, abusers were able to hide behind expensive, hard-to-find public records," said Garbo Founder Kathryn Kosmides. But with Garbo's software, companies like Match are able to screen potential predators and protect users from those with red flags.
As part of Match Group, the popular dating apps Tinder and Hinge can also provide users with the benefits of Garbo software. For a small fee, Tinder users can now run a full criminal background check on one of their matches. Hinge's background check software is not running yet, but users can expect to access it soon. 
For dating site users who want more screening power, look no further than SafeDating. The service screens for false information and other red flags by checking for criminal records and tracing social media footprints. While the app does not have a social media element of its own, it is effective when used in conjunction with online dating services.
Platonic Relationships Grow in Online Communities
Online dating has become a popular way to find a romantic partner, but that's not it's only beneficial use case. Entrepreneurs and users alike have realized that the same software that is helpful in finding love can also help in finding friendship. Many apps and sites have expanded their social purpose from creating romantic connections to creating platonic ones as well.
QuackQuack, one of the top dating platforms in India, is especially committed to helping singles find their friends even as they search for a romantic commitment. "Dating apps are evolving and becoming an equally safe space to make new friends," QuackQuack CEO Ravi Mittal told us. "We see budding friendships overtaking romances among our 18 million users. Our data shows that 54% of women and 40% of men are using our platform looking to make new friends."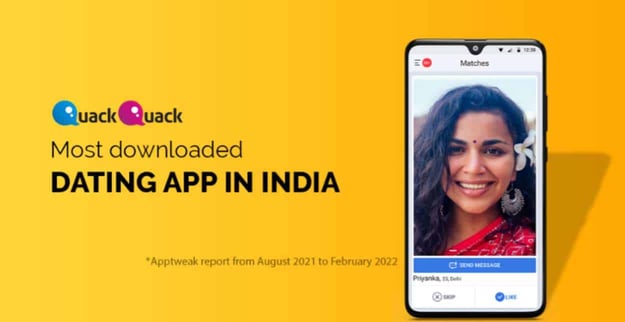 Finding friends in a new city, in a new stage of life, or simply as an adult can be shockingly difficult, especially in a world rocked by a pandemic. But finding your people can be a lot easier with the help of networks designed for individuals looking for community on a local level.
QuackQuack helps connect people who live in rural areas or those who struggle to find friendship locally with others who share their interests. "We at QuackQuack saw the opportunity where users from smaller towns and cities are keen on making new friends online and conversing with them," Ravi said. "These trends have shaped our approach to a fresher audience in India and catering to their desire for online friendship."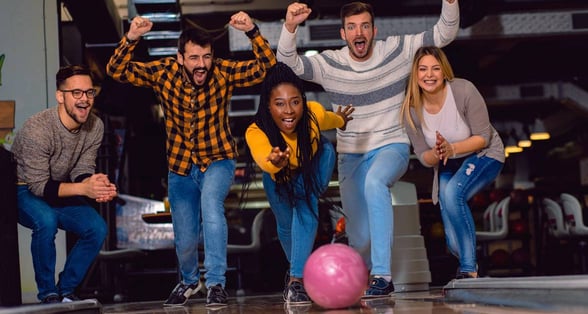 When dating sites encourage starting friendships in addition to romantic relationships, they ease the pressure that singles may feel to jump into a relationship with someone they just met online. The possibility of friendship can mimic the casual environment of meeting a potential partner through mutual friends or at a party. While you're likely open to a romantic relationship, you're also open to a platonic one. 
At Fourplay, bettering friendships while starting a relationship is a core part of the company's mission. Friends and Founders Julie Griggs and Danielle Dietzek were inspired by their own dating experience to create a dating app specifically for double dates. In their mid-20s, the two wanted to get back into the dating scene, but didn't want to lose out on time to bond with their friends. Danielle changed her dating profile to a photo of her and Julie, with the caption: "Swipe right if you and your awesome friend want to double date me and my awesome friend."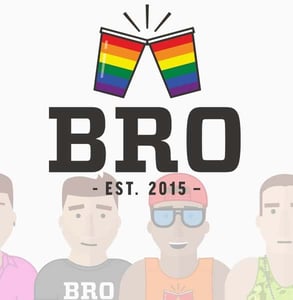 The team at The Bro App understands the blurred space between friends and partners. Inspired by the idea of a "bromance" — a closely bonded relationship between men that is non-sexual in nature –The Bro App serves as a a safe space for single men to find friendship, explore their sexuality, and potentially form relationship. While many Bro users find relationships through the software, its undefined purpose allows men to ease into the gay dating world at their own pace. They can work to understand their identities, all while finding a community of queer and questioning men.
"When the messages started flying in from guys telling us how amazing our idea was and that we should make it into an app, we realized we had something special and something that singles really want," Danielle said. "So we went for it and launched our business!"
"As someone who was looking for friends, FWB, and relationships, you don't go on an app called Hanky or Hole to look for those things," The Bro App Founder and CEO, Scott Kutler, told our team in an interview. "I wanted to make a safe space both for people who were recently out or not sure of their sexuality. Just men looking for other guys."
Several apps — including Bumble's platonic app, Bumble BFF — have created online platforms explicitly for finding friendships. Whether you're single and looking for a platonic connection that could lead to something more, or you're in a relationship and just want to expand your social circle, there is an online platform with plenty of users looking to do the same thing.
Video Tools Foster Genuine Connection
Since the start of the Covid-19 pandemic, voice and video chat have become a consistent part of work, education, and social interaction. In lieu of connecting in person, video is an excellent way to connect in real time by seeing their body language and hearing their tone. Many people find it more dynamic and enjoyable than instant messaging. Dating apps took the cue and began adding video chat software to their platforms. Singles are able to use video to connect with their dates, feel secure in their potential partner's true identity, and even learn whether they have chemistry with their match prior to meeting.
The Sauce App has leaned into the availability of video by ditching traditional profiles in favor of video profiles. The Sauce App used technology to develop a unique set of features and software that make for a more interesting, safe experience. Users love how much more of their essence can come across through video, as opposed to just using preselected, posed profile photos.
Emma Clark, CEO of The Sauce, was inspired to create the platform in part by her negative experiences on dating apps. She was once kittenfished by a man using a profile photo that showed him 20 years younger. She realized that video could be used to get better matches, as well as safer ones.

"We're able to make the dating ecosystem safer for women with our inbuilt moderation software and ensure video profiles are more consistent with those who create them. Member verification is only one part of our safety strategy for women," said Emma in a prior interview. "It's scarily easy to fake a photo-only profile. We're helping to ensure women only go on dates with the people they're expecting to."
Along the same lines, Snack was created with a new generation in mind — one comfortable with video, and specifically, the scrolling video format of TikTok. Snack's CEO Kim Kaplan was inspired by TikTok, and wanted to use a similar format to start a fun place for singles ages 18 to 35 to date.
"I had this lightbulb moment when I saw a TikTok video of a woman trying to use the app to date, and I thought: video dating is going to be the next wave," said Kim. "When you look at Gen Z, everything is video first — they have as many videos on their phone as millennials have images."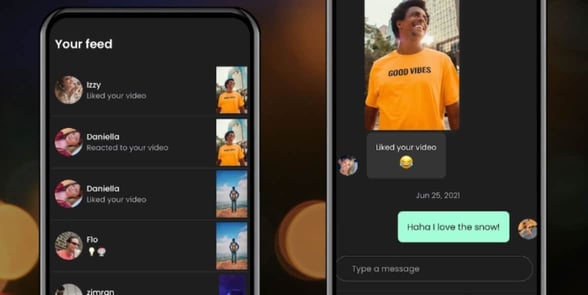 Snack helps Gen Z and young millennials find relationships in a fun format that connects with the rest of their online presence. They don't have to force their personalities into a structure that's unnatural for them; instead, get Snack is an app that's tailored to their interests.
EME Hive pivoted their use of video into a different direction with their use of livestreaming technology. Popularized on social media platforms, livestreaming allows creators to broadcast video of themselves to anyone who joins their room, and their viewers are then able to leave comments and questions for them to answer. As a top dating site for Asian and Asian-American singles looking to find love, EME Hive made waves among Asian singles for their incorporation of this feature into their site. 
Singles on EME Hive love to use livestreaming both to meet potential partners and to build community with others on the app. "Our livestream communities are quite tight-knit," the EME Hive team told us. "Anytime anyone jumps into a livestream as a new or returning user, our livestreamers and fellow viewers are extremely welcoming."
Many other mainstream sites — Match, Tinder, Hinge, Bumble, and more — have incorporated video call features into their apps. Singles can use these features to get to know their dates in an engaging way and entertain themselves online.
Online Dating is Always Changing to Meet the Moment
The popularity of online dating varies widely by age group. According to Pew, 48% of adults ages 18 to 29 have used a dating platform, compared to only 16% for those ages 50 and older. As younger groups enter adulthood, online dating takes up ever-larger swaths of the dating world.
That makes it all the more imperative that leading online dating services listen to what users want and make innovations that support real people seeking genuine connections.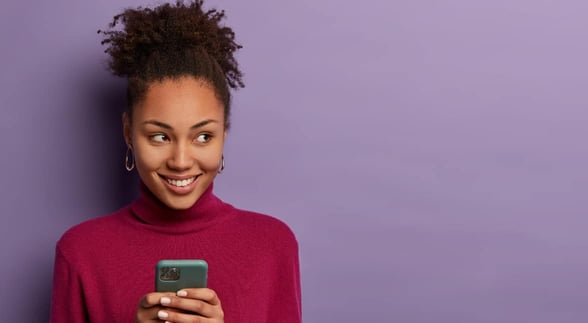 Online dating mirrors the trends in the rest of society. As new technologies gain greater acceptance, they become more essential to the online dating experience. Dating platforms need to be progressive to vibe with modern singles and reflect different ideas about what dating is or can be. And as younger generations demand a safer and more inclusive dating experience, apps and sites are adapting to meet the standard of the day.
"User safety is the most important factor to all of us," Karima Ben Abdelmalek said. "I believe we should be united in this across all apps in the industry."
More About "Dating App CEOs Weigh in on the Innovations That Build a Community in the Digital World"
We hope our guide "Dating App CEOs Weigh in on the Innovations That Build a Community in the Digital World" has been helpful to you in meeting your dating needs. If you're still unsure of your next steps, we highly recommend trying the Match free trial, our top recommended site in this guide. If you're new to Match, here's a brief introduction to the site from our dating experts:
Match.com has come a long way since it launched in April 1995. This well-reputed dating site has honed its match algorithm to identify long-term compatibility and facilitate countless first dates, serious relationships, and successful marriages. Match's esteemed dating experts go to great lengths to guide singles to a seriously good match.
Our experts rate Match a 4.9/5.0 in the Online Dating category, which makes the site a highly-rated option in its niche.
If you prefer to explore other options, see our latest guides for sites like Match, which can help you break down Match's reputation and features versus those of other sites.
Advertiser Disclosure
DatingNews.com is a free online resource that offers valuable content and comparison services to users. To keep this resource 100% free, we receive compensation from many of the offers listed on the site. Along with key review factors, this compensation may impact how and where products appear on the page (including, for example, the order in which they appear). DatingNews.com does not include the entire universe of available offers. Editorial opinions expressed on the site are strictly our own and are not provided, endorsed, or approved by advertisers.
Our Editorial Review Policy
Our site is committed to publishing independent, accurate content guided by strict editorial guidelines. Before articles and reviews are published on our site, they undergo a thorough review process performed by a team of independent editors and subject-matter experts to ensure the content's accuracy, timeliness, and impartiality. Our editorial team is separate and independent of our site's advertisers, and the opinions they express on our site are their own. To read more about our team members and their editorial backgrounds, please visit our site's About page.