The Scoop: The perfect wedding usually consists of great food, lively company, and an undeniable feeling of love floating around the room. But no wedding is truly complete without the help from a fire DJ who knows how to keep the music going. Joe's DJ Service understands the important role that music plays at weddings. Having serviced nearly 4,000 weddings thus far, Joe's DJ Service never misses a beat at delivering phenomenal DJ services for wedding receptions and other special events. 
Preparing for your wedding is an exciting yet stressful adventure for an engaged couple. As each day passes, the butterflies in your stomach start to take over — causing you to worry about possible scenarios that may never happen. From coordinating outfits to finding the perfect DJ, the wedding process can be a bit overwhelming. But having the right people in your corner can make all the difference. 
Music takes center stage at many weddings, so it's crucial to find experienced and accomplished DJ services. DJs can make or break an event's entertainment. Joe's DJ Service is an entertainment company that proudly provides exceptional service to the Bozeman community. Its team of professionals have won many awards, including the WeddingWire Couples' Choice Awards. 

Joe's DJ Service was created in 1997 by Joe Trudgeon. The beat started when Joe's passion for DJing blossomed during his high school years. He started by hosting small high school dances, and that soon led to many gigs around the city. He eventually created Joe's DJ Service and expanded his team by hiring various talented DJs. 
AJ Rohrer was one of those DJs, and he worked harmoniously beside Joe for a few years before pursuing a career in aerospace engineering. One day in 2016, Joe called AJ up and asked if he'd want to come back and take over the company. AJ politely declined, but then Joe asked again – and again. At last, after a serious talk with his wife, AJ graciously accepted the offer, moved back to Bozeman, and became the owner of Joe's DJ Service.
"We've been blessed that Joe did a great job of building a reputation, and thankfully he and I aligned with what we were doing and the values behind the company," AJ said. "We were able to continue with that."
Since then, AJ and his wife have given Joe's DJ Service an upgrade, from the website design to the operation itself. For many years running, the DJ company has been voted the top vendor in the area and was presented with the Bozeman Couples' Choice award by WeddingWire. This recognition highlights how the DJ company helps a couple's special day feel even more special. 
Many couples have said that Joe's DJ Service is convenient and easy to work with. From the initial email contact to the last dance, couples can enjoy the professional manner and stress-free environment created by the experienced DJs.  
"Outstanding service from start to finish. Working with Joe's DJ service was easy and so pleasant. It was very clear what they needed from me to make my day perfect," newlywed Marceline said in a review. 
A Trusted Bozeman DJ Service
If you want quality service, it's a good idea to go with trusted names in the industry. Considering a company's values and process can usually help people determine whether they're the right fit for the job. Because after all, it's important to know that the life event you're celebrating is in good hands. 
Joe's DJ Service is a company known for giving trusted advice and top-notch services throughout the years. AJ told us that the company means more to him than just playing some tunes and making a quick buck. He said he takes his job seriously and endeavors to help people celebrate their new marriage and profound love. He shared how worthwhile it is to be a part of a shared special moment.
"Marriage is a very important thing. If we can do this well, we can help people," AJ said. "While we're there, we're going to be the most encouraging and positive we can be."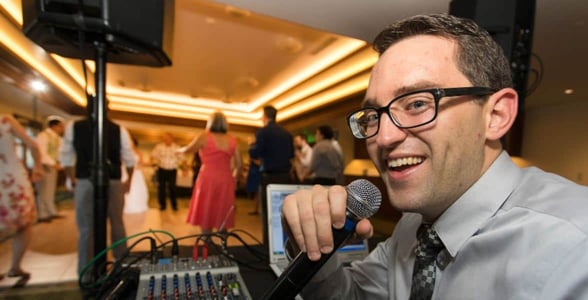 The best DJs understand their pivotal role in making events enjoyable for everyone. Joe's DJ Service boasts a well-established reputation that started with one man's passion and became a streamlined production. DJs can transform a night and create unforgettable moments. 
DJs have to be in the moment to fit the vibe of the wedding reception. AJ said he has trained his DJs to adapt to the dynamic of the room. He said sometimes the best song to get folks on the dance floor isn't a loud rager – sometimes it's a classic Elvis tune that brings the couples back for a slow dance.
Joe's DJ Service aims to help create memorable experiences for guests. By choosing songs from personalized playlists, clients can have a say in the entertainment and trust that their vision will be executed. Clients can choose from children's dance tunes to contemporary pop or rock music. It's more than just playing music, it's creating an experience that will forever be embedded in people's memories. 
"Not only was AJ a great guy to be around at the wedding (very professional and kind), but he helped in areas of the wedding outside of his expertise from the kindness of his heart," Kylie said in a review. 
AJ told us the company is already booking out into 2023, but if couples are willing to do a Friday or a Sunday, then they can get a slot for this year. 
COVID Doesn't Stop the Music
Due to the COVID-19 pandemic, a lot of weddings and events ended up canceled or postponed. And despite some restrictions being lifted, the wedding industry has not returned to business as usual. A number of people still find themselves not comfortable with hosting or attending such a large event. Regardless of the challenges and setbacks, Joe's DJ Service remains a reliable resource for couples to use during the pandemic.
"I dislike weddings where people don't dance or the dance floor is awkward, so the DJ was an important role (especially in COVID where social norms have changed). Our wedding felt like a non-COVID wedding and I think the DJ certainly helped with that," Kara said in a review. 
AJ told us that COVID mixed things up a bit for the DJ company, but it didn't stop the team from doing what it does best. While taking on more clients than ever before, the DJs had to learn how to be flexible and work around the sensibilities and expectations of a wide range of people. AJ said he did his best to remain calm and supportive when participating in such events. He took an optimistic approach that gave clients the freedom to stay within their comfort zones while celebrating life's milestones.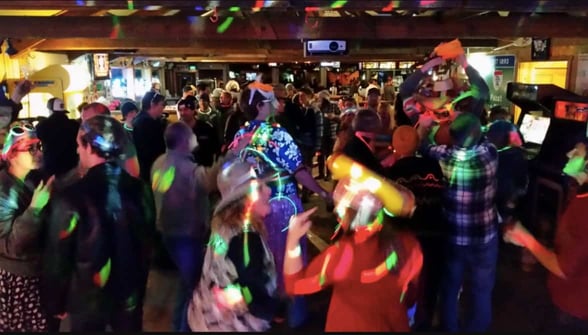 Joe's DJ Service continued to support couples throughout the pandemic, and set a company record by averaging about 15 weddings a week in 2021. 
AJ pointed out that one big differentiator for his company is that his DJs are W-2 employees, not contractors — which made it easier for them to remain on call for last-minute bookings, DJ replacements, and emergencies. 
Since company employees receive a weekly salary, the team could collaborate to fill gaps and adapt if a DJ tested positive or had to quarantine during COVID. No matter what was thrown at them, they always had enough backups to get the job done. AJ said he was able to swap out DJs for events when needed to ensure that clients didn't have to stress about finding a new DJ on their own.
"Last year I was swapping DJs all the time if they tested positive – I have no idea how other companies with contractors do it. I can say with confidence as long as I've been with the company we've never canceled or missed an event. Plenty canceled for other reasons, but we never did it," AJ told us. 
Joe's DJ Service Has Rocked Nearly 4,000 Weddings 
Over the years, Joe's DJ Service has deejayed approximately 4,000 weddings. The team specializes in weddings and hosts an average of 250 weddings per year. Although the local demand continues to grow, the team strives to provide quality service while still managing healthy work schedules for the DJs. 
"We can technically do up to 10 weddings at a time, but I keep it to seven for sanity purposes," AJ said. 
AJ told us that affordability is also a top priority for him. He said he doesn't believe couples should start their marriage with debt from the wedding. With this in mind, Joe's DJ Service offers budget-friendly and transparent pricing for couples who aren't looking to break the bank on wedding entertainment. Couples don't have to go through the hassle of emailing for a quote, they can navigate to the website and see the available prices. 
Joe's DJ Service starts at $800 for four hours of music, and the team asks for a $200 deposit upon booking. Clients can pay an extra $100 per additional hour and have the option to choose from a variety of add-on services.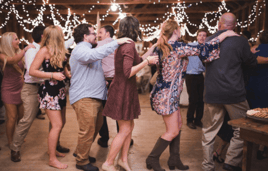 "Joe's DJ Service was amazing! We hired them for our wedding, and they did such an excellent job. We requested a mix of Mexican pop,  country music, hip-hop, and 80s music… So worth every penny," said Jessica in a Google review.
As for the coming years, we can expect even more fine tunes and beats from Joe's DJ Service. AJ told us he  hopes to expand the DJ company and take it to new heights. While he makes his family a priority, AJ said he believes that Joe's DJ Service can become even bigger than it is today.
Looking ahead, AJ said he just wants to keep the music going and help couples have the best possible start to their marriage."My wife and I are talking about starting a team in a different city," AJ said. "A lot of logistics come with that, but we're looking at how to expand, and our goal is to have a team in another city in the next two to three years."