The Scoop: Inner Circle has earned a great reputation as a dating app that prioritizes quality matches and serious relationships. The unique dating platform uses an in-depth screening process to reward authenticity and build trust in its dating pool. Plus, Inner Circle hosts in-person singles events in major cities around the world, from Sao Paulo to Amsterdam. Inner Circle's team is intentional about maintaining a friendly and engaging community to search for love, and hundreds of relationships and marriages have thrived as a result.
Known as a dating app for single professionals, Inner Circle ups the ante when it comes to online dating with a sharp focus on screening candidates and encouraging in-person meetups.
The motto driving Inner Circle is "dare to date better," and that message resonates with more mature singles who don't have time to waste on frivolous matches and dead-end dates.
Inner Circle members are looking for something meaningful and lasting. They're tired of floundering in a sea of apps that glorify the superficial and non-committal. Mainstream swiping isn't for everybody, and Inner Circle aims to meet the needs of a more serious dating demographic.

A single person doesn't need a fat bank account to meet the standards of Inner Circle. The app's selection process isn't about money or looks — it's about intention and authenticity.
"There are a lot of rumors around the brand that we're invite-only or that we're only exclusively for rich people, but we're not like that," the app's CEO and Founder David Vermeulen said. "We're an app for singles that want to date seriously. Whatever age, race or sexuality, we're open to everyone."
Inner Circle members are from all over the world and all walks of life. They tend to be ambitious singles who know what they want. While most dating apps have an average age under 35 (which can be discouraging for slightly older clientele), Inner Circle's average is squarely at 36 years old. Ages range from 25 to 45, with a few that are younger and older as well.
As far as geography goes, Inner Circle members span the globe. The company is based in Amsterdam, and it has grown to reach 66 metropolitan cities that span 29 countries, including the U.S. and the U.K.
As a quality-first dating app, Inner Circle empowers daters by screening candidates first — filtering them like a dear friend who has your best interest at heart — and this can make all the difference.
An App for the Serious Dater
In 2013, a dating app called The Inner Circle made a splash in the dating scene by speaking to the needs and desires of single professionals.
The company has since dropped "The" and shortened its brand to Inner Circle to reflect how its users commonly refer to it. The team decided not to be so formal and to acknowledge that there isn't just one circle in dating.
"It's shorter and catchier," David said of the new moniker. "The meaning behind 'Inner Circle' refers more to your own inner circle, not an exclusive one that you need to find your way into."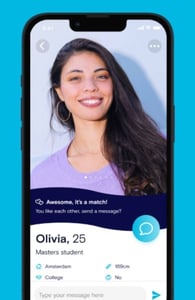 Inner Circle's modern mission is to provide a friendly and inclusive space, rebuffing the narrative of elitism that isn't helpful to serious daters seeking a real partner.
Over the years, the key to Inner Circle's success and popularity has been its quality-first selection process. The team takes the time to screen new profiles to ensure it only serves real members who are looking for real love.
The team said, "We screen each profile before someone becomes a member, so you don't have to deal with fakes, scammers, and spammers and instead can match with like-minded, career-driven singles who put the effort into dating."
Inner Circle has high expectations for its user base, and the team puts in the work to keep bad behavior like catfishing out of the equation. That means more trustworthy matches, more in-depth conversations, and more heartfelt relationships have the chance to blossom.
"We ask members to be honest and respectful, and it works," David explained. "We regularly get comments and reviews from members saying that Inner Circle is different to the other apps because people take things more seriously and they are getting played around less."
In addition to its online tools, Inner Circle has sparked interest by hosting in-person events for its most serious members. It could be something simple like an after-work cocktail hour, but the important thing is that everyone in attendance is single, so it's a wonderful opportunity to get flirting and possibly meet someone special.
Testimonials from Real Clients
For Inner Circle, the proof is in the pudding with their real-life love success stories. And let me tell you, the app has created some power couples. Inner Circle has hundreds of happily married couples and dozens of babies to its credit.
During our interview, David shared some of their real-life success stories that show what can happen when online dating apps work for you. "We love hearing happy stories" he said.
A woman from Brazil named Barbara met her match on Inner Circle in 2020. She said she'd gotten out of a five-year relationship and started online dating to meet interesting people to chat with and make friends. She spent three and a half years being single, going on casual dates. Then Inner Circle's app introduced her to Andreas.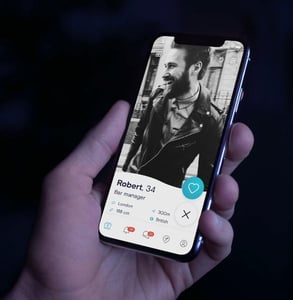 "When I saw Andreas' profile, he had a question in his profile — and I'm the kind of person who loves a deep conversation," Barbara recalled. "His question was 'What truly makes you happy?' I immediately liked that."
Barbara answered the dating profile question in a private message to Andreas on a Sunday night, and by Monday morning she had a reply waiting in her inbox. The couple shared their interests and dreams in a conversation that was the beginning of their online love story.
"I can't explain the connection that happened in the next few days," Barbara said in her testimonial. "After five days of talking and talking, we decided to go for a beer in the city."
Barbara had to drive an hour to meet Andreas in the city. She found him wearing a "Lion King" shirt as a reference to her telling him she loved the movie. They sat at a bar talking, and, when the bar closed early due to COVID restrictions, Andreas invited Barbara to have a drink at his place where their first date continued.
Now, two years later, the couple is engaged and live together in an apartment. Barabara described their life as "living the dream." She said Andreas balances her out and meets her needs in a way that previous relationships haven't.
Such stories warm the hearts of Inner Circle's team, reminding them of the impact they can have on couples like Barbara and Andreas.
Inclusive to all Serious Daters & Looking Toward the Future
The online dating scene can benefit from Inner Circle's philosophy of raising the bar for better candidates. Better dates — both online and offline? What a beautiful opportunity to explore. Inner Circle has instated a more selective approach to online dating in hopes of making it easier for serious singles to find one another and leave the superficial swiping behind them.
Inner Circle seems poised to change the current online dating landscape, and the team told us they have big goals ahead.
First, Inner Circle is working on growing its influence in the Latin American market. David said, "We've seen an enormous increase in singles downloading Inner Circle in both Brazil and Argentina, and we want to carry on this success across other countries."
Next, with lockdown restrictions easing up, the team intends to put more focus into in-person events geared toward singles. Whether it's hosting a singles mixer or setting up a table at a corporate event, Inner Circle endeavors to use the power of networking to inspire people to come together IRL.
Finally, another project the team is tackling has to do with bolstering security. Inner Circle prioritizes online dating safety and is taking strides to keep fake profiles and bad actors out of its community of singles.
Taken as a whole, Inner Circle is a safe haven and a secure bet for the serious dater.
"We dare singles to date better," David said. "And being daring is a value for us too. We feel alive when we challenge ourselves. When we dare to be bold, vulnerable, playful, and open."