Our BlackPeopleMeet review will dive into the major facets of the Black dating platform and answer the questions that singles have about it. The dating site is part of the People Media portfolio and remains highly relevant for Black singles and for anyone looking to connect with Black people – either romantically or for friendship.
Although it launched in the early 2000s, the dating site maintains its relevance by keeping things fresh, and by focusing on the features that made it successful when it first launched, setting it apart from other niche sites. BlackPeopleMeet remains one of the premier Black dating sites in the industry, and for good reason.
How It Works: Free Signup & a Smart Daily Match Feature
BlackPeopleMeet is far from just a mainstream dating site that happens to cater to the Black community. The dating website sets itself apart from other platforms through a combination of innovative features, a variety of matching methods, and thoughtful security to ensure that Black singles can meet and connect safely and freely.
It's free to sign up, and at the free level, you can get a lot from BlackPeopleMeet: Free features include profile creation, browsing potential matches, and fairly basic communication tools like winking and flirting. Any free member can also search prospective matches, and receive daily matches through the clever Daily Match feature. 
BlackPeopleMeet is among the top dating sites for Black and biracial singles in the U.S. and Canada. Since its launch in 2002, BlackPeopleMeet has facilitated thousands of romances and led to countless relationships. While the site is open to people of all races, its mission is to help African-American singles find the love of their life.
Over 1.5 million monthly users from all walks of life
Search for Black dates by demographics, online status, or keyword
Up to 11 match suggestions delivered to your inbox
The basic search feature may be somewhat daunting at first, but it lets you find exactly the right potential match, including the option to view account status and "last online" status, to make sure you're not reaching out to someone who isn't going to check their messages anytime soon.
Premium membership comes with a lot of perks, especially the freedom to contact anyone through a variety of methods and the ability to see when someone views your profile or sends you flirts or messages.
Daily Matches Help Steer Your Choices
Many dating sites offer a daily match feature and browsing options to use in your match group. But BlackPeopleMeet pioneered this match feature, and the site's version stands apart from the others. BlackPeopleMeet provides a "Today's Matches" review for each member who highlights certain profiles based on that member's stated preferences.
Much like the swiping app Tinder, Today's Matches presents members with one profile at a time to which they can respond "yes" or "no." BlackPeopleMeet allows members to use filters to narrow their search of potential matches based on distance, physical appearance, zodiac sign, religion, and other keywords. These search filters are available on Today's Matches and I'm Interested, another matching method that provides profiles for users to approve or decline.
Communication is Key, and BlackPeopleMeet Provides Options
Once you've gone through your search results or checked over your matches, you'll want to contact the best prospects that come up. BlackPeopleMeet offers a variety of communication options, from low-stakes flirt and like buttons to private messaging, and even a step further. Unfortunately, to view your profile likes and flirts, or read and respond to messages, you'll have to be a premium member; more on that later.
One key option that BlackPeopleMeet provides that sets it apart from other dating sites is ConnectMe, a method of texting and calling without disclosing your phone number. This feature is fairly rare on dating platforms, but for security-conscious dating site users, the ability to call someone without the risk of providing too much information too soon is a major benefit. 

Another major assist from BlackPeopleMeet in the communication realm is the site's pre-formed icebreakers. If you're the shy type, or just don't know how to get started talking to someone, the site will provide up to four different conversation starters that you can use to get things going with your prospective match. It really takes the pressure off, which can be just what you need to avoid initial awkwardness.
Most communication options require premium membership through paid subscription, or through other systems that BlackPeopleMeet provides. So what does paid membership look like, and how much does it cost?
Here's the Price Breakdown for the Premium Membership
When it comes to paid member status, there are a few options even beyond the traditional subscription model that BlackPeopleMeet offers: if you don't want to commit to the full subscription price, you can purchase tokens to access specific features as you want. The tokens give you a taste of what you can do with premium membership (along with a few bonus options) without the commitment.
You can use your tokens to boost your profile visibility, get notifications whenever a specific user logs on for the following week (called "Notify me"), get premium placement in someone's daily matches, or send a virtual gift. If your token balance falls under 20 tokens, the site will auto-charge for the amount you previously purchased, so it's a good idea to keep an eye on the balance to avoid any surprises on your credit card.
But if commitment isn't a problem for you, a premium subscription is well worth the cost. Premium users get access to full communication options, in addition to some grander perks: boost your profile visibility with PromoteMe, which shoots you to the top of search results and match lists for an hour. The BlackPeopleMeet dating site offers a few different subscription options, to give you the best possible value for your needs. 
$16.75 for one month
$13.95/month for three months
$11.95/month for six months
Premium membership provides opportunities beyond communication and standing out, too. ProfilePro gives premium members access to professional profile writers to help them edit and develop their profile essays into something more appealing for prospective matches. Each premium feature adds to the possibilities for every premium member to meet, connect, and ultimately find the right person, whether they're a Black woman or biracial man.
Beyond the premium features and the basic platform, BlackPeopleMeet maintains its status as the best dating site for African American singles by offering in-depth security and content moderation. All users, whether free or paid, benefit from the site's approach to security. But what does the BlackPeopleMeet dating site do to keep things secure?
Security Features Automatically Remove Fake Profiles
A major concern for Black singles is security and safety on dating platforms. Even in the 21st century, harassment is a major concern for the average Black single, and especially for the average Black woman. Most Black dating sites take this into consideration and tend to offer layered security features to keep trolls, fake profiles, and scammers off platforms.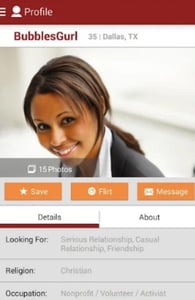 BlackPeopleMeet has a few security features to keep its user base safe and confident. On the primary level, the dating site uses email verification on the site and text message verification on the app. The site's moderators also monitor profile content, which means that offensive and racist material gets cleaned up quickly. Another innovative method for security that BlackPeopleMeet adds is a verification step at signup. 
The site asks would-be members to answer a series of 10 simple mathematical questions to weed out trolls and bots. The feature does make for a slightly more tedious process, but it definitely works to keep bad actors to a minimum.
In addition to layers of security and verifications, BlackPeopleMeet encourages transparency in other ways. While you don't have to include a profile picture, profiles that include photos rank more highly in search results, and members can exclude anyone who doesn't have a profile picture in their match selections. A picture isn't a guarantee that someone is genuine, but it does help make it less likely that you'll run into fake profiles, especially paired with a robust content moderation and customer support team.
BlackPeopleMeet is consistently ranked in best dating site lists for a lot of reasons, but content moderation and customer support are big factors. More than one Black People Meet review mentions the thorough FAQs on the site, and while the customer support contact page isn't the easiest to access, reporting and flagging profiles or messages that make you uncomfortable is a simple process. 
Real-Life Success Stories Back Up This Service
A lot of apps and dating sites talk a big game, but BlackPeopleMeet can back up their claims with success stories. The site features several testimonials from successful users, all of whom have found the person of their dreams through the platform. 
A member in Norcross, Georgia, said, "I have met my knight in shining armor. Thank you, BPM, for being available at a needy time. I'm thankful to God for allowing me to meet my husband-to-be. He's an awesome man of God that I will cherish forever."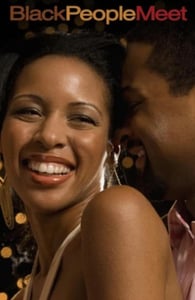 Another member in Los Angeles testified to the many uses that Black singles can find for the site, beyond traditional dating and romantic connections. "Black People Meet is a positive [tool for] connection. Not only for dating, it's a tool for business networking, family reunions, class reunions. So I say take advantage of what you have and let it grow."
A user in Brooklyn, New York, said, "Thanks to your website, in record time I have met My Soul Mate, My Love, and MY QUEEN!!!! I did not want to pay the subscription at first because I thought it was a waste of time – thank God that I did not follow my mind. Thank You BPM."
Of course, not every BlackPeopleMeet.com review is positive. Even the best dating site will have disappointed users. One of the more common complaints is a lack of local users. While BlackPeopleMeet has one of the highest active user bases of any dating site, you're less likely to find a lot of users in your area if you don't live in a major city. That's true of almost any app or dating site.
The overall rating for BlackPeopleMeet is high, with premium users highlighting the paid features as useful, even beyond just the messaging system.
FAQs: Is BlackPeopleMeet a Totally Free Dating Site?
BlackPeopleMeet is a partially free dating site. You can sign up for free, browse profiles, and send flirts or "like" the profiles you encounter. But to fully engage with other members on the online dating site, you'll have to pay for a subscription.
Paid membership comes with unlimited messaging, icebreakers to help you start conversations with other Black singles, and the ability to find out who's been viewing and liking your profile, as well as full access to the "flirts" you receive. The monthly subscription cost is reasonable, and cheaper the longer your subscription term.
Do People Still Use BlackPeopleMeet?
Absolutely! In fact, BlackPeopleMeet regularly ranks at the top of the list for Black dating sites and dating apps. The site has more than 5 million visits each month, making it one of the most popular options for Black singles. 
While there are niche dating sites and apps that cater to Black and multiracial singles, BlackPeopleMeet remains one of — if not the — most popular options in the space. With so many people on the platform, it's much easier to find someone you're interested in. Of course, there are some discrepancies in terms of geography; certain regions of the U.S. have more BlackPeopleMeet subscribers than others. But the site remains popular for African American and Black singles throughout the country.
Is BlackPeopleMeet Good for Senior Dating or Casual Dating?
BlackPeopleMeet is a great resource for any type of relationship you're interested in. However, it's true that the site doesn't cater specifically to those niches. There are a few options if you're interested in getting a more targeted service than a general dating site can offer.
Silver Singles is a better choice for senior dating than BlackPeopleMeet, simply because the site specifically caters to older singles. Silver Singles allows you to be selective about who you're interested in dating, down to ethnicity, age, and number of kids, so if you want to find someone whose culture aligns with yours, you can still get that level of understanding.
Adult Friend Finder liberates sexy men and women who are over 18 and looking to get their freak on with someone special. The hookup site is open to singles and swingers of all ages and racial backgrounds. If you're looking for a black or biracial date, you can use the search filters to zero in on the people you find most attractive. Then all you have to do is upgrade your account and send a message.
Black singles can be upfront about their desires
AFF members are open to erotic experiences of all kinds
Dating forums, sex cams, and live chat rooms lead to romance
AdultFriendFinder has been around for longer than BlackPeopleMeet and exists specifically for helping to set up casual encounters and flings between consenting adults. The site isn't a dating site specifically, but it does have a lot of the same features.
AdultFriendFinder is fully free to join, though only public participation in forums and chats is available without a paid membership. 
BeNaughty is another hookup-dedicated platform, with both a dating site and a dating app dedicated to helping people find casual encounters. The site doesn't exclude anyone: married people (in open relationships) as well as singles are welcome to try their luck at finding the right person for a steamy hookup.
In fact, if you look at the reviews, you'll see that BeNaughty offers a range of different packages to help members get the most out of the platform, and lots of flirty communication tools to get things started.
If you want a more specific dating pool, there are definitely options to explore. 
Is BlackPeopleMeet for Black People Only?
No! In fact, BlackPeopleMeet is open to everyone, of any race and ethnicity, provided they want to date a Black partner. However, the membership of the site and its companion app identify as part of the Black community, including multiracial and biracial people. 
Some non-Black members of BlackPeopleMeet join the site because of a preference for Black and multiracial partners, and some simply want to diversify their dating experience. 
BlackPeopleMeet works hard to ensure safety, security, and comfort for members of any race, and bullying or harassment is moderated, not tolerated. It's easy to block or report someone if they don't act appropriately. 
How Does BlackPeopleMeet Guarantee Security?
Black people are not a monolith, but harassment and other issues remain a big concern for dating sites that feature predominantly Black members. BlackPeopleMeet uses an intensive verification process and moderates content on the online dating service to make sure things are safe. This also helps weed out fake profiles and romance scammers. The customer service team is responsive to reports, and it's easy to block someone if they're bothering you. 
Is BlackPeopleMeet LGBTQ+ Friendly?
To a degree. BlackPeopleMeet doesn't have nonbinary gender options in its signup process, but it's mostly inclusive of sexual orientation; the initial signup allows you to select from "man seeking woman," "woman seeking man," "man seeking man" and "woman seeking woman." This does leave out some other orientations, but the site puts forth a lot of LGBTQ+ dating information on its blog and dating tips.
Trans Black singles may run into some questions and tension on the site, since there isn't as much direct representation of trans members of the Black community, but BlackPeopleMeet provides robust content moderation against harassment for anyone on the dating platform.
Is BlackPeopleMeet the Only Black Dating Site?
No, BlackPeopleMeet isn't the only Black dating site or the only Black dating app. However, while there are other options out there, it's the premier Black dating site for good reason. BlackPeopleMeet has 20 years of experience connecting Black singles. That provides a lot of data and a lot of insight into what the Black community wants in a dating platform. 
Tracking account status changes, refining each premium feature, and developing the match systems based on user feedback helps keep BlackPeopleMeet strong.
BlackPeopleMeet is a go-to dating site for Black and biracial singles in North America. The platform's simple yet powerful matching system has led to many successful first dates as well as countless relationships and marriages. Whether you're looking for something serious or something casual, BlackPeopleMeet can hook you up with its match recommendations list.
Find women who share similar backgrounds and goals
Over 1.5 million monthly users in the U.S. and Canada
Virtual gifts, match alerts, boost visibility, and other perks
Another major selling point for the site is the fact that it has one of the largest user bases not just in the Black dating niche, but among dating sites generally. With over 5 million users, and one and a half million monthly visitors, it's a strong choice for Black singles as well as non-Black people who want to date within the Black community. 
Finally, while other Black dating services exist, BlackPeopleMeet sets itself apart with security and transparency. While the account verification process may be tedious for some users, it helps to screen out fake profiles, scammers, and trolls who make connecting with prospective matches harder. Security and safety are major considerations, especially for a Black woman who feels particularly vulnerable to harassment on dating sites.
BlackPeopleMeet is a Top Dating Platform for Diverse Singles
Whether you identify as Black, multiracial, biracial, or any other race, you can join BlackPeopleMeet if you're seeking a date within the Black community. 
BlackPeopleMeet provides a safe, open venue to cultivate connections and spark a romance. As surprising as it may be, after 20 years in the industry, BlackPeopleMeet is still just as relevant as ever, helping members of the Black community find both gay and straight friends and lovers.
The effort that the site puts into keeping things safe and healthy for its users is a big reason why almost every BlackPeopleMeet review finds the dating service is a step above the majority. Whether you're looking for love or a casual hookup with people within the Black community, BlackPeopleMeet provides a friendly atmosphere where good vibes can thrive.
More About "BlackPeopleMeet Review: What to Know (Sep. 2023)"
We hope our guide "BlackPeopleMeet Review: What to Know (Sep. 2023)" has been helpful to you in meeting your dating needs. If you're still unsure of your next steps, we highly recommend trying the free trial, our top recommended site in this guide. If you're new to , here's a brief introduction to the site from our dating experts:
Our experts rate a 0.0/5.0 in the Online Dating category, which makes the site a highly-rated option in its niche.
If you prefer to explore other options, see our latest guides for sites like , which can help you break down 's reputation and features versus those of other sites.
Advertiser Disclosure
DatingNews.com is a free online resource that offers valuable content and comparison services to users. To keep this resource 100% free, we receive compensation from many of the offers listed on the site. Along with key review factors, this compensation may impact how and where products appear on the page (including, for example, the order in which they appear). DatingNews.com does not include the entire universe of available offers. Editorial opinions expressed on the site are strictly our own and are not provided, endorsed, or approved by advertisers.
Our Editorial Review Policy
Our site is committed to publishing independent, accurate content guided by strict editorial guidelines. Before articles and reviews are published on our site, they undergo a thorough review process performed by a team of independent editors and subject-matter experts to ensure the content's accuracy, timeliness, and impartiality. Our editorial team is separate and independent of our site's advertisers, and the opinions they express on our site are their own. To read more about our team members and their editorial backgrounds, please visit our site's About page.