The Scoop: Chispa is the #1 dating app for Latine singles. Chispa links millions of Latin Americans for connection through shared backgrounds, experiences, cultures, and identities. The app strives to bring together Latines of all identities and backgrounds to chat, meet, and find romance. The team at Chispa advocates for the equity, safety, and wellness of the Latine Lesbian, Gay, Bisexual, Transgender, and Queer community.
The Hispanic population in the United States is about 62.5 million, according to research compiled by Pew Research Center in 2021. Nearly half of these individuals also identify as multiracial. Hispanic is the umbrella term for people who are from, or whose ancestors were from, a Spanish-speaking land or culture. That helps explain why this group is so diverse, with over 20 unique national identities represented.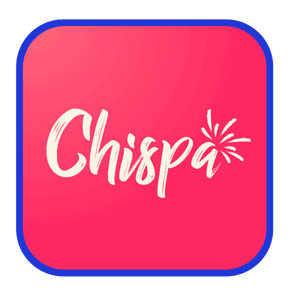 According to the Census Bureau, the United States Hispanic population is the second-largest racial or ethnic group in the country. Besides differences in national identity, many factors make Latin Americans nearly impossible to describe as a homogenous group. People from Latin America and Spain have distinct identities, traditions, values, religious practices, and family structures that vary significantly from individual to individual.
Thousands of dating apps are available for download across platforms. From apps geared towards polyamory to apps for farmers, there's a niche for nearly everyone. Specialized dating apps allow people with shared romantic interests, employment types, and identities to connect.
Chispa is the leading dating app for Latines in the United States. The app was founded in 2017 and has since gained millions of users. Chispa allows users to create profiles, make matches, and tell their stories. 

Julia Estacolchic is the Senior Director for Chispa. She told us about the dating app's commitment to supporting the Latine LGBTQIA+ community. Julia said, "Even though we're a really diverse community, there are things we have in common. Chispa focuses on these shared values, connections, and backgrounds while upholding a commitment to the LGBTQ+ community."
¡Es una conexión! 
Singles interested in a dating app made specifically for Latines can find Chispa on the App Store or Google Play. Creating an account is simple, requiring an email address or phone number. Next, users set up their profiles by adding photos, answering prompts, entering info about hobbies and interests, and connecting social media accounts.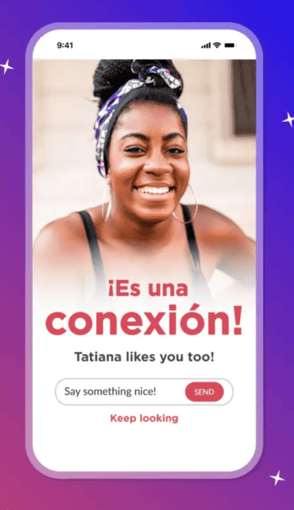 Chispa's 'Roots" feature sets it apart from other dating apps. Users can include their national background on their profile. They can choose from countries in Latin America and the Caribbean, plus Spain. Chispa was designed for Latin Americans, but people of any background can download and use the app.
Chispa works similarly to other leading dating apps by using a swiping mechanism. Users will be presented with profiles and can swipe to pass or like. If two users swipe to like each other, there is a match. Only mutual matches can message each other.
Julia said Chispa encourages conversations between Latine singles in a unique way. Chispa considers the differences, but also the commonalities, between people of Latin descent. "We have many prompts that users can answer that are specific to growing up Latine in the United States," Julia said. "This can make starting the conversation easier."
Chispa is available in both English and Spanish. The app will automatically download in Spanish if a user's phone system is set up in Spanish. If a user's phone is set up in English, Chispa will be in English with Spanish words and phrases intermingled. 
Chispa's English version integrates Spanglish, a combination of Spanish and English. Spanglish is a common mode of communication among Latin Americans living in the US. Julia characterized Spanglish as "a reflection of the voice of many diverse communities." 
Celebrating Cultural Traditions
The emerging term Latine is a gender-neutral term for people of Latin American descent. It's used by Spanish speakers in place of the anglicized gender-neutral form Latinx, the masculine form Latino or the feminine form Latina. The term Latinx has been around for a while but has received considerable pushback. Chispa understands the importance of language and how language can foster inclusivity.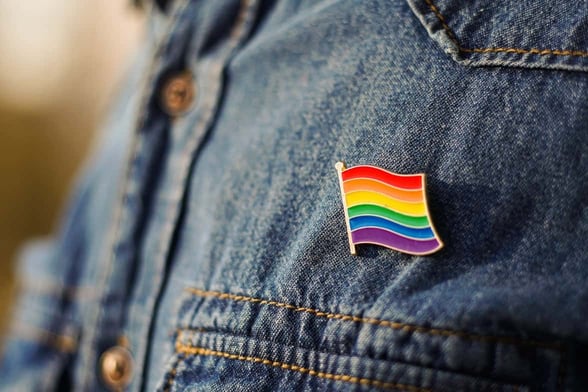 The word Latinx, a term mainly used in the United States, has been criticized for being difficult for Spanish speakers to pronounce. Some critics have identified the term as an overreach of United States cultural and academic trends in Spanish-speaking communities. They argue that the term is less inclusive than its 'Latino' counterpart.
LGBTQIA+, gender non-binary, and feminist communities in Spanish-speaking countries coined the term Latine. Unlike Latinx, Latine works within the grammatical constructions of Spanish by replacing the masculine 'o' in Latino with the gender-neutral 'e.'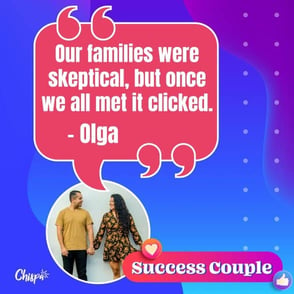 Chispa uses inclusive language to encourage users to express themselves authentically. Julia told us that 70% of Chispa users believe Chispa does more than other dating apps to serve the Latine community and help them find dates. Many factors inform this statistic, but Julia said the app's ability to connect people with similar backgrounds and values is the most significant.
"Chispa connects Latines with other people who 'get it,'" Julia said. "The humor, the language, the things our parents and grandparents do and say– these are connecting factors that the app considers." Beyond connecting people who 'get it,' Chispa brings people together to celebrate their unique cultural identities.
Chispa's ultimate goal is to help Latine American singles in the United States build meaningful connections with others who understand what it means to be a bicultural person navigating both worlds. Many young Latines walk between the worlds of their families and the dominant United States culture. People who experience this meeting between two cultures have a way of interacting with the world that can be difficult for people who have never lived it to understand.
Supporting Diversity and Encouraging Acceptance
Pride Month is an annual celebration throughout June observed in the United States and beyond. Pride Month recognizes the LGBTQIA+ community through advocacy, consciousness raising, and celebration. The origins of Pride Month can be traced back to the 1969 Stonewall Riots caused by police raids targeting LGBTQIA+ individuals and spaces in New York City.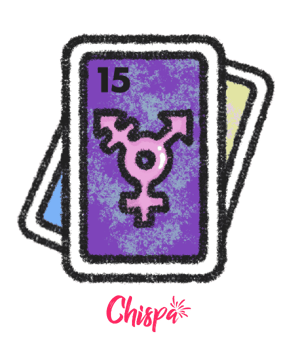 Today, Pride Month celebrates the diverse spectrum of lesbian, gay, bisexual, transgender, queer, and intersex individuals. Chispa is reinforcing its commitment to the LGBTQIA+ community throughout this Pride Month by donating to the Latino Equality Alliance. 
The Latino Equality Alliance was founded in 2009 to advocate for the safety, equity, and wellness of the Latino LGBTQIA+ community. The organization focuses on youth empowerment, family acceptance, educational equity, public health, and civic engagement. Chispa is combining its monetary efforts with a Pride sticker collection available to users.
The Pride sticker collection will be permanent on the app beyond June. Users can attach stickers to their profile to express inclusion in the LGBTQIA+ community and allyship with them. Sticker options include an ally sticker plus trans, queer, and non-binary stickers. These stickers are more than digital decals. They symbolize solidarity and acceptance of the diverse identities and experiences within the app's community.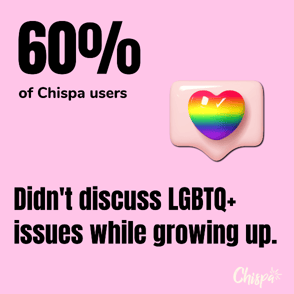 According to a recent survey by Chispa, over 60% of Chispa users reported that LGBTQIA+ topics were not discussed growing up. Thirty-nine percent of respondents acknowledged that Latines face more LGBTQIA+ discrimination within their own communities. One in 4 individuals expressed openness to dating LGBTQIA+ individuals, suggesting a progressive dating attitude and acceptance shift.
The team at Chispa knows that much progress needs to be made to support Latino singles who identify as LGBTQIA+. But the survey they conducted showed growing acceptance and hope for improvement. "We're aware that much progress is yet to be made to support and amplify LGBTQIA+ voices in our communities," Julia said. "Chispa strives to create a safe and inclusive space for all Latine singles to connect."