Online dating has become one of the most popular ways for people to meet — but, that doesn't mean it's completely safe. While it's always good to see who's out there, it's also important to be aware of the risks and scams that could cause issues along the way. Having concerns about who you meet online is natural, but some statistics can put the hazards of online dating into perspective and help you have a safer experience. 
Here are some stats to illustrate the dangers of online dating that you'll want to read before joining a dating site or app. After all, a little knowledge and awareness can ensure that you have the most secure and authentic online dating experience possible.
1. More Than Half of Online Daters Encounter Problems
According to Kaspersky, one in three people has used online dating sites to meet potential partners. Online dating has become such a popular method of meeting people that it's no longer considered taboo for singles to join the swiping scene. 
Around 25% of those people admit to sharing their full name with others. In this digital age, that means it's easy enough to find out more about them from online records — that often includes addresses and phone numbers. While a majority of people go into online dating with good intentions, it's very possible to run into those who'd use your information and vulnerability against you. 
The site reports that 55% of polled users have experienced problems, including some who have been threatened by someone they've chatted with. Threats could be the equivalent of stalking or a breach of cybersecurity. While it's a good thing to open up to a potential partner, you need to remember that some information — especially early on during a connection — can lead to similar threats. Share carefully, and try to avoid putting too much out there on your profile. If you get scared by someone you talk to, screenshot your conversations and stop responding. 
2. 800+ New Yorkers Became Romance Scam Victims In 2022
New Yorkers are often quite savvy when it comes to technology and general street smarts. But they, too, fall victim to romance scams, with more than 800 reporting being scammed in 2022. This data is important, proving that some of these scams have become so advanced that they may be harder to detect. If you become smitten with someone early on, a lot of these red flags may be easily dismissed. 

Romance scams can also be quite costly. NBC New York predicted that the 2022 victims lost a total of $33.5 million to the scammers who took advantage of them. It's a good reminder to never give anyone access to your bank account or wire them money. If it's true love, the person on the other end will have no problem with you setting these important boundaries. 
3. The 2015 Ashley Madison Hack Exposed 32 Million Users
Ashley Madison is best known as a popular destination for people seeking extramarital affairs. Some couples also use Ashley Madison to explore the boundaries and rules of their open relationships. The online dating site could be useful in finding a third partner, or it could be used with consent from a partner who doesn't mind their significant other being sexually adventurous with others.
Ashley Madison is a controversial name in the online dating industry, and it has been a target in the past for hackers seeking to expose its user base.

In 2015, the Ashley Madison hack wreaked havoc on many marriages and exposed the names, email addresses, and payment details behind private accounts. In total, 32 million individuals saw their data leaked onto the internet. Ashley Madison has since reinforced its online protections and created safeguards to prevent future hacks.
Online dating data breaches are rare, but they can be devastating for cheaters, closeted individuals, and others dating in secret. Our dating experts advise people to be careful what they share online and how they present themselves in their profiles. When something is on the internet, you should presume that there's a chance it'll become public to everyone. 
4. The US Sees 7,000+ Annual Reports of Sextortion
Sextortion scams are more common than you may think, with more than 7,000 reported each year. But that doesn't cover a lot of young adults who may fall for the scams and not tell anyone due to the embarrassment of the situation. A sextortion scam usually involves sending explicit photos and the other party using them for blackmail. Often, scammers claim that they'll send those images to loved ones to tarnish their victim's reputation. 

The best way to play it safe is to avoid taking and sending photos involving nudity or sexual situations. If that's something you enjoy doing, it's important to ensure they go to someone you trust. It's also a smart idea not to reveal any identifying marks that could be traced back to you in case of a breach. According to the U.S. Department of Justice, these scams often target minors and are commonly seen on chat services such as Omegle and Snapchat. Remember, just because someone asks for a racy photo doesn't mean they deserve to have it. Your body is your own, and you should have full control over it. 
5. Nearly 20% of Young Women Said They've Been Threatened on a Dating App
Dating apps are great for connecting with people. They can also be filled with individuals who've faced plenty of rejection, and often take their anger out on others — especially at the first sign of disinterest. Around 20% of young women have reported feeling threatened on a dating app, according to a Pew Research Center survey conducted in 2020. That includes being called names at any sign of rejection.
Online dating sites and apps have developed tools to help a person who encounters threats or harassment over chats. Report and block buttons are standard on most legitimate sites, and moderators have systems in place to remove unsavory characters. In some cases, a person may want to take screenshots and send them to the police for further investigation. You shouldn't respond to threats directly, but you should keep a record of them.
"Justice will more easily be served if you can also report how the harassment is affecting your physical, emotional, and financial well-being," suggests Bosco Legal Services.
6. Alaska Ranks the Most Dangerous State for Online Dating
It may be surprising to hear that out of all 50 states, Alaska ranks as one of the most dangerous states for online dating. According to BackgroundChecks.com, the state is 12 times more dangerous than the reported safest state (Vermont) since it is home to plenty of romance scammers. Romance fraud often occurs when someone acts as someone else and asks for money, making the victim think they're supporting a real person with whom they have formed an emotional connection. 

Romance scams happen all over the United States, but Alaska has the highest number of victims per capita. Following Alaska are Nevada, California, Florida, and Colorado. Remember — if things are moving suspiciously fast with someone, you should be on alert. 
7. Young Dating App Users Experience High Levels of Psychological Distress
While online dating can be much easier than finding someone to date out in the world, it can still be quite an emotional burden — especially if you use swipe-based apps like Tinder. These swipe-based dating apps, often known as SBDAs, have reportedly caused users to experience elevated levels of depression and anxiety, and research is ongoing to determine even more about the links between SBDAs and mental health. When someone's initial impression of you is based solely on a photo and brief caption, it could be hard for people to value their own worth if they aren't making matches. 

Forbes reports that around 47% of the population is single and that at least 70% of daters have met someone serious through a dating app. If you're already prone to spells of anxiety or depression, it's important to check in with yourself while using these apps to see if you need a break, or perhaps try another format that works better for you. A dating app should never make you feel bad about yourself. 
8. Online Dating Contributes to 1+ Million STD Cases Per Day
Dating sites that promote hookups may also promote the spread of STDs and STIs, according to a health correspondent from The Independent. While the correlation makes sense, it's something people don't discuss often. Many STIs, such as chlamydia and gonorrhea, are treatable — but, it's important for people to act fast so they don't spread it to others. 

It's also more common than you may think, with 376 million people diagnosed with an STD or STI each year, which is a little more than 1 million per day. Before getting physical with someone new, it's a good idea to discuss sexual history. It's also good to bring condoms along since they're currently the only form of birth control aside from abstinence that helps tame the spread of sexual diseases. No matter your age, you are susceptible to diseases and infections if you don't take the proper precautions. 
9. More Than 21 Million Dating Profiles Are Hacked Each Year
Unfortunately, there's a significant chance your dating profile could be hacked. Studies show that more than 21 million profiles are hacked each year on plenty of popular dating sites. Many hackers look for engaging profiles that might offer more reach and less doubt when it comes to scamming others. 

As with all of your online accounts, it's important to ensure to keep your dating profile as secure as possible and see if your dating site of choice supports two-factor authentication. If you're also hiding a dating profile from a spouse, it's important to know that hacks or leaks could end up revealing that information to your loved ones. 
10. An Estimated 25% to 30% of Match Group Signups Are Fake Profiles
Some of the you see and interact with may not be connected to an actual person. Bot accounts are popping up everywhere, and it's important to verify for yourself whether or not your match is legitimate, especially before giving them any personal information. So, how can you tell if you're talking to a bot that has a fake profile? For one, their answers will be very generic. They might also send you links to click, which you should do your best to avoid. Also, be sure to do a Google reverse image search to see if their photos have been stolen from other sources. 

According to Entrepreneur, a big tell for bot accounts is location. "They say they have a job traveling overseas or are in the military. Anything to keep the ruse going and avoid person-to-person contact," the site reported. Celebrities are also often spoofed, so it's important to remember that people in the media don't create secret fan accounts or personal profiles to connect with others. If it seems too good to be true, it usually is. 
AI images are also becoming increasingly popular, so you'll want to make sure nothing seems off in the pictures they provide — try looking at the background for any oddities or irregularities. Even though bot profiles are out there, running into one shouldn't turn you off of online dating altogether — once you know what to look for, they'll be easy enough to avoid. 
11. Utah Researchers Say 14% of Rape Cases Started With an Online Match
A Brigham Young University study revealed that online dating was a popular avenue for sexual predators to find victims, with many being teenagers and college students. "About 22% of victims were college students, and 15% were between 14 and 17 years old, despite dating apps requiring members to be at least 18 years old," stated an article about the study published in the Salt Lake City Tribune. 
While it's not a majority of online daters, it's still an alarming statistic to be aware of before starting your journey. If you decide to meet a potential partner in person, it's always good to tell a friend before the date. Tell the friend where you'll be, or even consider sharing your location throughout the night. 

Always meet at a public place, and avoid going back home with them until you're more comfortable. Do not disregard any red flags you may notice during a first conversation with your date. 
If serious online conversations quickly turn sexual, or the other person ignores important questions, it's a clue that they likely don't care about your personal boundaries. 
An Online Dating Service Can Only Do So Much to Protect Single Adults
While many people have a safe time exploring online dating, it's important to know that some people abuse the system. Safeguard yourself and your personal details and don't give in to anyone who tries to obtain sensitive account numbers or addresses through your conversations.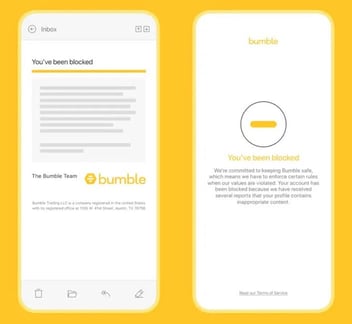 Dating apps take steps to weed out fake accounts and dangerous individuals, but most don't have the resources to do a full background check on every account. Time notes that apps like Hinge and Tinder try to ensure their users aren't sex offenders, but it can be hard to tell if users are being honest when asked that question. Bumble promotes reporting people who give you an unsafe vibe, which is a great way to screen people as a community, but that feature can only do so much. 
That means that it's mostly up to you to learn whether or not a match is legit. It's always good to check their profile image and use Google to your advantage. If someone comes on too strong or tells you they love you within a conversation or two, that's a red flag that you're not communicating with someone looking for a real relationship. Online dating is still a great way to connect, and while these stats should make you more careful, they shouldn't keep you from giving it a try.
Advertiser Disclosure
DatingNews.com is a free online resource that offers valuable content and comparison services to users. To keep this resource 100% free, we receive compensation from many of the offers listed on the site. Along with key review factors, this compensation may impact how and where products appear on the page (including, for example, the order in which they appear). DatingNews.com does not include the entire universe of available offers. Editorial opinions expressed on the site are strictly our own and are not provided, endorsed, or approved by advertisers.
Our Editorial Review Policy
Our site is committed to publishing independent, accurate content guided by strict editorial guidelines. Before articles and reviews are published on our site, they undergo a thorough review process performed by a team of independent editors and subject-matter experts to ensure the content's accuracy, timeliness, and impartiality. Our editorial team is separate and independent of our site's advertisers, and the opinions they express on our site are their own. To read more about our team members and their editorial backgrounds, please visit our site's About page.