The Scoop: We all know the saying, wine is better with age, and it's true for women as well. Growing older can mean growing wiser and more in tune with what's important in life. Some older singles decide not to let their age hold them back from the world of dating, and older single women have a friend in the dating site OlderWomenDating. Use the age of technology to your advantage and find that exact partner you're looking for. Don't let your experience go wasted, OlderWomenDating is here to showcase why the older the berry, the sweeter the juice is more than just a common saying. 
Getting older comes with its perks. Those include understanding what you want in a relationship, and how to deal with a partner in a positive way. And finding an older partner to help you understand how to love is an amazing experience. OlderWomenDating helps scratch that itch. Age doesn't have to stop you from finding that partner who can be your other half. 
The stigma that cougars are only trying to relive their youth needs to be thrown out the window. To date older is to allow a more sophisticated, well-grounded, and more accepting partner into your space. Older women have a head start on the journey of life, and that experience can be thrilling for young men who want to understand how to properly treat and date a woman.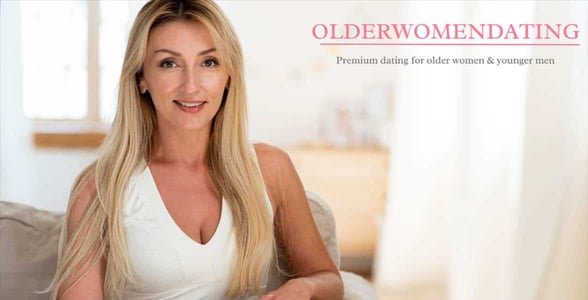 Life is too short not to take chances on what you desire. Statistics show that over 90% of men are interested in dating more mature women. OlderWomenDating gives individuals the opportunity to explore their boundaries and spice up their love life by creating a space for single women to pass on their experiences to young men. 
Love comes in all forms and stages, so when it comes to dating there should be no limitations on what or who you get to pursue. Older women should have the opportunity to find partners who share the same goal without any type of judgment. Whether your goal is to find a younger male to add more spontaneity to your life or change up your usual dating type, it will be a fun time for both parties. 
Unique Features That Embrace Age-Gap Relationships 
OlderWomenDating makes finding your next partner fun. The site helps users show off their personality and clear desires without having to fit into the same archetype so many other dating sites box people into. Users can send winks and prewritten messages, and make their intentions clear to the person who catches their fancy. OlderWomenDating is a place for expression and true connection, so feel free to be yourself and explore the type of person you're looking for with profiles that are judgment free and simple to create. Take a chance on new love and opportunity with OlderWomenDating. 
OlderWomenDating is a niche dating site where members can sign up for free and view profiles that share cougar dating desires.
Create your own adventure with OlderWomenDating. When joining most dating apps, conversations and connections can become too common and can lead to boring dates and ingenuine connections. It can become so routine that you're taking different dates to the same spot every other week. With OlderWome Dating, users are able to expand their horizons and meet people from different walks of life who appreciate their youth and personality. New experiences can come in multiple forms, and using OlderWomenDating will facilitate growth as a person and a lover.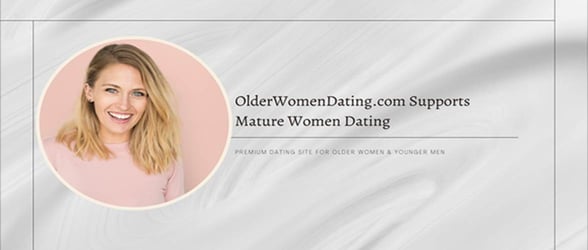 When you're young, love and dating can be complicated. Clearly communicating your needs and desires in a partnership when you're still developing as a person is challenging. The majority of young singles are still figuring themselves out, and that makes dating difficult.
There's nothing more attractive than an older woman who is not only sure of who she is but can help younger partners develop and learn more about themselves. That's why OlderWomenDating attracts singles — it's a chance for young men and more experienced women to learn and grow with each other. 
A verified member named Jennifer explained in her review why OlderWomenDating brings a new dynamic into the dating world and breaks down the typical walls of romance. 
"I matched a cute man nearby," said a user named Jennifer. "We have two decades of age difference. He is passionate about dating a mature woman who looks more intelligent and sexier. He is open to having new experiences and has more free time to attend to my needs. I prefer being the more powerful one in charge, this could be the perfect relationship for me."
Safety First: All Profiles Are Reviewed & Verified 
OlderWomenDating takes the scary part out of online dating. Having conversations with a random person can be nerve-racking and can lead to problems if you don't even know who you're really texting those random "lol" messages to. One good thing about the site is that it is very strict about verifying profiles and keeping the safety of users as a top priority. The world is terrifying enough on its own, so it is a breath of fresh air to know that the older woman you're sending messages to is real. 
"OlderWomenDating.com is not part of a bigger dating system, so you won't show up on some other dating locales when you go along with the site," said the spokesperson of OlderWomenDating.
Before messages can be sent to other users on OlderWomenDating, users must have premium membership. This may seem like capitalism at its finest, but it's an amazing safety feature to ensure that the users are real people looking for genuine connections. This verification process allows users to see the login and active status of other accounts so they know they're talking to a real person.
"We are happy together, that's all that matters. Thank you, I really enjoy the format of the site." — OlderWomenDating user
Older Woman Dating is dedicated to users having a wholesome experience on the online dating site. 
Members must upgrade to premium membership if they want to send messages to other members online. The premium membership has many perks, including advanced security options and search filters. Premium members can also view the most recent login time of a dating profile.
Catfishers can be a common problem on some dating sites, but not on Older Women Dating. All members must be verified to engage in conversation. It's not like the blue checkmark on Instagram, so, no, they're not famous. But rest assured knowing that the person texting you actually looks like their picture. OlderWomenDating uses modern technology to ensure that everyone signing up is real and looking for a true partnership. 
"Members must take a picture of their government-issued ID in order to verify their identity. Members should take a video selfie according to the guides," explained the spokesman of OlderWomenDating.
OlderWomenDating Helps Singles Find Romance Online 
Learn more about what type of partner you want to have by your side with OlderWomenDating. There is a reward in taking a chance on dating older women:, iIt can be a learning and exciting experience for users and their partners to experiment. 
Going through life when you're older is fun, but having a spark of youth tagging along with you can be the icing on the cake. OlderWomenDating is designed for more experienced women to find that partner who wants to elevate their dating style. It's simple, fun, and inclusive to all users who want to step out of their boundaries. 
"Most mature women online are seeking younger men for fun. And, younger men seeking excellent women for love. Most users are looking for age-gap lovers," said the spokesman of OlderWomenDating 
It's not a crime to date older, try out OlderWomenDating for a new love experience. Society  often puts pressure on people to find romance among peers within the same age group, but that's not the case at all. Find that young guy or experienced woman you're looking for and enjoy dating as it's supposed to be – free from judgment.