The Scoop: Eating meat is a dealbreaker in relationships and love for many vegans and vegetarians. The last thing those singles want to see when scrolling through an online dating platform are pictures of people holding up dead fish or other animals they've killed. That's why so many singles who enjoy plant-based lifestyles sign up for VeggieDate. The platform is one of the premier online dating and social networking sites for vegetarians. VeggieDate has helped many couples find love and start relationships based on shared compassion and respect for all beings.
The Good Food Institute reported that the demand for plant-based foods rose by 27% in just one year, with vegan product sales topping $7 billion in 2021. The institute also reported that 57% of surveyed households in the United States prefer plant-based meals at least a few times a week.
That mainstream adoption has made it easier for vegans and vegetarians to pick up items at the grocery store or find a meal at a restaurant in nearly every community. But when it comes to finding love, it's not always so easy.
Traditional online dating sites don't typically match people based on their food preferences. But that may be one of the most critical factors vegan and vegetarian singles consider when looking for a meaningful, long-term relationship. After all, it can get challenging to cook two dinners every night.
That dynamic has also shifted thanks to VeggieDate, a dating platform for singles who enjoy plant-based lifestyles.

When Dave Rubin came on as VeggieDate site manager, he understood the importance of users sharing values and prioritizing compassion for all living beings. Religion often plays a role in encouraging people to be vegan or vegetarian, but many singles choose the lifestyle because it aligns with their beliefs.
Dave is a vegan, so he understands the power of a dating site just for plant-based singles.
"I am involved with my local vegan community, and I organize vegan events on a volunteer basis," Dave said. "I have seen VeggieDate as another way to serve the community and help create a more compassionate world."
Connecting Passionate Singles Since 1999
Many consider VeggieDate, which launched in 1999, the original dating site for vegans and vegetarians. But singles who are pescatarian, eat eggs, or are macrobiotic are also welcome to join the site. Their profiles clearly list their dietary preferences.
It's also open to people transitioning to a plant-based lifestyle and those who go a step further. Dave said raw vegans, raw vegetarians, and raw foodists sign up to match with like-minded singles looking for love.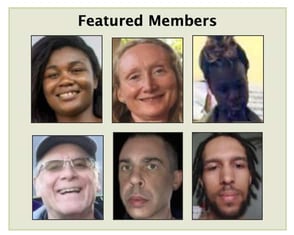 "Our mission is to help the vegetarian and vegan communities make meaningful connections," he said. "I think we have a diverse membership with a mix of races, sexual orientations, economic statuses, and political orientations."
About half of the members identify as vegan, and the site has members worldwide. Dave said most are based in the United States.
Sometimes, it's as simple as wanting to date someone interested in going to the same restaurant or cooking the same types of foods. There can be something special about ordering two entrées and sharing on a date.
"Lifestyle choices are important for many of our members," he said. "I suspect this is especially true for many of our vegan members who want a partner who shares their values and beliefs."
Dave said being vegan isn't so much a diet as a lifestyle choice. He said it's all about a commitment to peace, non-violence, and respect for all beings.
"For many, it is an essential aspect of compatibility," he said.
Features Focused on Safety and Connection
Dave said a big part of his role as site manager is to keep members safe from those who use online dating sites for money-making scams. When the platform identifies a scammer, the profile is promptly removed and a warning message is sent to those who may be in contact with the suspected scammer outside of the site.
"I work diligently to keep scammers off the site, and I think I am pretty effective at it," he said. "If scammers get on the site, the community helps me identify them. Once identified, I promptly remove them."

All members enjoy a variety of features with VeggieDate. It's free to set up a profile and browse through fellow singles. Free members can also send winks and read and respond to messages. Premium members can initiate sending messages to other members and upload additional photos.
Memberships cost $19.95 for one month, and the site offers better deals for longer commitments. A one-year membership costs $59.95, less than $5 a month.
The site's design is similar to that of personal ads with photos, which also helps to reduce the gamification that so many singles complain about on other dating apps. Dave said some members requested a more modern design, but part of the success of VeggieDate is that it's so intuitive and straightforward.
VeggieDate: Users Share Success Through Testimonials
Dave said he's heard from many members who found lasting love through VeggieDate.
"Many have met their partners on the site and have expressed gratitude," he said. "Some have expressed that they wish there were more members in their area."
Kaye and Bill were one such couple. Bill said he joined VeggieDate after his wife died of breast cancer, and he was ready to meet someone. He immediately matched with Kaye, and they started emailing. Both were Seventh Day Adventists who follow vegetarian diets. She was a vegan looking for another vegan to date.
After a few months, they decided to visit each other and fell in love. Today, Kaye, who is a nurse, grows vegetables in their backyard that backs up to a national forest.
"Thank you, VeggieDate, for completely changing our lives. This is the best way to recuperate from my tragic loss of my last great wife," Bill wrote in an online testimonial. "Kaye has gotten my health in order. I have lost over 25 pounds and lowered my blood pressure. You need to live with a lifestyle nurse to know just how to do it."
Another member, Chad, said he appreciated the work that Dave did to weed out scammers on the site.
"Every person I messaged on VeggieDate was actually the person on the profile," he wrote. "I believe I have made a true connection, time will tell, and in the meantime, we are having fun getting to know one another. Real people with similar interests, it's a beautiful site."