The Scoop: Dating when you're a single parent isn't impossible, but it's definitely a challenge. Learning how to balance your love life and your child's needs takes practice and a whole lot of persistence. To help single parents out, the dating app Stir provides a safe and welcoming space for single parents to meet and date other people. Single parents can still have a dating life without having to leave their homes while still earning their rightful title as the parent of the year!  
It's safe to say that children change a person's lifestyle in different ways. Being a parent is a huge responsibility that is very demanding of your time. Some people's entire lives revolve around those of their kids whether it's taking them to dentist appointments or carpooling them to soccer games and staying to watch the outcome. But it's important to remember that making time for yourself will improve your overall well-being.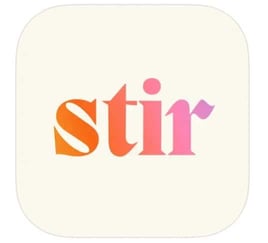 Single parents often struggle to find the right balance between dating and tending to their parental duties. Going to a PTA meeting to find a match isn't the best dating option. Thanks to the dating app Stir, single parents now have a unique opportunity to get out there and date. As the number one dating app for single parents, Stir continues to shake up the dating pool by welcoming singles from all over the world.
Thanks to their personal experiences as single parents, the Stir founders understand the challenges that people in this demographic face in the love department. The idea of having to choose between dating or caring for your children just didn't sit right with them. Instead, they proposed to create a space where single parents can have the best of both worlds. Jennifer Spector, VP of Brand at Stir, told us that Stir was designed to give parents a place to chat and meet with others. 
"We created Stir to give single parents a space to find a partner who understands their lifestyle. Although Stir was created with single parents in mind, you do not have to be a single parent to use Stir," said Jennifer. 
Finding a Partner Who Understands Your Lifestyle
Dating a single parent is different from dating someone who has no children. Dating a single parent may mean your date will have to take certain things into consideration. Single parents may not be as available for spontaneous outings or unscheduled date nights. As a parent, your number one priority is the well-being of your kids — sometimes even before your own well-being. This means a person dating someone with kids must understand and respect that this is how it is.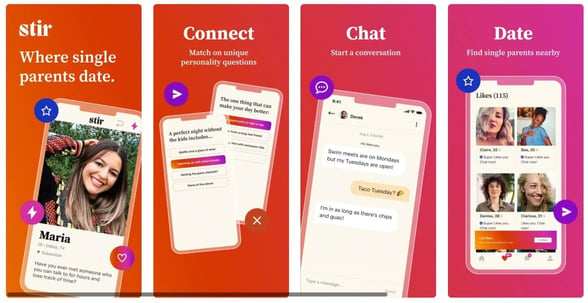 A lot of single parents avoid the dating scene altogether because they fear others won't understand their situation. Unlike other dating apps, Stir nips the whole kid conversation in the bud. There's no need for members to hide they have children or rehearse how they're going to mention it to their dates. Jennifer told us that Stir helps facilitate much more meaningful connections and makes going out on dates much easier because people understand your lifestyle. 
"Stir immediately gives this sense that it's for single parents who are dating and that this is a place for them. They feel comfortable and relaxed," said Jennifer. "We recently had an event with Kat Stickler, who's a single mom and a huge TikTok star. She shared how she felt so psychologically, safe and comfortable, and a part of the community when she started using Stir."
Stir's members can date on the app knowing that having a kid is no longer a red flag. Everyone in the Stir community understands and values parenting. Anyone single over the age of 18 can use Stir. You don't have to be a parent to use its services but you have to be willing to date someone who is. 
Making Time to be Away From the Kiddos for Love 
Getting back into the dating game means going through trial and error. It's nerve-wracking figuring out what to say and what the right move is! Thankfully, Stir has cool features that help members break the ice with one another. Stir provides questions for members to answer on their profiles that allow other members to get a glimpse of who they are. 
Answering questions like, "How would your kids describe you?" is a great way to introduce yourself to others. Before jumping into someone's DM, a quick profile scan can be helpful to see if you are compatible with them or not. This helps people avoid wasting time and going after those members who interest them.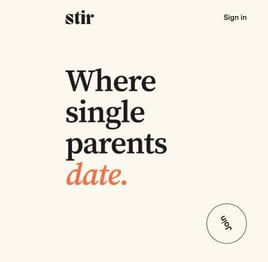 "It was easy to use, and I liked that I was able to see who I was speaking with. They have great people and a lot of options to choose from. I enjoyed the search very much," said Melody, a Stir member in a review. 
Time, as we know, is precious and limited for those who have little ones at home. To help members gain control of their time, Stir offers a feature called Stir Time that informs others when you're available to chat or date. You can identify certain times when you're not available, for instance when you're making dinner for the kids. This overall helps with the communication between members and doesn't make them feel tied down to a dating schedule. 
For members' comfort and safety, Stir is partnered up with an organization called Garbo which helps the app conduct background checks on all of its members. Members feel more confident dating online knowing they're protected. Whenever members feel unsafe or skeptical about certain profiles, they can report it to Stir's Care team immediately. 
Stir: Where Single Parents Date
As a parent, you may feel uneasy bringing anyone around your kids. It's a constant battle you have to fight when trying to figure out when is the right time to introduce your date to your kids. In Stir's helpful guides, members can find great parental advice, including the subject of when to introduce your children to someone you are dating. The main takeaway is that parents don't have to feel pressured to commit to any relationships.
"I think another big thing to note is that just because you're dating as a single parent, you're not necessarily looking for another co-parent. A lot of single parents are just looking for something fun and casual," Jennifer said.
Single parents may be used to doing things on their own, but with Stir's help, they don't have to. Since it launched, users have formed thousands of relationships and created blended families. Jennifer told us that one of her favorite success stories is of a couple who trusted the process and truly found love at the end of the day. They're now engaged and expecting to have an awesome wedding with their blended families right beside them. 
People can download Stir on the Apple App Store or the Google Play Store at no charge. For an even better dating experience, Stir offers premium features and subscriptions. 
"We're really trying to create a community that feels great for single parents who want to encourage single parents to date. We want to encourage single parents to have some time for themselves," said Jennifer.