The Scoop: Music lovers now have their very own dating app. Vinylly is a dating app that uses the music streaming habits of users to create in-depth musical profiles and make intelligent matches. The app uses a single's favorite artists, songs, and genres to match them with other users who have similar profiles. The app recently launched an AI-powered Digital Cocktail Lounge, where users can have AI create signature cocktails based on the blend of two music genres.
In college, I dated a guy I worked with at a restaurant. He was a line cook and was often bestowed the great honor of playing music in the kitchen. And it really was a great honor – the aux cord of a restaurant's kitchen is a hallowed object.
At work, he would play Metallica and Iron Maiden and talk to the other line cooks about how much he loved metal. In private, that man was listening to Bon Iver and suspiciously knew all the words to my favorite St. Vincent song.
People are complicated, and usually, their music taste is even more so. Unsurprisingly, I far preferred listening to the artists we both liked while we were together. "For Whom The Bell Tolls" doesn't necessarily scream romance, at least not to me.
Vinylly is the dating app that recognizes how important music is to people and how big of a role it can play in compatibility. The app combines cutting-edge technology and a curated music-matching algorithm to help singles find genuine connections.
The app recently launched a new feature that uses the power of artificial intelligence. Vinylly's Digital Cocktail Lounge allows users to blend two genres of music using AI technology to create a unique cocktail based on the blend. 
Where's The Dating App for Music Lovers?
Niche dating apps tap into unique compatibility factors. They serve singles who want to match with people who are interested in the same distinctive areas. There are niche dating apps for farmers, dog parents, and beer enthusiasts, and now Vinylly is providing one for music lovers.
Rachel Van Nortwick is the founder and CEO of Vinylly. On the app's website, she writes that her inspiration for Vinylly was the negative effect of most dating apps on user's mental health. Dating apps can be time sucks that don't always produce the desired results. Long-term use of dating apps can cause burnout and frustration.

Pairing dating with music can ease some of those negative emotions. Pretty much everyone has a close, personal connection with music that is deeply meaningful to them. Listening to music and finding new music can help people learn more about themselves and what they like. The music that we enjoy also has the power to comfort and uplift us.
Vinylly sees the power of connections through music. If music has the power to help people learn about and connect with themselves, it can also connect them with others. Connections through music can reveal what people hold dear and can help couples understand each other more intimately.
It's common when people meet for the first time, especially in the context of dating, to share their musical interests. It says a lot about what a person is interested in and what they're all about. Vinylly is putting that commonly made connection at the front and center of online dating.
Finally, There's Vinylly
The founding philosophy of Vinylly is that music is a powerful window into who a person is. Music tells a story and is an expression of what moves the innermost parts of people. Vinylly takes the stance that a single's music taste reveals more about them than a 100-character bio ever could.
Vinylly uses the music that users upload to make intelligent matches. The app uses an algorithm that takes into account all of their listening habits to connect them with other users who have similar tastes. As users browse through the matches that Vinylly made, they can explore the potential match's music taste at the same time.
Vinylly is free to download and create a profile and is available on the App Store and Google Play. The free version of Vinylly allows users to create profiles and send messages to other users. If singles want to keep the conversation going, they can try a free trial of the app's Gold Membership. Users have a couple of options for uploading their favorite songs and artists into the app.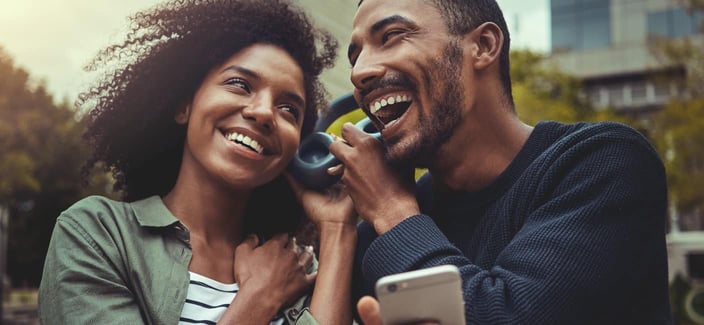 Singles who use Spotify to listen to music can sync their Spotify accounts with their Vinylly profile. Spotify shares the listening history and habits of the user with Vinylly. This includes their highest-played genres, artists, and songs. The streaming data shared from Spotify is added to a user's profile and automatically updates as the user continues to listen to new music.
Singles who don't have Spotify or don't want to automatically upload their listening history can use Vinylly's profile generator. The profile generator is based on a user's music tastes alone and allows users to pick their favorite artists, genres, and songs.
Users who use Vinylly's profile generator can create and edit a playlist within the app. This playlist usually shows off a user's favorite songs and serves as a musical representation of who they are. It's a great way for singles to catch a vibe and gives them a jumping-off point for starting conversations.
Music Connects Singles at A Deeper Level
Vinylly was designed to integrate all of the things that music enthusiasts love, and that includes concerts. Singles can search for upcoming concerts near them and even suggest the concert as a date to their musically influenced matches. 
If two users decide it's time for a date, they can even purchase concert tickets through the app. Vinylly makes it easy for singles to connect through their shared love of music, whether they're listening in their home or in a stadium.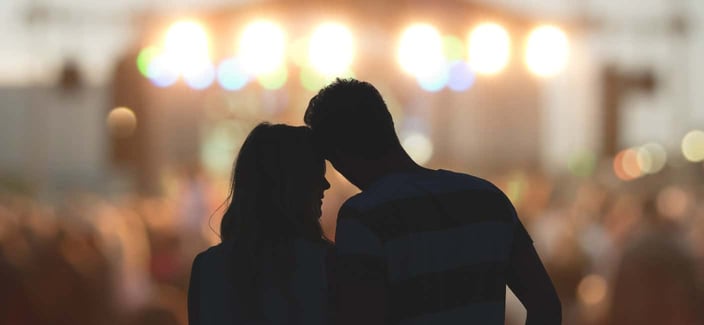 Vinylly recently released a new feature that taps into the power of AI. The Digital Cocktail Lounge gives couples the opportunity to talk more about their music tastes and have fun with the generative abilities of artificial intelligence. 
After a match has been made, users can input two distinct music genres into the Digital Cocktail Lounge's AI. The AI will create a one-of-a-kind cocktail recipe based on the mix of two genres, complete with cocktail names like "Symphony of Shadows" and "Sonic Serenade." The Digital Cocktail Lounge gives Vinylly users an easy idea for a first date – homemade music-inspired cocktail hour. 
Music can be a guide and comfort. It offers so many avenues for connection. Our music tastes can reveal a lot about who we are, what we enjoy, and what brings us comfort. It's common to talk about music preferences when getting to know a date, and Vinylly puts those preferences at the forefront.