The Scoop: Searching for that missing partner can be complicated. Between careers and personal life, you likely have a lot of distractions that can keep you from finding that special person. Movies sometimes give people the false impression that love can easily be found sitting on a bench right next to you or waiting just next door. But in reality, some people find true love in another country or even another continent. The free online dating site Loveawake allows users to overcome distances through online chat. This platform helps singles grow with each other despite living in different parts of the world.
Sometimes dating locally doesn't work out. Some singles will take a risk to expand their horizons and find international love. The proof of that is the increase in activity on international dating sites and the number of long-distance relationships in the world. According to one survey, about 3.7 million couples are in long-distance relationships This suggests that a growing number of people are dating outside of their ZIP code. 
People like to say that love has no barriers — and that includes distance. The online dating site Loveawake is all about discovering love in places abroad. Since the matchmaking service launched, the Loveawake team has been on a mission to connect people from all over the world.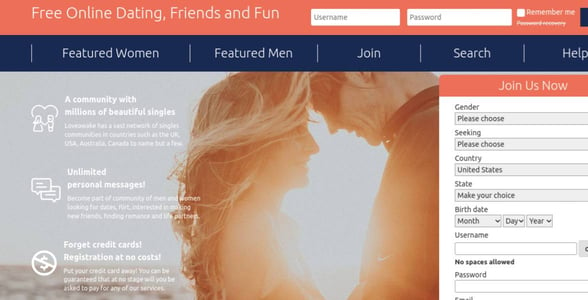 Loveawake allows users to explore a melting pot of people from different backgrounds. Singles can escape the frustrations of dating locally and use Loveawake as an alternative to their usual dating lifestyle. 
Thanks to modern technology, it is more convenient for people to stay in touch with each other through cellphones and laptops. Location is no longer an insurmountable barrier when connecting with people. Finding your partner should not be limited by proximity. Loveawake is here to give daters more opportunities not only for finding their fairytale love, but to step out of their comfort zones and take a leap into love. 
"Loveawake was a life changer for me. Not in the sense that it helped me find my future wife (of course, that takes time). But, the amazing flow of working on this site made me interact and explore so many girls that I finally feel my awkwardness is long gone," said an enthusiastic Loveawake user in a review.
Instant Messaging & a Relationship Questionnaire 
A major component to any dating site or app is its features. Making real connections doesn't just happen — you have to make the effort and work to put yourself out there. Thanks to Loveawake, this doesn't have to be such a burden. Loveawake's features give users the opportunity to stay in contact and communicate through their desktop, laptop, or mobile devices. This not only allows users to feel more secure in connecting with others but helps them keep the conversations flowing from one day to the next. 
One of the best features the site has to offer is instant messaging. Users don't have to worry about different time zones. Singles can message each other whenever it is convenient for them. Instant messaging is an easy and familiar way to build a new connection. The anxiety of getting to know someone face-to-face can discourage some from dating in the first place. With instant messaging, online daters can take things slow and focus on just getting to know who's on the other end of the chat.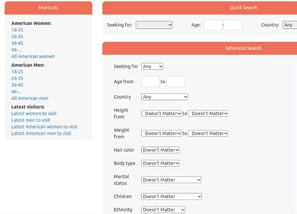 One of the biggest concerns with online dating is encountering catfishing users. The Loveawake team believes transparency and honesty are key factors to forging real international relationships. New users must submit their correct location, date of birth, and verified email address to create an account and start matching. This ensures the site's integrity is maintained and that potential matches have a foundation of good information.
Loveawake's security features provide users with peace of mind knowing the site is able to detect fake accounts through a smart algorithm. Plus, members can flag dating profiles that they believe are illegitimate.
The Loveawake site has a no-shared-contact policy to ensure that members don't share personal information, such as email addresses, when they come in contact with a new person. After a few words have been exchanged, users can then share any information they please. This rule ensures that all members are protected from potential scammers. 
Active Users in Cities Around the World 
The singles on Loveawake come from different walks of life but have similar goals and intentions when it comes to their relationships. Unlike mainstream dating apps that use location and physical appearance to find potential matches, Loveawake focuses on genuine connections and communication for matches to grow as a couple. With over 1.5 million active users, Loveawake is becoming more popular for international dating needs.
Users from east to west can find exactly what they're looking for in a partner. When users create their profile, they can set their own parameters of the type of partner they're looking for, including the region they live in. Certain things, such as age, sex, and even their height, can help you with your search. The site is continuing to expand its range, so soon every country will be able to tap in and start their journey on Loveawake. 

"No matter what country you come from and which walks of life you belong to, Loveawake has the ideal partner for you in your search for true love. We found the site easy to navigate and there are a bunch of members interested in and waiting to meet you," said a Loveawake user in another review.
Culture is a crucial part of a person's identity, and the way they see the world. Loveawake pushes for inclusivity and encourages users to embrace diversity. Being open-minded in your dating life can be rewarding. It's important to look outside our norms to learn and find out more about ourselves through others. This is one of the key reasons love is so special. 
Loveawake gives users a chance to view love differently. Their perspectives on love shifts and something truly awakens in them. Loveawake gives people an opportunity to exchange cultures and help each other grow. 
Loveawake Brings Diverse Singles Together
The LoveAwake network continues to expand its range, so soon singles in every country will be able to tap in and start their live journey on Loveawake. The site plans to make future investments to innovate the app range and create a safer space for users, so it's only a matter of time before it becomes a trend for everyone to use it.
Singles can become the best version of themselves by meeting diverse individuals and embracing new versions of love. 
Love comes in many forms and that is what makes Loveawake so unique in the dating world because it embodies mutual connection and communication. Singles can change dating standards and broaden their horizons with Loveawake. Diversity is central to creating strong bonds between communities and keeping relationships fun, so don't waste any time and sign up for a new journey on the path of love.