Not everyone who goes on a dating site or app wants to find romance, and even hookup apps have plenty of users who stick with chatting. But most mainstream dating sites and apps monitor messages for adult content, especially in the wake of government crackdowns on sex work. But there are plenty of platforms where you can get spicy while chatting, without risking being banned.
Whether you want to get things going with a stranger before you meet in person, or you seek to keep your sex life in the realm of fantasy, the best free sexting sites and apps let you get your freak on in text. Read on to learn about our top picks!
Best Overall Free Sexting Sites
First up, let's review the best options for finding casual sex online. These adult dating sites and apps are open to people of all sexual desires, and they tend not to balk at X-rated conversations.
Ashley Madison is a breath of fresh air for single or attached folks experiencing a sex slump. This exciting dating site and app offer tons of opportunities to mingle, match, flirt, and hook up discreetly. Over 80 million profiles await you on Ashley Madison, and it's free to create an anonymous account.
Discreetly arranges one-night stands and extramarital affairs
More than 80 million profiles worldwide
Travel-friendly features for seeking matches in other cities
Ashley Madison is the top choice for married people looking for something more, but it's also a prime platform for sexting. In fact, many of the users on the affair dating site stick with sexting, sending text, videos, and voice messages to satisfy their sexual needs. When you sign up at Ashley Madison, you specify what type of relationship you're looking for, including whether you want to keep things strictly virtual.
If you're a woman, Ashley Madison is a fully free sexting site, but for men on Ashley Madison, it's a little more complicated. Male Ashley Madison users have to buy credits to gain access to almost all forms of communication, but you can pick and choose the methods you prefer to use.
Registering for an account on Adult Friend Finder (AFF) is like speeding into the fast lane of the online dating world. This hookup site puts you in the center of action and encourages sexy singles and swingers to satisfy their secret fantasies. Anyone over 18 can join AFF and browse millions of profiles for free, but only full-fledged members have access to the revealing content in the community forums and chat rooms.
One of the largest adults-only sex communities
Free and fast registration process
Dating forums and live chats foster live flirtation
Although Adult Friend Finder (or AFF) bills itself as a site for adult singles to meet online for discreet hookups, a lot of users stick with the virtual side of things. AFF frequently gets top billing among sexting websites because the chat room and forum options make it easy to get down and dirty without paying for premium membership access to chat one on one.
Adult Friend Finder has been around for decades (launched in 1996), and the dating platform maintains a judgment-free atmosphere with plenty of sexy content to choose from, no matter your preferences. Because AFF has been around for so long, it has a massive online presence and tons of active users, so you'll have plenty of sexting partners available for chatting. 
When it comes to arranging hookups, BeNaughty is fast, easy, fun, and safe. This dating site has built a global network of sexy men and women who want to skip the small talk and cut right to the chase. If you're interested in short-term romance, BeNaughty is the place to go and get your flirt on.
A global network of naughty singles over 18
Ability to blur nude and explicit content, if desired
Advanced search filters and one-on-one messaging
For singles, couples, and groups who want their casual dating experiences with a big side of naughty content, BeNaughty provides a playground to explore. The hookup site and app don't police how spicy members get, whether they're posting nude photos or instant messaging their deep dark fantasies in detail. Free membership is a pretty good deal on BeNaughty: Women with profile pictures get full access to all features, while men on the platform can send up to five messages per day for free.
To get the full benefits of the BeNaughty platform, men have to pay for one of three premium membership packages. Extra Security provides HTTPS encryption, automatic browser history clearing, and incognito browsing. The Chataholic package grants unlimited messages, plus read receipts and other communication features. The Premium Dater grants all the perks of the other two packages, with a deal on the membership fee.
If casual sex is your goal, then Flirt.com can be your wingman. This sex site offers anonymous browsing, advanced searches, and private communication, all for free, to help single men and women find a potential partner and arrange sexual encounters that satisfy their secret fantasies.
A massive user base of over 70 million dating profiles
Send a free private message or Flirtcast to get something going
Exchange nude pics or adult videos with a Flirt member you trust
While most people sign up at Flirt.com looking for a casual relationship, the free dating site offers a range of tempting possibilities for sexting. The content moderation policies are not at all strict, and the communication options make it easy to get started chatting up sexy local singles. You can get a feel for things in the chat rooms, or send a Flirtcast to several users at once to spark a sexy conversation. 
But Flirt.com isn't just about freewheeling sexual liberation. The site takes security seriously and responds to reports quickly when users experience harassment. If you want to keep your fantasy life even more private, premium membership lets you browse in incognito mode and restrict who can send you messages on the platform.
FriendFinder-X offers sexy singles the gratifying experience of meeting hot dates within a few clicks. This hookup site is designed to excite people's imaginations and fill them with sexual energy. Whether you're chatting privately or in a group forum, singles and swingers can be upfront about their sexual desires, fetishes, and fantasies.
A casual personals site for singles, couples, and groups
Profiles have suggestive photos and strip tease videos
Chat live via a two-way webcam or private messaging
With the X in the name, it should come as no surprise that FriendFinder-X is all about adult content. Whether you want to keep your sexy experiences strictly virtual or just want to search for your next local hookup in a sexually inspiring atmosphere, the video content, chat rooms, and forum posts on FriendFinder-X provide a lot of fuel for imaginative conversations. The open and judgment-free atmosphere makes it easy to sext local adults who are interested in adventurous fun.
Our dating experts don't consider it the best dating site for instant hookup seekers because there are some user complaints. But FriendFinder-X is an especially welcome place for sexting. Kinksters, fetish lovers, and horny individuals can find a home on the judgment-free platform, and you can always start with free browsing to see what it's all about.
OneNightFriend keeps things real by offering singles the chance to mix and mingle without making a big commitment. They don't even need a subscription to join the ranks of casual daters. This tried-and-true hookup website is part of a larger network of sex-positive communities that empower individuals to find local hookups more quickly and privately than they could at a bar or club.
Safety settings ensure accountability for users
Free login and browsing via search filters
Profile pictures are recommended but not required
OneNightFriend is a relative newcomer in the hookup space, but the simplicity of the platform and the ease of use makes it a strong contender, especially if you want to sext. The hookup site keeps things simple and direct, and no one on the platform is looking for more than a casual situation. Although free members only get up to five messages per day, it's easy to make the most of those five messages and take things off-site to continue.
If you don't want to move your steamy conversations off the platform, premium membership at OneNightFriend is affordable and comes with perks like visibility boosts, read receipts, and browser history clearing to keep your private business private. 
7. Pure
The Pure app is all about sex positivity, so it should come as no surprise that the casual dating app also works well for people who want to talk dirty, whether it's before an in-person hookup or instead of one. The app encourages users to be honest about what they're looking for, in part, by letting them stay anonymous. Just make an ad specifying what you're looking for, and you'll have 24 hours to connect with other users in your area.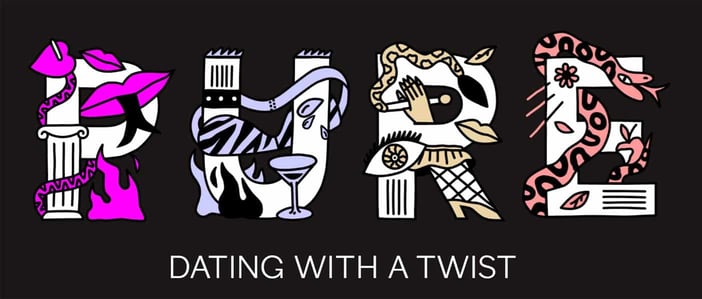 After the 24 hours are up, your ad and all the messages attached to it disappear, so if you want to keep the conversation going you'll need to exchange other contact information. But it's just as easy to post a new ad and explore a new fantasy with Pure app members in your area, as much and as often as you want.
8. DOWN
As a free sex app that puts everything out in the open right from the beginning, DOWN works for sexting singles by keeping things simple. When you sign up, you have to specify: Are you down to date, or down to hookup? This open and honest atmosphere also pays off for people who want a little dirty talk with their hookups because everyone you match with is looking for casual sex as opposed to a more formal date.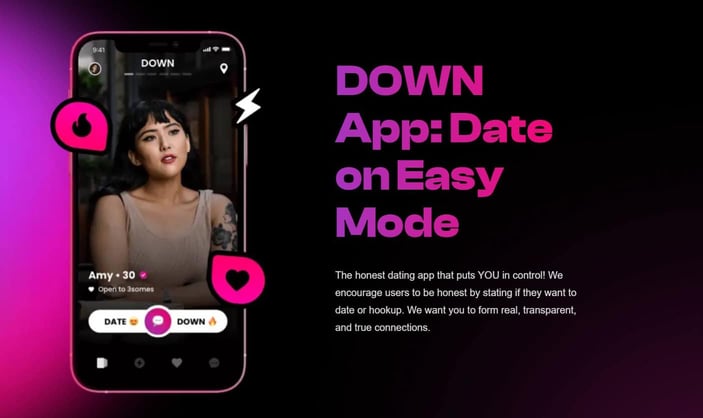 Best of all, the core features are all there for free members. You can match and chat with as many people on the app as you want without a premium membership, and since DOWN is all about sex positivity, users can get flirty and dirty in instant messages. 
Best Sexting Sites for LGBTQ+ Users
Whether you're gay, lesbian, queer, bi, or fluid, you've likely noticed that the typical straight-laced dating app may not have quite the dating pool you're looking for online. That's where LGBTQ+ dating sites come in with a rainbow of date options across the spectrum of sexuality.
MenNation has tons of X-rated content to arouse the senses and stimulate conversation. The hookup site attracts single men and gay couples all over the world and has grown its network to include over 93 million people. Free members can browse these profiles for as long as they want and send flirts to anyone who catches their eye.
A massive men-only sex and swinger community
Browse profiles and send private messages to your favorites
Profiles feature erotic videos and sexually explicit blogs
MenNation lets queer men take sexting to the next level, maintaining an X-rated environment that welcomes any man who wants to get sexy with another man. The hookup site puts the adult content right up front, with photos and video content anyone can access, as well as sexy chatting and forum posts that all members can participate in.
Whether you're out and proud, in the closet, or just curious about what other men have to offer, MenNation provides a warm and welcoming community that's also sexually charged.
While members of all levels have access to plenty of sexy content, premium members get added perks when it comes to sexting options. Buzzmode lets you remotely control a sex toy that a livestream performer is using, and premium members also get enhanced video chat options.
As part of Friend Finder Networks, LesbianPersonals is a fast-paced hookup site built to satisfy. The dating platform caters to women, straight couples, lesbian couples, and groups who are looking to enjoy lesbian sex. LesbianPersonals members can find romance in live video chats or instant message conversations and take things to the next level by exchanging contact information.
Create a free profile in less than a minute
Search filters can identify attractive singles and couples in the area
Strip tease videos, revealing photos, and other adult content
The safe, secure atmosphere and welcoming user base of LesbianPersonals makes it easy for queer women to explore sexy fantasies without harassment or pressure from men. In fact, single men aren't allowed on the platform at all.
Whatever your specific sexual orientation, if you're a woman who wants to explore same-sex fantasies, the community at LesbianPersonals has a spot at the table for you.
If you're not ready to just jump in, you can get your toes wet by posting and reading in the forums and chat rooms, where members talk about what they are looking for. Since LesbianPersonals doesn't shy away from sexy content, the chats can get pretty steamy. But if you want to go private, you'll need a premium membership.
Grindr facilitates hookups by telling local singles where the hottest guys in town are and giving them a direct line of communication. It's easy to jump into this active dating pool and start flirting with gay and bisexual men near you.
Sexually active men can create free profiles
Matching system uses GPS information to find local dates
Millions of prospects available in 192 countries
Grindr is the go-to name in sexting apps for gay men for good reason. The massive platform works a lot like Tinder, allowing unlimited messaging between men who form a mutual match. In addition to the matchmaking system, users have access to community areas to chat and get as sexy as they want, making Grindr a versatile tool for any man who wants to get down with other men.
The app uses the location data from your phone to match you up with local users, but if you're willing to pay for premium membership you can expand your sexting reach. Premium members also get an ad-free experience and other perks, but free members still get access to all the core features.
12. SCRUFF
SCRUFF started out as a social media site, but it's easy to see how it became a popular sexting app for gay men seeking hookups. It isn't all about sex, but SCRUFF users definitely don't shy away from getting explicit, thanks to the secure and open atmosphere. As a free member, you can chat with mutual matches, and swipe within your local area, but the perks really open up for premium members.
Premium SCRUFF members gain access to perks like arranging travel hookups, unlimited private photo sharing, and anonymous browsing, so if you're serious in your sexting quest, you'll have extra tools to find the right partners. 
FAQs: Do Mainstream Dating Apps Allow Sexting?
Mainstream dating apps and sites typically don't allow sexting. Most online dating platforms use some method of content moderation. Most of the time it's an automated system that detects "red flag" content, or users can report content that makes them uncomfortable.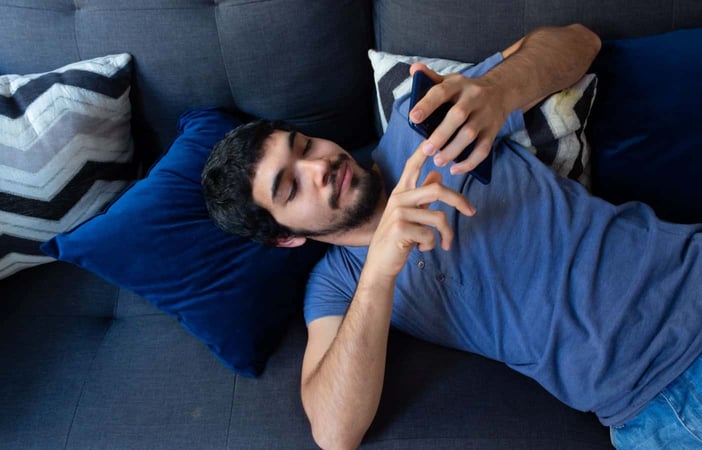 Sometimes the app or site will send you a warning, and give you a chance to adhere to the rules. Other times, however, you risk being immediately booted from the app or site and potentially even banned. 
Suggestive, flirty chats are not usually a problem, but if you really want to get down and dirty you'll want to move to Whatsapp. 
What Counts as Sexting?
The term sexting originally referred to text-based, sexually explicit content, generally between two people. However, technology has changed since the days of sending texts via old-school cellphones, and now sexting includes all kinds of formats, from audio clips and photos to video chat and short videos sent between adults.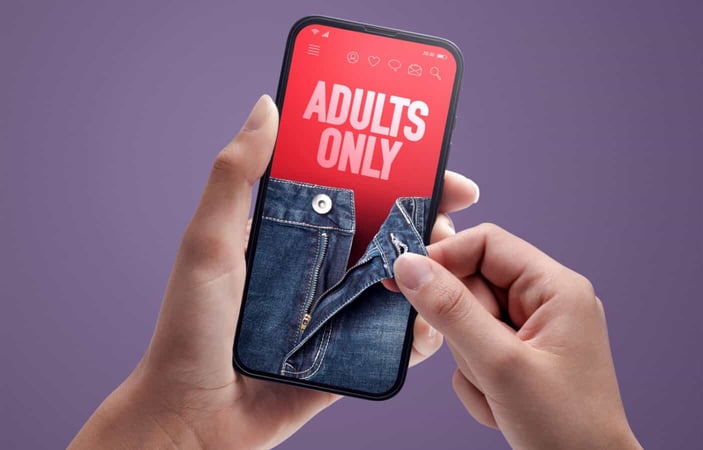 If you're exchanging some kind of spicy content with another person using a tech-based interface, it generally counts as sexting.
Is It Safe to Sext With Someone You Met Online?
This is a tricky question. While casual sex and online sexting come with similar risks, there are some risks specific to the type of explicit content you share that don't occur as often with hookups. For women in particular, sending nude photos and videos can carry the risk of having those images shared on the broader internet, either as revenge porn or blackmail.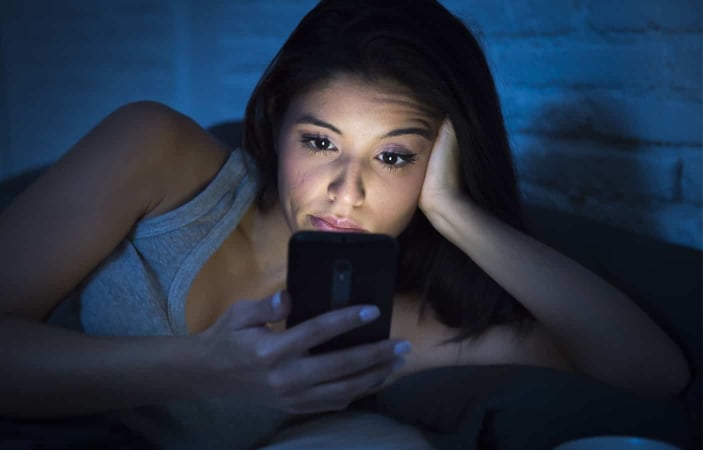 It's a good idea to communicate with your sexting partner through an app that doesn't store or allow saving messages, photos, or videos, like Confide. Confide is encrypted, screenshot-proof, and doesn't allow saving or downloading, and the messages you send through the app disappear after they're read or seen. 
You should also try to do some basic vetting of people you decide to sext with, whether you meet them on a free sexting site or a more mainstream dating service. Taking a few precautions before you get down will save you a lot of trouble later, and the people with good intentions won't get offended by you looking out for yourself.
How Do I Initiate Sexting Without Being Creepy?
Consent, consent, consent! Whether on free sexting sites or chat apps, getting consent before you start getting hot and heavy is an important step. Start slow, even if it's with an established sexting partner. Pay a compliment, and test the waters. It's also a good idea to ask about boundaries, and other potential issues beforehand.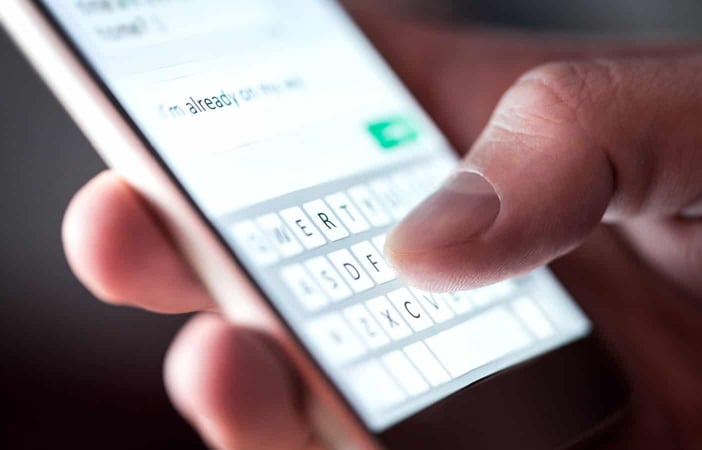 A lot of people think that the boundaries talk or asking what someone wants, whether they're into something, kills the mood. In fact, when you do it right, getting consent, checking in on your partner, and establishing their boundaries and desires beforehand can be the sexiest foreplay possible. Even if you don't turn it into foreplay, the situation is a lot sexier when everyone feels comfortable and at ease.
Free Sexting Sites Give Adults Room for Foreplay
Whether you're looking to get your motor running before a local hookup, or just want to keep your sexy activities restricted to the digital world, free sexting sites provide an outlet to indulge your fantasies and get some intimate attention without having to meet in person. 
Now that you've got our expert recommendations, it's time for you to sign up and make your own judgments. Find the right sexting site and scratch that metaphorical itch!
More About "12 Best Free Sexting Sites & Apps (Sep. 2023)"
We hope our guide "12 Best Free Sexting Sites & Apps (Sep. 2023)" has been helpful to you in meeting your dating needs. If you're still unsure of your next steps, we highly recommend trying the Ashley Madison free trial, our top recommended site in this guide. If you're new to Ashley Madison, here's a brief introduction to the site from our dating experts:
Ashley Madison is a breath of fresh air for single or attached folks experiencing a sex slump. This exciting dating site and app offer tons of opportunities to mingle, match, flirt, and hook up discreetly. Over 80 million profiles await you on Ashley Madison, and it's free to create an anonymous account.
Our experts rate Ashley Madison a 4.8/5.0 in the Hookups & Sex category, which makes the site a highly-rated option in its niche.
If you prefer to explore other options, see our latest guides for sites like Ashley Madison, which can help you break down Ashley Madison's reputation and features versus those of other sites.
Advertiser Disclosure
DatingNews.com is a free online resource that offers valuable content and comparison services to users. To keep this resource 100% free, we receive compensation from many of the offers listed on the site. Along with key review factors, this compensation may impact how and where products appear on the page (including, for example, the order in which they appear). DatingNews.com does not include the entire universe of available offers. Editorial opinions expressed on the site are strictly our own and are not provided, endorsed, or approved by advertisers.
Our Editorial Review Policy
Our site is committed to publishing independent, accurate content guided by strict editorial guidelines. Before articles and reviews are published on our site, they undergo a thorough review process performed by a team of independent editors and subject-matter experts to ensure the content's accuracy, timeliness, and impartiality. Our editorial team is separate and independent of our site's advertisers, and the opinions they express on our site are their own. To read more about our team members and their editorial backgrounds, please visit our site's About page.