The Scoop: Many people encounter a great deal of shame and stigma around sex. The team at oral pleasure-focused app Headero is seeking to change that. The app enables users who love oral sex to meet new partners in a safe, inclusive, and consent-grounded environment.
Many adults — even those who are sexually active and have been for years — feel uncomfortable talking about what they like in bed. 
Discussing sex is taboo in mainstream culture, making sex talks feel universally inappropriate. That may make sense at work (for those who aren't writers for DatingNews.com) or with your elderly family members, but avoiding sexual discussions with your potential and present partners doesn't make much sense. And if couples aren't on the same page about their desires, they risk getting into awkward, mediocre, or unsafe situations.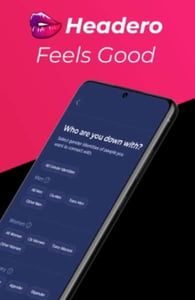 Of all the sexual activities, oral sex is perhaps the most stigmatized. But while oral sex is often portrayed as dirty and shameful in the media, 85% of surveyed adults said they had participated in oral sex in their lifetime, and 80% indicated that they find pleasure in it. 
Oral — particularly when practiced on a person with a penis — is commonly depicted as negative for the person performing the act. Yet even as our culture places a stigma on oral sex, most people do it.
Stephen Quaderer, CEO of Headero, saw the absurd stigma that people place on oral sex and understood the harm it could do. He wanted to create a dating app for people who love oral sex to have a shame-free environment to find partners, talk freely about what they're into, and have lots of fun. "Headero is the connection app for people who love oral pleasure.  Our intent was to create an inclusive, sex positive space for everyone – people of all gender identities and all sexualities.  To do that we centered on a specific desire – oral pleasure – that people of all identities can share. "
Sex Positivity for All
One positive element of Headero's mission is its inherently inclusive app structure. Unlike apps that are designed for heterosexual dating but then expand to other genders and sexualities later, Headero has always been for everyone. Oral sex is not specific to a sexuality or gender identity, so no one is automatically left out. Anyone who enjoys head can use the app and interpret what that means for them how they see fit. "The app experience is the same for people of all gender identities – women, men, and non-binary people," Stephen said.
Many dating apps create a rigidly heteronormative environment, even with the most positive or feminist intentions. Apps designed on the pretext of women taking the lead in messaging often leave out queer men and nonbinary people, even if an alternative app structure is tacked on for them later on. The culture of many apps is primarily traditional heterosexual dating, and while this may make sense for their target users, it leaves many people out.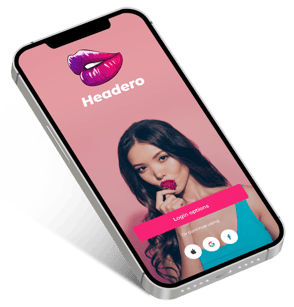 Conversely, Headero's focus on oral sex in all it entails encourages sexual and romantic exploration for its users. They can define oral pleasure for themselves on their profiles and conversations with potential partners. Connections on Headero can defy the norms of sexuality and relationship progression, allowing for whatever best suits individual users.
"Our intention with Headero is to create a community grounded in our values of inclusivity, sex positivity, and enthusiastic consent," Stephen said. "A place where people of all gender identities and all sexualities can explore their sex and sexuality in a stigma-free, consent- and safety-grounded space.  Because we believe that everyone should have the right and opportunity to explore their sexual selves safely."
While Headero users are usually interested in oral sex, what that means for them varies widely. Whether users know exactly what they want and are looking for a new partner, or they're ready to learn more about their own sexual wants, on Headero, the possibilities are endless.
Explore Desire on Your Own Terms
Headero's concept may be sexual in nature, but that doesn't mean every connection is rooted exclusively in sex. Users define the type of sex they want for themselves, and they're also able to define the type of relationship that they want. The app isn't just for late-night booty calls (though those are a perfectly good use for it). Users can have relationships on Headero that are as casual or romantic as they want. They can wine and dine before a one-night stand, or they can take it slow and pursue something meant to last. 
When singles meet their partners through other apps or through mutual friends, there is often an unspoken expectation of what that relationship will entail. Going out to a fancy dinner means the date has the potential for a committed relationship. If you meet your partner in a club, the relationship may only be sexual. Even different general dating apps come with their own sets of expectations. Many singles approach Tinder as the go-to for hookups and platforms like Match or Hinge for more serious relationships. Even when users want something different from the status quo dating experience on their chosen site, they may struggle to ask for what they want.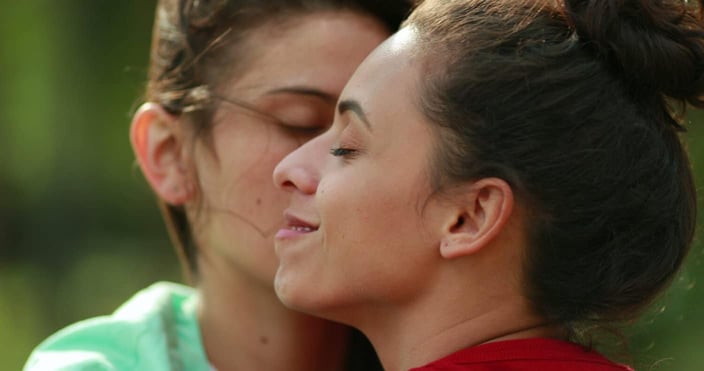 With Headero, it becomes easier for adult users to pursue the type of relationship that makes sense for them. They get to explore sexually and romantically, all on the same app.
"The consistent theme we hear from our members is that they have been drawn to Headero because of our honesty, clarity of purpose and values-grounded community," Stephen told us. "Being honest about (and unashamed of) our purpose – connecting adults who are down with oral pleasure – we give our members freedom to explore their sexual selves on a number of different dimensions.  These include relationship types – everything from solo dating to polyamory; kinks – from anonymous sex, to BDSM to cuddling (and lots more); and oral styles – facesitting, sensual, rough – however you like it."
Headero Fosters Safe Online Encounters
The team members at Headero are dedicated to making sure users have a fantastic time and stay safe in the process. They believe that clear communication and a focus on consent and inclusivity can help protect their users from negative dating experiences in person and online. They have even added a section for users to disclose their STI status so potential partners can have informed consent before any sexual activity takes place.
Above anything else, the Headero team prioritizes the safety of its users. The dating app has a standard reporting and monitoring function so members can submit a report when someone isn't meeting their community guidelines or terms. But the app goes beyond the simple ability to report bad users. It also offers the option to rate your interaction with someone based on the app's community guidelines of inclusivity, pleasure positivity, and enthusiastic consent. The ratings are then shared on each member's profile. Ratings aren't based on looks, personality, or sexual performance, but on the values that make Headero's space inclusive, safe, and consent-grounded. 
"This rating feature is intended to introduce a measure of accountability into the Headero app environment, with the recognition that accountability is a necessary precursor for community," Stephen said. "But we also like that the rating feature creates a positive incentive structure to live up to our community guidelines. So hopefully, people aim to get "hearts" (5 stars) across the board when interacting with each other – making Headero a more kind and caring place for everyone."
Headero's commitment to safety doesn't stop at its users. The team is also dedicated to digital safety, ensuring protection for everyone using the app. "We do not have ads in the app (as existing ad protocols don't meet our privacy standards) and we don't sell our members' data," Stephen said. "So Headero's only source of income is through Bliss mode subscriptions – something we think aligns our interests with those of the Headero community.  People pay for what's valuable to them, so we have an incentive to create more and more valuable features for the community over time."
Headero provides the perfect mix of blissful fun with protections to create a community that is safe for all. "People are questioning why they should be ashamed to pursue their sexual selves alongside other consenting adults," Stephen said. "Our mission is to change society's framing around sex – away from stigma, where it largely sits today – and centering instead on safety and consent.  Because we believe passionately that sex, when grounded in safety and consent, is joyful, uplifting, and, well, sexy!"