The Scoop: Society is still recovering from two years of relationship dislocations and human isolation. During this challenging time, online dating has served as an available resource where people can meet and catch up on their social needs. The Bloom Community ensures that everyone's allowed a safe and equal chance to experience genuine human connections. Bloom continues to prioritize creating a friendly community for all users while maintaining its core values of consent, communication, and respect.
Everyone deserves some meaningful human interaction. It's what keeps us sane and connected to our humanity.  The onset of the COVID-19 pandemic has dealt people many unexpected challenges, including that of missing out on social experiences. That has taken an emotional toll — especially on singles. But thanks to the advancement of technology, online networking has enabled singles to meet and connect with the outside world. 
Unfortunately, some online dating platforms don't cater to every person's needs or interests. This can result in people feeling burnt out on mainstream apps and looking for new interesting ways to expand their social and romantic circles.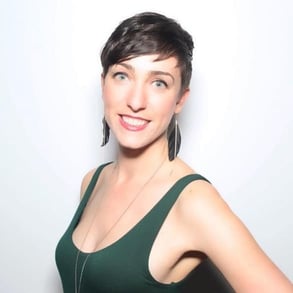 Through her own personal experience with online dating, Luna Ray said she noticed the lack of inclusivity for alternative people like herself. She wanted to be a part of an online dating experience that was community-oriented and inclusive of everyone. In 2020, Luna decided to launch the Bloom Community to help people create meaningful relationships.
"We are a dating app, a social app, and an events app today. My hope is that over time, we can be a community resource and a place that you can come to for education," Luna said. 
The Bloom community welcomes adults (18 and older) who share the same core values in consent, communication, and respect. The community welcomes people of all sexual orientations, gender identities, and relationship identities, including monogamy, ethical non-monogamy, and kink.
"Building community is very important to me, and Bloom helped me do that in a way I wouldn't be able to find anywhere else," singer and songwriter Rachel Lark said in a review. 
A Safe and Kink-Friendly Place to Meet New People
It's not often that you see online dating sites offer a safe space for alternative communities. Most of the time, mainstream platforms either exploit or ban kink activities. Singles who want to explore more sex-positive and kink friendly platforms find themselves disappointed with the limited sites on the market. When faced with heteronormative or kink shaming sites, some people may question whether online dating is for them.
But that's no question when it comes to the Bloom Community. With over 100 gender identity options on the app, singles can find comfort knowing that the Bloom Community is open to help all people meet more organically. The team behind the Bloom Community is passionate about creating intentional spaces for human connection.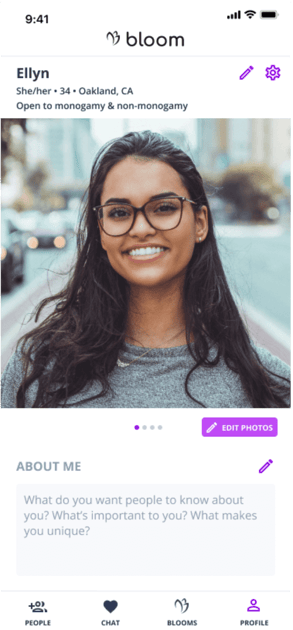 The app consists of people from all backgrounds. Luna told us that 63% of Bloom Community members identify as LGBTQ+, 14% identify as trans and/or non-binary, and 83% identify as ethically nonmonogamous or open to ethical nonmonogamy.
"And many of our members identify as kinky. So you can think of us really as the app for people who want to meet and date alternative communities," Luna said. 
Safety is the team's number one priority, Luna said, so the Bloom Community team does a thorough scanning of every profile added to the app. The screening process entails the team looking over the profile's photos and text for anything suspicious. And every member is asked to answer the question "What does consent mean to you?" when they sign up. This helps the team effectively stop fake profiles and identify anyone joining the community for the wrong reasons. Of course, the app also has a user-driven reporting system to keep members safe in addition to the screening process.
"We have a robust reporting policy, and any time we get reports from members, we review that pretty much immediately and remove profiles that are fake or unable to uphold our community values," Luna said. 
Fortunately, Luna told us the Bloom community sees very few reports of scammers. Members can join Bloom at no charge and feel safe being themselves — and know that they're in good hands while doing so! 
Building Community By Partnering With Event Organizers
You can already tell just from the app's name that the Bloom Community is grounded in building community. But to build a strong community, you have to network and make connections. That's exactly what the Bloom Community team does.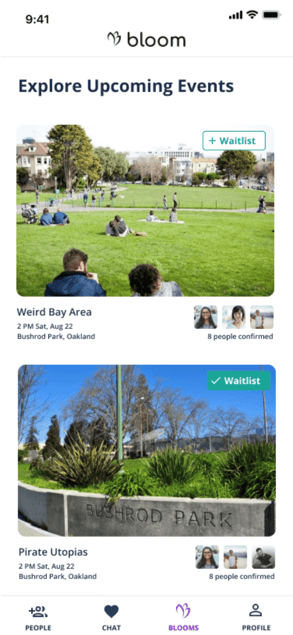 The Bloom Community team has partnered with various event organizations that are community-minded and sex-positive. Luna said she believes that events tie people together, so she has made it the focal point of the Bloom app.
Bloom Community events can lower the barrier to meeting new people and serve as a fun way to connect with people who share similar interests, values, and desires. 
"Bloom is really built around events, and it's designed to help people connect authentically around community events," Luna said. 
The Bloom Community works with trusted organizations to strengthen communities of free thinkers. Organizations use the partnership with Bloom to reach people in a way that is impactful and engaging. The Bloom Community has helped add new dimensions to community events. It has led to a lot of positive reviews and an increase of peer-driven awareness for alternative communities. 
"freeQ is thrilled to partner with Bloom to build sex-positive community connections! freeQ offers a safer tech online venue so we can host LGBTQ+ and sex-positive people all over the world in our virtual video space at freeQ.love. freeQ's audiences love having more opportunities to connect via Bloom! Y'all rock!" Sarah Masey from freeQ wrote in a review. 
The Bloom Community Treats People With Respect
You may have heard the phrase "Respect goes a long way," from parents or mentors. We may not appreciate the phrase as children, but the point they're making is that respect is the most precious free gift we can give to anybody. It shows people that we see each other as equals. That is why treating people with respect is one of the core values of the Bloom Community. 
Every member of the community is offered respect and expected to behave respectfully as soon as they join the Bloom Community. The app revolves around empowering and uplifting people by recognizing who they are — and giving them the respect to be comfortably themselves. 
"We put a lot of thought into how we designed the system to give non-cis, non-binary, trans, and gender nonconforming people as much power as possible in defining their gender identity and showing up to the people they want to be seen by" Luna said. 

The app gives people the space to come as they are or, better yet, to discover who they want to be in a safe space. The Bloom Community respects its members and makes every effort to help them feel comfortable expressing themselves. By encouraging members to meet at local events, this fast-growing and kink-friendly network helps people feel motivated to open up to new experiences and social connections. 
"Bloom has been a great way for me to meet folk from my local community. I get easily overwhelmed as a woman on traditional dating apps. I love Bloom's minimalist approach and emphasis on meeting people at community events," wrote a Bloom user on the Apple App Store reviews. 
The Bloom Community aims to expand its network across the globe in the coming years. Looking ahead, we can expect even more events offered and more partnerships with event organizers created to bring all types of people together. Members can sign up to Bloom's newsletter to stay updated on upcoming events and happenings. 
"Our intention is to continue to launch live in city after city and find additional ways to serve the community that we have on Bloom through better software and better technology," Luna told us.