As someone who grew up in church, I understand the importance of finding a partner who shares your beliefs. Christians want someone who can share their faith experiences and pass on those experiences when they have a family. But sometimes it seems like it was easier for Moses to part the Red Sea than for a woman to meet an eligible Christian match these days. 
Finding love in the dating field can be challenging. But don't lose hope. Christian dating bloggers provide practical advice for women seeking a Christian relationship and navigating the season of singleness. From firsthand experience, dating experts can teach readers how to make the best of the season they're in and offer Christian-based advice for dating successfully, whether in personal social pools or online. 
Dating is complicated and takes effort. So, having an expert who can help encourage you along the way is beneficial. Below, we list the 10 best Christian women's dating blogs that can provide you with the dating insights and resources to approach the dating field with confidence and grace. 
Best for Finding Community: Heart of Dating
Heart of Dating is your online resource for finding crucial dating advice you can't find anywhere else. Kait and JJ Tomlin, the masterminds behind the Heart of Dating, help singles learn about the ins and outs of the dating world, particularly with regards to Christian relationships. The bloggers provide readers with tools and resources to let go of confusion and become a pro at dating the right way.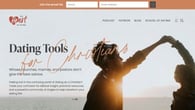 And you don't have to go at it alone. Heart of Dating offers Christian singles a Facebook community for members to connect with like-minded individuals, whether for friendship or something more.
Kait and JJ Tomlin are dating coaches who share a male and female perspective on their weekly podcast. They also have well-known guests on the pod, including speaker Christine Caine and the author of "The 5 Love Languages," Dr. Gary Chapman. From faith counseling resources to community spaces, the Heart of Dating has everything a Christian person needs to succeed in the dating world.
More About Heart of Dating:
Provides a library of dating guides and books
Offers an 8-week intensive program to help users get real dating results
Has podcast episodes and blog pieces on building confidence
Best for Embracing Self-Worth: The Refined Woman
Self-worth is essential when navigating the dating world. And Kat Harris of The Refined Woman knows that well. Kat empowers women to walk in their worth and lead meaningful lives rooted in vision and freedom. She creates podcast episodes and blog posts that offer readers practical tools to learn more about themselves and their dating journey.
The Refined Woman tackles everything from body image and confidence to dating psychology and wellness. Kat also dives deep into tough topics, including fertility struggles, deconstruction, and purity culture. With Kat by your side, you will find the confidence to take on the dating world without worries or regrets. 
More About The Refined Woman:
Provides Bible studies, meditation guides, and online curriculum
Allows readers to book coaching sessions
Has podcast episodes with knowledgeable guests and experts
Best for Thriving in Relationships: Stephanie May Wilson
If you have dating questions, Stephanie May Wilson has the answers. Stephanie understands that relationships are a vital part of the Christian faith and helps readers thrive in their personal lives. Her blog empathizes with readers and shares stories from her own life starting with her prayers for her future husband all the way to the realities of marriage life.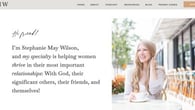 Stephanie May Wilson has been through it all. And hearing experiences from people who went through the journey can be genuinely beneficial. Stephanie's raw advice and valuable resources give women the tools to trust in God while going through different phases of dating
More about Stephanie May Wilson:
Offers resources for mental health, self-care, and motherhood
Teaches online courses for singleness, dating, and marriage
Has books and devotionals for personal growth
Best for Therapy-Based Advice: TrueLoveDates
I had the pleasure of hearing Debra Fileta speak in person; she is a total rockstar and a fountain of knowledge on dating. Debra combines her background in licensed counseling and the gift of healing faith to help singles grow as people and in relationships. Debra does everything, and her blog site, TrueLoveDates, is the headquarters for all things relationship advice.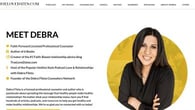 TrueLoveDates takes care of the matters of the heart as well as the soul and mind. Debra Fileta is a proponent of the belief that healthy people equals healthy relationships and advocates for singles to find their best selves before jumping into relationships.
Through TrueLoveDates, readers can learn how to date with healthy intentions, find the strength to keep going, and live in a new way.
More About TrueLoveDates:
Offers a faith-based counselor network for mental health and other interpersonal issues
Hosts the hotline style podcast Love & Relationships
Has six books on topics of marriage, love, and sex 
Best for Straightforward Dating Advice: Justine Mfulama
Justine Mfulama doesn't sugarcoat. She provides singles with straightforward advice and instruction on dealing with the various ups and downs of dating. Whether you want to determine if a guy's into you or when to take the next step in a relationship, Justine has the inside info to help you learn more about yourself and your dating prospects.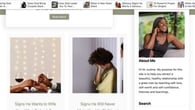 Justine helps women attract healthy Christian relationships through advice for self-improvement and understanding men. Her blog posts include topics of facing insecurities, promoting self-love, and learning how to date the right way. If you're looking for practical advice, Justine is your girl. 
More About Justine Mfulama:
Writes blog posts on relationships, lifestyle, and faith 
Offers how-to guides on various subjects with in-depth instruction
Has a YouTube channel for video-based advice
Best for Scriptural Insights: Clothed With Dignity
Sacha from Clothed With Dignity teaches women how to grow in their faith and as individuals while they wait for marriage. Covering everything from motherhood to singlehood, Sacha applies biblical principles to her teachings and offers readers a fresh and genuine perspective. Besides her blog posts, Sacha provides a resource library with guides and faith-based books.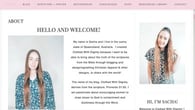 If you want to learn to be more content during singlehood, you can learn from Sacha's tips and the uplifting verses she shares. She helps readers draw closer to God, break free from past wounds, and learn valuable lessons, all while referencing the scriptures.
More About Clothed With Dignity:
Includes a page for scripture and prayer-focused posts
Provides a resource library with positive affirmations and self-care
Offers a newsletter so readers never miss a beat  
Best for Online Resources: The Praying Woman
The Praying Woman is your hub for all things Christian faith and inspiration. So, of course, it would have advice for Christian dating and relationships. Its blog posts offer guidance for people entering all stages of dating, from talking to getting engaged, and provide listed instructions.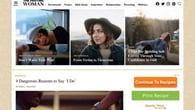 The Praying Woman urges women not to waste time while waiting to find a mate. The articles emphasize using this time to grow spiritually and offer inspiration for beating discouragement with tips for navigating the dating scene as a Christian. No matter where you are in your journey, The Pray Woman has a word for you to use and apply in your situation. 
More About The Praying Woman:
Offers tips for relationships, wellness, and parenting
Has a prayer group on Facebook for members
Provides free resources
Best for Finding Healing and Freedom: Joy Skarka
Joy Skarka is a woman on a mission to help women find freedom from shame and love their true selves. Her blog focuses on overcoming sexual shame and trauma with themes of pornography, sexual abuse, and brokenness. Joy creates a safe space for women to share and thrive while on their journey to wholeness and healthy relationships.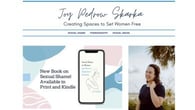 It's no secret that sex can be a taboo within the Christian community. Joy's platform allows Christian women looking to learn more about their sexuality to feel comfortable doing so.
Joy offers blog posts, online small groups, and self-help books to empower women to find peace through their relationships with Jesus and heal from past wounds for a more hopeful future. 
More About Joy Skarka:
Hosts online small groups discussing marriage, sex, and singleness
Offers books on how to beat sexual shame
Shares stories and tips on sex and dating
Best for Encouragement While Waiting: Modern Ruth Project
The Modern Ruth Project teaches women how to be content while being single. You may not have found the Boaz to your Ruth yet, but the Modern Ruth Project helps to use your season of singleness for good. Its articles offer readers grounded dating tips, self-love advice, and personal stories from other readers or experts.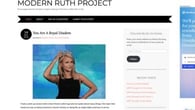 The Modern Ruth Project understands that not everyone finds the right match early in life and provides inspiring messages to help mature women who feel discouraged. Its blog posts detail various kinds of encouragement from building body positivity to finding your identity in God. Whether you need advice to get out of a dating rut or just positive reinforcement along the way, the Modern Ruth Project is here for you. 
More About The Modern Ruth Project:
Answers reader questions through blog posts
Collects reader testimonies to share on the blog
Encourages Christian singles over 30 with uplifting content
Best for Online Dating Tips: Christian Connection
Christian Connection has helped match thousands of couples over the years. But it's not only a place to find a date. Christian Connection also has a dating advice blog for people searching for God-fearing partners. Its blog column covers a variety of topics that tackle issues for all age groups, including dating after loss, relationship boundaries, and faith-centered advice.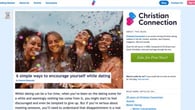 With more than 20 years in the business, Christian Connection has seen tons of member success stories. It's no surprise that the online dating site highlights these successful matches on its blog page. These stories can assure modern singles that not every love story happens in the most conventional ways. 
More About Christian Connection:
Offers an online space for singles to connect
Hosts local meetups and events for members to meet other singles
A massive blogging catalog with topics on divorce, first dates, and relationships
Finding Your Match
Praying for a partner to fall out of the sky may not always work. But seeking godly advice from people who have been there can help you get the courage to keep dating and find your match. We all know dating is challenging, so give yourself some grace. 
We hope one of these blogs will provide the guidance you need to have more confidence and faith when you go on that next date. Happy dating!