The Scoop: Sugar dating is becoming more popular and accessible now more than ever. Some people participate in sugar dating to gain a sense of security while others do it for financial gain. Regardless of the reason, the sugar dating site Sugarbook is the right environment to help you find the sugar relationship you've always been looking for. Sugarbook currently has over four million members worldwide who are ready for a real connection. Through cool features and helpful tips, Sugarbook members get the opportunity to explore sugar dating in a whole new way.
Sugar relationships have many benefits and advantages that most people aren't aware of. Sugar daddies and sugar babies offer each other something they need in a relationship, whether that's financial support or simply having someone around for good company. The best way to find a sugar romance is by checking out the handful of dating sites that offer this sort of relationship. 

The dating site Sugarbook is specifically designed for individuals who are seeking sugar relationships. Knowing they're in an environment surrounded by like-minded individuals helps provide Sugarbook members with a sense of security. In 2016, Darren Chan created Sugarbook to offer a supportive community for sugar relationships. Since it launched, Sugarbook has grown tremendously with now over 4 million members worldwide. 
"Sugarbook is a social networking platform built for the elite. Unlike other dating websites, we value privacy, and we strive to provide a community for honest relationships," said Darren. 
As a leader in luxury dating, Sugarbook provides the best tools for members to connect, meet, and grow genuine relationships that can last a lifetime. Conventional dating isn't for everyone and Sugarbook strongly embraced that revelation. The site allows people to discover what they want and need in a relationship and go after that with no shame. 
Providing an Engaging Experience for All
With over 4 million members worldwide, Sugarbook obviously must be doing something right. But what is it? Sugarbook has a dedicated team that is willing to go above and beyond for its members. The team prioritizes creating an engaging experience that's worthwhile by providing its members with cool, updated features and programs that allow members to interact with one another.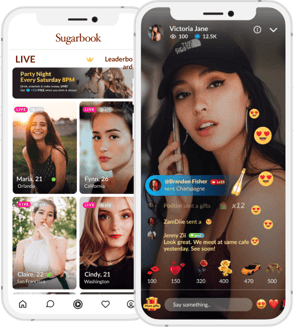 Sugarbook is notably the only sugar daddy dating platform that allows members to livestream. The site's built-in livestreaming feature helps expedite the dating process for members, but it also helps them feel more at ease when they see a face behind a username in real time. This separates Sugarbook from the other sugar daddy sites. 
Members get a rare chance at being part of a tight-knit community. Sugarbook's community is filled with a diverse group of people who all want to find companionship and a meaningful connection. Having such a strong community by your side will make the dating process a lot smoother and more fulfilling. 
"We want everyone to be able to discover one another, and we want the non-elites to be with the elites," said Darren Chan, Founder and CEO. "Our community is very supportive. Sugar daddies and sugar babies can connect on our forums and chat rooms, sharing their experiences and offering advice and support to each other. They can navigate the world of sugar dating together, building long-lasting connections."
Making Authentic and Transparent Connections
Most daters just want to get straight to the point. Going through what seems like an endless round of 21 questions can be exhausting. Thanks to Sugarbook, sugar daddies and sugar babies can cut to the chase and confess what they want out of a relationship. This reduces the amount of drama and uncertainty that online dating can cause.
The phrase, "honesty is the best policy," remains true in Sugarbook. Integrity is at the core of the site's community guidelines. Darren said the platform encourages all members to be as honest as possible when building relationships on the site. Sugar relationships can be complicated when you try to beat around the bush. Instead, Sugarbook allows you to be open and honest about everything. Sugarbook is the only sugar daddy platform that allows its members to put their marital status on their profiles. 
"Whether you're married with kids, don't be shy and say you have kids," said Darren. "It is built on honesty and transparency. We see that relationships based on honesty and transparency go on further (in their relationships) and end up in marriages (of which we have a few stories)."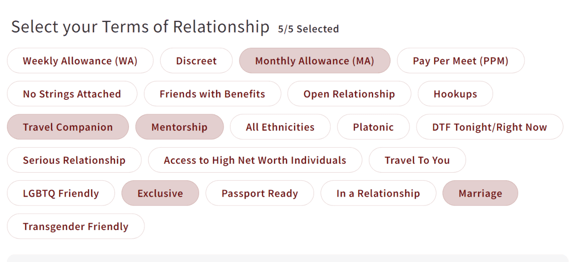 Darren also said the platform has a unique matching system that allows members to choose their interests and Terms of Relationship (TOR). The TORs can be shown on their profiles and consist of what they're looking for in a relationship. This includes their weekly or monthly allowance expectations and whether they're interested in an open or no-strings-attached relationship. So before members start a conversation with one another, they know from the start what they're looking for. This helps save people time and make overall better matches all around. 
"Any successful relationship would require honesty from both parties. Here at Sugarbook, we are strong believers in being clear with one another and in the relationship," said Darren.
Sugarbook Creates Sugar Relationships Worldwide 
Sugarbook continues to pave the way for more sugar daddies and babies to connect. Sugarbook is all about helping people build and negotiate the kind of relationship they want. Sugar dating is not as intimidating when you use Sugarbook for your dating needs. 
Sugarbook values privacy and continues to provide a safe community for more sugar relationships to blossom. For enhanced security reasons, Sugarbook has an optional verification process that helps create a safer and more secure environment for members. Members can differentiate between verified users who have a blue check mark visibly shown on their profiles from those who don't.
"Sugarbook takes the safety of its users very seriously. The company has several features in place to protect its users from scams, fraud, and other online dangers," said Darren. 
Members are allowed to take ownership of their online dating experience by having control over their profiles. Sugarbook gives members the option to blur their profile pictures. They also can grant certain members access to their private photos. This protects women specifically from unwanted trollers and helps them feel more comfortable. 
"At the end of the day, our goal is to empower women by giving them a voice and providing them with the essential freedom to choose and express themselves," said Darren. "It's also important to emphasize that all relationships, regardless of their nature, require communication, mutual respect, and consent to be healthy and fulfilling for all parties involved."