Our SilverSingles review includes everything a single person needs to know about this time-tested dating site and app. Our experts cover all the details from how the personality test works to how much paid membership costs.
The online dating world can seem intimidating if you've never tried it before, but it's actually pretty easy to get the hang of it and meet mature single people when you have the backing of a trustworthy site — like SilverSingles.
As part of the Spark Networks family, the SilverSingles website has earned a good reputation in the dating industry and has successfully maintained a friendly and safe community for seniors seeking friendship and love. We highly recommend giving it a try if you're over 50 and interested in meeting a senior dater in the same age bracket.
Our SilverSingles Rating: 4.5/5.0
We're a pretty big fan of the SilverSingles dating site, to be honest. It's got a lot of personality and helpful features. The senior dating site has come a long way since it launched as PrimeSingles.net in 2002. The dating service may have undergone two name changes, a re-branding, a dating application launch, and quite a few updates since then, but its commitment to offering the best dating site to the senior community has never wavered one jot.
Today, SilverSingles remains one of the leading senior dating sites available to the over-50 crowd, and our dating experts have made a full review of SilverSingles and given it an overall rating of 4.5/5.0 stars.
SilverSingles is serious about helping singles over 50 meet one another, and its network stretches across the U.S., Canada, and Europe. The secure signup process includes profile verification and fraud detection, so new members must portray themselves accurately to gain access to the platform. By fostering a safe environment, SilverSingles helps men and women meet mature dates in their area.
An exclusively senior membership base
Over 800,000 monthly users worldwide
App available for free on Google Play
As you can see in our SilverSingles review, this senior dating site has a lot to offer senior singles. Not only does the dating platform have a large dating pool, populated entirely by mature singles, but it also supports a free dating app to help a SilverSingles member chat and match while on the go.
The registration process is simple and free, so SilverSingles users can get acquainted with the online dating service's technology without having to worry about a premium subscription.
Ratings by Category
Everyone is in the dating scene for all sorts of reasons — some want a serious relationship while others are just browsing for a late-night chat — and different types of people can have widely different experiences on the same dating site or app.
That's why we've broken our Silver Singles review into categories to help you decide if this senior dating website is right for your needs, desires, and expectations. Take a look at our reviews for the following types of daters:
For Men | Women | Seniors | Black | Christian | LGBT
At the end of the day, a niche dating site like SilverSingles.com has to be versatile enough to cater to older singles who come from all walks of life, and we think the dating site does a pretty good job at giving people what they want. But you should do your own research on the SilverSingles membership and judge for yourself.
For Men
Men typically outnumber women in the online dating world, and that can create a competitive and stressful environment. But that's not the case at SilverSingles. Older women make up 59% of the SilverSingles membership base, so straight guys can find plenty of good matches in the network.
Since 2002, SilverSingles has reached out to the senior community to give mature singles a second chance at love. This exclusive senior dating site uses an intelligent matchmaking system to introduce its members to compatible dates of a certain age. As part of Sparks Network, SilverSingles maintains a global audience in the U.S., the U.K., Germany, and other countries.
59% of users are women seeking a date
Set match preferences by gender, age, height, distance, photos, or similarities
Detailed and easy-to-read profiles
The SilverSingles dating site and dating app can deliver tons of great potential matches to men in search of a pen pal, a travel partner, or a hot date, and you don't have to worry about your conversation being lost in the shuffle because this slower-paced online dating scene has you covered.
For Women
As a woman on a popular dating site or app, it's easy to get overwhelmed by an onslaught of incoming likes, matches, and messages. Single women who are burnt out with mainstream dating can turn to a SilverSingles account for the filtering tools and an exclusive dating membership to narrow their daily matches to the most viable and attractive individuals.
SilverSingles is a premium dating site where mature men and women can feel safe having a conversation and getting acquainted. The site only allows singles over 50 to join, and it uses advanced profile verification techniques to ensure everyone is who they say they are. Anyone looking for love and romance can rely on SilverSingles to make them a great match.
Women receive several match recommendations a day
Intelligent matchmaking grounded in personal compatibility
The site maintains strict privacy and safety guidelines
SilverSingles is a female-friendly dating service where singles can feel safe reaching out to one another and forming deep long term relationships one message at a time.
With a SilverSingles account, single women can take control of their online dating experience, and they can always contact customer service by phone or snail mail for dating advice and guidance.
For Senior Dating
SilverSingles is a senior dating site and mobile app, so it's obviously the most useful for singles in their 50s, 60s, 70s, and up. The community sees a lot of retirees looking for a second chance at true love, and it's nice to have so many senior daters with similar experiences, values, and lifestyles in one place.
SilverSingles offers a secure dating experience for singles of a certain age. Anyone over 50 is welcome to join the network and browse for dates by using the simple search filters and match recommendations. Every month, over 800,000 senior singles join the dating site and start their journey toward love.
Global membership base of exclusively single seniors
Free members can browse matches, send smiles, and favorite profiles
24/7 online customer service
We consistently rank SilverSingles among our favorite senior dating sites because we appreciate the online dating site's connective power and have heard positive feedback from a lot of former and current users.
"At 57 years in age, I feel more at ease on this site so far," said Nimborocks in a SilverSingles review. "Trusting I will discover a loyal, sincere, competent female partner to support each other's faith and needs."
For Black & Interracial Dating
Some studies have suggested that online dating has sparked a rise in interracial relationships and marriages in the U.S., and we could see how giving mature singles access to a more diverse dating pool could inspire love matches that would've been unlikely — or even illegal — in generations past.
The SilverSingles dating platform encourages singles to connect with people they may never have met in real life, and it can help Black, biracial, and multiracial singles broaden their dating horizons.
SilverSingles celebrates diversity in the dating scene and builds romantic connections between people of all racial ethnicities and cultural backgrounds. As long as you're over 50 and single, you can join this unique online community and begin your journey toward love. All it takes is a valid email address to get started.
Straightforward signup process is easy for black seniors
Custom filtering tools by race as well as age, distance, and more
A diverse membership base of singles over 50
We've given SilverSingles a 4.5 rating for Black and interracial daters. The matchmaking system works the same no matter what race you are, and it's easy to set your Preferences to suit your romantic goals and search for a black member's profile.
Plus, premium members who've completed the sign up process can send unlimited messages to silver singles on the dating website and app.
For Christian Dating
Christians often have high standards for their love interests because they're playing for keeps. Many devout singles want to find a partner in faith as well as in life, and online dating can be the best way to meet that compatible match.
SilverSingles can introduce Christian singles to one another and increase the likelihood of an online conversation evolving into an offline relationship.
As one of the top senior dating sites, SilverSingles is a fantastic resource for Christians who are over the age of 50. Its easy-to-understand interface gets singles excited to browse for matches and send smiles and messages. Free Christian members have the run of the site, but they will see blurred photos and messages until they subscribe and get access to everything.
Christians can rank religious compatibility as "somewhat important" or "very important"
Daily match recommendations in your age bracket
Only paid subscribers can see photos
Christian singles who put their faith in the SilverSingles website often see great rewards as high-quality matches flock to these dating profiles. Older adults can find a Christian senior match by using the search filters available for free.
For LGBT Dating
Dating a niche within a niche is difficult in the real world — just try to run into someone who's over 50, gay, and single at the grocery store — but it's easy online. SilverSingles can bring LGBTQ+ seniors together and offer them a curated dating scene where they can be themselves and make a smart match.
SilverSingles uses new-school technology to help old-school daters find love. Since its launch, this senior dating site has welcomed over-50 singles of all races and orientations. Once you identify as a "man seeking men" on the site, you'll find yourself surrounded by people who want the same things in life.
Identify as "man seeking men" in your profile
Free personality quiz and mature partner suggestions
Over 20 daily matches in the "Have You Met?" section
Whether you identify as gay, bisexual, queer, or none of the above, you can use SilverSingles as your personal dating assistant. Just tell the online dating website who you're looking for, and the matchmaking algorithm will do the rest.
SilverSingles introduces mature lesbian women to one another on a safe, nonjudgmental dating platform. With a basic membership, single women can create a profile, review daily match suggestions, and search for compatible, age-appropriate partners on the site. Free members can also send smiles and likes for free to show that they're interested.
A niche network of single women in their 50s, 60s, and 70s
Free matching and limited communication with premium members
Available to lesbians in the U.S., Canada, and Europe
Thanks to its sophisticated interface and diverse membership, the SilverSingles website can serve singles of all backgrounds, orientations, and gender identities. A senior dater can become a free member to test the internet site and dating app's suggested match list and find a compatible date.
A Premium SilverSingles Membership is $27.95 a Month
Next in our review of SilverSingles, we'll outline what features come with a free membership and how singles can use the senior dating site and mobile app to their advantage.
The cost of SilverSingles depends on how long you want your premium subscription to last. You'll get more bang for your buck if you make a longer commitment, but you may want to keep your paid membership period short so you'll feel motivated to make something happen more quickly. It's up to you to set the pace and decide which subscription you can afford.
Here is the pricing breakdown for a premium membership on SilverSingles:
As you can see, it can be pricey to become a SilverSingles premium member, but those older adults who pay for the matchmaking tool receive a lot of benefits in return.
Budget-conscious singles should note that major online dating sites like SilverSingles change their pricing models all the time to suit the demand of the dating scene. SilverSingles has been known to offer flash sales on its premium membership plans and dating service, so keep an eye out for special deals and promotions.
And, of course, you can always stick to the free basic membership plan and meet compatible matches and build a relationship on the SilverSingles app or the senior dating website without becoming a premium member.
To Create a Profile, Include Your Information and a Photo
Due to the advanced age of its users, SilverSingles is sympathetic to singles who are new to online dating and maybe haven't gone on a date in years or even decades. This is a newbie-friendly dating zone where singles don't need to be very tech-savvy to create a dating profile and find potential matches.
The SilverSingles registration process is easy to understand, and you can get a basic membership profile up and running in less than five minutes. Seriously, we timed it.
Selecting a photo for your profile picture is the longest part of the sign up process. Singles should know that having an attractive dating profile pic is extremely important on a dating website and dating app because it's basically the first impression compatible matches have of you, so you'd better make your profile picture a good one.
Choose a recent photo where your face is clearly visible (no hats or sunglasses) and you are smiling at the camera. Head shots are good. Bathroom selfies are bad.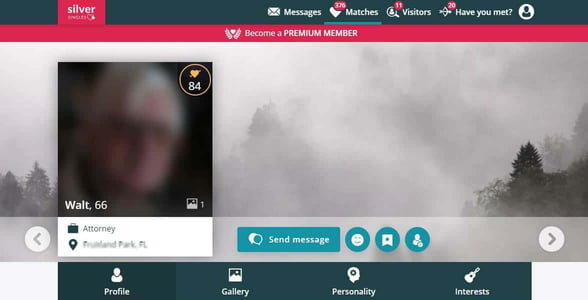 Our dating experts recommend adding multiple photos (at least 3) to your profile's Gallery to give any potential match a good sense of what you look like and what kind of person you are. Ideally, each photo should show a different side of you (not literally), so maybe you have one picture with your dog/cat/pet, one travel picture, and one silly shot.
The SilverSingles dating app (available for iOS and Android) allows users to import pictures from Facebook so it should be pretty easy to pick out some good ones.
You should think of your SilverSingles dating profile as a résumé in the online dating world. It needs to describe everything you have to offer without getting weighed down by a lot of details — that's what the interview (aka the online conversation) is for.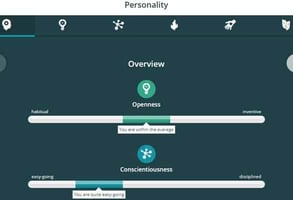 It's a good idea to beef up your profile by filling out every section from the personal description (your height, religion, ethnicity, education, etc.) to the interests section (your hobbies, music tastes, and favorite sports) to the Questions and Answers (How do you spend your time?, What are you passionate about?, etc.).
SilverSingles lets singles take a character test about their backgrounds, likes, and goals. This personality questionnaire will provide a clear picture of who you are and assure visitors that your profile isn't a fake or a scam. One of the warning signs of a fake profile is incomplete information or using broken English. So the more you share, and the better you express yourself, the more appealing you'll look to a potential match.
The personality test can help SilverSingles users to identify real date opportunities because a fake profile typically won't have as much deep information… or even a profile picture.
SilverSingles members' profiles encourage a senior dater to describe who they are and what they're looking for in a potential partner. The senior dating website can even create a personality traits assessment based on your answers to questions like "Do you enjoy meeting new people?"
One last thing: Please, for your own sake, don't lie on your SilverSingles dating profile or character test. The truth will come out eventually — either when she sees you in person and realizes you're not 6'1 or when he comes to your place and realizes that you don't have a dog. Maybe you think you can overcome a little fib on your dating profile, but it's really not a good look, and it's certainly not a good way to build trust with a new person you just met online.
Browse For Dates and Receive Potential Matches
Now that you've taken care of your dating profile, it's time to start looking for dates in the SilverSingles membership base. A good place to begin is the Matches tab.
The Matches page curates a list of compatible dating profiles based on Your Preferences, which you can adjust and change at any time. A SilverSingles member can set personalized dating preferences to find a partner of a certain age range, distance radius, ethnicity, religion, and other lifestyle choices.
You can also focus on members' profiles with photos, new photos, or profiles you've already favorited by using the filters at the top of the page. In the upper right-hand corner of the profile, SilverSingles puts a heart with a compatibility rating that assesses how much SilverSingles users have in common.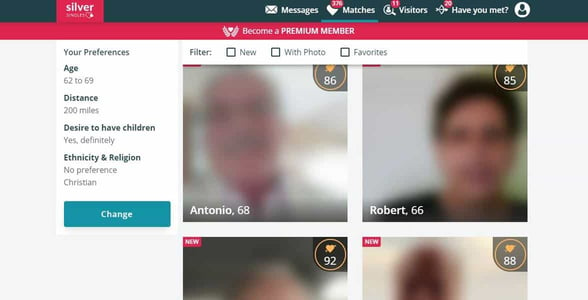 The Have You Met section? is a little bit more randomized than the Matches section. SilverSingles highlights one profile at a time and invites singles to take action by sending a smile or writing a message if they're interested. Otherwise, the user will click the X and receive another potential match suggestion based on their previous likes and dating preferences.
Only a premium user can see their profile visitors and respond to messages from their compatible matches. Those with a free membership plans have to be content sending smiles until they're ready to upgrade to a paid membership.
The SilverSingles dating platform doesn't have many search options, but it does have a lot of matching opportunities and a mature membership base. If you've browsed EliteSingles — which is a sister site to SilverSingles — then this interface should look familiar to you.
The Elite Singles matchmaking system is basically identical to the SilverSingles matchmaking system, and both have proven fantastically effective in their respective niches, leading to tens of thousands of long term relationships. If it ain't broke, don't fix it, right?
Over 800,000 People a Month Use SilverSingles
SilverSingles caters to seniors who want to get back into the dating scene. Some SilverSingles users are recently divorced or widowed, while others have been single for years but are only now ready to meet someone new. The SilverSingles membership is exclusively over 50, and as such all users share similar sensibilities and perspectives.
As a user named Barbara Miller said in a review of SilverSingles, "I think it's great that there is a place where mature-minded people can find what they're looking for and not give up at this time in our lives."
SilverSingles sees over 800,000 monthly active users, and the membership base is rapidly growing to meet the need among seniors for a reliable way to make friends, attract dates, and build long-term relationships.
Senior adults should note that this dating pool is on the smaller side, especially in comparison to the world's most popular apps like Tinder, but the small size could be a good thing if you value quality matches over an influx of messages. A Silver Singles member may have to be open to traveling or long-distance relationships if they live in a more rural area.
You Can Contact SilverSingles via Email, Fax or Snail Mail
If you're experiencing an issue with SilverSingles account, your first course of action should be to consult the Help Centre. This will take you to an interactive page where you can type in your question and find answers of FAQs, including "How can I contact a match?" and "What can I do with a free membership?"
If none of those articles help, then you can always contact SilverSingles directly.
The Customer Support team is always happy to answer any questions not addressed by the Help Centre. You can send an email to Info@SilverSingles.com and expect a response within a few days. You can also fax +1 (646) 760-2453 to reach the Silver Singles headquarters.
Or, you could go the old-fashioned route and write a letter directly to the Spark Networks customer support team. Here is the address:
SilverSingles Customer Care, Spark Networks
3300 N. Ashton Blvd, Suite 240
Lehi, UT 84043
We'd recommend sending an email before sending a letter to customer support because you'll get a quicker response, and you'll save on postage.
What's a Good SilverSingles Alternative?
If you're not really impressed by the SilverSingles app or site, don't worry because it's not the only online dating service that caters to older people. Since 2000, eharmony has built its reputation by appealing to serious daters, and its membership base includes many senior singles.
Since 2000, eharmony has developed a matchmaking formula that uses rigorous psychological research to pair singles in long-term relationships. The dating website's trademarked matching system has led to countless marriages around the globe, and it has a three-month guarantee on its dating services. If you're looking for a mature relationship, eharmony can point you in the right direction.
Mature membership base in the U.S., the U.K., Canada, and Australia
Free members can browse and favorite profiles
Compatibility ratings on intellect, altruism, romance, social values, etc.
For over 20 years, eharmony has used psychology to expand its personality test and create highly accurate compatibility ratings. Its matchmaking algorithm has earned industry acclaim. Experts estimate that eharmony is responsible for introducing over 2 million married couples in the U.S.
Our eharmony review describes more about the online dating site and what makes its matchmaking tool so special.
SilverSingles Can Connect Mature Single Folks Worldwide
We dug deep into the pros and cons of a SilverSingles membership, and we're satisfied with just about every detail of this online dating service — from the mature user base to the low subscription costs. Taken as a whole, we feel confident that SilverSingles can work for seniors who want to expand their horizons and meet a bunch of interesting and attractive people.
It may take time (or a premium account) to make that special connection, but as long as you stay positive, keep an open mind, and make every conversation count, you should have an enjoyable and successful dating experience on SilverSingles and find a partner for your golden years.
Whether you're a free member or a premium member, browsing the SilverSingles app and internet site can be a positive way to meet senior singles with similar interests, intentions, and aspirations.
"Those who are serious about seeking real love and companionship can struggle to find equally authentic singles on totally free dating sites," the SilverSingles team said in its FAQs. "For that reason, we offer our SilverSingles members the option to upgrade to a premium membership and thus experience the full range of dating services SilverSingles has to offer."
Advertiser Disclosure
DatingNews.com is a free online resource that offers valuable content and comparison services to users. To keep this resource 100% free, we receive compensation from many of the offers listed on the site. Along with key review factors, this compensation may impact how and where products appear on the page (including, for example, the order in which they appear). DatingNews.com does not include the entire universe of available offers. Editorial opinions expressed on the site are strictly our own and are not provided, endorsed, or approved by advertisers.
Our Editorial Review Policy
Our site is committed to publishing independent, accurate content guided by strict editorial guidelines. Before articles and reviews are published on our site, they undergo a thorough review process performed by a team of independent editors and subject-matter experts to ensure the content's accuracy, timeliness, and impartiality. Our editorial team is separate and independent of our site's advertisers, and the opinions they express on our site are their own. To read more about our team members and their editorial backgrounds, please visit our site's About page.