The Scoop: If they want to have a successful online dating experience, senior singles need photos that show them at their best. That is why Karen Vaisman Photography is an important resource for senior singles in the Los Angeles area. Karen is known for capturing high-quality online dating photos that display her clients' natural looks in a way that is attractive and complimentary.
Getting back into the dating world as a senior single can require a lot of effort. Knowing how to tell your family, how to act on dates, or even how to dress is difficult. You need to think about what you want, how to present yourself to the world, and how to find compatible partners to date. If your goal is to meet people through online dating, you must learn how to use dating platforms and design an attractive profile. That can be a lot to tackle on your own.
Luckily, when it comes to presenting yourself visually online, Karen Vaisman is here to help. Karen Vaisman Photography is known for helping senior singles in the Malibu area present the best version of themselves to potential dates online. Her online dating portraits and photos help her clients feel confident in themselves when they go on those first few dates. 
If you're just starting out in the online dating world, you may feel like the whole idea of posting photos of yourself online is daunting or superficial. But with Karen's help, you can post the authentic version of yourself online that showcases your interests as well as your attractive personality traits. Karen is known in the industry for helping senior singles be proud of their online presence.
"Capturing that elusive expression, eye contact, a trustworthy face, and that intangible appeal to your future partner takes an experienced professional online dating photographer," Karen told us. "Your extraordinary dating profile photo could mean the difference between finding your soul mate or not." 
That might seem like a lot of pressure to put on a photo, but in online dating, first impressions are everything. Investing in your online image is well worth the cost.
Karen Captures Her Clients' Natural Essences
Your picture is one of the main pieces of information a prospective partner sees before deciding whether they want to connect. And while you undoubtedly want to look your best, you still need to look like yourself. After all, if all goes well online, you'll eventually meet your date in person. You should roughly match their expectations of your looks based on your profile photos, just as you would want them to match your expectations. 
After years as an expert in online dating photography, Karen Vaisman knows how to strike the perfect balance between careful editing and showing her clients in their natural states. She retouches her photos to amplify their natural beauty and features so that they can feel like the brightest versions of themselves.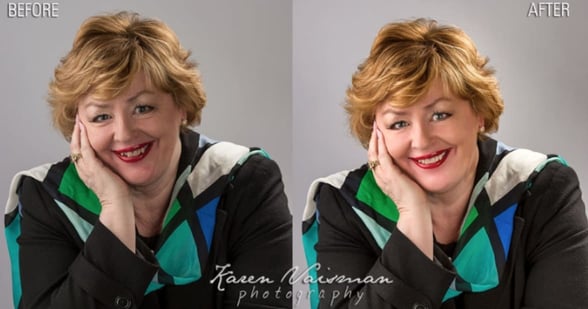 As a skilled photographer, Karen understands how to use light, setting, and angle to create the best possible images of her clients. She knows how to use photography to your advantage instead of leaving you trying to explain that you just look better in person.
"When you arrive at that first date, you want to look like who you are," Karen writes on her site. "There is a balance between that speed it takes to impress someone online with an amazing photo and an overdone photo that doesn't really represent YOU." She understands that your profile photo is just one more way to share who you are and what you want with a potential partner. Showing them something that doesn't accurately represent you just wastes both of your time.
Many singles feel they are not photogenic and may shy away from the idea of having their photo professionally taken. But according to Karen, that's the exact reason you need her help. She believes that her job is largely to help her clients feel more at ease in front of a camera so she can deliver better images than they would be able to get on their own. 
Photos Can Tell Singles' Stories
The average dating platform provides limited space to share details about yourself with a potential partner. Summarizing your personality, expectations, and life experiences in one profile may feel near impossible, especially when you likely want to word your profile in a somewhat flirty way. 
While you don't need to tell your potential matches everything about yourself — that's what a first date is for — you can reveal more about your life through your photos. If a picture is worth a thousand words, why not use them effectively? Karen is an expert at tapping into her clients' hobbies and interests, then coming up with photo ideas that showcase their passions.
Ashkon is one client who believes that Karen did a great job of telling his story with her photos. She photographed him with his many animals, and the confidence he feels in his space is truly electric. "These are the best pictures I've ever seen of me," he said upon receiving them.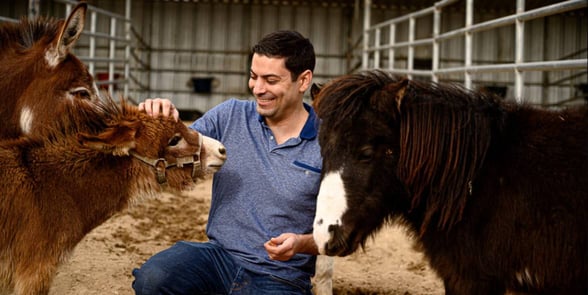 Karen loves to see her clients in their element, whether that be playing a sport they love, in their favorite place, or posed in a way that feels comfortable for them. She is all about making her clients feel at ease while they get their pictures taken, which for many means being surrounded by the things that bring them joy and confidence in their lives. 
Showing dating profile photos of yourself being active and participating in hobbies that mean the most to you is one way to communicate what matters in your life. It also shows you in a state of joy, which is when you'll be your most attractive. 
Put Your Best Foot Forward With Karen Vaisman Photography
Dating at any age is complicated. But dating as a senior single can be particularly confusing as you try to navigate new and ever-evolving technology. But with Karen Vaisman's help, you can confidently show yourself online with attractive personal photos.
As an online dating photography expert, Karen Vaisman knows the best practices to fill your profile with photos taken and curated to attract the right type of person for you. Singles will only look at your profile for a moment if you don't immediately catch their eye. Having an expert photographer suggest the right pose for you and retouch your images is the key to making sure you get your potential partner's attention when it counts.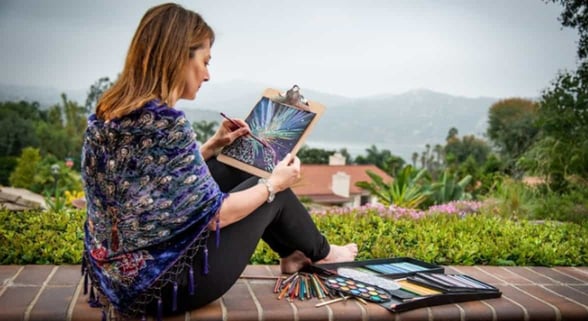 "You only have a split second to make that first impression, and on dating apps where the competition is incredibly high to gain the attention of that special someone, this statement is truer than ever," Karen told us.
Online dating can be quite competitive and time-consuming. But it's also a great tool to find new people you'd never have a chance to meet in person. With the right photos, you'll be finding the right dates in no time. "Helping my clients stand out in the crowded and competitive dating environment is why I love what I do so much," Karen said. Your soul mate may be just a few pictures away, and Karen is ready to help you find them.