The Scoop: Dating certainly can be expensive — to the point that some people don't even bother to date. As the dates start piling up, so do the credit card charges. This leads to the big question: Can you date on a budget? According to food lover and chef, Beth Moncel, the best dates don't have to be at a five-star restaurant. By using her app Budget Bytes, couples can still afford to have a dating life without having to go bankrupt. 
Dating while in college was a challenge for me. I wanted to go out and date, but my bank account had other plans for me. Luckily, some of my dates treated me, but let's be real here, everyone's pretty much broke in college. So my romantic evenings regularly turned into grilled cheese and Netflix nights. 
Although I did enjoy my grilled cheese sandwiches, there's only so many cheesy dates you can go on until you start wanting something new. Food lover and number cruncher Beth Moncel created the foodie website Budget Bytes to help singles like me date on a budget.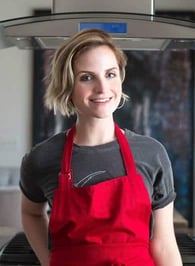 Beth created Budget Bytes in 2009 after she experienced a financial drought. After graduating from college Beth took on a low-wage job that left her barely able to make ends meet. With a pile of student loans and not a lot of income, Beth said she realized she had to be tactical with her spending habits. She soon found that budgeting meant cutting back on her food expenses — trading in take-out for meals at home. 
Like many other singles in the world, Beth didn't want to settle on eating ramen for the rest of her life. Budget Bytes was born after she started experimenting with new recipes and foods while saving money where she could.
What first started as a fun project turned into a life-changing experience for many people trying to save money. 
"What I didn't know at the time was how many other people were dealing with the same budget issues, and how many more people needed to learn basic cooking skills. When the enormity of these two things hit me, Budget Bytes stopped being just a hobby and became my mission," Beth shared. 
From Cookbooks to Meal Plans 
Users can take advantage of different services on the app to fulfill their hunger needs. Budget Bytes offers budget-friendly meal plans, recipes, and meal preps. These services have helped many users save immensely over the years. According to the Budget Bytes team, users have reported that their weekly grocery bill ranges from $60 to $75 depending on the location by using Budget Bytes meal plans. That comes out to $12.50 per meal with four (or more) servings. 
Every recipe comes with step-by-step photography and voice guidance from Beth to help users. Beth said it's like an interactive and customizable cookbook. Users continuously praise Beth and the Budget Bytes team for their diligence in making a website so informal and beneficial for everyone.

"I open this app almost daily and have made many of the recipes. I love the interface and the substantial amount of content. Each recipe is well written (with no overly exotic ingredients,) and is filled out with helpful photos," said Budget Bytes user, Matthew Ducharme, in a review. 
After launching Budget Bytes, Beth thought it was best to create a cookbook to share with everyone. In her cookbook, "Budget Bytes: Over 100 Easy, Delicious Recipes to Slash Your Grocery Bill in Half," Beth sheds light on different delicious recipes people can try out together. Beth told us that couples can work their way through the cookbook. 
"I think it's one of the best activities to do with loved ones, whether it be a date or just another family member that you want to have some quality time with," Beth said. "It's a full sensory experience, you have to work together, and at the end, you get to enjoy a delicious meal!" 
When trying out new recipes, Beth and the Budget Bytes team ensure that users are not alone. Beth shares tips and demonstrations on how to cook a certain recipe to help users be successful when cooking. And if users don't know where they went wrong, they can ask questions by sending in a detailed submission to help the team better assist them. 
Cooking Affordable and Intimate Meals at Home
When setting up the perfect date, sometimes staying home is the best route to take. Creating a candlelit dinner date at home is a safe and affordable way to create romance without having to max out your credit cards especially with COVID still roaming around. Beth told us that the best way for couples on a tight budget to save money is to cook an affordable and intimate meal at home. 
"Keep it simple! Don't aim for fancy or complicated recipes. Make simple and satisfying dishes that call for just a few pantry staple ingredients. This will allow you the most flexibility with the food you buy (reducing food and budget waste) and will save you time, and as we all know, time is money!" Beth exclaimed.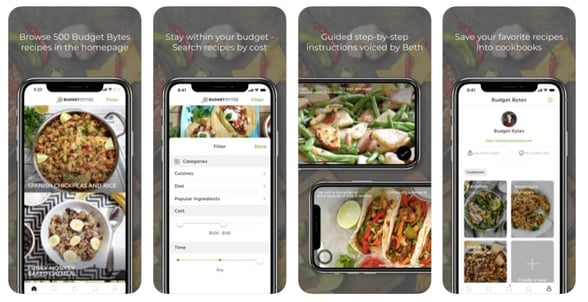 As mentioned before, Budget Bytes serve users with frequent fresh new recipes. Couples can find recipes for under $10 to make at home together. From tomato basil chicken to spinach and mushroom quesadillas, couples never have to worry about what their next meal will be. 
Beth continues to think of new recipes for her readers. She told us her inspirations come from all over the world whether that's by creating new versions of fan favorites or by trying new restaurants.
"Wow! This app is set up so beautifully, it's very pleasing to browse and save recipes. I just made my first recipe last night and I was so impressed by the cook along with the recipe feature! Click start cooking and the app reads the directions step by step for you and even has integrated timers!" exclaimed a Budget Byte user in a review. 
Budget Bytes: Eat More, Spend Less
Coining the motto, "Eat More, Spend Less," Budget Bytes has successfully claimed the title of the go-to website for all your budget-friendly foodie needs. Budget Bytes stands on the idea that good food doesn't have to be complicated or expensive. Regardless of socioeconomic status, any couple can benefit from Budget Byte's many services when planning their next date.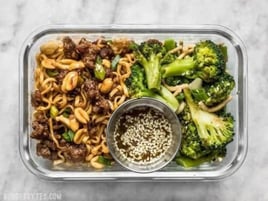 Outside of creating affordable and delicious meals, Beth said she believes that Budget Bytes can also serve as a way to highlight and promote healthy eating. Many healthy foods tend to be on the pricier side, so Beth dedicated a section of the app specifically for budget-friendly healthy meal options. Now couples don't have to break their diets or budgets when planning meals on the app. 
"This is an amazing app! A digital cookbook of 500 recipes for $3 is a great deal. And, more importantly, the recipes are delicious and help you save money while also learning how to use simple ingredients to eat healthily," a Budget Bytes user said in a review. 
We can expect more from Budget Bytes in the future. Beth told us that she is currently working on expanding her team to help her produce more recipes and more video content. Users can look forward to more how-to and instructional content from the team as well. To stay updated with Budget Bytes' latest recipes, people can follow its social channels, including Instagram, Facebook, Twitter, Youtube, and TikTok!