The Scoop: Now more than ever, we are starting to see an increased activity on online dating sites. The world is starting to notice how effective and convenient online dating is. And with fresh ideas rising, entrepreneurs can create new dating apps without having any tech skills or experience. But how? The software solution SkaDate has helped produce many niche dating sites since 2004 by bringing advanced software techniques and skills to the table. Business leaders can now launch their dating app idea with the support of highly esteemed tech-savvy experts.
You may have heard the phrase "teamwork makes the dreamwork" when you were growing up and may not really have known what it meant. Now as an adult, I'm sure you can agree that working alongside the right people can make all the difference. The sooner we can learn this, the less stress and fewer headaches we'll have. Helen Keller said it best: "Alone we can do so little; together we can do so much."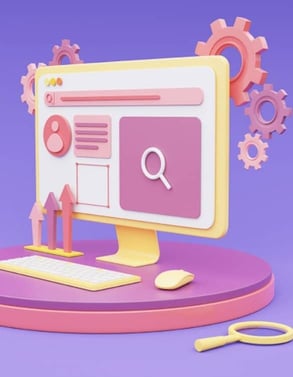 Emil Sarnogoev, the Founder and CEO of SkaDate, is a prime example of this philosophy. Emil created the site to help entrepreneurs who have the idea for a dating platform but need an extra push in execution. SkaDate is known for providing advanced dating software and mobile dating app scripts. Anyone with an innovative idea for a matchmaking website or app can turn to SkaDate for help. 
"The flexibility of SkaDate software allowed us to develop this first of a kind mobile dating site for Latin America. SkaDate helped us with many technical issues!" said the Founder of Romance Latina in a review. 
Emil created SkaDate because he said he wanted to help other like-minded entrepreneurs get a new dating site off the ground. With over 10 years of coding experience under his belt, Emil wanted to be the missing piece that businesses needed to advance in the dating industry. Clients don't need to know how coding works – having a great idea is enough for the SkaDate team. SkaDate provides companies with the necessary tools to set up modern dating apps and services. 
"We serve entrepreneurs. That's why SkaDate is all about trying out ideas. Making it smoother, faster, cheaper has been our focus for years. Whatever we introduce has to serve these objectives," Emil said. 
On a Mission to Provide Affordable Software Solutions
Often when entrepreneurs want to start a business, the number one thing that holds them back is money. Beginning entrepreneurs have to take into consideration the cost of starting a new business, which can be stressful for some, especially if their vision is greater than their budget. Because SkaDate understands that people starting out don't have billions of dollars, it offers affordable software solutions that many businesses can benefit from.

SkaDate's objective is to actively seek and employ top industry professionals to produce affordable software solutions that bring real benefits to clients. Its software packages have been designed to maximize low-to-mid budget potential and meet current market demands and requirements. 
As an entrepreneur himself, Emil said he wanted to keep SkaDate affordable so that everyone can benefit from its services. He said that the opportunity to help other dreamers is more motivating than trying to make a quick buck. SkaDate endeavors to take businesses to the next level without making them go bankrupt. 
SkaDate offers four packages, Basic, Complete, Premium, and Bespoke, based on the client's objectives and needs. Packages range in price and are paid in a one-time payment. Emil told us that he's noticed that Bespoke clients tend to develop the strongest bonds with the SkaDate team. 
"Our Project Managers and development team leads are often integrated into customers' teams. So, in this sense, my advice will be to go with Bespoke. Doing everything together from start to finish eliminates so much hassle and accidental errors," Emil advises. 
Encouraging Entrepreneurship One Tech at a Time 
SkaDate has a diverse core team of 20 driven individuals who all share the same vision to help entrepreneurs shape and develop their business ideas. With clear set goals and delivery schedules, the team utilizes their tech skills to produce substantial results from one entrepreneur to another. According to SkaDate, the company has been recognized as experts in XHTML, CSS, MySQL, PHP, JavaScript, and online dating website marketing. 
Clients continue to praise the team for its dedication and diligence in helping create something worth the time and money invested into the business idea. SkaDate prides itself in being a trusted resource for entrepreneurs. The company has a reputation as a reliable independent platform backed by developers, site owners, and experts.  

"We have chosen SkaDate for this – our second dating site because we know it's the best and most professional on the market. We tried other types of software – but the quality was just not good enough," the Founder of Mallorca Dating site said in a review. "SkaDate really fulfills and exceeds all our needs and expectations."
Emil told us that he admires the bravery of those entrepreneurs who show up no matter what and take risks on their business. He said that entrepreneurship can make the world a better place to live in and create a better and diversified future for us all. Emil said he proudly salutes those who chase their dreams because he acknowledges the challenges along the way to real success.
"Since we are entrepreneurs ourselves, we understand the pain of uncertainty and embrace creativity in solving background tasks," Emil said. 
SkaDate: Launching Apps and Websites Since 2004
SkaDate has been on an ongoing mission to support clients since its creation in 2004. The company stands out as one of the few software companies widely recognized for its rare wide-purposed software product.Clients are impressed with SkaDate's enterprise-level services, without the extra charge, making them a number one choice for major businesses and startups worldwide. 
Emil shared that it's a delicate balance to maintain software that appeals to the mass market and has customizable features for the niche market. SkaDate has risen to the challenge with its wide-purpose software. This allowed SkaDate the flexibility to expand its services to more than just dating-related sites. 
"SkaDate is based on the open-source Oxwall platform, hence our ability to do service work without sacrificing quality," Emil said.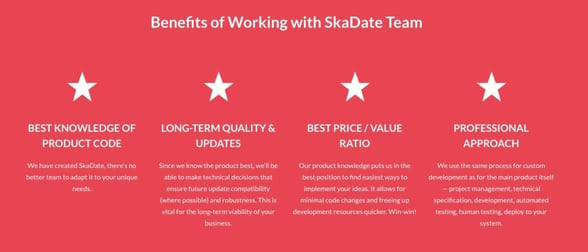 Emil told us clients can expect to see new developments from the SkaDate team. The team recently released a new version of mobile applications and is currently working to modernize the company's products and simplify the process of adding customized features. Clients can expect improvements in readability and speed in products. 
SkaDate is an active partner in the dating industry. The team was the only software vendor to participate in and speak at dating industry conferences like iDate and GDI. SkaDate's team also plans to pursue non-dating projects that will allow them to offer an overqualified product for dating while exploring new opportunities. 
"SkaDate helped me very quickly build a great website and it saved me the huge effort of building a site on my own from scratch. Now my site has over 13,000 members in just over one year," Lawrence, founder of Brainiac Dating, said in a review.