The Scoop: The typical dinner date has gotten an upgrade that began in Europe and is growing across the U.S. Thanks to Eatwith, couples can indulge in fine dining like no other and sample local cuisines made by passionate hosts and chefs. The guests get to choose anything from home-cooked meals to five-star cuisine that's routinely served at dinner parties in over 130 countries. Whether it's a cooking class at home or a private dinner for two abroad, EatWith offers people an immersive experience that is perfect for a foodie date night. 
Before I realized how intimate home-cooked meals could be, I ran with the idea that date nights had to involve going out to eat. Oftentimes we associate a classic romantic dinner with a fancy five-star restaurant. But that's not necessarily always the case. If you're at home or in a private venue, a romantic dinner can be any intimate meal shared with a special someone.
The Eatwith app helps create unforgettable dining experiences for couples to share on their terms. With over 5,000 friendly hosts available in 130+ countries, Eatwith brings an authentic culinary approach to dating and meeting new friends. Singles who have used the Eatwith app have discovered new cultures, cuisines, and traditions while enjoying a one-of-a-kind social dining experience. For some people, Eatwith is the app that all food lovers must have.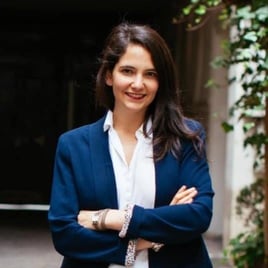 "This app has connected me to some memorable experiences around the world in Barcelona, NYC, and Paris! Come hungry and leave with new friends," said an Eatwith member in a review.
Eatwith offers immersive dinners, lunches, brunches, tastings, picnics, pop-up events, and supper clubs. The app was co-founded in 2014 by two French entrepreneurs, Camille Rumani and Jean-Michel Petit. Their primary mission is to connect the best local chefs and connoisseurs with other curious food lovers worldwide. 
"We're trying to promote diversity so that everyone can showcase their values and culture. Usually, guests are people who are like-minded and want to connect and meet other new people," Camille told us. 
International Dinner Parties Designed to Impress
Eatwith sets the tone for an evening couples won't forget — leaving them full and completely satisfied with the experience. Since its launch in 2014, Eatwith has become a popular app for international dining. When Camille and Jean-Michel created Eatwith, they wanted to help tourists get the most out of their visit to European cities by offering an authentic food experience. Their journey to change the way people travel has emerged into something bigger than they imagined.
Date nights never have to get bland — regardless of the length of the relationship — with the help of Eatwith. There is always something new offered on the app that couples can enjoy together. Depending on their mood, guests can take their pick from 5,000 different experiences that include: cooking classes, dinner parties, and food tours. 
A lot of guests have joined Eatwith to make new friends and learn about the local culture of a new city firsthand. Camille told us that 70% of bookings are dinner events. Which is no surprise considering that dinners are a great way for people to come together and connect around the table. Couples who want to indulge in delicious food can join or organize a dinner party that will have everyone wanting to come back for more.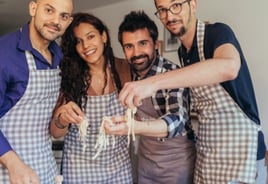 Of course, big dinner parties weren't always feasible during a pandemic. But Eatwith's team was determined to continue to provide a unique experience for all in spite of the COVID-19 pandemic. So Eatwith made available more online experiences for members to choose from. 
Eatwith has online activities for couples who love food and wine. Couples can look through the list of different activities and dinners that they can experience from the comfort of their homes. Camille told us that she believes that intimate at-home dinners are perfect date ideas especially during a COVID spike.
"It's private, it's cozy and more intimate. It can be elevated cuisine but in a casual setting so you feel more comfortable. You don't have to suit up like you're going to a fancy restaurant," Camille said.
Hosts Can Share Their Stories & Their Favorite Dishes 
Eatwith thrives because of the eager and dedicated hosts on the platform. Eatwith's hosts have the opportunity to share their passion for food and culture with their guests while making money. Camille said that 50% of the hosts are amateurs who love to cook and meet new people. The other 50% are professional chefs who host full time or as a side gig. 
Anyone with the right credentials can apply to be a host online. Whether they're beginners or professionals, the hosts can impact people's lives by sharing their culture or favorite local dishes in a unique way. Camille told us that people feel privileged to have a host who tailors the night to their specific needs, including everything from dietary restrictions to a champagne toast. 
All the care and passion that hosts put into the meal for their guest does not go unnoticed. 
"Amazing concept! I just spent a week in Croatia and the evening with my EatWith host Vjera was easily the best experience of the entire trip," said an Eatwith guest in a review. 
Depending on the host's skill set, the number of guests for events can range widely. If the host is a professional chef, the event can likely see as many as 15 to 20 people in attendance, but the average size of any event is six guests. Many hosts have appreciated the Eatwith team for allowing them to take ownership of their craft. 
Eatwith cultivates a space for sharing good food and creating new social connections. Many of the guests and hosts utilize the app for this very reason. It's more than just enjoying good food, guests enjoy getting to know their host – and vice versa. 
"I joined Eatwith three years ago and love working with them! We love that we can meet so many different people every week – over the years a lot of our guests have become very dear friends, so that says it all really," said host Pratap from London, in a review. 
Eatwith Makes Eating Together Fun & Memorable
It's safe to say that Eatwith has made its mark on the culinary world in more ways than one. The dining experiences pair meaningful conversations and authentic food, setting the table for a romantic date. Many couples enjoy having an intimate dinner through Eatwith because they can enjoy homemade foods without having to pay an expensive bill or wash the dishes. Whether you're in the mood for Italian or Mexican food, Eatwith has a host ready to serve you.
Over the years, Eatwith has received an average 4.9-star reviews and a Net Promoter Score (NPS) of 92 out of 100. And even though Eatwith prides itself on such success, the team is always actively exploring new ways to support and improve an extraordinary dining experience.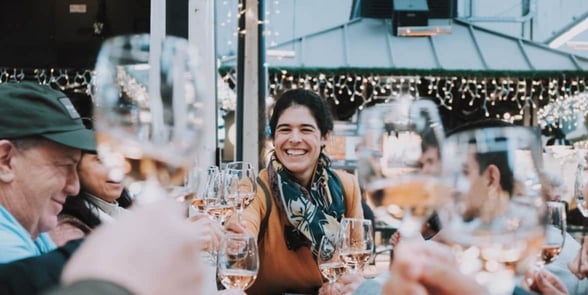 Camille told us the Eatwith team is currently working on expanding the community and partnerships to reach even more people in the U.S. The goal is to expand in major cities like Chicago, Austin, and L.A. Eatwith team members are also working on building up sustainable farm-to-table options for hosts to ensure more eco-conscious cuisine is available. 
To stay updated with the latest events or culinary experiences nearby, people can sign up for Eatwith's newsletter or follow them on social media and never miss a mouthwatering food encounter. 
"Eatwith has changed the way I travel. I love how it is using food to bring people together and making it easy to explore a city off the beaten path," said an Eatwith member in a review. "From the moment you walk in the door, Eatwith hosts make you feel like an old friend, and that's a very special feeling."