The Scoop: The wedding industry is changing rapidly, making it difficult for many brands to keep up. But wedding attire outfitter KYNAH is thriving in the new era of weddings. With ready-to-ship online and in-person shopping options, the bridal store has made finding beautiful Indian wedding outfits more accessible.
The COVID-19 pandemic has had many unforeseen consequences — some immediate and some delayed. But the changes that the pandemic has brought to the wedding industry are truly extreme. The pandemic initially delayed many 2020 nuptials and gave couples good reason to rethink their guest counts. Small weddings continue to be in vogue, even as social distancing restrictions have eased. The compounded effects of inflation, supply-chain issues, and rising fuel and energy costs have made weddings more costly than ever.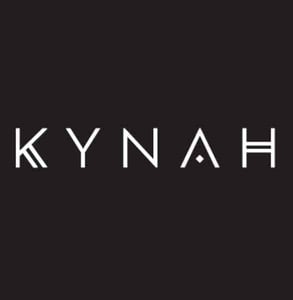 Couples have changed their attitudes toward the importance, urgency, and appropriate costs of a wedding. Many couples are beginning to abandon the traditional wedding setup. They may choose to get married on a shorter timeline, invite fewer people, or even opt out of certain traditional pre-wedding activities, like bridal showers, bachelor and bachelorette parties, or even wedding dress shopping in person.
Brides are choosing to shop online for wedding dresses at growing rates. Still, they want the high quality and variety of options they would expect shopping in a store. Indian wedding dress outfitter KYNAH quickly adapted to the new pressures on dress stores in the wedding market. With a retail store in Los Angeles and a store online, KYNAH provides beautiful Indian wedding attire to customers around the world. 
"Here at KYNAH, we feel like we've been able to adapt to this shift through the expansion of our Ready-To-Ship styles as there has been an increase in the demand more recently," Aisha Rao, founder of KYNAH, told us. "These items are able to ship to the customer in five days from either our US location or India. Our mission is to make brides and their bridal parties feel good about the outfits they are wearing and know they're able to reuse the items outside of a traditional Indian wedding."
Renowned Indian Designers in the US & India
KYNAH's customer base is a mix of Indian and Indian American wedding parties. They do a great job of making beautiful Indian designs available for all of their customers, regardless of their location. With KYNAH, brides don't need to fly to India or have a relative shop for them to get the selection they want. They can pick out what they want online and have it quickly shipped to them.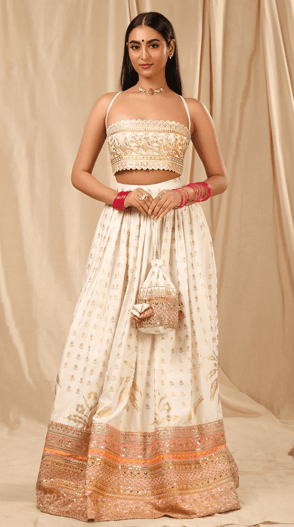 "We found our place in the market by catering to the brides who wanted a more modern way of shopping as well as the ready-to-ship buyers who were looking for expedited fashion-forward looks," Aisha said. "The last-minute wedding shopper is much more common now than in years prior."
While online options certainly make dressing easier and potentially more affordable, some brides still prefer the intimacy and ritual of in-person wedding dress shopping. It offers a great opportunity to bond with family and friends, see what looks good on your body, and celebrate your upcoming marriage. Brides don't need to sacrifice shopping in person with KYNAH. The company owns and operates a bridal boutique in Santa Monica, where both brides and wedding guests can schedule appointments to find the perfect outfit to wear to an upcoming wedding.
"In our Los Angeles store, we offer a full bridal package which includes an hour-long, one-on-one styling appointment with a KYNAH Bridal Stylist to try on various looks in the store, answer any questions, and guide you through our customization process," Aisha told us. "We take pride in our excellent customer service, which is one of the reasons we have grown such a widespread and positive reputation in the space. Our goal at KYNAH is to ensure each and every bride feels empowered and beautiful in their final look."
A Mix of Indian and Western Styles
Many engaged Indian American couples wish to combine elements of Indian and Western culture in their weddings. While combining cultural traditions in your wedding can be a beautiful way to celebrate your family backgrounds, it can also lead to tricky choices. Among the difficult decisions that may come up in the wedding planning process are how many ceremonies to have, whether to have bridesmaids and groomsmen, and even where to have the wedding.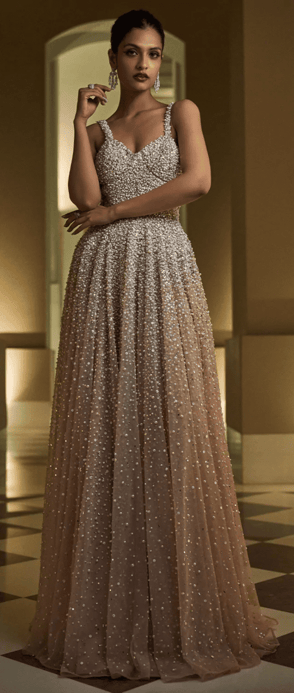 But for many brides, the type of wedding attire is one of the most pressing dilemmas. They may struggle to decide whether to wear traditional Indian wedding attire, a Western white gown, or a combination of the two. If they want to combine their cultures in their dress, they may not know how to do so.
Luckily, KYNAH offers a diverse selection of wedding gowns, saris, and lehengas that give Indian American brides ample options to choose from. Whether they want a traditional Indian outfit, a traditional gown, or something in between, they can find it on KYNAH. 
Some brides struggle not only over what culture to lean into for their wedding but also how traditional or modern they want their ceremony to be. Pressure from family or friends can make it difficult to pick a style that truly fits you and your values, be they modern or traditional. The team at KYNAH understands this and has created collections on their site for both modern ceremonies and traditional ceremonies. Both collections are heavily rooted in Indian wedding attire styles but suit a bride's individual personality.
"Focus on your needs, not the needs of others," Aisha said. "Both you and your partner should feel good about every detail that goes into the celebration, so it feels like a natural mix of your personalities. Pick the dress YOU want, help you express your personality, and have fun doing it!"
KYNAH Continues to Adapt to Serve Modern Brides
In any industry, successful companies need to be willing and able to fit the desires of consumers. KYNAH has found a way to serve the needs of brides and wedding parties, even as the pandemic and a changing economy dramatically shift what that looks like. They have been able to adjust to the market, and they'll continue to do it as the wedding industry changes again and again. "Regarding the industry as a whole, I think we will continue to see a resurgence of traditional, in-person weddings in 2023 as the world opens up post-pandemic," Aisha said. With its physical location in Los Angeles, and gorgeous, traditional wedding outfits, KYNAH will be more than ready to meet this change.
As for the brand itself, the team at KYNAH plans to continue what the company does best: designing and selling beautiful wedding attire from talented Indian designers. "You can expect KYNAH to continue releasing new styles from renowned Indian designers in addition to new designs from our own KYNAH label," Aisha said. "We plan to further expand our Ready-to-Ship collection for customers who need looks in a shorter time frame and also have some exciting designer collaborations coming up."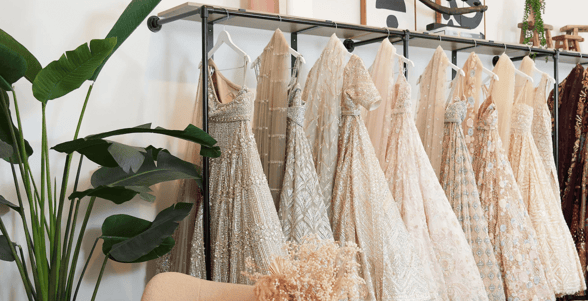 KYNAH continues to be a top brand for Indian and Indian American wedding parties looking to find reasonably priced, high-quality pieces they'll cherish for a lifetime. 
"At the heart of the brand, our mission has always been to offer unique pieces that can be worn multiple times, in a range of ways, and eventually become heirlooms that hold memories in between the threads and the beadwork," Aisha told us. "It has been a privilege to offer US-based customers a way to shop authentic Indian designs in an accessible, affordable way, so they are able to incorporate timeless traditions and culture into these important life moments."