As a lifelong bookworm and former rebellious child, I'm no stranger to self-help books. Before I knew what a self-help book was, my parents shuffled books about respect for authority, getting along with my siblings, and general etiquette my way. They knew if there was one way I would digest information, it would be by reading it.
While self-help books are no stand-in for therapy, coaching, or even a heart-to-heart with a trusted person, they can influence how people lead their lives. For me, self-help books have allowed me to realize actionable change can begin in the present. They have also instilled in me a feeling of confidence and authority over my own life and decisions.
In dating and relationships, self-help books can be especially compelling since they encourage inward reflection and self-led action. This collection of books can help folks at any relationship stage, whether they're in search of lasting commitment or seek to strengthen an existing one. 
Best for Combining Spirituality and Science: "8 Rules of Love"
Jay Shetty helps people find love, keep it, and let it go in his book "8 Rules of Love."  Inspired by Vedic teachings and informed by modern science, Jay lays out specific, actionable steps to help people develop the skills to practice and nurture love.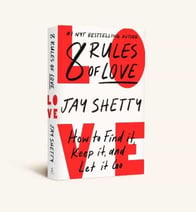 "8 Rules of Love" avoids clichés and challenges an unattainable, conceptual view of love. The book explores the entire cycle of a relationship. Beginning with finding the right partner, Jay shows readers how to avoid falling for false promises and unfulfilling partners.
Moving into the coupled stage of a relationship, Jay shares ways couples can win (and lose!) together, how they can personally define love, and how, if needed, they can break up constructively. Jay combines teachings from the Vedas with modern discoveries. 
More About "8 Rules of Love"
From the bestselling author of "Think Like a Monk"
Focus on self-discovery and love
Includes specific and actionable steps
PDF journal that includes book-led reflections
Best for a Spiritual Approach: "Closer to Love"
Touted as an essential guide to building meaningful relationships, "Closer to Love: How to Attract the Right Relationships and Deepen Your Connections" is spiritual teacher Vex King's latest book. Vex sees knowledge of self, love of self, and understanding of self as essential foundations of a happy relationship. Readers are encouraged to explore their needs and desires to gain confidence and attract a partner.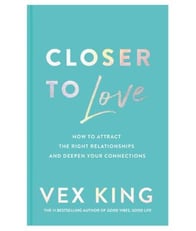 Vex believes relationships are complex. There is no right or wrong way to find a relationship. All parties must dedicate themselves to problem-solving, forgiveness, and honesty. Through thoughtful self-practices and specific habits, readers will become more open to love.
Beyond romantic relationships, Vex's wisdom and insight allow readers to build more meaningful connections with friends, family, and coworkers. Self-discovery is not a one-outcome endeavor.
More About "Closer to Love: How to Attract the Right Relationships and Deepen Your Connections"
From the bestselling author of "Good Vibes, Good Life"
Explores the social nature of humans
Spiritual advice backed by attainable habits
Foundation of self-improvement
Best for Resolving Conflicts: "I Hear You"
Many people have gone their entire lives hearing how crucial communication is. Yet, it can be a challenging skill to master. Michael Sorensen gives his invaluable insight into effective listening, genuine validation, and improving relationships in "I Hear You: The Surprisingly Simple Skill Behind Extraordinary Relationships."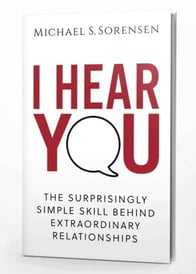 "I Hear You" helps readers boost their confidence and charisma, deepen romantic relationships, and resolve arguments quickly and healthily. The book focuses on practicing active listening and validating others when they speak about their emotions and experiences. Being an effective communicator means better self-expression and a better understanding of others. 
Regardless of the nature of the relationship, whether friends, family, colleagues, or spouses, every person could use communication honing. "I Hear You" gives the practical and simple steps needed to attain this style of listening and speaking. Rather than simply listening, hearing can be all it takes to transform relationships positively.
More About "I Hear You"
#1 Amazon Bestseller
2018 IPA Book Award Winner
2018 Readers' Favorite Award Winner
Focus on improving listening, understanding, and validating
Best for Breaking Toxic Habits: "Calling in 'The One'"
Katherine Woodward Thomas focuses on those who feel like they've done nearly everything to attract their soulmate in the revised and expanded version of "Calling in 'The One:' 7 Weeks to Attract the Love of Your Life" The book models a step-by-step process that helps readers attract deep and profound relationships.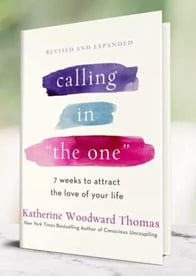 "Calling in 'The One'" combines metaphysical principles with the law of attraction. The book focuses on dismantling destructive relationship patterns to guide readers to become their best selves. Katherine's philosophy revolves around the idea that meaningful connection is born out of self-love, reflection, and confidence.
With daily lessons, corresponding practice, and instructions for manifesting those practices, "Calling in 'The One'" empowers people to give and receive a different kind of love. Katherine is a licensed family and marriage counselor.
More About "Calling in the One"
From the bestselling author of "Conscious Uncoupling"
A day-by-day plan for a deeper connection
The revised and expanded edition includes cutting-edge insights
Authored by licensed marriage and family counselor
Best for Millennials: "How to Not Die Alone"
Taking a scientific and data-driven approach, "How to Not Die Alone: The Surprising Science That Will Help You Find Love" recognizes that great relationships don't appear out of thin air. Author Logan Ury, a behavioral scientist turned dating coach, believes that meaningful relationships are the result of a series of decisions. From deciding who to date, how to stop dating, and when to commit, "How to Not Die Alone" guides readers in their relationship decision-making.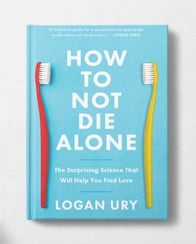 The book focuses on the decisions people make, good and poor, and connects them to relationship outcomes. Readers will investigate what holds them back in dating, what they care about in a long-term partner, and how to meet potential partners. Logan's approach centers around being intentional and active in decision-making and relationships.
"How to Not Die Alone" provides a definitive guide for modern relationships. The book includes research on what hinders people's search for love and matches it with realistic actions readers can implement from day one. Logan debunks modern relationship myths while instilling in readers the hope that a mutually beneficial relationship awaits them.
More About "How to Not Die Alone"
Authored by the Director of Relationship Science at the dating app Hinge
Data-driven approach
Online offerings of the Relationship Contract and Breakup Contract
Develops the skill of love
Best for Married Couples: "Getting the Love You Want"
"Getting the Love You Want: A Guide for Couples" provides knowledge that can only come with 30 years of marriage. Married couple and authors Harville Hendrix, Ph.D. and Helen LaKelly Hunt, Ph.D. are known internationally as therapists, educators, and speakers. After defeating the threat of a divorce, Harville and Helen began to share their marriage expertise.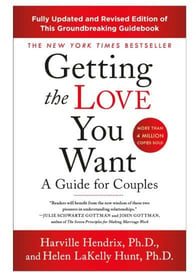 The book was designed for married couples who need a reminder of why they chose each other in the first place. The book helps couples rediscover the fun, intimacy, and passion in their relationship. "Getting the Love You Want" is a powerful tool for marriages.
Harville and Helen take an approach that combines behavioral science, depth psychology, social learning theory, and Gestalt therapy. "Getting the Love You Want" has helped millions of couples experience more satisfying relationship.
More About "Getting the Love You Want"
New York Times bestseller
Renowned authors Harville and Helen
Psychology-backed approach
Praised by the likes of Oprah and Alanis Morissette
Best for Young Women: "Make Your Move"
It's no longer a man's world, at least it's not according to Jon Birger, author of "Make Your Move: The New Science of Dating and Why Women Are in Charge." The dating world has changed considerably in the past two decades as more Millennial and Gen Z women take a different approach to dating and relationships. Women who have succeeded in their education and careers may feel slighted by a dating scene that positions men as the pursuers.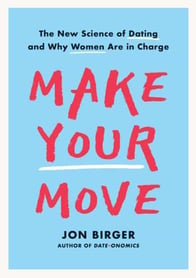 Jon argues that women can win at romance by making the first move. Women pursuing men has long been taboo due to patriarchal cultural standards. "Make Your Move" claims it's better to choose than to be chosen and situates women as the first move-maker. Ambitious young women shouldn't have to feel like they're out of power in pursuing relationships.
"Make Your Move" encourages women to move away from dating apps and start dating men they already know. Jon brings his background in economics to the modern dating scene to provide invaluable advice for women who are sick and tired of playing games.
More About "Make Your Move"
From the bestselling author of "Date-onomics: How Dating Became a Lopsided Numbers Games"
Written for educated and successful young women
Debunks playing 'hard to get'
New rules for a new era of dating
Best for Discovering the Power of Intimacy: "Deeper Dating"
Ken Page is over the soulless approach to dating. "Deeper Dating: How to Drop Games of Seduction and Discover the Power of Intimacy" is chock-full of exercises, practical tools, and inspiring stories to guide readers on a journey to find the love and personal fulfillment they want. Author Ken Page is a psychotherapist, but before that he was someone who struggled in their search for love.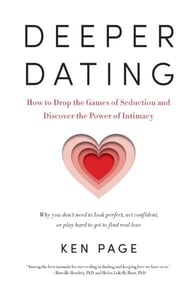 Moving against the simplistic advice of being more confident or attractive, "Deeper Dating" encourages readers to date out of their most profound sensitivities, longings, and passions. Ken believes that how people search for love determines the kind of love they receive. Singles must go where they're likely to find generous and kind people to find deep and intimate love.
"Deeper Dating" combines the best of human intimacy theory with balanced spiritual practices. This foundation gives readers practical tools and tips to express their true selves with courage and generosity. Ken argues that authentic expression allows singles to find self-assured and emotionally available partners who are ready for a relationship. 
More About "Deeper Dating"
Authored by Ken Page, LCSW and psychotherapist
Rejects standard, superficial dating advice
Defines the concept of each individual's unique Core Gifts
Applies timeless spiritual truths to modern dating
Best for Christians: "Relationship Goals"
"Relationship Goals: How to Win at Dating, Marriage, and Sex" is a candid guide to finding lasting love. Author and pastor Michael Todd approaches relationships with three key values: purpose, healing, and oneness. His book can help singles or couples find renewed connection and energy through Bible scriptures. The book outlines a 30-day plan to create new habits that encourage communication and healing.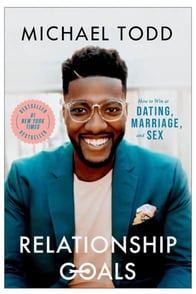 Michael is a pastor, and his Christian beliefs heavily inform the advice of "Relationship Goals." The book encourages Christian couples to engage with scripture daily and actively seek God's goals for them individually and as a couple. With the foundations of Christian faith and intentionality, "Relationship Goals" helps people heal their deep-seated issues and explore their spiritual selves.
"Relationship Goals" explores the very concept of relationships by unpacking truths from God's word that set the course for meaningful relationships. Readers will find an honest approach to relationship pitfalls and faith-driven solutions designed to bring couples closer to each other and their faith. 
More About "Relationship Goals"
New York Times bestselling author
Named one of the Best Books of the Year by Cosmopolitan
Biblically-informed approach
A strong and candid Christian voice
Best for a Philosophical Approach: "What Love Is"
Regardless of faith, age, sexual orientation, or gender, Carrie Jenkins' "What Love Is and What It Could Be" can help any person decide how they want to love. A rising star in philosophy, Carrie mixes a scientific and humanistic approach to explore the intricacies of desire, partnership, and intimacy.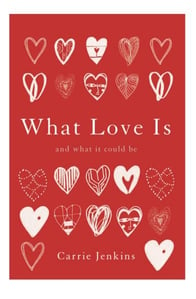 Carrie recognizes the socially constructed aspects of love. So many people have been inundated with mythical ideas around 'the soulmate' or the prince or princess right out of a fairytale romance. She also sees the undeniable biological aspects of connection and intimacy. By combining these two aspects of love, "What Love Is" aids readers in understanding what it means to say, 'I love you.'
"What Love Is" has been described by reviewers and readers alike as a rich and complex source of relationship wisdom. The book uses anecdotes, scientific ideas, and reflections on social truths to explore love.
More About "What Love Is And What It Could Be"
Authored by a professor of philosophy at the University of British Columbia, Vancouver
Asks the age-old question of 'What is Love?'
Inclusive approach exploring polyamory and queer relationships
Humanistic and scientific influences
No book, approach, or philosophy can guarantee lasting love. The truth is, people achieve meaningful connections when they know themselves and what they are looking for in love. This requires time, patience, and intentionality. The first step in this journey is a sincere reflection on the self without ignoring the good and the bad.
Self-help books focused on love and relationships can act as a catalyst for action. They provide clear and well-explained steps to impact change and growth. When readers embrace the advice in these books and practice the exercises, habits, and lessons outlined, a new world of self-love and profound connection can open up.