The Scoop: Women going through menopause often have many questions, and My Menopause Centre (MMC) comes to their aid with answers. Co-Founders Helen Normoyle and Dr. Clare Spencer started the online clinic to provide evidence-based advice and support to women as they enter the menopause transition. The clinic's core philosophy is that knowledge is empowering, and its expert resources empower women, at any age, to better understand their bodies and live their best lives.
Helen Normoyle had her first child at 39 years old, and her second at 42, so she spent the next decade and a half wrapped up in school schedules and motherhood. Menopause was not on her radar – until it happened to her.
"When I was going through menopause myself, I was absolutely clueless," she told us. "I never spent any time trying to understand it and thought, it's something you get through in a few months, it'd be fine."
The reality of the fatigue, aches, and other physical symptoms threw her for a loop. She couldn't find much information about the lived experiences of menopausal women, so she turned to one of her friends for guidance.
Helen had met and become good friends with Dr. Clare Spencer while their children were going to school together. The two began talking about the journey through menopause and how it impacts women differently. Dr. Spencer is a general practitioner who at that time was training to be a menopause specialist.
Her holistic and evidence-based approach to women's health was just what Helen needed to hear. "She really helped me understand what was going on, and it was a revelation," Helen recalled. 

Helen said she most appreciated the way her friend described the experience of menopause in simple terms, without medical jargon, and completely removed the mystique. As a consumer marketing expert, Helen saw a need for greater clarity and knew other women could benefit from such simple and straightforward explanations of the female experience. She paired her passion for women's wellbeing with Dr. Spencer's expert knowledge, and My Menopause Centre was born.
My Menopause Centre is an online menopause clinic that offers evidence-based information, symptom tracking tools, and community resources geared toward women entering a new stage in life. It's a place for conversation, community, empowerment, and, above all, education.
"The heart of our philosophy is that knowledge is empowering," Helen told us. "We're all about empowering women to understand what's going on in their bodies, and to help them understand the range of different ways that they can manage and take control of their symptoms, so they can thrive at every age." 
Taking a Holistic View & Advocating for Healthy Lifestyles
During the height of the COVID-19 pandemic, online communities grew exponentially. People harnessed the power of technology to stay connected despite physical distance. During this time, My Menopause Centre came onto the scene to give women a safe, virtual space to talk about menopause.
My Menopause Centre takes a holistic approach to women's health. The Knowledge Centre on the website provides information about everything from perimenopausal life to the latest treatment options. Above all, the medical professionals emphasize the importance of a healthy lifestyle – eating nutritious meals and exercising regularly – as a first step to thriving as a menopausal woman.
Wherever women are in their journey, My Menopause Centre has helpful resources to inform them about the changes in their bodies and therapeutic options available. 
"Every woman's experience with menopause is different," Helen said. "Some people might go through it in their early 40s, and for some it might be in their 50s. Some might have symptoms for two years, and some might have symptoms for 20 years."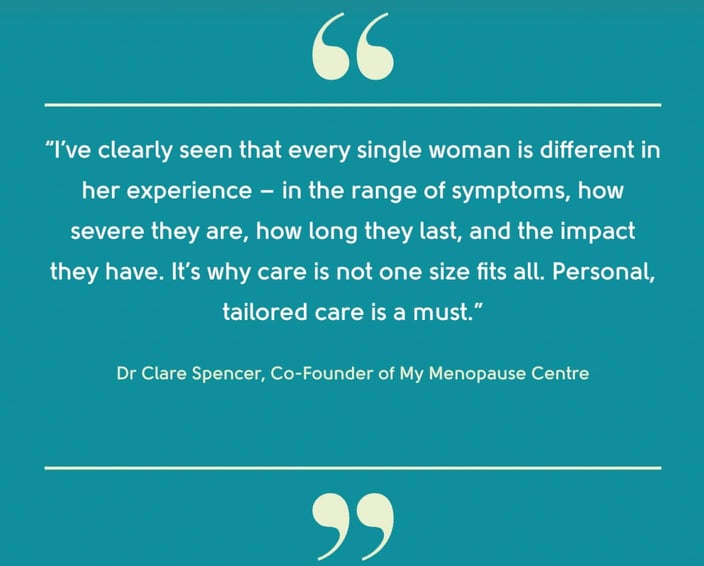 My Menopause Centre delves into the benefits of hormone replacement therapy as well as other holistic treatments in its blog, and the clinic puts these solutions into practice. Women over 30 can book a 45-minute consultation with the team to learn from their expertise and insight.
"We start with looking after your health, what you eat, and how much you exercise," Helen explained. "And I know this sounds like motherhood and apple pie, but it is the foundation for health as well as lifespan."
Helen said she has taken the clinic's philosophy to heart and used its advice to improve her own health. She has prioritized exercising at the gym three times a week and mediates regularly to look after her physical and mental well-being. "I'm fitter now than I've ever been in my life," she said. 
Building Community & Impacting Lives 
My Menopause Centre unifies a community of women who share similar experiences and interests. The Pause Community section highlights personal stories, health news, and other member-driven information that raise awareness about the menopausal experience.
Helen told us the feedback they've received from members and clients has been inspirational to the team. The power of women supporting women is undeniable.
"Creating a community and a safe space for people is really important, and that's why we created Pause," Helen explained. "We listened very closely to what people in our community asked for – the type of information and advice they're looking for. And we started sharing stories."
My Menopause Centre encourages its members to engage with and learn from its robust online community. The clinic also facilitates interesting conversations with trailblazing women with its Five Minutes, Five Questions interview series. These community spaces can inspire and support women who are going through a difficult and uncertain time in their lives.
Helen said that the team endeavors to reframe the conversation around menopause into a more positive (and less scary) light. The goal is an unflinching awareness of everything the menopausal experience can entail, including vaginal dryness and low sex drives. My Menopause Centre pushes back against taboos by fostering honest discussions about the female body without shame.

"It's highly unlikely your doctor would ever be embarrassed by anything that you could say to them, because they've kind of seen it all," Helen said. "We recruit doctors who are very empathetic and kind because women need that cocoon of kindness."
The clinic's research supports the notion that education about menopause can benefit women and lead to a healthier experience.
"It was so great to be listened to and have everything explained in a really clear, easy-to-understand way," writes Jenny in a testimonial on the My Menopause Centre website. "I'm so glad that you've created the Menopause Centre and will be recommending it to everyone I know!"
By listening to the stories of their peers and learning from MMC's medical experts, women know how to tackle the challenges ahead and make the most of their menopausal years. "We're empowering women with information and advice so that they can thrive and live their best lives," Helen explained. She urges women to invest in themselves during their 40s, 50s, and 60s, so they can reap the benefits in their 70s, 80s, and older.  
My Menopause Centre Reduces Stigma & Unites Women
The founding story of My Menopause Centre began with two women talking about their experiences with menopause, and now the online clinic facilitates these types of conversations every day.
A woman can begin her journey on the website by taking the menopause questionnaire or reviewing the symptom checker to learn more about the menopause experience. My Menopause Centre doesn't offer a one-size-fits-all solution– every patient receives a personalized treatment plan. Its variety of resources and community spaces give women the opportunity to explore and grow on their own terms.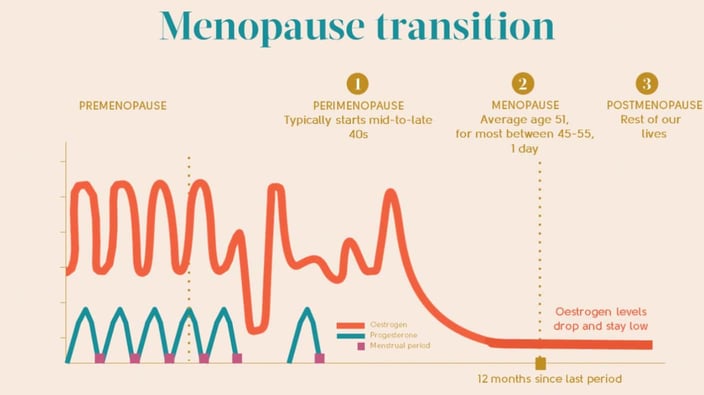 My Menopause Centre raises awareness and combats taboos when it comes to menopause. The team's ultimate goal is to empower women to prioritize their health and embrace the support systems they can find online and at home.
"You're worth putting yourself first," Helen said emphatically. "Women often aren't great at putting themselves first in life. This is a time when you really do need to – and you are worth investing in. And then I would also say don't be afraid to ask for help."
Whether it's talking to a partner, children, or work colleagues, women broaching conversations about menopause can build greater understanding and compassion. What's more, a heartfelt discussion can liberate a woman from any sense of shame she may feel as she goes through a natural stage of life.
"If we can give women going through menopause support, I really believe there'll be a positive impact in the workplace, in the home, and in society," Helen said. "Because we'll have a lot of women fully participating and being their best selves at every age in life."