The Scoop: Eddie Hernandez is a photographer and dating coach who wears many hats. With experience in tech, marketing, and publicity, Eddie has a diverse skill set that he uses to help singles find dating success. Eddie's services include dating profile consulting, profile critique, styling services, and dating coaching. His weekly newsletter, Eddie's List, gives Bay Area locals a comprehensive look at all the activities taking place in the city during the week.
The modern dating scene is a market of quick judgments. Even online daters with the best intentions make fast and superficial decisions in the act of swiping. Online daters don't generally pay attention to someone's indicators of compatibility while they're swiping. They are often focused on a smile, body type, and height before anything else. As most daters know, those traits aren't everything when it comes to selecting a partner.   
Swiping has its pitfalls, but it has undoubtedly connected people for meaningful relationships. And while you can't control how other daters swipe, you can choose to online date with intention. Online dating with intention means being honest with how you present yourself to others, an approach that can help singles achieve the results they desire when they open an app.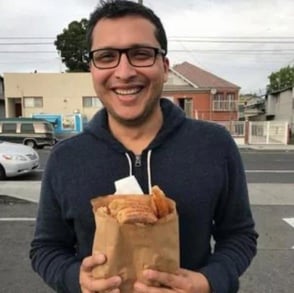 One way to online date with intention is to be purposeful about your dating profile. Including good pictures, funny details, and slices of your personality can help take a little superficiality out of online dating. Online daters who present themselves authentically and with humor often have the most success.
Eddie Hernandez has been keeping a close eye on the world of dating over the years. Now in San Francisco, the photographer-techie-data analyst-dating coach has lived all across the country. Today, he uses the diverse expertise he's collected to help online daters curate their profiles for greater success.
Eddie sat down with us to tell us about his dating coaching experience, services, and all the other projects he leads. "I was using dating apps for a while," Eddie said, "and I realized a lot of people had really bad photos and profiles that didn't live up to their potential." Eddie created his dating app profile services to help singles create palatable and attractive profiles to land them a date.
Success in Digital Dating
Eddie said he has seen many interesting profiles during his time on dating apps. Some profiles featured blurry or odd pictures that didn't translate anything positive about the user. Other profiles with professional headshots felt too polished. Eddie said neither of these profiles felt particularly attractive. 
Underdeveloped profiles made it difficult to get a sense of who the person was. Profiles with professional headshots were preferable to those with blurry photos but still felt stuffy. Neither of these profiles gave a good first impression.

Online dating is all about first impressions. Inauthentic or not, success on dating apps is achieved through presenting a well-balanced, clean, yet personable profile. Dating app profiles should give other users a good sense of who a person is, what they look like, and what they enjoy. This requires attention to more than photos.
Profile prompts on dating apps are opportunities for users to express themselves. Eddie said he noticed that many people on dating apps don't know how to write about themselves with confidence. Sometimes, getting outside advice can help users express themselves on dating apps more authentically for better results. This is where Eddie comes in.
Eddie has been helping singles curate their dating profiles for several years. Over the years he has collected first-hand information about what makes a good dating profile. He said a good dating profile should include a combination of photos, from full-length photos to close-up shots. A dating profile should have photos that display the user's sense of style and favorite activities.
When it comes to writing prompts, Eddie said that concise and clear responses complete with a bit of humor are the most successful. "Whatever you can do to reduce uncertainty in terms of wardrobe, interest, looks, things like that, usually makes it easier for other users to reach out," Eddie said.
Help With the First Impression
Eddie said he wants to help online daters nail that first impression. He is based in San Francisco but helps daters across the United States. He has experience with daters of different ages and backgrounds. Eddie's dating coaching services are accessible by application only. Eddie said he rejects about 70% of people contacting him. He said he wants to focus his efforts on people he knows he can help.
One of Eddie's most popular dating coaching services is the dating profile review. During a dating profile review, Eddie highlights blind spots, unearths biases, and finds ways to help his clients become confident. He helps clients with prompts and captions, and he shows them how to send the ideal first message.
Eddie uses his experience as an analytics professional to bring data-driven advice to clients. He uses his expertise in identifying trends and measuring competing priorities to help his clients see real results. He helps his clients decide which dating app is best for them based on gender, lifestyle, and demographics. Eddie will encourage clients to do whatever he feels will be most productive for them, even if that is taking a break from dating apps.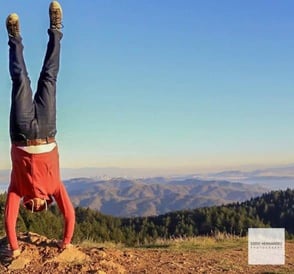 Eddie also offers image consulting services, during which he helps his clients with wardrobe, grooming, hygiene, and presentation. He helps his clients develop confidence in how they present themselves. His styling services take into consideration the tastes and personalities of his clients to help them build a wardrobe that both reflects their personalities and attracts those they desire.
Eddie's dating profile photography service is one of his most popular offerings. Many clients enlist Eddie for a combination of services. Oftentimes, clients who benefit from image consulting services also benefit from photography services.
During photography sessions, Eddie helps his clients feel comfortable and natural. He attempts to photograph them in familiar environments that are significant to his clients. He helps his clients feel relaxed in front of the camera. Eddie allows his clients to try different outfits and poses during a shoot. He also gives them tips for photographing themselves, whether it be selfies or mirror pics.
Eddie said he's not a motivational speaker and always practices brutal honesty with his clients. He sees brutal honesty as the catalyst to change and then dating success. Singles considering Eddie for any kind of dating help should be prepared for honesty and strong calls to action. Eddie seeks clients who are empathetic, self-motivated, and willing to change.
Making Eddie's List
While dating apps are a primary way singles connect in the modern dating scene, Eddie said he still believes in the magic and possibility of organic in-person meetings. He said singles still have plenty of opportunities to find each other offline.
That's why he started his free weekly newsletter, Eddie's List, during the summer of 2022. This virtual newsletter covers events and things to do in the Bay Area. Eddie sends out the newsletter weekly to his group of subscribers via email. As a seasoned Bay Area local who has met and talked to countless singles, Eddie knows where the action is.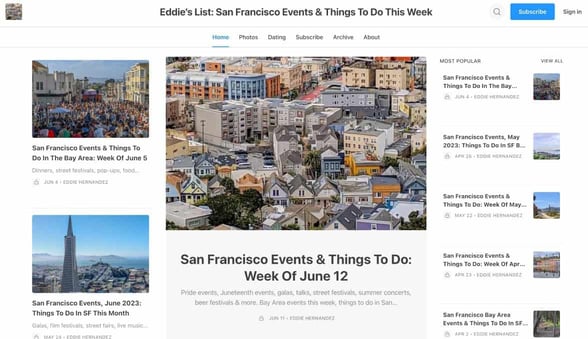 His newsletter cues San Francisco singles into everything from pop-ups, volunteer events, concerts, community events, and street festivals. Eddie keeps his ear to the ground on fun and dynamic events where people can connect naturally. One of the biggest problems in online dating is determining whether real-life chemistry will happen. In-person first impressions give singles a better opportunity to feel out chemistry and connection.
While he created Eddie's List to give singles good ideas of where to meet people, Eddie said all kinds of people can benefit from reading the newsletter. People who have recently moved to the Bay Area can find a list of events all in one place. Singles who aren't ready to date can gather a group of friends and enjoy any of the activities Eddie suggests.
There's no one-size-fits-all approach to dating, online or otherwise. Every single is different, and Eddie knows this. He hand-selects his clients so every person he works with can see real results. For Eddie, dating success is multifaceted. "I want my clients to take a balanced approach," Eddie said, "there's a sweet spot somewhere with the combination of online dating efforts and putting yourself out there in the real world."