The Scoop: Greenville, S.C. is the city where nature, good food, and happy people meet. Greenville is the place for couples who want a romantic getaway that's equal parts adventure and connection. The city is overflowing with small-town charm, yet it's chock-full of big-city amenities, events, and attractions. Surrounded by hiking trails, lakes, and mountains, Greenville is the gateway to everything upstate South Carolina has to offer.
Greenville, a small town in upstate South Carolina, was a fixture of my childhood. My grandparents lived only 20 minutes away from downtown, so weekend stays with Grandma and Grandpa always meant a day in the city. As a kid used to cow pastures and mostly-empty strip malls, I saw Greenville as a bustling metropolis full of interesting people doing interesting things.
During my elementary school years, I loved going to the playground next to the zoo, getting ice cream cones at Spill the Beans, and wading around in the Reedy River at Falls Park. I don't get around to the Upstate — as the northern part of the state is known — as much as I would like nowadays, but the magic of Greenville has never been lost on me. 

Greenville, South Carolina, is a big city that's only getting bigger, yet has maintained the friendly and welcoming feel special to small-town America. The city is a great jumping-off point to explore all the natural beauty of the Blue Ridge Mountains and surrounding areas but also has plenty of attractions within the city limits. No matter what kind of activities a couple enjoys, Greenville is ready to host.
Taryn Scher, a spokesperson for the city, told us all about what couples can expect when they plan a getaway in Greenville. Full of opportunities for romance, outdoor adventure, and great food, Taryn knows the city has plenty to offer no matter what couples are looking for. "There's something to do in Greenville 365 days out of the year," she said. "The fun in Greenville never stops."
Big-City Attractions, Small-Town Charm
Greenville is a sprawling metropolitan area that covers nearly 3,000 square miles and is home to over 70,000 people. The upstate area experiences all four seasons, with cold but generally snowless winters and vibrantly green and hot summers. The heart of Greenville is downtown, which features hundreds of restaurants and bars all within walking distance of plenty of museums, theaters, and parks.
Twinkling string lights and wide, tree-lined sidewalks give Main Street that quintessential downtown feel. Main Street connects the northern end of downtown near NOMA Square to the city's West End at the minor league stadium. Along this stretch, couples can find the best of what downtown has to offer.
Couples looking for entertainment have plenty of options, including the Peace Center, which hosts touring Broadway shows, comedians, bands, and solo musicians. On the northern end of Main Street, couples can find the Greenville County Museum of Art, the only museum in upstate South Carolina to be fully accredited by the American Alliance of Museums. One of the best parts of the Greenville County Museum of Art is that admission is free, so couples with a small break in their itinerary can enjoy the museum for however long they please.
Scoundrel is a restaurant on Main Street, which Taryn told us is a relative newcomer and known for impressive French fare. Rick Erwin's West End Grill is the place to get steaks in Greenville and a big restaurant name in the Upstate. Couples looking for something especially romantic should check out a bistro that overlooks Falls Park called Passerelle in the Park, named by CNN as one of the most romantic in the world.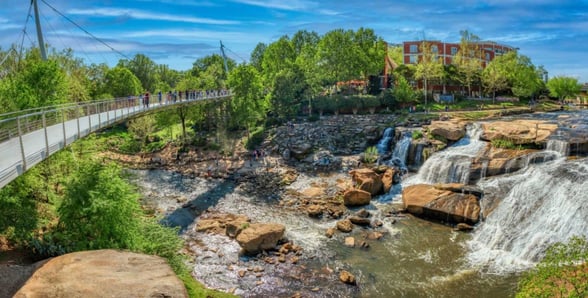 Falls Park has entrances all along Main Street, giving visiting couples the opportunity to explore as many sections of the sprawling park as they want. Unlike many other inner-city parks, Falls Park on the Reedy River is known for its cascading waterfall and huge rocks lining the river. Another must-see stop in the park is Liberty Bridge, a 345-foot suspension bridge that crosses the river and provides spectacular views of Greenville and the falls.
In Falls Park, couples can enjoy Greenville's special combination of town and nature that can be felt throughout the city. After a delicious dinner on Main Street and a quick drink on a rooftop, the sights and sounds of the quick-flowing Reedy River make for the perfect nightcap. Downtown Greenville feels like it was designed to encourage dynamic, fun, and, most of all, romantic date nights.
Over 100 Parks to Explore
Among the biggest appeals of South Carolina's upstate area are the outdoor attractions. Couples visiting Greenville will find that nature is not too far away at all, even when they're still downtown. The city has over 100 parks, a 23-mile bike trail, and multiple surrounding towns just as awesome as Greenville that couples can explore to their hearts' desire.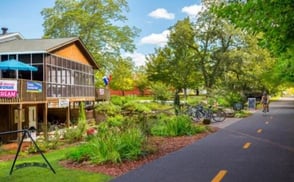 Swamp Rabbit Trail is a 23-mile multiuse trail system that runs along the Reedy River and connects shops, restaurants, and schools within the area. Couples can spend a day on the Swamp Rabbit Trail walking, biking, roller skating – really anything that's not motorized! The trail begins in downtown Greenville and ends in Travelers Rest, a small town just north of Greenville.
In Travelers Rest, couples can eat at one of many restaurants after a long day of exercise, with offerings including a taco place, a pizza joint, and a sports bar. Travelers Rest has all the endearing trappings of a small town but with all the food options imaginable. Couples can spend a day in Travelers Rest and then return to Greenville without stepping foot in a car.
Regardless of which season couples plan their romantic getaway to Greenville, they'll probably be able to find a city-wide event. Artisphere takes place every May and features hundreds of artists with tents pitched along Main Street, which is closed to make room for foot traffic. Fall in Greenville begins in October, and features local food and art vendors, along with plenty of live song and dance performances.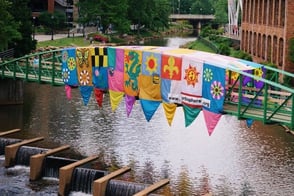 Taryn told us Christmas time is her favorite part of the year in Greenville. "The city transforms into a real-life Hallmark movie," she told us. "The tree-lined sidewalks, twinkle lights, Santa's sleigh– all of it is just so Christmas." Couples can ice skate, attend community Christmas and/or Hanukkah celebrations, and visit the local artisan vendors at one of the holiday markets. 
I can attest to the wintertime magic of Greenville. My parents would take my siblings and me to the city's mini replica of Rockefeller Center, where we would ice skate and drink tons of hot chocolate. No matter which season couples choose to visit Greenville, they will find something not only romantic but unforgettable.
Greenville: A Gateway to the Upstate
Greenville is a growing city that has changed so much in the past 20 years. Greenville County was established in 1786, and named after Nathaniel Greene, commander of the Southern forces in the Revolutionary War. Just 10 years after the establishment of the county, the Village of Greenville got its first courthouse – a log structure built in 1795.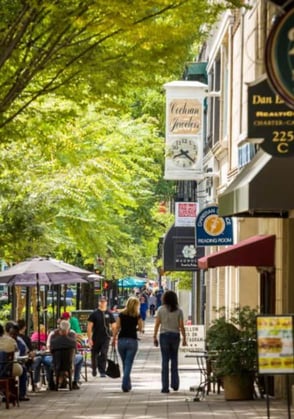 As Greenville continued to grow, Furman University built a campus just outside the city in the 1850s. Throughout the 20th century, Greenville was powered by the textile industry. This industry faced challenges in America, and a campaign started to bring more companies and manufacturers into the Upstate with the promise of a strong and reliable workforce.
That workforce proved true to that promise, and Greenville is now home to 40 Fortune 500 companies and nearly 700 manufacturers. Greenville's healthy economy bolsters all the local businesses that rely on the community for support, and a great relationship has been forged between these companies and the community.
Couples considering a trip to Greenville will find that this hidden gem nestled at the foot of the Appalachian Mountains offers top-tier dining, hospitality, and entertainment. The last time I was in my hometown, my partner and I went to Greenville for a night out. We started at Falls Park, where I got up to my knees in the Reedy River and my partner convinced me to connect with my inner child and roll down one of the park's many grassy hills.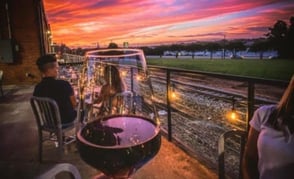 We grabbed a bite at a restaurant my Grandma took me for my 15th birthday, and walked down Main Street, stopping for gelato and some window shopping. While I had been to Greenville countless times before, enjoying the city with my partner was a whole different experience. It wasn't just romantic, it was full of new activities that weren't there on my last visit.
"People in Greenville are genuinely happy," Taryn told us. "They walk down the sidewalk and smile and say hello. They're proud to live in this beautiful city." Couples visiting Greenville in search of a romantic getaway will find all the food, drinks, and entertainment they need to make a satisfying trip, with the bonus of a community that's excited to share their city with them. Taryn warns couples that they might just love Greenville so much, they decide to stay forever.