The Scoop: Modern couples are looking for ways to make at-home dates feel like a night out at their favorite restaurant or wine bar. Dr. Konstantin Frank Winery offers a wide range of options that couples can enjoy with food pairings or on their own. The historic winery also welcomes daters to its vineyards to savor tasty wines and stock up on their favorites for romantic evenings at home.
At-home dates may require a little more creativity than buying tickets to a show or making reservations at a favorite restaurant. But they also allow for a more relaxed, intimate experience. Couples can improve those date nights by scheduling a time together, dressing as if they're going out, and focusing on each other. Another way they can add to the atmosphere is by having a wine as special as the occasion.
Dr. Konstantin Frank Winery helps couples plan fun date nights with a wide variety of high-quality offerings.
Dr. Konstantin Frank Wines come from grapes first planted in 1958 by Dr. Frank, who immigrated to the Finger Lakes region of upstate New York from Ukraine. He had a Ph.D. in viticulture and was a leading expert in his field in Eastern Europe.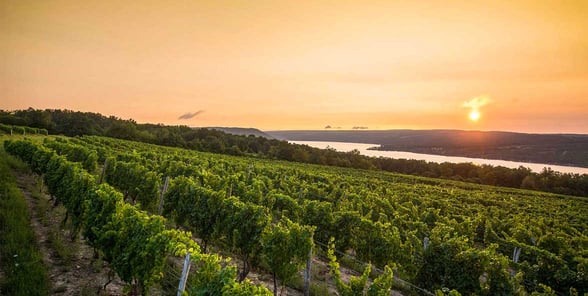 In 1951, after surviving World War I, World War II, and the Russian Revolution, he moved to New York without any savings and no English. But he had an in-depth knowledge of Riesling, Chardonnay, and Pinot Noir grapes.
He knew that grapes could be planted with success in cold climates to produce high-quality vinifera wines, but no one else in the region believed him. He planted a vineyard anyway — and the results changed the region into one that is now well-known for its wines.
"Old vines are an instrumental ingredient in producing world-class wines," said Brandon Thomas, Dr. Konstantin Frank Winery Brand Manager. "The older the vine, the deeper the root system. It allows the vine to pull more nutrients from the soil, resulting in a more intriguing wine."
Start an At-Home Date with a Sparkling Wine
Trying different wines at a wine tasting can be fun for couples. They can take small sips and discuss the qualities of each. But what separates a good bottle from a not-so-good one can be highly subjective, according to Holly Lynn Fusco, the Hospitality Manager with Dr. Frank Wines.
"We always say a good wine is the one you like," Holly said. "Finding a nicely balanced wine is always a goal, one with just the right amount of acidity, body, fruitiness/flavor, and alcohol."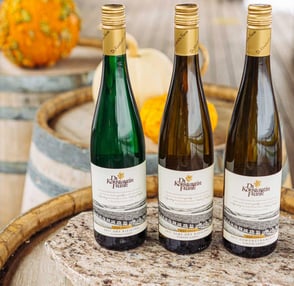 Some people prefer wines that highlight one of those four qualities. That doesn't make them wrong; they just have a discerning palette.
The Dr. Konstantin Frank Winery team recommends ordering a couple of bottles for an at-home date. One should pair well with a freshly prepared meal and another to enjoy while making the food.
The winery's 2018 Dr. Konstantin Frank Brut, a celebratory sparkling wine, can be a good way to start any special evening. Its bubbly is made in the traditional Méthode Champenoise style and includes Chardonnay, Pinot Noir, and Pinot Meunier. These are known as the trifecta of traditional Champagne grapes.
Couples may find it challenging to select the right wine to pair with a meal, but a well-rounded red wine can work with many dishes. The 2019 Dr. Konstantin Frank Old Vines Pinot Noir is a popular favorite, and works well with poultry, pasta, and lean beef dishes. The wine has a lighter body and a silky texture that gives way to robust aromas of red cherry and cranberries.
Couples Can Join the Wine Club for Curated Offerings
Even if couples go out for dinner, they may want to continue the date at home with a bottle of wine. That allows for more conversation, and may lead to romantic vibes in a more relaxed setting. Holly recommends having the 2020 Semi-Dry Riesling ready to open.
This white wine pairs beautifully with pineapple upside-down cake, a citrus torte, or a decadent cheese platter.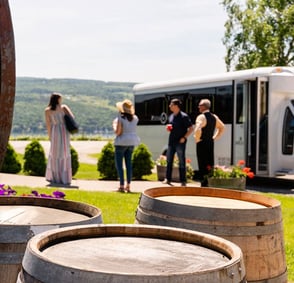 The Dr. Konstantin Frank Winery website offers food pairing suggestions for every bottle it produces. That makes it easy to try a variety of wines and know they will work well with the entire at-home experience — including dinner.
In addition to ordering one or two bottles at a time, couples can join the winery's Wine Club. Members receive new wines each quarter, curated based on the season with a focus on newly released bottles and smaller production bottles that tend to sell out quickly.
Wine Club members also have access to special events held throughout the year at the Dr. Konstantin Frank Winery in upstate New York. These can be a perfect excuse for a romantic getaway into the Finger Lakes region, which offers spectacular hiking trails and vistas. Club members who live nearby can also enjoy the pick-up option to get their bottles at the vineyard four times a year.
Wine Club members receive a 20% discount at the winery on flights, wines by the glass, and cheese plates in Eugenia's Garden and the 1886 Food and Wine Experience.
Dr. Frank Wines: Couples Enjoy Dates at the Winery
The winery is open seven days a week, although the team recommends that couples make reservations in advance to ensure a romantic and private experience. The winery is a frequent destination for dates, double dates, and even engagements. And the team is always happy to set up something special if contacted in advance about a proposal or special celebration.
"All of our tasting experiences try to offer an emotional connection to our family history," Brandon said. "We want guests to feel the same love and passion that we have here at the winery."
The winery offers a quiet and refined getaway, and the team aims to underscore the sophistication of wine. The fact that people can sip it slowly in the company of others they love means adding wine can enhance romance and intimacy, Brandon said.
Couples can shop online and choose from the winery's current options, sorted by lightest to most full-bodied and driest to sweetest. The site encourages couples to try something new or select a bottle they know will go perfectly with a meal they want to prepare at home. Couples can also purchase a gift card and schedule an intimate 1962 Reserve Tasting with five wines from the winery's portfolio.
"Considering we enjoy plenty of wine, we often find that date nights with a bottle of wine on the table always leads to stimulating and lively conversation, with bountiful laughter," Brandon said.