The Scoop: Michigan has diverse offerings for anyone looking to plan a fun and exciting date. Couples and singles alike can find fun and unique activities throughout the state, no matter the season. The team at Michigan.org has great suggestions for the perfect date and how to make it happen.
Residents of the Midwest know how much Michigan has to offer. While the state is unfamiliar to many Americans in other parts of the country, Michigan offers its people and visitors a wide variety of nature, culture, and communities to explore. From the waters of the Great Lakes to the national parks of the Upper Peninsula, Michigan provides so much to do and see. Whether you're a lifelong resident, a recent transplant, or a visitor to Michigan, you'll never run out of new places to see in the Wolverine State.
While Michigan has great sites and activities to check out with your friends, family, or by yourself, it also has great places to take your partner or your date. There's no better way to nail the first date or make your anniversary count than by putting thought and intention into taking your partner somewhere special. Take them off the beaten path, like to a winery, or plan the cozy stay they've been craving at a bed and breakfast near the coast. As long as you're in Michigan, you'll find great options for dates early in your relationship, during special events, or for romantic getaways.
Michigan has great options for every type of person whether you're super outdoorsy or prefer having a glass of wine over candlelight. It's easy to feel like you belong in a state that offers fun recreational activities that serve the interests of both you and your partner. 
We spoke to Otie McKinley, Media and Communications Manager at Michigan Economic Development Corporation & Travel Michigan, and asked him to come up with some of the best date spots in Michigan. Otie had plenty of suggestions for the best nature, activities, and sites to take your partner to in the state for a date they won't forget. 
Visit Michigan's Wine Country
When you think of wine country, you may think of Napa Valley in California, but Michigan actually has a thriving wine scene as well. The state is home to five American Viticulture Areas (AVAs), or winegrowing regions, and six wine trails, all of which are excellent places to take any partner who appreciates wine.
"Michigan is home to an amazing wine region in the Traverse City area with countless wineries and vineyards for couples to visit," Otie said. "Tours are a big hit as well."
Get away from the day-to-day hustle and into the beautiful countryside, where you can enjoy tasty drinks while learning about the viticulture process. With wine trails connecting many wineries through the region, you can even get your steps in and enjoy more time with your partner outdoors. Michigan's beautiful landscape and the fine wines on the trails make for the perfect setting to get to know your date or reconnect with your partner.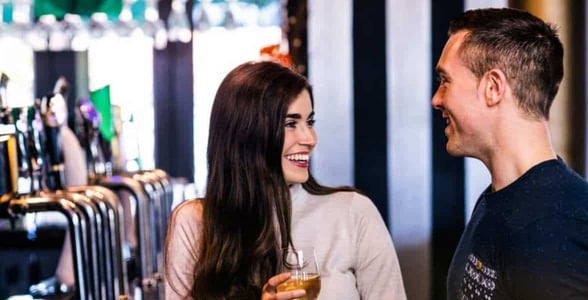 And if you enjoy yourself, you can always check out a new winery again soon. With over 140 wineries across the state, Michigan offers plenty of places to refine your palate!
For those who enjoy beer or cider more than wine, Michigan's breweries, cideries, and meaderies offer a great alternative. Check out Virtue Cider in Fennville, Two K Farms in Suttons Bay, Bee Well Meadery in Bellaire, and plenty of other options for locally crafted drinks in an intimate setting. 
Breweries, cideries, and wineries provide great activities and ambiance for couples on a date. Unlike bars, their relaxed atmospheres make it easier to hold conversations and really get to know the person you're with. At the same time, moderate drinking can help partners feel more at ease and enjoy their date rather than stressing about every little thing they say. For Michigan daters, it's the best of both worlds.
Romantic Weekends at Mackinac Island
Couples who are further into their relationships may enjoy having a weekend getaway to relax, reconnect, and enjoy a new environment. One of the best romantic destinations is Mackinac Island. "I recommend taking a trip to historic and romantic Mackinac Island," Otie said. "Enjoy quaint bed and breakfasts on an island where no vehicles are allowed. Horse-drawn carriages and bikes are the only allowable modes of transportation."
Known as the "Jewel of the Great Lakes," Mackinac Island was named one of the Best Islands in the Continental US by Travel + Leisure magazine. Perfect for an active trip in the summer or a cozy stay in the winter, the island has plenty of fun and relaxing activities that any couple will enjoy. From kayaking to taking a horse-drawn carriage ride to eating the island's famous fudge, you can have a weekend at Mackinac Island that is as full or as free as you want.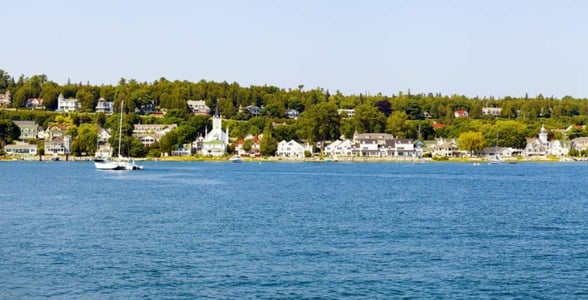 Mackinac Island is situated between Michigan's Upper and Lower Peninsulas in Lake Huron. With no vehicles allowed on the island and no bridge to the mainland, getting to Mackinac Island is part of the fun of visiting. Most guests take a 15-minute ferry boat to the island, but some opt to fly into Mackinac's small airport instead. You can take a quick seven-minute flight in from St. Ignace to the island, making it marginally faster than the boat. Still, we think taking the ferry offers a charm of its own. 
If Mackinac doesn't sound like your cup of tea or you want to try something new, you can find plenty of excellent romantic getaway options in Michigan. Experience German culture in Frankenmuth, enjoy the luxury of the Amway Grand Plaza in Grand Rapids, or go skiing at Boyne Mountain Resort in Boyne Falls. You and your partner will have a wonderful time.
Pick Apples at an Orchard
If you like the sound of checking out a cidery but want something a bit less focused on alcohol, check out some of the many apple orchards across Michigan. Picking apples is a stellar wholesome date to share with your partner and get ahead on groceries, too! 
Apple picking is the perfect fall activity in Michigan. Take advantage of the gorgeous fall foliage and snap photos you'll cherish in your favorite autumn outfits. It's the perfect place to enjoy quintessential fall activities with a person you care about.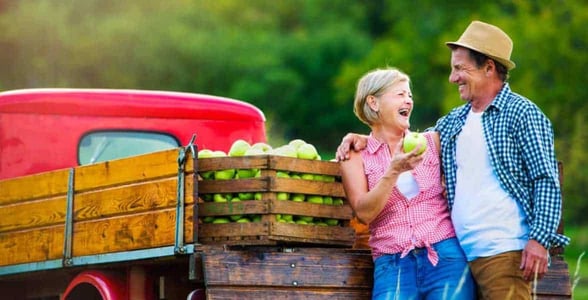 On your way back home, consider taking the long way and enjoy a fall color tour of the beautiful nature around you. "Travel across the Upper Peninsula or northern Michigan, hitting roadside stands, small unique inns, and taking in the breathtaking sites," Otie advised. You'll fall in love with the state, and maybe even your date!
Michigan Offers Unique Dates You'll Love
Michigan has extremely diverse date options for singles and couples alike. While many of our favorite Michigan date ideas take place in the country or small towns, Michigan's vibrant city centers have plenty of arts and dining options for you to enjoy. "Date nights in our dynamic city centers are big," Otie said. "Downtown Detroit and Downtown Grand Rapids are two offerings where culture, fine dining, museums, history, and a lively nightlife make for a great day or weekend."
Whether you live in one of Michigan's cities or are just considering a date night visit, there's plenty to do. In Detroit, you can enjoy an architecture tour of the city, visit the historic Redford Theatre, then dine on authentic barbecue at Slow's Bar BQ in Corktown. 
On the other hand, Michigan's Upper Peninsula offers a unique culture, community, climate, and cuisine like no other. It's a great place to experience a totally new environment with your partner, not too far from home. You can even try a pasty — a meat pie in a pastry shell that's famous in the region. 
With so many fun places to go, there's no excuse to have a boring date in Michigan!