In a city with so much to offer, making that dreaded choice of where to eat can be an impossible task. A long time American food hub, San Francisco has nearly 4,000 restaurants and no shortage of unforgettable date night dinners waiting to happen. 
This list covers some of the best the city has to offer, from Michelin-star restaurants to laid-pack pizzerias. No matter a couples' budget, neighborhood, or preferred dining experience, one of these establishments can deliver everything they're looking for. Featuring some San Fran classics and beloved neighborhood fixtures, local and visiting couples can be sure to get a taste of the Golden City at any of these stellar restaurants.
Monsieur Benjamin
Inspired by Paris bistro culture, Monsieur Benjamin in Hayes Valley offers traditional and modernized French fare in an upscale and elegant setting. Dinner menus offer fresh selections of specialty dishes — from appetizer escargot to a whole sea bass for two — with a foundation in French cuisine tradition.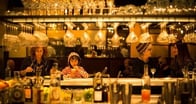 The full bar offers expertly balanced specialty-crafted cocktails that offer new takes on popular drinks, like Bramble On, a gin, elderberry, and vermouth beverage. The restaurant's wine selection is extensive and diverse. Couples going to Monsieur Benjamin for a special date night can splurge on top-shelf bottles or enjoy a couple of glasses of select wines. 
San Francisco couples seeking an elevated dining experience in an artsy and upscale atmosphere can find delicious dinners, desserts, and drinks at Monsieur Benjamin.
Bragging Rights: Best for French Fare
More About Monsieur Benjamin
Beautifully sleek interior matches a tasteful take on bistro cuisine
Neighborhood: Hayes Valley
Awards/notable info: Covered in the MICHELIN Guide
The Progress
The Progress, a Michelin Star restaurant in the historic Fillmore District, offers Californian cuisine in an upscale setting. The multistory restaurant has a purposefully designed interior that brings verdant greenery and warm wood tones together for a distinctly cozy but elegant feel. 

The diverse menu of The Progress means couples with varying food tastes can each find something they enjoy on the menu from a roasted pea and crispy tofu dish to grilled Alaskan halibut. Couples can order one of the many signature cocktails and retakes of tried-and-true classics, like a martini with smoked Castelvetrano olive juice. If beer is more up a couples' alley, the restaurant also offers a hand-selected beer list that is sure to impress. 
A perfect place for visiting couples to experience a distinctly California vibe, The Progress brings deluxe food and beverage to a romantic date night.
Bragging Rights: Best for Fine Dining
More About The Progress
Founding: 1958
Neighborhood: Chinatown
Awards/notable info: MICHELIN Guide, James beard Foundation America's Classics Award
Yank Sing
A hallmark of the food scene in the Bay Area, Yank Sing is a third-generation, family-owned dim sum restaurant perfect for couples in search of an interactive dining experience.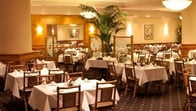 Featuring a signature contemporary take on the traditional Chinese meal, Yank Sing offers over 100 rotating dishes served from traditional pushcarts. Dim sum offers a variety of dishes that are designed to be shared, with a focus on dumplings (of which Yank Sing offers a stunning variety) and other small dishes — perfect for foodie couples in search of a place where they can try a little bit of everything. Yank Sing also offers a curated selection of beer, sake, wine, and hot teas. 
Situated in the historic and iconic neighborhood of Chinatown, couples can make Yank Sing a stop during a day in the heart of the city.
Bragging Rights: Best for Foodies
More About Yank Sing
Founding: 1958
Neighborhood: Chinatown
Awards/notable info: MICHELIN Guide, James beard Foundation America's Classics Award 
Aslam's Rasoi
Aslam's Rasoi combines Pakistani and North Indian cuisine in a cozy yet elegant dining room and is known for stunning flavors and an extensive yet perfected menu. Led by a father-son chef duo, the restaurant has been serving the Mission District since 2006.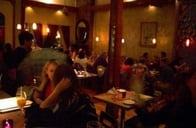 The menu is defined by Pakistani and North Indian staples, brought to the next level by creative flavor profiles crafted by head chef Mohammed Aslam, after whom the restaurant is named. The drink menu includes housemade lassi (yogurt drink), pani (lemonade), and chai, all of which are exquisite complements to the food menu items. An extensive vegetarian menu that can easily be customized to cater to vegans means couples with dietary restrictions can find plenty of satisfying options.
Aslam's Rasoi's vibe is inviting and family-friendly and beloved as a date night spot for any couple that enjoys Pakistani and Indian cuisine.
Bragging Rights: Best for Pakistani Cuisine
More About Aslam's Rasoi
Founding: 2006
Neighborhood: Mission District
Awards/notable info: Crowned "Best Tandoori in the Bay Area" by San Francisco Focus and "The City's Favorite Indian Restaurant" by SF Weekly
Peña Pachamama
Serving up organic plant-based dishes against the backdrop of impressive live music and dance performances, Peña Pachamama is a landmark of the North Beach neighborhood. Nearly everything is house-made with care and features an entirely vegan menu made from high-quality, non-GMO ingredients. Couples can find electric encounters with Latin music, culture, and food, along with the opportunity to try hearty and nutritious dishes with the highest-quality ingredients. The restaurant also offers wine, South American beer, and a selection of specialty cocktails.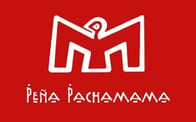 Located in the North Beach neighborhood, Peña Pachamama receives a good deal of tourist traffic but also has a long history for San Fran locals. It was the site of an iconic speakeasy and later one of the city's most popular Italian restaurants, and the restaurant has worked to continue the important legacy of the location. 
Peña Pachamama's combination of wholesome ingredients and world-class entertainment makes it the ideal date night spot for health-forward couples looking for an entirely plant-based experience.
Bragging Rights: Best for Plant-Based Couples
More About Peña Pachamama
Serving plant-based goodness for two decades
Neighborhood: North Beach
Awards/notable info: Voted "Best of the Bay" by the SF Bay Guardian, and San Francisco Weekly called it the "friendliest, most inviting night spot in the city"
Taqueria La Cumbre
Equal parts low-key and delicious, Taqueria La Cumbre offers a well-priced collection of tacos, fajitas, seafood, nachos, and – of course – burritos. Known as the birthplace of the Mission-style burrito, the eclectic and cozy restaurant is situated in the Mission District and has been serving the neighborhood fresh and made-to-order food since 1972.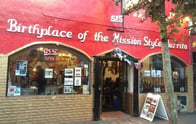 The Mission-style burrito it created, known for its size and inclusion of rice, is now the most popular kind of burrito in the United States. Another of the restaurant's claims to fame is that it employed a young Jorge Santana, the younger brother of Carlos Santana and an acclaimed Latin rock musician in his own right. The taqueria offers over 10 burritos that cater to the tastes of every couple with selections from an all-meat burrito to the Super Vegan burrito, along with plates and quesadillas. 
La Cumbre is a great date night spot for couples in need of a relaxed and established atmosphere that delivers delectable flavors.
Bragging Rights: Best Burrito in Town
More About Taqueria La Cumbre
Founding: 1972
Neighborhood: Mission District
Awards/notable info: Featured on television programs "Anthony Bourdain No Reservations" and "Man V. Food"
Nob Hill Cafe
Adorned with plenty of string lights and a welcoming atmosphere, Nob Hill Cafe serves authentic Tuscan classics in the heart of its namesake neighborhood. The restaurant's menu includes several salads, customizable pizzas, and a daily selection of fresh cheesecake.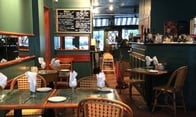 Saturday and Sunday brunch offers an extended menu great for couples seeking a daytime outing. The relatively small dining room is ideal for an intimate couple's experience. Its outdoor seating offers views of the Nob Hill neighborhood and ample opportunities for people-watching, as the restaurant is situated among several well-known San Francisco hotels. Nob Hill Cafe, a fixture of this neighborhood in the heart of the city,  has been serving up authentic Italian fare for over 30 years. 
Family-owned and operated, the care and knowledge behind every dish shines through in rich flavors and exceptional service.
Bragging Rights: Best for a Cozy Atmosphere
More About Nob Hill Cafe
In business for over 30 years
Neighborhood: Nob Hill
Awards/notable info: Known in the neighborhood for being a local favorite and hidden gem
Fiorella
Fiorella serves up classic Italian dishes and wood-fired pizza from the modern and warm atmosphere at its two locations in the Clement and Sunset neighborhoods. Offering salads, pasta, pizzas, and wines of the month, Fiorella marries fresh ingredients and artistic presentations so patrons don't have to break the bank.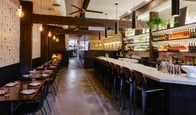 Each location's menu offers a mix of reliable standards and a rotating menu of seasonal and specialty dishes, meaning local couples can find something new with each visit. A wine-forward bar offers large selections of white, red, and sparkling wines to be enjoyed by the glass or by the bottle. Couples more fond of cocktails can find a hand-crafted list specific to each location, sure to appeal to any kind of beverage enthusiast. 
The atmosphere at both locations feels like it was designed for a date night, and couples can be sure to find something they love at any one of Fiorella's locations.
Bragging Rights: Best for Affordable Elegance
More About Fiorella
Founding: 2015
Neighborhood: Clement and Sunset
Awards/notable info: Named as one of the "Absolute Best Italian Restaurants in San Francisco" by Thrillist
The Dorian
Designed to be the kind of place Oscar Wilde would've stopped for a drink, The Dorian is known for its trendy atmosphere and stellar craft cocktails. Named after one of the great Irish poet's works, the supper club serves classic American fare with a Mediterranean influence.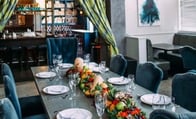 Just blocks away from the Presidio, The Dorian calls the Marina District home, which means there's plenty to do within walking distance. Plush leather booths line the walls around the large horseshoe bar, and the walls are decorated with liquor handles, gold-framed art, and stacks of books giving the restaurant a distinctly vintage parlor feel. The dinner menu includes fresh salads made from local ingredients, large entrees, and a mouthwatering selection of appetizers. Brunch includes a similar menu with a few dishes swapped out in favor of meals with a breakfast edge. Just like the food menu, the cocktail menu shifts between brunch and dinner and offers a selection of handcrafted cocktails that are sure to suit the drink interests of any couple. 
The Dorian's vintage feel is suspended in time, and it's a perfect first stop for young couples out for a night on the town. 
Bragging Rights: Best for Young Couples
More About The Dorian
Founding: 2015
Neighborhood: Marina District
Known for: Vintage, one-of-a-kind supperclub vibes
Sotto Mare
Serving the North Beach neighborhood for nearly 20 years, Sotto Mare offers some of the best seafood in San Francisco. The building the restaurant calls home was originally constructed in 1919 and bestows any date night with an unapologetically San Francisco feel.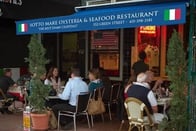 A heralded spot for seafood fanatics across the Bay Area, this oysteria is a must-go for couples who want the best oysters, clams, and fish the city has to offer. Always fresh seafood meets traditional Italian fare to create a menu complete with oyster platters and mouthwatering entrees. Couples can enjoy oysters, clams, and crab cocktails as appetizers, and then move on to fish pasta platters served with a selection of fresh seasonal veggies. The beverage menu is focused on wine, with selections of sparkling, white, and red wines, but the beer lover can enjoy a selection of draft and bottled beers. 
Bragging Rights: Best for Seafood-Loving Couples
More About Sotto Mare
Founding: 2007
Neighborhood: North Beach
Awards: According to NewsBreak, with 5,000 total reviews with 3,000 being 5-stars, Sotto Mare is the best-reviewed restaurant in San Francisco
Whether a couple is kicking for raw kale chips or a plate of oysters, one of these San Francisco restaurants can serve it up. 
The culture around eating out has changed drastically throughout the course of the COVID-19 pandemic era, with many people opting to stay home and order in. While some restaurants have been able to maintain business through online ordering and takeout, nearly all San Francisco restaurant owners would attest it just hasn't been the same. This has caused many restaurants to close their doors, and for communities that love and rely on long-standing establishments, it can be heartbreaking. 
Regardless of which of these restaurants San Francisco couples chose to eat at, going out and supporting local restaurants always make for a great date night.