Mark is a Midwesterner who has traveled to many countries and made close friendships and relationships across borders. His experiences dating women in the Philippines gave him insight into an area where he could help well-intentioned singles expand their romantic options.
In June 2017, Mark launched Hello Pinay to introduce foreign men to local Filipina women (and vice versa). The international dating site has grown by word of mouth and established a friendly community of verified users.
Hello Pinay offers a fun place to have a conversation and meet people across borders. The platform accommodates adventurous and open-minded singles who are willing to put their hearts on the line. Here are some tips to make the online dating experience even better.
1. Start by Registering a Free Account
Some online dating sites disappoint singles when they have a paywall between them and prospective dates. Hello Pinay doesn't play that game. Its profiles are available for free to anyone with a valid profile, and some messaging options are included as well.
Hello Pinay offers a free registration to members around the world. A woman in the Philippines can form a budding connection with a man in the U.S. or another country without having to worry about expensive fees. The free plan lets users explore the online terrain for as long as they like.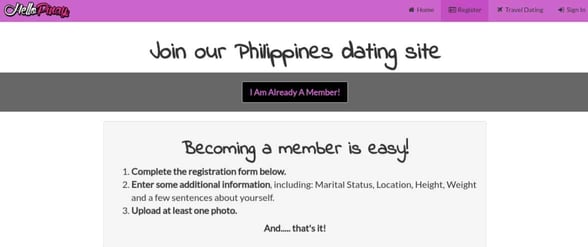 The Hello Pinay dating site does have a paid membership option for singles who want more bells and whistles at their fingertips. Subscriptions include incognito browsing features and unlimited chat capabilities, so it could be worth the upgrade if you want to build relationships over the long run. Don't worry, though — Hello Pinay memberships do not have automatically recurring payments.
2. Add 3 or More Pictures
Good photos are essential to an online dating profile because they can deliver a lot of information and attract other people. Profiles with multiple photos tend to get more traction. Users are looking for legit matches, and seeing photos can help them feel more confident that they're talking to a real person. Hello Pinay members can add up to 30 photos to their gallery, and our experts recommend uploading three to five of your best (and most recent) pictures.
Mark wrote an online dating advice article where he mentioned the importance of having an attractive and authentic photo on a profile. "We all know about the beauty filters and all the clip art you can alter your pictures with — do not do it," he advised. "People looking at your profile will feel less confident that you are who you say you are or look the way your pictures appear."
3. Be Honest in Your Profile
As children, we're taught that honesty is the best policy, and that's true in the online dating world as well. It may be easy to fib a little about your height, interests, or income to appear more attractive, but doing so won't work out in the long run. And it could get your profile deleted if someone reports you to the moderators. All profiles and photos must be approved by the team before they can be viewed by other users.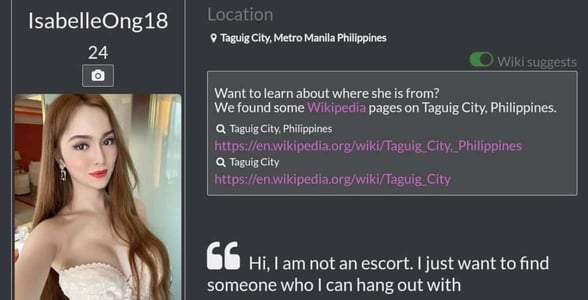 Hello Pinay asks users to put their best foot forward when completing a new profile. Singles can write about their dating intentions and tag their favorite hobbies, and they'll navigate the network under a unique username. This is an opportunity to showcase your personality and grab the attention of a potential love interest.
"Include the things that you would want someone to know right away about you," Mark advised. "The profiles that we see have the most success are the ones that write something meaningful about themselves and who they are looking for."
4. But Don't Write Your Entire Life Story
Dating personal ads should be short and sweet. No need to explain every detail of your dating experience or list all the qualities you're looking for in a partner. You're not writing an autobiography — you're making an elevator pitch to a new person. The goal is to highlight your most appealing features and leave the reader wanting to know more. One or two sentences in the bio should be enough to convey the key information about yourself. And remember to stay positive because self-deprecating humor won't make a very good impression on foreign dates.
5. Take Time to Understand Cultural Differences
Hello Pinay is an international dating site where singles can establish cross-cultural relationships. Sometimes that means overcoming cultural differences and navigating travel logistics. Foreign men should expect to encounter a learning curve when trying to date Filipina women. They may not have the same point of view, but they can come together with enough honest communication.
Some cultural differences crop up often on Hello Pinay, and Mark has written articles to bridge the divide by fostering a deeper understanding.
"A lot of foreigners will not know that in the Philippines divorce is not legal," Mark explained in a Hello Pinay blog post. "[This] leads unhappy couples to have boyfriends and girlfriends outside of marriage. The foreigner probably will not understand this unless they are very familiar with Filipino culture."
6. Trust Your Instincts & Build Trust in the Community
Hello Pinay has established a safe and welcoming community for international daters, but some bad apples can still slip in under the radar sometimes. That's why the site has a robust AI vetting and moderation system to keep legit users safe and happy.
The Terms of Service outline the rules members must follow while networking on Hello Pinay. A user who breaks the rules — by posting sexually explicit images, for instance — will be flagged and removed upon detection. Online daters must mind their manners if they want to form new romantic connections.
"Always show respect to all members of our site. If you have a problem with someone, you can block or report them," Mark advised.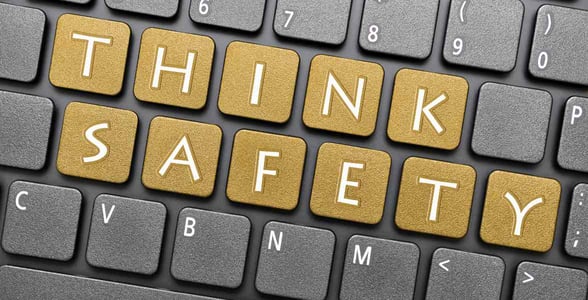 Online daters should always be a little cautious when connecting with a new person online. Some romance scammers will try to sell you on a sob story and ask for money or a phone plan. It is never a good idea to do favors or send funds to a person you have not met in person (or at least seen in a video chat).
"We all know it takes time to build trust, not flowery words," Mark said. "While it is important to be sensitive to cultural differences, continue to listen to your instincts. If it doesn't feel right, it probably isn't."
If you encounter any suspicious or troubling behavior on Hello Pinay, report the issue and block the user just to be on the safe side.
Hello Pinay Can Broaden an Online Dater's Horizons
International dating can come with logistical and cultural challenges, but having some resources and prior knowledge can make things easier. Hello Pinay can help individuals expand their dating pool. The site offers a chance to meet people who enjoy traveling abroad and exploring different cultures.
Hello Pinay has an FAQs page that tackles the variety of questions that come up during the online dating experience. Mark's practical advice is an invaluable resource for international singles who want to spice up their love lives.
"As a man living in a foreign country, far away from the Philippines, navigating the world of online dating in a different country from your own can be challenging," said Mark. "There are significant cultural differences between all countries in the world, and learning about those differences is important in order to be successful."