The Scoop: Social distancing and other pandemic-related safety measures have kept people, including many Jewish singles, from meeting each other. But Lox Club members have had a different experience. The online dating platform caters to Jewish singles ready to meet someone they can introduce to their family. Today, the private platform offers an intimate, speakeasy vibe and in-person singles events in New York, Los Angeles, and Miami. Lox Club will be launching in Austin, Texas, in March 2022.
America is home to 4.9 million Jewish adults, according to the Steinhardt Social Research Institute at Brandeis University. Geographic research also shows that a quarter of the US Jewish population lives around New York City. What's more, Los Angeles and South Florida are home to the second and third largest populations, respectively.
Those population statistics include many couples who are married or in serious relationships. Other Jewish adults aren't ready to have a relationship or want to date casually without thinking of marriage. But that dynamic may be challenging for Jewish singles seeking to connect with someone they want to introduce to the family.
It's not easy to impress a Jewish grandmother, but plenty of Jewish singles in the United States turn to Lox Club to find a date that stands out from the crowd.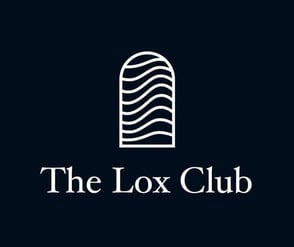 Many Jewish singles consider finding someone to marry who shares their faith important. Marrying within their faith creates stronger ties to their families and their communities. If Jewish singles don't meet each other and create families, the community could dwindle through the generations. But before they think about marriage, they need to consider compatibility and shared values.
Austin Kevitch, the Founder and CEO of Lox Club, wanted to make it easy for Jewish singles to find love that could last a lifetime.
"Our goal is to help down-to-earth and ambitious people meet each other," said the Lox Club executive team. "With a carefully curated community and focus on bringing members together off the app, Austin believes Lox Club is a place where you can finally find a partner your Jewish grandma would approve of."
A Members-Only Club For Jews With High Standards
Austin created Lox Club after having his own painful breakup and frustrating experiences with dating apps. When singles base their attraction on photos, it's more likely that any connection between them will be what's known as explosive love. It's fun and exhilarating, but it's not necessarily going to last beyond a few dates.
When Lox Club launched in November 2019, it became the place for Jews who are ready to get serious. According to the executive team, Lox Club is a private, members-only dating app for "Jews with ridiculously high standards."
The Steinhardt Social Research Institute study also found that Jewish adults were nearly twice as likely as the rest of the American adult population to have graduated college. The survey found that, of the entire US Jewish population, 11% qualify as Gen Z, and 15% are millennials.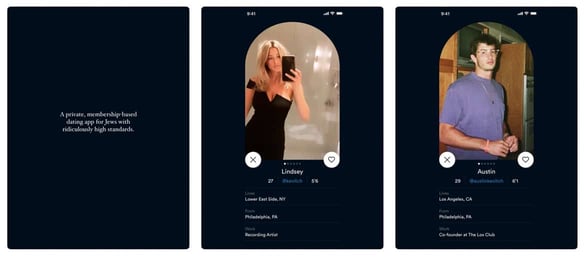 Singles in those generations are used to swiping left and right to look for matches, so they are comfortable using Lox Club. But there's a lot more than swiping for a possible match from among these members, who tend to be between their early 20s and mid-40s and live in the Los Angeles, Miami, and New York City metropolitan areas.
"Some of the typical dating app choices out there can feel a little tired or cringe, which is why we wanted to create a more unexpected vibe," the team said. "With Lox Club, we weave storytelling throughout the experience, so it feels less like a dating app and more like a mysterious secret speakeasy."
Exclusive Events Help Singles Meet In Real Life
The COVID-19 pandemic health precautions and social distancing mandates have been especially challenging for singles who live alone. The Lox Club app saw a significant surge in membership applications and activity at the beginning of the pandemic.
"We think that is a true testament to how many people were looking to connect with like-minded individuals while being stuck at home," she said. "Social isolation wasn't necessarily synonymous with staying single."
It helped that Lox Club offers exclusive in-person events for members, creating safe and fun opportunities to meet fellow Jewish singles in real life. There's something gratifying about meeting someone and getting a feel for their energy instead of wondering whether they look like their picture.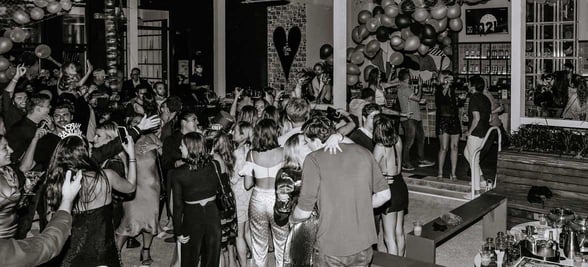 The platform is still completing its 2022 events calendar, but it already has parties planned in New York City, including one at the Brooklyn Bowl. The events are invitation-only and curated by Lox Club team members, who seek down-to-earth, ambitious, and culturally Jewish singles. The events take away many of the awkward moments that often occur with most online dating app experiences by creating opportunities to meet in real life.
"We find many of our applicants are serious about finding an authentic connection and are interested in opportunities that can come from meeting others at events," the executive team said.
Lox Club: Over 20 Engagements and Counting
In its short history, the Lox Club has already fostered 22 engagements between singles who met through the app.
"Our favorite thing is to hear from members that they've met their person and deleted the app altogether," she said. "Plus, we love that people include us in the story and openly celebrate that they met on Lox Club."
While couples often share lox and bagels on breakfast dates, that's not the origin of the app's name. In the mid-1920s, the widowed owner of New York City's Spielman's Delicatessen opened a speakeasy behind the deli. It was a place for the Jewish elite to meet and fall in love for three decades. That speakeasy, called The Lox Club, attracted celebrities, including Frank Sinatra and Marilyn Monroe — a nod that you don't have to be Jewish to join.
Singles pay a membership fee to join the Lox Club dating app, which can eliminate those who aren't serious about finding a meaningful connection. The membership fees are currently $36 for three months, $60 for six months, and $96 for a year.
In 2022, the team plans to hold more events, parties, and activities for members in participating metropolitan areas. It also wants to expand the app to several new cities where Jewish singles live but may not connect with others who share their faith.
"Our exclusive, in-person events provide the same sense of mystery and fun for members," the Lox Club executive team said. "In a way, we're the only dating app that makes it easier to meet someone in real life — and we actively encourage it."