The Scoop: eDarling has been one of the most popular dating sites in Germany since 2008. The platform attracts singles with its matching style and safety features, and it connects potential partners based on demographics, lifestyle preferences, and psychology. eDarling also provides singles with peace of mind because the team verifies the profiles of each new user for authenticity.
Berlin-based dating platform eDarling has been one of the leading dating platforms for German singles since 2008. One reason the site remains so popular — and is growing internationally — is because it uses data and science to create matches among its users.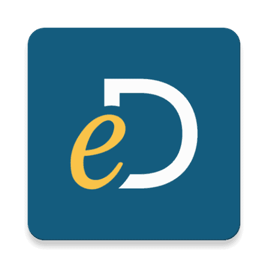 The platform's unique matching algorithm leverages scientific information to identify a couple's compatibility. 
"On the basis of our matching, we make targeted and suitable partner suggestions and, in addition to a platform for secure email contact, we are the only provider in Europe to offer a guided, multi-step introductory process," said the eDarling team. 
eDarling's matching algorithm considers three factors: basic demographic data, personal preferences, and psychological personality.
New users fill out a questionnaire that is the most detailed of any German dating site. 
The demographic data includes basic information — gender, age, place of residence or desired relocation spots, and education level. Personal preferences include questions that matter when two people want to build a long-term relationship. Sample questions include "How important is the religion of your future partner to you?" and "Do you want children?"
The psychological personality profile of eDarling is based on the Big Five personality traits model, which has been one of the most important and well-known concepts in psychology since the 1990s. 
After assessing new users in those three areas, eDarling matches partners who are likely to be compatible. Clearly, this method works. For the last 15 years, eDarling has been growing in popularity and now has more than 13 million users worldwide. Users flock to the site from countries including Hungary, Mexico, New Zealand, and the United Kingdom.
Keeping Users Safe and Comfortable 
In addition to its matching algorithm, eDarling demonstrates its value by keeping its users safe. Security is one of the company's top priorities, and the platform receives and stores all data in an encrypted form that is neither passed on to third parties nor visible to other users.
"As with any online activity, there can be situations of bad actors, but we prevent all that we can and give people the tools to protect themselves and their information," the team said. 
To stop these individuals, the site leverages AI to discover fraudulent behavior, and offers verification methods for profiles, personal information, and photos..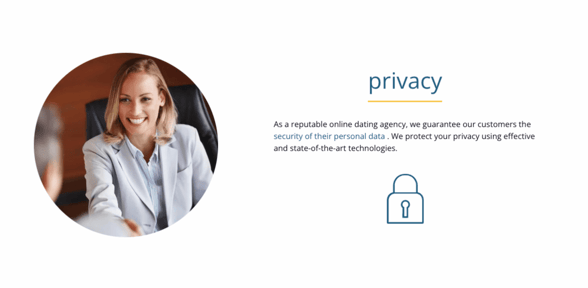 The site also invests in user education, as exhibited by its safety pages, to provide the community with the right tools to mitigate the risks of online dating. If users find themselves in a potential scam situation, they should immediately stop communication and report the scammer to the app. The team takes those situations seriously and will investigate all the reports they receive. 
The site even reminds users to consider if their new partner seems too good to be true.
"Critically question inconsistencies in the details of your partner proposal. Your suggested partner is 22 but says he's a surgeon? Your partner is a stockbroker by profession and writes that money is completely unimportant to him? Skepticism is allowed here. If you have doubts about the authenticity of the information in a partner suggestion, avoid contact," eDarling writes on its website.
Other possible scams include someone asking for financial help, claiming to be stuck in another country, asking for personal information, or trying to create a bond quickly. 
Happy Couples Meet on the Platform
Marion and Peter, a couple who met on eDarling, wrote that they didn't expect to fall in love on a dating platform. Peter's wife had died several years before he created a profile, and he didn't genuinely think he would find love again. 
Then, he saw Marion's profile. The algorithm suggested several other women, but Peter kept coming back to her. She lived in Italy, while he was from Germany.
"Even if the line from Italy to Germany wasn't always the best, not a day went by without us Skyping at least once. These online conversations got longer and longer; at the same time the desire grew in us to finally get to know each other personally," he wrote in an online testimonial. 
Eventually, he went to visit her, and they had as much in common as it seemed.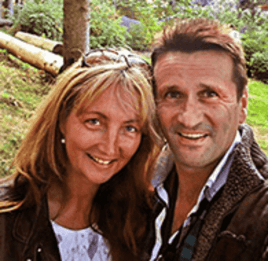 "I visited Marion and we both decided to share the future together. We fell in love with each other — even if I'm not one of the 'boys' anymore — and the planning for the rest of this year is already done…We are both over the moon and wish all the singles looking for a partner on eDarling's platform just as much luck. There are still miracles," he said. 
Bridget and Marcus were also skeptical about using dating platforms, but both decided to create profiles on eDarling. They had only been on the platform a few days when they started chatting. They hit it off immediately, and within a few days, they met up at a café in Vienna.
"When we first met, the unbelievable happened: love at first sight — yes, it really exists! We were both struck by lightning. However, our encounter was a lot more heavenly! The evening was harmonious on every level, sensitive, full of trust and full of respect," the couple wrote in a testimonial.
The two said they felt as if they had known each other forever — a feeling that has only intensified since they started spending more time together. 
"Never before in our lives and our relationships have we experienced such a unison — when love is given free rein. Since then, our lives have felt light and carefree — material things no longer have a place. We even thought about writing a book about our incredible story, because love at first sight is real, genuine, and unearthly," they wrote. 
eDarling Uses Science and Data to Create Stronger Matches 
eDarling is an innovative platform that leverages data and science to match singles. So it's no surprise that users read the results of eDarling's surveys to find out what can make them more appealing to potential partners. For example, the site recently asked German-speaking men and women what they were looking for in their dream partners. 
Interestingly, more women than men said they were looking for partners who supported their professional ambitions. Women also sought partners who gave them more freedom to pursue their hobbies and supported them traveling by themselves.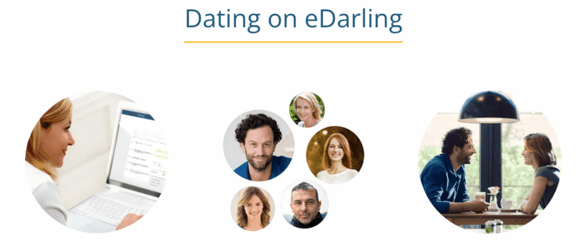 Fewer men than in generations past said they expected women to take on more of the housework, as 16% responded that they wanted their female partners to take on the bulk of the housework. And 36% of women said they wanted male partners who would do their fair share of housekeeping. 
In the survey, a few clichés did hold true. The survey reported that 65% of women expect a perfect partner to regularly give them flowers, while 75% of men said they want to be surprised by the woman of their dreams in sexy underwear. 
Another poll considered what a person's home said about them. For example, 46% of respondents of both genders said that a well-stocked kitchen was a turn-on. What's more, 40% of both men and women said they appreciated it when their potential partner had a musical instrument or a record collection at home. 
Nearly 50% percent of women also said they were looking for books in their male partner's homes, while only 29% of men said they kept an eye out for women's books. 
These surveys, along with the site's matching algorithm, make eDarling a smart platform for singles looking for love. While intuition can be great, science can help narrow the playing field.