The Scoop: Matchmakers and dating professionals often have a lot of emotional intelligence and entrepreneurial spirit; however, they may not have the tech skills required to build and support a database of singles. That's where SmartMatchApp comes in. This user-friendly matchmaking software provides a supportive digital hub where professionals can search for potential matches, communicate with clients, and collaborate with colleagues. And now, thanks to a partnership with RealMe, matchmakers can use SmartMatchApp to conduct individual background checks to verify identities and raise the standards of their introductions.
SmartMatchApp is constantly improving its service for matchmakers and dating professionals who want to focus more on the client than on the business's tech side. The intuitive and streamlined portal handles everything from network management to automated messages and follow-ups. The messaging tools can set up email campaigns and provide pre-written responses to common questions or concerns.
"It saves time and provides big value for clients," the team told us. "We've also introduced support options so clients can get in touch without phone or email  —  they send a message and reach the matchmaker from the system."
The SmartMatchApp team is passionate about its work and making life easier for busy professionals in the dating industry. The app's technology enables matchmakers and other dating professionals to do what they do best: finding love for the client. By implementing innovative software, the SmartMatchApp team does all the behind-the-scenes work, allowing businesses to thrive and grow.
"Matchmakers can find and discover that happy-ever-after life for their clients," the team said. "It's a beautiful interface, and the matchmaker is always in control."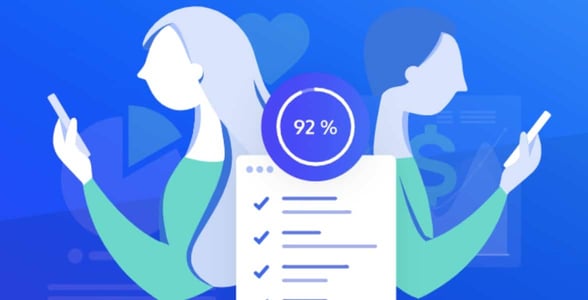 The SmartMatchApp team is taking the software further as the company partners with RealMe. RealMe's technology can help dating professionals keep track of eligible partners and screen them for safety. 
RealMe provides CRM users background and reputation information to help them gauge if someone is real and trustworthy. They use publicly available background information, criminal records, sex offender status, personal reviews, and more data sources to protect businesses and their clients from bad actors. Now that the SmartMatchApp is partnered with RealMe, matchmakers can store information about potential singles and screen potential matches all in one place.
The RealMe Partnership Raises Standards for Matchmaking
Many singles trust matchmaking services for the personalized help that matchmakers offer them in the dating process. They appreciate the time matchmakers take to get to know their clients and the support they receive in putting themselves out there. 
With RealMe, matchmakers can offer their clients an additional incentive for their services: verifying the safety of their dates before they even meet. Using dating services can be intimidating for singles, especially those used to meeting potential partners spontaneously. It can feel like dating services are less safe than meeting through friends, work, or school. While scary situations can come up in any form of dating, with RealMe, matchmakers can ensure that they give their clients the safest experience possible. 
Unfortunately, dealing with catfish is almost inevitable in the dating experience. But matchmakers can minimize this expected issue for their clients by using RealMe. For people on the fence about using a matchmaking or dating service, the knowledge that they are protected from the disappointment of a catfish or the danger of meeting someone with a sordid past can confirm that using a matchmaker is the best way to go.
Using RealMe is an easy, ideal way for matchmakers and other dating industry professionals to give their clients the best services. RealMe works simply, the team told us. "All you need to do is activate the add-on $20 to check a profile, conduct a background check."
Matchmakers can conduct background checks more quickly and affordably through this system. The results are immediate and can be applied to just one person or to a group of potential matches. It's up to the matchmaker to decide where to put these resources and get the answers needed for a successful match.
A Popular & Reliable Service Trusted by Pros
Michelle Jacoby, the owner of DC Matchmaking, had nothing but good things to say about SmartMatchApp. "I've tried other software, and SmartMatchApp is by far the best," Michelle said. "SmartMatchApp was designed specifically for matchmakers. They understand how our businesses run exactly what we need on the backend to do an excellent job for our clients."
Across the industry, many dating professionals find that using SmartMatchApp gives their business meticulous attention to detail, customer service, and time they didn't have before. SmartMatchApp helps them do what they do best without trying to keep track of old paper files that take time and are subject to human error.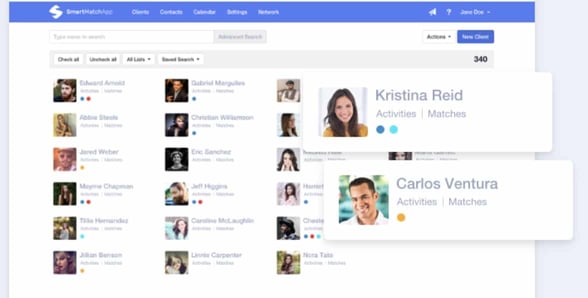 At the same time, the SmartMatchApp team understands the value of personalization within matchmaking services. They're dedicated to automating what they can without removing the human touch that makes matchmakers essential.
Now that SmartMatchApp has paired up with RealMe, matchmakers can expect the same quality service and knowledge of the dating industry that keeps them working with SmartMatch from their background and reputation information services. They know that software provided through SmartMatchApp is suited to the needs of matchmakers and, of course, their clients.
SmartMatchApp Opens Doors & Creates New Opportunities
From its Gmail integration to its RealMe partnership, SmartMatchApp continually finds ways to automate, streamline, and improve professional matchmaking business processes. The result is less manual work for industry pros and more insights built into the database system. 
By partnering with RealMe, SmartMatchApp has found a new way to protect dating industry professionals and their clients from catfishers and dangerous individuals. Those who wish to use matchmaking services can feel safer knowing that their potential dates have been screened and carefully checked by a respected software made to protect them. Once these individuals feel secure using matchmaking services, they are more likely to put themselves out there, trust in the process, and give their matches a chance.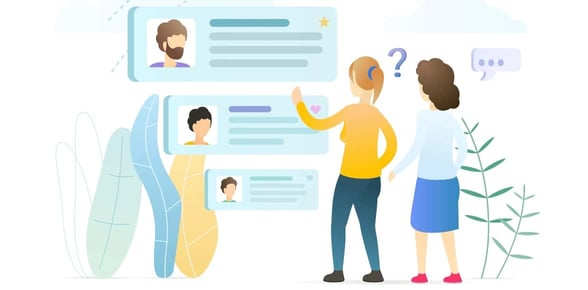 SmartMatchApp offers networking services worldwide for matchmakers seeking to collaborate. They offer automated messaging to keep the personal touch of a matchmaker on the tight schedule of a growing business owner. They offer custom database services to organize clients in a unique way. No matter your style, goals, or mission, SmartMatchApp has a way to personalize your business structure to work for you.
SmartMatchApp's technological offerings provide plenty of opportunity for matchmakers seeking to grow their businesses and move them into the 21st century. The dating industry has changed a lot since the advent of the internet. No longer is matchmaking performed only by word-of-mouth, one community at a time. Potential partners with more extensive and varied backgrounds can be found over wider geographical areas. When matchmakers use SmartMatchApp, they make it easier to track all the singles in their network and stay on top of their game. 
With RealMe, SmartMatchApp users no longer need to worry about the safety of their clients or the reputation of their business should a catfish end up in their network. They can focus on the passion and talent that drive their business: helping singles find the loves of their lives.