The Scoop: Online dating is becoming more popular now than ever. Singles from all around the world are taking a chance to find love online. As intimidating as that may sound, there are a handful of dating apps and sites that prioritize member safety. The growing app SafeDate focuses on connecting singles safely and privately. SafeDate's safety features and  supportive team offer people a whole online dating package that's worth exploring. 
Online dating is now considered one of the top ways people can find love in this day and age. Ever since the COVID-19 pandemic, daters have started to be strategic with dating and turned to the online dating scene to find love or social connection. Meeting people from all over the world is now more accessible and has created a lot of relationships as a result. 
With that in mind, singles need to learn how to safely date online. Online dating is a major risk –– but it's a risk that can certainly be worth it. Whether you end up finding a relationship or a friendship, people should log off a dating site feeling confident that they are protected and their safety isn't at risk. The app SafeDate is a tool that ensures people feel safe outside of the online dating world. 
SafeDate was created in 2018 by entrepreneurs Emma Sayle and Hadleigh Bolt. After hearing about an array of terrifying online dating stories, Emma and Hadleigh figured it was time for singles to have a secure and safe experience while dating online. They created the app in hopes that it would change the way people date.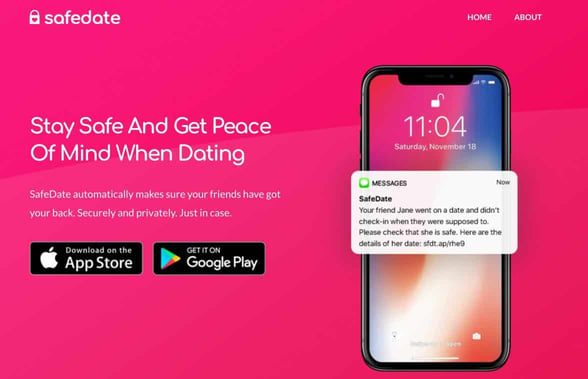 "At SafeDate, we think dating should be a fun and safe experience. We created SafeDate to offer peace of mind to you and the people close to you, so we're on a mission to keep people connected in a safe, yet private way," said the SafeDate team. 
Connecting People in A Safe Way
Texting with someone on an online dating app can only go so far. There comes a time when you must log off and meet up with the person on the other end of the screen. This can be such a nerve-wracking experience as thoughts of every possibility start to cloud your mind as you prepare. One thing you should never be nervous about is wondering whether your safety is at stake. SafeDate is an app that offers advice on how to stay safe on first dates and how you set yourself up for success. 
Emma told us that first dates should be in a public place where both parties can feel safe. This can be a local bar or an open area where you and your date aren't completely alone. You want to aim for a location where you're able to get to know one another while still being in the public's eye. My first date with my now boyfriend was at the movies. It was not only a great way to get to see whether he had good taste in films, but it made me feel safe knowing that if anything went south, I had a great escape plan. 
SafeDate currently has over 10,000 downloads. Emma said the app has about 200,000 members — about 80% of whom are women. SafeDate works on a variety of dating apps, including OkCupid, Tinder, Match, Bumble, and Badoo. Online dating apps help you find a date, and SafeDate makes sure that you're safe! 
"This is the only safe date verification that makes sense," said Ryan, a SafeDate user in a review. 
Keeping Your SafeMate Always Alert
Have you ever sent your friend your location before going on a date? Trust me, I've done it more times than I can count. It's comforting to know that someone is looking out for you and knows where you are at all times. That way they can follow up with you and make sure you make it home safe. That's basically what SafeDate is all about.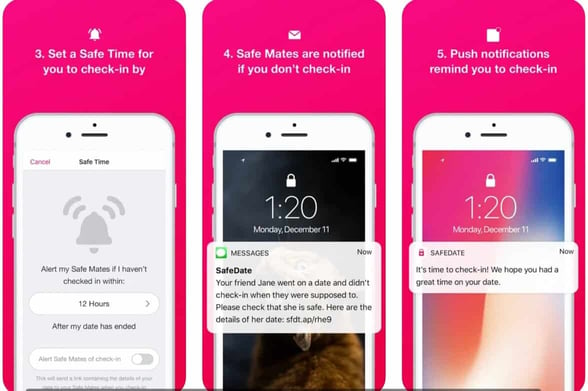 SafeDate allows people to keep their friends and family alert whenever they're about to go on a date. Singles can add their date plans to the app and then privately choose Safe Mates from their contacts. Safe Mates can be anyone you trust who will make sure you're OK while you're on your date and after. It's like your mom blowing up your phone a thousand times to make sure you're OK, but this time it's with consent. 
"Fantastic app and very easy to use. A great way to check in with friends and stay safe" said a SafeDate user in a review. 
Before going on a date, singles can set a safe time to check in after their date finishes. One of the best parts about Safe Date is that, if you don't check in at that time, then your Safe Mate is alerted to reach out to you. They are also given your date information, including where your date took place. This is helpful if they need to call the location and check in on you. 
SafeDate Offers Singles Peace of Mind
People shouldn't have to choose between online dating and their safety. They should get the best of both worlds. The SafeDate team is dedicated to helping people meet their special someone while never putting their safety at risk. As I mentioned earlier, SafeDate offers great tips that help online daters identify the signs of a scammer on a dating site. The team is always available to answer a question or two.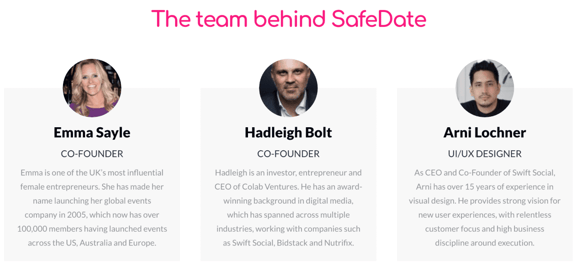 We can expect more from the SafeDate team in the future. SafeDate will continue to help people feel safe while dating and expand to even more online dating apps. Daters now have the opportunity to go on dates knowing that they're protected. SafeDate has allowed people, especially women, to feel secure when going out and meeting new people. 
Many people have praised the team for providing such a valuable tool for the online dating world. It's also nice to note that SafeDate is accessible to everyone who needs it. People can download the app from Apple App Store or Google Play at no charge.