The Scoop: NUiT is a dating app based on astrology that was launched in 2019. NUiT blends Western Astrology with modern tech for a new way for singles to match, meet, and connect. The app elevates the average dating app experience with full birth chart integration features and match percentages according to astrological placement. NUiT gives people who love to find meaning in astrology a place to meet and bond over their shared love of the skies.
Astrologers tend to be interested in me. My birth chart evokes wonder and awe in astrology lovers, as it's somewhat enigmatic (some say scary). My Sun, Moon, Mercury, Venus, and Mars are all in Gemini. Some might say I'm just about as Gemini as they come.
Geminis may get a bad rep here and there, but as a Super Gemini, I can vet for our quick wit and fun-loving nature. When I meet someone who appreciates Geminis, I'm quickly endeared to them. I feel like they get it!
Astrology is an amazing conversation starter and a great way to delve into deep conversations about personality and lived experiences. Many astrologers and astrology dabblers enjoy the compatibility predictions that astrology is well-known for.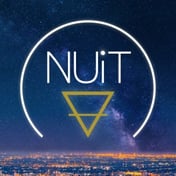 I love seeing astrology's throughlines in my life; since I was a kid, most of my closest friends and romantic partners have been Aquariuses, Aries, or Leos.
NUiT is a dating app that knows how meaningful astrology is to the folks who study it. That's why they've built a dating app that connects singles with compatible zodiac interests and placements. Chara Dela, co-founder of the astrology dating app, told us about how zodiac signs can connect singles.
"When astrology apps first came around, it was all about sun signs," Chara said. "We're coming with a more holistic approach, we're trying to embrace the whole astrology chart."
Holistic Approach to Zodiac Compatibility
App co-founders Natalie and Chara were working together at a different company when they first met. Chara said that Natalie was on dating apps at the time and found the experience to be disingenuous. "She didn't like the superficial part of it, the constant swiping, the burnout," Chara said.
Both Chara and Natalie were familiar with astrology, as it had been part of their upbringing. Chara said her Greek background and Natalie's identity as a Lebanese American had exposed them to astrology since childhood. Even though astrology was embedded in Natalie's culture, she was still a little hesitant.
Natalie has a science background, so she wasn't sure how much resonance she would find in an astrology-based personality breakdown. Chara said Natalie was shocked when she saw how much math and rules went into making and reading her birth chart and creating a personality profile.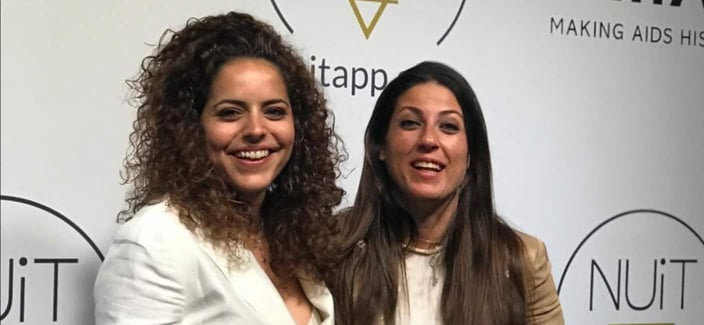 "A lot of people consider astrology a pseudoscience," Chara said. "But it has so much ancient wisdom, math, physics, astronomy behind it. The first time Natalie was really exposed, she was mesmerized."
That's how the idea for NUiT was born. The co-founders saw how connective and powerful astrology could be. It wouldn't be the first time someone harnessed the knowledge of astrology to make a romantic match, but it is the first time someone is doing it on a mobile app.
NUiT helps daters break the ice and find common ground quickly. Chara told us the app is designed to be more intentional than other dating apps. It analyzes people's unique core personality traits and measures the compatibility of each potential match.
NUiT Is For Singles Seeking Cosmic Connection
The folks at NUiT believe in the power of the universe and are helping singles who do, too. NUiT wanted to harness astrological power in the dating scene because birth charts are unique representations of individuals. There's a one in a few billion chance that more than one person's sky looked identical at the moment and place they were born.
NUiT is free to download and easy to use. It's available on the App Store and Google Play, and making an account is simple once the app is downloaded. Similar to other dating apps, users fill out basic information about themselves and add a few pictures.
Users can then input their birth details into the app. NUiT then crafts a birth chart, which translates a user's birth details into cosmic placements and personality traits. With this birth chart, users can discover chart elements and planets, how these influence them, and how the information can connect them to other singles.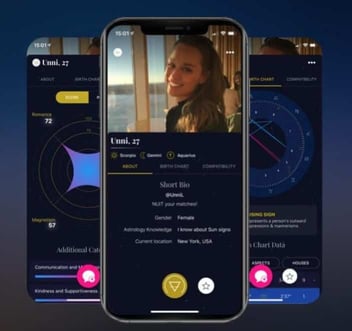 Before NUiT users start making matches, they can explore their birth charts. Birth charts and personality breakdowns are great tools for self-reflection and measuring life experiences. Users can investigate their Birth Chart placements, houses, aspects, and more, all seamlessly visualized within the app.
The app has developed a unique algorithm based on Natal Chart Synastry. NUiT translates a user's birth details to help them find deeper self-understanding. These personalized Synastry calculations unveil the influences of the cosmos.
NUiT is more fond of connections than swipes. This is why the app does not have a swiping mechanism, instead allowing users to send stars to represent interest. Singles can use NUiT to connect to other folks in their area or extend the search radius and explore the app globally. 
"NUiT is designed to work like a psychoanalyst, matchmaker, and relationship advisor, all in one app, all guided by the study of astrology," Chara said. "It lets you meet people all over the world."
A Perfect Match, Written in the Stars
The wisdom of astrology is for everyone, and that's why NUiT has expanded its features and settings so LGBTQ+ folks can have full access to the app. Developers expanded self-identifiers for users to include a non-binary gender identity. NUiT has also expanded its selection of sexual orientation preferences. 
In addition to compatibility tools and detailed birth chart information, NUiT users also have access to daily horoscopes, transit updates, and other astrological forecasts. This makes NUiT more than a simple dating app, elevating it into a one-stop shop for all things astrology and romance.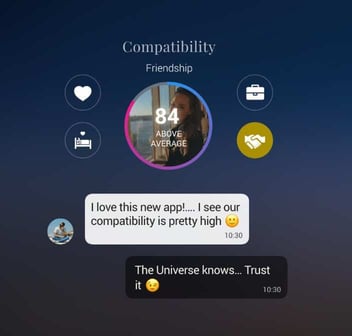 Many people who love astrology are tired of having their interest dismissed, particularly in the dating scene. NUiT gives astrology lovers a place to connect and find resonances without fear of being made fun of for appreciating what the celestial bodies have to say.
The app is trying to make online dating more intentional. While so much of the modern dating scene is influenced by quick judgments based on appearances, astrology offers a deeper insight for daters.
NUiT fosters a community of daters who are ready to make authentic connections and move away from the artificial judgments of swiping dating apps. "We believe it's not all about looks, obviously," Chara said. "It's about personality and compatibility."