The Scoop: Blazr is a dating app made just for weed enthusiasts. The app connects people who use cannabis recreationally or medicinally for romantic connections. Blazr was founded after its founders felt that the cannabis community deserved a virtual, mobile space to connect with each other. Blazr works like other dating apps but only has users down to light up and have fun. The app makes meeting 420-friendly singles easier than ever before.
The terms "stoner" and "pothead" have murky etymologies, both being pejoratives used to describe a person who uses cannabis. In my life, they've been hurled by my parents in some directionless argument about whether people can be ambitious and successful and smoke weed.
Of course they can. Not only are cannabis enthusiasts ambitious and successful people – everyday folks, some might say – but they're also reclaiming words like stoner and pothead to be endearing self-identifiers. 
As recreational marijuana use is legalized in more states across America, cannabis and its subculture are being pushed into the mainstream arena. More people are using cannabis and enjoying its medicinal and recreational benefits.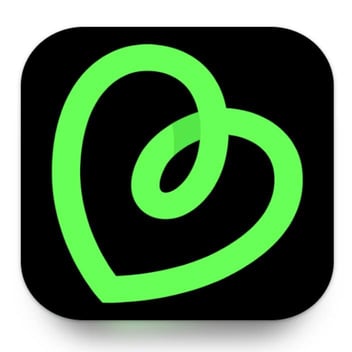 For many people, using weed is more than a simple recreational drug choice. It's a lifestyle that values cannabis and its social, emotional, and mental advantages. People who lead a 420 lifestyle often seek romantic partners who also appreciate – maybe even love – weed.
Blazr is an app that's helping stoners find punch-high love. It's the #1 dating app for recreational and medicinal cannabis users. Blazr connects single stoners who want to enjoy their weed with someone special. Singles who use weed know it can be a drag to date someone who doesn't understand the lifestyle or, even worse, is judgmental about it.
Jay Lindberg is the CTO and co-founder of Blazr. He told us about how cannabis enthusiasts can get the most out of the app. "Cannabis is a lifestyle, and the people in the lifestyle are a distinct community," Jay said. "We wanted to make an app where they could meet other singles with a similar lifestyle." 
A Dating App Especially for Stoners
Cannabis has a storied history in the United States. Cannabis cultivation played a vital role in the economic establishment of the 13 British colonies in North America. 
Long before settlers appeared and colonists started establishing economies, the indigenous people of North America were using cannabis in various ways, including for spiritual and medicinal purposes. 
In 1619, King James I decided that American colonists in Jamestown needed to increase their financial contributions to the crown. The Virginia Company enacted the decree, which stated that all Jamestown landowners would need to export 100 hemp plants to support the king. Hemp became a lucrative export, and by the 1850s, folks were using cannabis medicinally.
In the mid-1800s, when pharmaceuticals began their rise in the United States, cannabis was prescribed for everything from rheumatism to migraines. It wasn't until the early 1910s that cannabis and its products were regulated under its classification as a "habit-forming drug."
In the 1970s, the United States government classified cannabis as a Schedule I narcotic deemed to have no medical use. Since then, advocates have been fighting to legalize cannabis for recreational and medicinal use.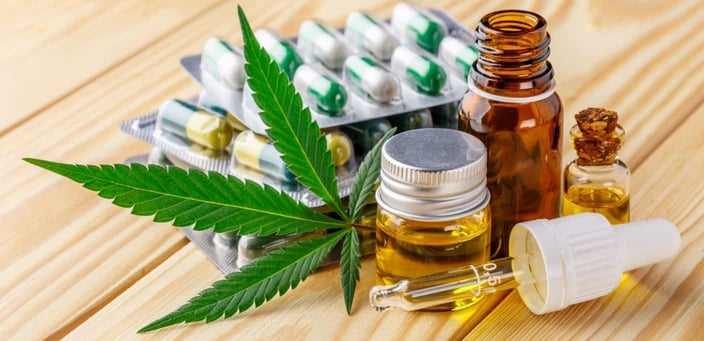 Cannabis is now legal for medical use in 38 states and legal for recreational use in 23 states. Another eight states have decriminalized marijuana possession and use. More people are enjoying cannabis and working to dismantle the negative stereotypes that surround it.
As weed enjoys increasing legality, more people are incorporating it into their lifestyles. Blazr was founded after Jay and his business partner observed that stoners could probably benefit from their own dating app.
Talking about his inspiration for creating Blazr, Jay said, "They have religion-based dating apps, dating apps for vegans, so why not people who have a passion for cannabis?" 
Sparking Up Romance
Cannabis lovers will find Blazr is easy to use. It's free to download on the App Store and on Google Play. The app looks like other dating apps, and Jay said many of its features are similar.
"We have a mobile app for iOS and Android. It's pretty similar to something like Bumble or Tinder, but with a cannabis twist," Jay explained. "You have a lot of different criteria areas, like the kind of cannabis you enjoy."
Blazr users can swipe through profiles, liking or passing on each profile. They can sort by location, age, and gender, plus the cannabis-oriented preferences Jay was talking about. If two users like each other, they can message each other through Blazr.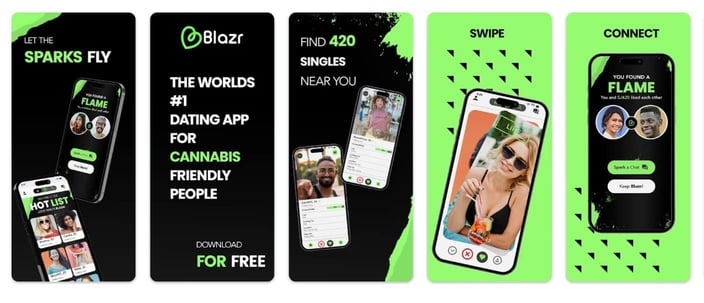 In the private Blazr messenger, 420-friendly singles can send photos and use the in-app live video chat. If singles live in a place where cannabis is fully legalized, the Blazr app has information about cannabis brands, events, and dispensaries in their area.
There's no need to ask the awkward question – "Do you smoke weed?" — on Blazr. The answer has already been established, so singles can jump right into the important stuff – like the best music to enjoy cannabis with and the best places to smoke in their city.
A reviewer on the App Store proclaims Blazr's greatness, writing, "I'm not gonna lie, I was skeptical at first. Do I really need a whole dating app just for meeting other stoners? But let me tell ya, Blazr totally surprised me. Right away, I was matching with chill people who shared my interests."
Rolling Up to Find Love
Jay told us that Blazr notices when a city or state undergoes the legalization process. "We've noticed that when a state is going through legalization, there's definitely increased activity on the app in those areas," Jay said. "Germany recently went through legalization, and we noticed a bunch of new members joining from Germany, so it's interesting."
While people who enjoy cannabis belong to a community that lives a certain lifestyle, it's a very diverse and non-singular community. A cannabis user does not look a certain way, live in a certain place, or have a certain job. They are normal, everyday people who happen to enjoy eating, smoking, vaping, or drinking – yes, drinking– marijuana.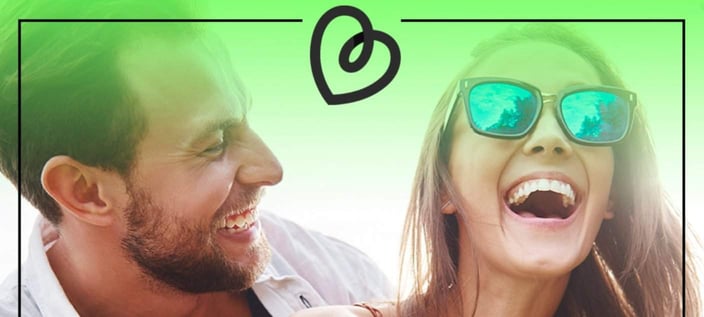 Blazr is a safe space where cannabis enthusiasts can discover, navigate, and get personal with the cannabis community in their area. It is an app built for connection based on the shared love of cannabis and the lifestyle that comes with it.
"We want to unite people who love cannabis," Jay said. "We wanted to give them something in common and shared interest they can kick off from."
That means Blazr users should never have a hard time planning an awesome first date. It's simple: Roll a joint, enjoy it, and do anything. Blazr singles will tell you – weed will only make it better.