The Scoop: Keeper is a matchmaking service that uses AI, detailed questionnaires, and a dedicated team of experts to pair singles on dates that lead to long-term relationships. Keeper was designed to match younger people who want to get married and start families. Singles complete an extensive questionnaire about their personality traits and relationship goals, and Keeper's AI works to make the ideal match. Just one year after launch, 30% of the first dates set up by Keeper have led to long-term relationships.
The potential of modern technology to spark and strengthen romantic relationships has long been a topic of the human imagination. We see it in stories about intimate relationships with AI. We try to leverage it with vibrating bracelets that connect long-distance couples. Without doubt, there is something compelling in how technology can change how we form relationships.
Technology has already changed us in big ways. Just think of how texting has transformed our relationships, specifically romantic ones, and the ways two people can stay connected. New relationship milestones, such as being official on Instagram, have appeared in our digital age.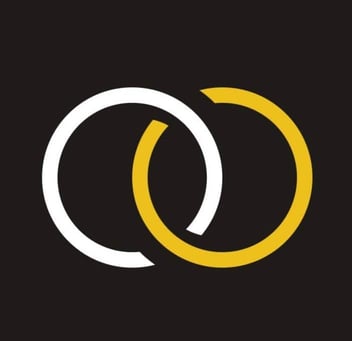 Using technology to transform relationships is the basis behind Keeper, a matchmaking service that leverages the power of artificial intelligence to match singles with highly compatible long-term partners. Keeper launched in May 2022 to support singles who are ready to complete their search for a soulmate. Wes Myers, Keeper's Director of Operations, told us how singles can use Keeper to find their spouse. "This big idea behind Keeper is that young people still want to get married and start families," Wes said. "But they're having trouble finding it."
Harnessing AI to Solve the Loneliness Crisis
Wes told us that he's a firm believer that young folks want to settle down. "If you look at surveys, people still want to get married, start families, things like that," Wes said, "and we're talking large numbers." However, Gen Z and millennials have different obstacles than previous generations when it comes to getting married and having children.
"If you look at how people are meeting now, the vast majority of people are meeting on dating apps," Wes said. It can be challenging for millennials to meet their long-term match due to the nature of dating apps. While dating apps have brought many long-term couples together, they also provide easy access to casual hookups.
Another challenge is that dating profiles rarely give an authentic glimpse into personality quirks and dating intentions. Users can input as little or as much information as they like, and virtually no checks exist for inaccurate information. All in all, dating apps may not always be the best tool for serious daters.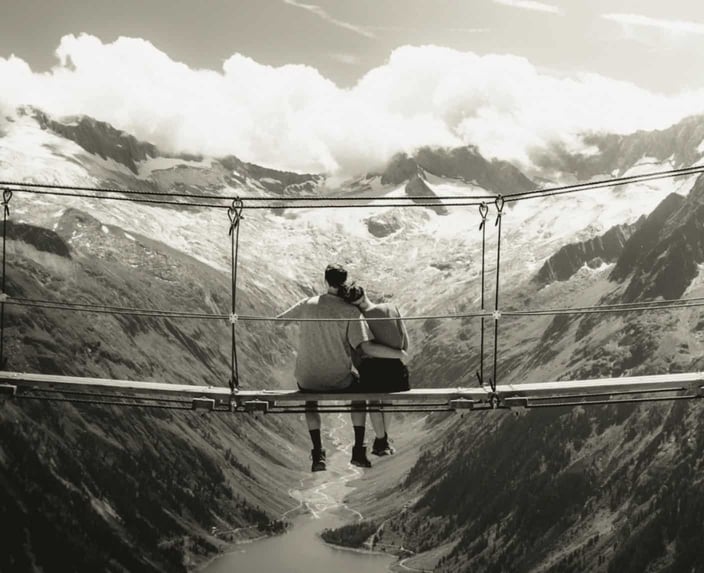 Solutions with more depth than swiping can work better for people yearning for partnership, marriage, and children. Keeper was founded to solve the marriage crises by creating happy and healthy families. Keeper is an app, but its matchmaking features and the dedicated human team set it apart from traditional dating apps.
Keeper's mission guides the function of the app. Keeper is built on the idea that humanity is good and should continue. The team advocates for the notion that each individual person matters. Their system supports long-term meaning over short-term gratification. Wes said the Keeper team is dedicated to listening to and growing with their clients to make the best possible matches.
Keeper Finds a Future Spouse on the First Try
Interested singles have a few options when joining Keeper. First, it's important to note that Keeper isn't for people who don't know what they're interested in or what they want. Keeper's onboarding process includes an extensive questionnaire that isn't worth the time for singles who aren't ready to meet their long-term partner.
The free option allows users to join Keeper's pool of potential matches for paying clients. Members who choose the free membership will complete a questionnaire and then be entered in Keeper's database. Once in this database, they are eligible for a match with another Keeper member.
The Pay for First Date membership is the first tier of paid membership. With this level, Keeper will actively try to match users in their database, which has thousands of date prospects now. Users with this membership level have custom pricing based on their needs and situation, but users only pay for a first date with someone who meets 100% of their preferences.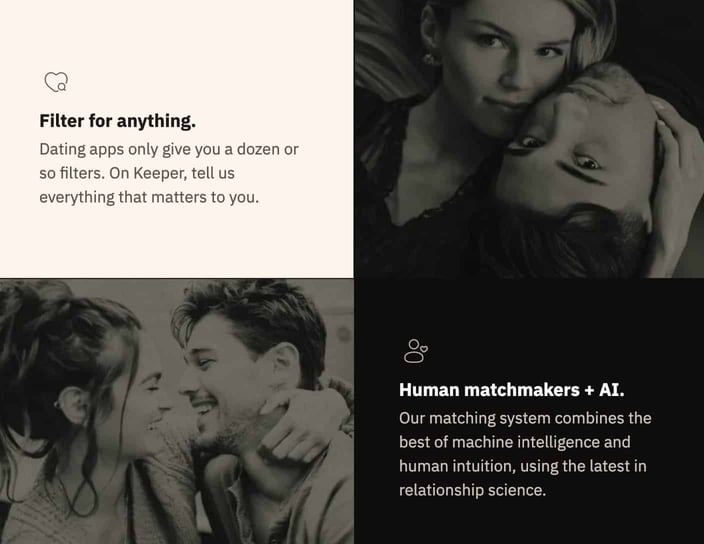 Keeper's Marriage Bounty plan is the most in-depth membership offered by the app. This plan gives members unlimited matches, one at a time, until they connect with and marry the right person. All matches are guaranteed to meet 100% of your criteria for a partner. Marriage Bounty members are eligible to be matched with free members, and pricing depends on needs and situations.
Users only pay for success with Keeper. Most matchmakers charge a subscription or yearly fee, but Keeper only charges users once they're married or have gone on a date with the perfect match. All Keeper clients complete a questionnaire no matter which membership level they choose.
This questionnaire is central to Keeper's process. This questionnaire explores intimate and personal aspects of a prospective user's life. The Keeper onboarding process includes two in-depth questionnaires, an IQ test, and a Big Five Personality Test. The questions are open-ended and designed to gather as much information as possible for AI matching and ward off anyone who isn't serious about finding a long-term partner.
Matchmaking for the Digital Age
Keeper is unique because its team focuses on bringing together long-term matches and doesn't shy away from using artificial intelligence in the matchmaking process. Keeper's matching system combines the best of machine intelligence and human intuition, all guided by the foundations of relationship science.
Keeper's AI tool has several characteristics that make it ideal for matchmaking. The algorithm quantifies all information in the complex questionnaire and organizes it into compatibility factors. The AI can quantify and sort political affiliation, education level, love language, and other important personality traits. Keeper's AI also implements language models, similar to that of ChatGPT, to analyze written information and make matches based on it.
With human guidance, AI can identify and make matches in a way humans cannot. The AI can be loaded with vast quantities of information and make the most compatible matches with relative ease and speed. The humans on Keeper's team then evaluate the match, present it to the female user, and then, only if she's interested, present it to the male user. AI enables Keeper to use extensive questionnaires and screening methods while maintaining match accuracy.
Modern technology doesn't have to be a hindrance in dating. While algorithms and AI are changing the dating scene, it isn't necessarily for the worst. With new tech like Keeper, singles may find meaningful connections are more accessible, and the dating experience can be streamlined according to a single person's preferences.
Keeper is growing fast and making new matches every day. The app sticks to high-confidence matches only, meaning no match will be fundamentally incompatible and a waste of time. "In the past five months, the rate is around 66%. That's a 66% chance that if you get matched on Keeper, that match will result in a long-term relationship," Wes said. We have to agree that those are pretty impressive odds.