The Scoop: Jennifer Gunsaullus, Ph.D., aka Dr. Jenn, is a sociologist and intimacy coach with over two decades of experience. Known as a compelling and approachable public speaker, Dr. Jenn talks about couples' desire, sexual consent, and healthy relationships, among other important topics. Her work and outreach is geared toward women and couples who want to learn about their sex lives in a positive, empowering, and safe way. Dr. Jenn brings warmth and honesty to everything in her sphere and is passionate about facilitating open conversations about sex.
Sex isn't always the easiest thing to talk about. Conversations can be awkward, uncomfortable, intimate, and vulnerable – a slew of emotions that can feel overwhelming and make us shy away from the topic. Despite how conversations about sex and sexual health may feel, they are essential to a holistic understanding and practice of personal health and well-being.
Dr. Jennifer Gunsaullus knows all about the challenges of having open and honest talks about sex, and how women often feel like they don't have the vocabulary to speak power to their sexual experiences, desires, and issues. Trained in sociology, mindfulness, and sexual health, Dr. Jenn's mission is to help women find agency, understanding, and peace in their sexual experiences through her website, Dr. Jenn's Den.
On a quest to squash shame surrounding sex, Dr. Jenn wants women to lead empowered lives. Dr. Jenn took some time to chat with us about her background, philosophy, and message. "So many negative beliefs about sex have been trained into us as women. I want to help women stop and question where these beliefs come from," Dr. Jenn said. "It's important to move towards those negative feelings so we can address the root of them, and begin to empower ourselves to work through them." 
A Career's Worth of Sexpertise
Dr. Jenn grew up in a small town outside of Philadelphia, PA, and was raised in a Catholic family that mostly avoided talking about sex. Jenn remembers hearing messages through many avenues throughout her childhood to be a 'good girl.' Religious views around women and old-school approaches to sex limited the sex education she received.
It wasn't until college when Jenn's sophomore roommate became a sexual health peer educator that Jenn tuned in to thinking about women's sexual health in new ways. She was inspired by the freedom and confidence available through educating others about sexual wellness, and her own interest in the topic quickly grew. 
Jenn joined her roommate in the sexual health peer educator program and started speaking to campus groups about sex, sexual health, stigmas and shame around sex, and how gender role socialization created gendered power dynamics in sexual encounters. Dr. Jenn noted this experience was very educational and helped her realize some of the connections between women's sexual health, empowerment, and sociology.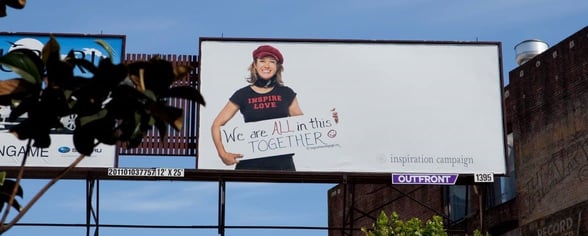 While earning her undergraduate degree, Dr. Jenn realized that issues of gender seriously impact women's experience with their own sexuality. She saw that a lot of women her age (including herself) knew very little about sex, and it was mostly due to a lack of education, shame, and a widespread avoidance of the topic in adolescence.
Dr. Jenn graduated with a Bachelor of Arts in Social Relations. Dr. Jenn wanted to expand her efforts to help women discover and feel confident in their sexualities, so she began on a path to further her education. 
"I went on and got my PhD in Sociology," Dr. Jenn told us. "While I was there, I helped run a sexual health peer educator program, much like the one I participated in as an undergrad."
Her dissertation was a qualitative research study on how and began work a couple years later as a research assistant, where she would assist with data processing, analysis, and grant writing for community-based HIV-prevention organizations. This was the beginning of a career in promoting sexual health and sex-positive education. 
Dr. Jenn has since dedicated her professional career to coaching, writing, and teaching about how to find empowerment and mindfulness in sexual experiences.
Speaking to Strength and Connection
Althoug Dr. Jenn started public speaking 30 years ago, in 2006, she expanded her passion in speaking to larger groups about sex and intimacy.
She had learned, "If you can talk to a group about sex, you can talk to a group about anything." She found that speaking openly, honestly, and with a solid educational background about sex and cultural differences helped put her mostly female audiences at ease.
With this realization, she began working on books, coaching materials, media interviews, workshops, lectures, and educational videos. Around this same time, Dr. Jenn developed an interest in holistic health and mindfulness and these interests added a new layer to her educational resources. Throughout her career, Dr. Jenn has been a witness to the necessity of healthy sexuality in women's lives for overall well-being.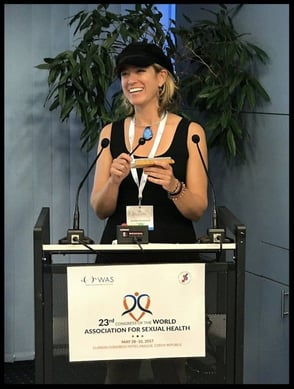 Dr. Jenn offers speaking engagements that cover an array of topics. For adults and couples, she offers seminars about how to spice up a sex life, communicate better with a partner, the benefits of mindful intimacy, and how to cultivate emotional agility and vulnerability. She focuses on self-expression and the power someone gains when they speak their truth. She helps her audience reflect on their romantic relationships and things they can do to bring passion, presence, and intimacy into their lives. 
Dr. Jenn said she particularly enjoys speaking to college students at events. She remembers her own feelings of uncertainty and confusion in her late teens and early 20s and is very passionate about guiding students of the same age in reflection and discovery. At student engagements, she talks about how to make healthy choices, create balanced relationships, practice compassionate consent, and find comfort and confidence in their body image. Having an openness and willingness to talk about healthy sex practices and experiences is often a learned ability, and Dr. Jenn hopes to instill students at engagements with a foundation and courage to develop those skills.
Sex and the Mind, Body, and Spirit
Beyond public speaking, Dr. Jenn is the author of "From Madness to Mindfulness: Reinventing Sex for Women," published in 2019. She wrote this book to address what she terms the "madness" around female sexuality. Throughout the course of childhood and adolescence, women receive a seemingly endless torrent of negative and harmful messages around sex, intimacy, and their bodies. A lot of these messages frame female sexuality as a negative thing that must not be addressed except in fear-based warnings. 
Dr. Jenn wanted to change the conversation. She said she felt that once women reach adulthood, they are expected to easily express their sexuality, without consideration for the years they spent being shamed about the exact same thing. Dr. Jenn focuses on showing women how to use mindfulness as a tool to combat sex-negative and disempowering messaging and beliefs around their sexualities, and instead find renewed self expression and connection.
Following the same themes of empowerment and mindfulness, Dr. Jenn's podcast uses humor and lightheartedness to explore healthy sexuality. "(Trying To) Feel Sexy Again at 48," is an exploration of Dr. Jenn's own experience in August of 2021 of rediscovering her sexiness. Using personal stories that are equal parts funny and vulnerable, Dr. Jenn explores her own experience of being single in her late 40s.
Dr. Jenn has materials that can help any woman who wants to learn more about their own sexual experiences and identity. She recognizes how aging affects women's sexual experiences, and how maintaining healthy and empowering views of sexuality in a seemingly ever-changing body is a lifelong journey. Dr. Jenn wants every woman to know they deserve to feel safe and in charge of their own expression.
Deficits in how women think about their sex lives can cause reverberating health problems. Dr. Jenn's focus on holistic health was born out of seeing this connection. "Shameful feelings about ourselves can be felt physically in our bodies," Dr. Jenn said. "That's why I'm so passionate about addressing these things. Not feeling worthy, and feeling shame, can be a serious physical and emotional detriment to our lives." Dr. Jenn knows that improving how women view and think about sex has the power to improve other aspects of their lives in transformative ways.