The Scoop: Lioness is the first and only smart vibrator and app. The smart vibrator is equipped with sensors that track masturbation and orgasms, and the app displays this information for the user. The vibrator and app combo aid women as they self-experiment and investigate how different factors – including mood, stress, alcohol, and different partners – can change their arousal and orgasms. Lioness was co-founded by Anna Lee, Liz Klinger, and James Wang with the mission of helping women learn more about their bodies and sexual pleasure. 
Women's sexuality has been misunderstood for a long time. Go back to virtually any historical period in the United States, and you'll find many disturbing ideas and practices surrounding female sexuality. 
Deep-rooted misogyny in the medical field, family life, and social structures informed cultural views and medical treatment of female sexuality. Countless women suffered immensely at the hands of medical professionals, family members, and others due to dangerous misconceptions about women's sexuality.
Even in the 21st century when women in the United States know more about their sexuality than ever, a disappointing lack of education and knowledge still persists. Looking through this historical context, we must understand the importance of empowered and women-led discussions, resources, and outreach for women's sexual health. These are acts of reclamation, of recentering women, their sexual desires and selves in a positive, natural, and affirming way.
Lioness is taking part in this movement by reclaiming the vibrator as a symbol of women's pleasure and sexual empowerment. Lioness created a first-of-its-kind vibrator to track orgasms and help women understand their bodies and sexual selves. The smart vibrator connects to the Lioness app and gives women trackable insights into how they masturbate and the intensity of their orgasms.
Maggie Stiggleman is the Head Software Engineer at Lioness. She told us about the smart vibrator and how the Lioness team is working to make women's sexual health and pleasure a bigger topic. "Our whole purpose is to try to push for our understanding of female pleasure," Maggie said. "Everyone who works at Lioness has a real passion for sexual health and research."
By Women, For Women
Co-founder and Head of Engineering Anna Lee grew up in a family that never discussed sex. Anna's parents were immigrants from Korea, and after Anna was born in California, the family moved to Seoul shortly after she was born. They returned to California when Anna was six and remained deeply religious and conservative.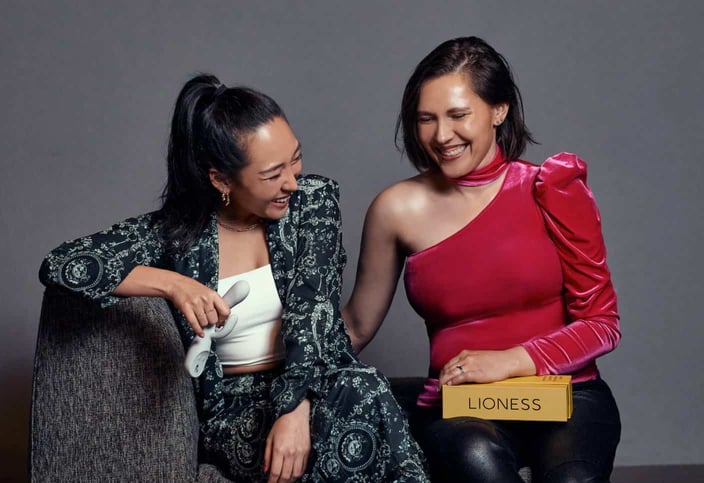 Anna graduated from the University of California at Berkeley with a degree in Mechanical Engineering. She landed a big job at Amazon, where she pushed to think quickly, always have the best solution, and give convincing pitches. 
Around the same time, Anna went to a party that would change the trajectory of her life. She was enjoying the get-together and having a good time socializing when she met a guy who had founded his own sex toy company. They got to talking, and the man told Anna they test vibrators on the tips of their noses because that's what clitoral stimulation feels like. 
The ridiculousness of this really struck Anna. Why would they test a device made for clitoral stimulation on anything other than a clitoris? This conversation made Anna think about all the sex toys on the market and how few were designed by female-led teams and actually did appropriate testing. With this, her idea of creating a vibrator made for and by folks with vaginas was cemented.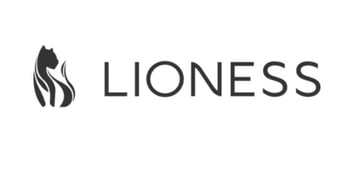 That's when Anna teamed up with Liz and began developing Lioness. When the company was in its infancy, Anna continued working at Amazon full-time and worked nearly 20-hour days to balance her Amazon position and Lioness. After too many almost sleepless nights, she quit her job at Amazon and focused all her attention on Lioness.
Anna still had one crucial matter she had to attend to. She had not told her mom about quitting her job or co-founding a vibrator company. Anna was extremely nervous to tell her and worried about how her mother would react. Full of trepidation, she invited her mom to the Lioness office and told her why she wanted to start Lioness and what the company was.
To her surprise, her mother told her she had a vibrator once, and the two had a long discussion about Anna's mother's sex life. It was a huge weight off Anna's shoulders, and she said she'll remember that moment with her mother forever. In many ways, Anna's mother opening up to her is a testament to Lioness's mission.
Empowering Women's Sexual Pleasure
Lioness may be revolutionary technology, but it's super easy to use. The vibrator is a classic rabbit-style toy, and it comes in either white or purple. Each Lioness vibrator comes with a USB charger and carrying pouch, and the shipping packaging is discreet.
Customers use a Lioness vibrator like they would any other vibrator. The vibrator is easy to sync to the Lioness app, which is available for iOS and Android. After the sync is complete, Lioness users can change the setting of their vibrator and view their session data. The data and insights from each session will automatically upload to the app.
The Lioness vibrator is equipped with pressure and temperature sensors. The temperature sensor indicates when the vibrator is inserted so it can begin collecting data. The pressure sensors collect data on pelvic floor contractions, the most significant indicator of when an orgasm happens. The body experiences quick successions of contractions and then releases during orgasm, and the Lioness vibrator picks up on those movements and tracks them.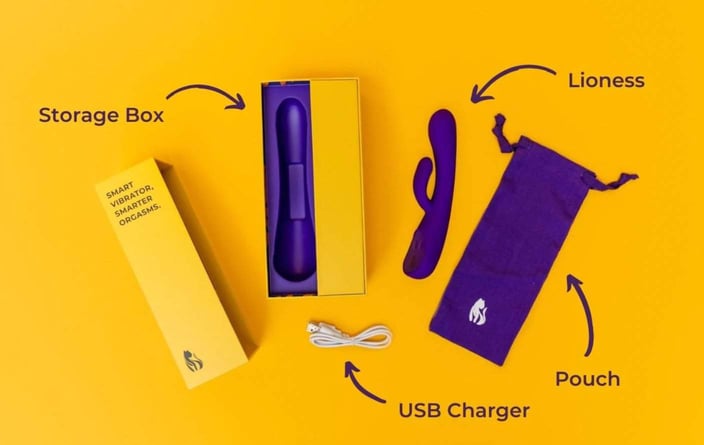 Women can change their vibrator settings in the app. The Lioness has three pre-programmable vibration settings, which are highly customizable. Users can adjust the strength of each vibration level to their liking, and adjusting these levels is straightforward. The vibrator is ergonomic, flexible, and includes simple on/off and sync buttons. 
The app lets users see data behind their orgasms through Lioness' intuitive visualizations. Each session is mapped using the input from the pressure sensors. Users can then log any factors from their day and session that could have affected their orgasm. Factors include alcohol consumption, marijuana use, aphrodisiacs, listening to music during the session, headaches, menstrual cycle, and more relevant factors.
Maggie explained that unexpected factors can influence masturbation and orgasm. Lioness helps track these factors. "We had one user who was an athlete and had a concussion. It showed up in her Lioness data that her orgasms weren't as strong while she was dealing with the concussion," she told us. 
Users can also track which techniques they used before and during the session and how this affected their experience and orgasm. After continued use, users can compare different sessions and see trends in how they masturbate and orgasm. These trends can help them learn about what turns them on and what leads to better, more pleasurable sexual experiences.
Lioness Tracks Orgasms in the Name of Science
The Lioness mission goes beyond helping folks with vaginas have more pleasurable sexual experiences. The Lioness Sex Research Platform equips women and researchers alike with invaluable information about how women orgasm. Lioness users can participate in studies from the comfort of their homes. Participation in the research program is opt-in and left up to each user.
Users opting into the program agree to allow Lioness to share their data with sex researchers. The great thing about Lioness data is that it's large-scale, real-world, and collected without the need for a lab's stiff and intimidating environment. People with vaginas simply enjoy themselves, and sexual health research benefits.
People who don't want their personal information shared can rest assured that their data is safe with Lioness. The team at Lioness takes privacy and data protection seriously. All Lioness databases are fully encrypted, and all user data is completely anonymized. Furthermore, users have to choose to sync each of their sessions. Lioness is never collecting data without the user's explicit, enthusiastic, and informed consent.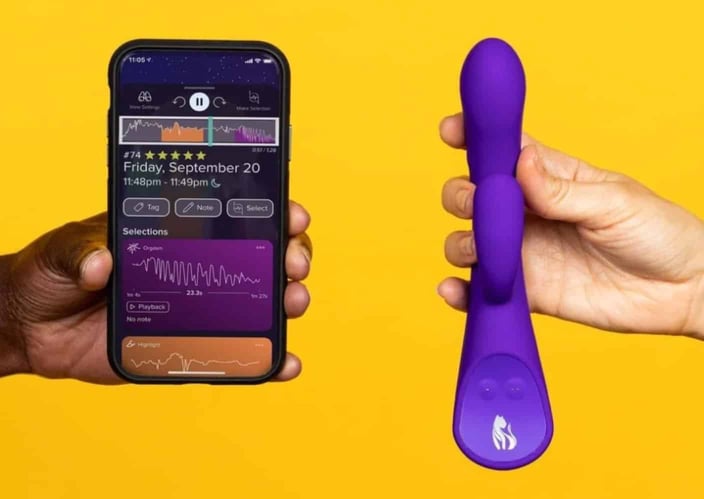 The newest model of the Lioness vibrator allows long-distance remote control for partner play. Users can grant and revoke long-distance partner permissions at any time. They can also share their pleasure data in real time with their romantic partner to make for better long-distance sessions. 
Beyond self-exploration and pleasure, Lioness can help people understand more about their partner's orgasm. Openly discussing masturbation and orgasms leads to more communicative, intimate, and ultimately better sex.
While there are other smart vibrators on the market, Lioness is the only one that has built-in biofeedback data. Lioness aims to give women better orgasms while also advancing sex research. "The purpose is to help people understand pleasure and orgasms, specifically female pleasure and orgasms. We're doing that in the individual sense, and also in a broader, academic sense," Maggie said.