The Scoop: Trio Grill in Falls Church, Virginia, combines the best of fine and casual dining. Situated in the bustling D.C. metro area, Trio's menu is centered around top-tier steak cuts and fresh seafood, complemented by a hearty selection of domestic and international wines. Trio Grill is a great spot for couples looking for an upscale dinner date with live jazz and classical music every weekend.
As fun as the spontaneous date night is, the reality for most couples are nights out planned far in advance. Kids, jobs, and other out-of-the-house activities can pull couples in so many directions, it can be difficult to find time to be together. And when you have to plan so far in advance, it can be even harder to pick the right spot.
Nice restaurants can be too stuffy, and bars are often just a bit too noisy. While there's a time to experience both of these places, when planning an in-advance date night, couples need an environment that's just right – good food, a relaxed environment, and plenty of options. Choosing a versatile date night spot means that no matter what the mood is that night, you can achieve a connecting and intimate date.
Trio Grill strikes this delicate balance. Located in Falls Church, Virginia., a city in the Washington, D.C. metro area, Trio Grill offers modern American fare in a setting that's equal parts comfortable and elevated. The restaurant is known for its steaks, fresh seafood, impeccable service, and a wine list that goes on and on.
We sat down with Grace Unger, spokesperson for Trio Grill, to learn all about what the restaurant has to offer. "A lot of the time restaurants that serve really good food have this pretentious attitude," she said. "Trio is different. We're making fine dining style food but in a welcoming and comfortable atmosphere."
Elevated Cuisine Meets Neighborhood Grill
Right outside of Arlington and part of the D.C.-Maryland-Virginia area, Falls Church, Virginia, is a city older than the country itself. After centuries of Native stewardship, colonial settlers first appeared in the late 17th century, and by the mid-1700s, a community had been established around an Episcopal congregation in the area. Historic American charm and big-city amenities meet in Falls Church, which is often dubbed 'The Little City.'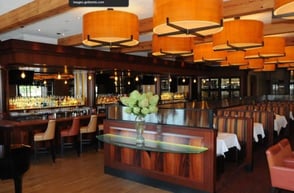 The restaurant's interior is defined by warm wood tones and all the fine dining accoutrements. Tables are covered in neatly pressed white tablecloths and well-appointed place settings, complete with water and wine glass. Dark wood booths line the center divider between the main dining room and the bar. The bar is lined with an assortment of liquors and liqueurs, and the warm lighting throughout the restaurant gives everything an inviting feel.
Trio Grill offers private dining rooms separated by grand double doors., giving the interior of the restaurant a sprawling feel. Outside, couples will find a patio illuminated by string-lights and complete with weather flaps and an outdoor fireplace for the colder months. In the summer, it's a great place to enjoy a cold drink with the overhead fans on.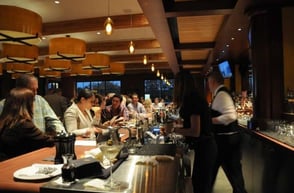 When couples plan a night out at Trio Grill, they can rest assured that whatever kind of feel they want that day, they can probably find it there. The restaurant has a diverse clientele, from business partners in formal wear to families grabbing a bite.
Trio also has plenty of regulars, solidifying it as a neighborhood spot that's important to the local community.
Owners and staff at Trio Grill work hard to make guests feel comfortable and well taken care of. Grace told us, "Making a comfortable space with the best possible food was a focus when the owners were beginning development." Trio Grill was founded on the idea that delicious food does not necessitate pompous attitudes and certainly isn't just for a specific type of restaurant-goer.
Cultivated Menu & Drink Lists
Trio Grill offers a seasonal menu that's created under the guidance of the culinary director and executive chef. Wait staff is very knowledgeable about the menus, and Grace told us they love taking guests through the ordering process. Trio's food and drink menu centers around seafood, steak, and wine, and rotates to use the freshest ingredients.
Grace suggested couples order appetizers and entrees to share so they can try a few distinct dishes. "I would start with a cocktail, Sage Advice is probably my favorite," Grace said, in reference to a signature cocktail. "For food, I'm crazy about the sea bass, which is on the upcoming summer menu."
Offerings from the Land and Sea
Appetizer options currently include mussels, shrimp cocktails, and oysters in the seafood category. Trio's menu was designed to be good for sharing, and Grace urges couples to get a few things off the menu and split all of it. Couples who want a little taste of everything should consider the charcuterie board, which features almost 10 separate food ingredients.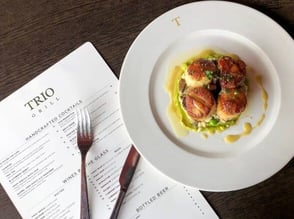 Couples who love steak and seafood won't be disappointed by Trio's entree selections. Separated by categories of land and sea, Trio frequently offers up to five cuts of steak and four distinct fish dishes. Steak selections include New York Strip, braised short rib, and filet mignon. Steak enhancements are available, from blue cheese to sauteed mushrooms, and the selection of vegetable-centered sides provides the perfect balance. 
Seafood options include crab cakes and scallops, and fish selections cycle often to ensure the use of only the freshest ingredients. Seafood options are diverse, and currently include hickory smoked Atlantic salmon, sesame seared tuna, and seafood cioppino. Tuna tartare nachos can be found on the appetizer menu and combine wonton chips, wasabi guacamole, and diced raw tuna for a one-of-a-kind nacho platter.
With Love, Wine 
Trio Grill has a full bar, meaning the possibilities for drinks extend far beyond its already substantial drink menu. The restaurant is very proud of its wine program, which Grace told us includes domestic and international wine selections. "It caters to everyone," she told us, "and we're always bringing in new stuff."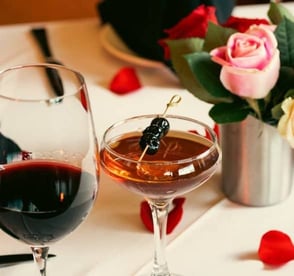 For wine lovers, Trio offers white, red, and sparkling wines by the glass and bottle. White selections include pinot grigios, chardonnays, and Rieslings, among many others. The waitstaff is just as knowledgeable concerning the drink menu as they are with the food menu and can help couples match their wine selection with their entree pick.
Wine aficionados will enjoy learning about the background and origin of each wine option, with choices from France, Italy, and Argentina, among other wine regions.
Handcrafted cocktails run the gamut from a floral and light gin drink called Floral Experience to Off the Record, a Mezcal twist on a martini with chocolate bitters. All cocktails are crafted to be perfectly balanced and deliver complex taste profiles. While the drink menu is centered around cocktails and wines, there are plenty of draft and bottled beer options for those not particularly fond of wine. 
Making Date Night a Celebration
Trio Grill is open every night, so busy couples who need to take advantage of weeknight dates can enjoy the restaurant at their leisure. Couples looking for a more dynamic date night should plan to go to Trio Grill on a Friday or Saturday night for live music. Piano melodies float through the restaurant and elevate the already sophisticated ambiance of the dining rooms.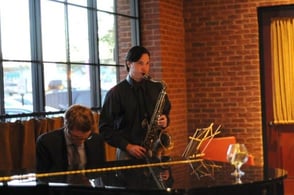 Live music performances usually feature a solo pianist but occasionally include other instrumentalists. Performances are usually within the classical and jazz genres, and the live music at Trio gives a sophisticated feel to the restaurant's interior and menu. Couples who want to dress up, enjoy a nice glass of wine, and soak in wonderful live music should plan a weekend date night at Trio.
Reviews of Trio Grill tout their weekly live music as the perfect complement to a meal with an upscale feel. One reviewer said the live music adds a distinct touch but is unobtrusive enough to not define the restaurant experience. Reviewers seem to agree that Trio Grill is a great neighborhood spot where they can celebrate special occasions, without having to deal with pretentious attitudes that can be all too common in restaurants with elevated menu options.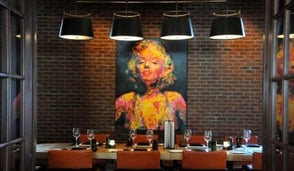 Beloved in the community, the restaurant has received a collection of awards and critical acclaim. Trio Grill was named one of Northern Virginia's 50 Best Restaurants in 2015, and its drink selection put it on Northern Virginia Magazine's Best of NOVA list in 2017. Wine Spectator, a leading lifestyle magazine that gives out ratings to certain types of wine, awarded Trio Grill with the Award of Excellence in 2016.
Just as versatile as it is upscale, Trio Grill is an ideal date night option for couples who want the best of fine dining without the showy feel. It's the perfect place to start out a fancier night out, and is a great opportunity for couples to dress nicely and show up for each other. "Trio Grill is just a great place," Grace said. "Everyone is friendly and just wants to serve delicious food. It makes for a really fun date night experience."