The Scoop: The John Furber Farm is a barn wedding venue in Old Cottage Grove, Minnesota. The venue hosts up to 500 guests and offers high-quality amenities that make it a prime wedding destination year-round. The team at John Furber Farm partners with vendors to make for an easy decision-making experience prior to the wedding. No matter where couples are coming from, John Furber Farm is a beautiful location to host an elegant, rustic wedding.
For many engaged couples, the idea of a rustic barn wedding is appealing. They love the personal quality of holding their weddings somewhere away from the city, surrounded by their friends, family, and the countryside. For some, a barn wedding may even be a way to connect with their rural roots.
But a barn wedding can come with some unforeseen challenges. Restrooms are often far away from the main building – if they exist at all. Muck and mud make it difficult to walk around, especially in formal wear. Should the weather worsen, there is often no alternative location to protect the couple and their guests from the elements.
And perhaps most significantly, the magical, fairy-tale feeling that couples desire in their wedding is hard to come by in a traditional barn venue. Without significant investments or an extremely skilled planner, the space can feel ill-equipped to host a dream wedding.
So when couples want a rustic barn wedding and elegance to match, they turn to John Furber Farm which hosts elegant weddings in its white dairy barn in Old Cottage Grove, Minnesota. 
John Furber Farm was renovated in 2014 by owners Angi and Wayne Butt, who made sure to preserve the original farm look while adding modern amenities, quality materials, and a ceremony site. Today the venue hosts up to 500 guests in a gorgeous setting, making it one of the largest barn wedding venues in Minnesota. The team at John Furber Farm perfectly tailors the wedding experience to the needs of couples, their friends, and their families.
A Venue That Prioritizes Comfort
No couple wants their big day ruined by weather or inadequate facilities. Or worse yet, no one wants to have to exclude elderly or disabled family members who are unable to access the venue. The team at John Furber Farm understands how devastating it can be when logistical problems take away from your wedding day, and its wedding experts have designed the space to prevent that from happening.
Minnesota seasons can be intense, with hot summers and cold, snowy winters. But at John Furber Farms, your wedding will be protected from the elements no matter the season. The venue has air conditioning and heating to make for a pleasant year-round experience. 
In the summer, the outdoor area is treated for mosquitoes, so no bugs ruin the day. There is also an accessible indoor space, should the ceremony need to move inside due to poor weather.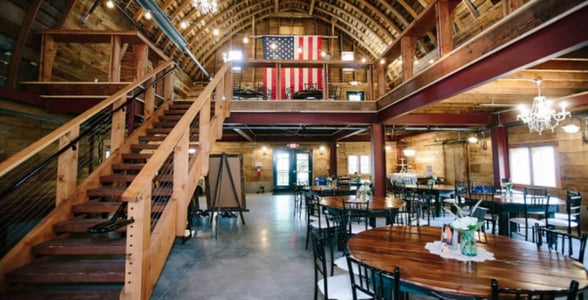 Even if the weather gets bad enough to lose power, the wedding can go on with the help of John Furber Farm's powerful generator. No matter the issue, the party can continue.
At rural weddings, it's common to go to a different building or even an outhouse to use the restroom. Parking can also be a struggle, with remote lots making for a long trek to the actual event. For family members with limited mobility, this can be physically taxing. But at John Furber Farm, restrooms are located in each building. Parking is on-site and easily accessible. The property is extremely walkable to make for an event everyone in the family can attend.
The morning of the wedding is an excellent time for bonding within bridal parties. Both groups dress and prepare for the day, ideally in a dedicated space for tackling their hair, makeup, outfitting, and styling as a group. John Furber Farm offers a large heated and cooled changing area, so everyone can get ready in comfort.
Given the high number of guests that the space can accommodate, couples can have the luxury of inviting all their loved ones to the wedding instead of having to pare down the guest list to fit the space. The venue allows for an effortless experience before and during the wedding.
The Staff Guides Couples Along the Way
When planning a wedding, couples have many decisions to make. This often results in the sense of fatigue that can overwhelm and diminish their ability to enjoy their engagement and even the actual day of their wedding. John Furber Farm goes a step above and beyond as a venue by helping couples with the selection of vendors and coordinators leading up to the wedding day.
Couples get to choose whether they want to use a coordinator. But if they do, they have a list of eight coordinators from which they can choose, all of whom are well-connected with John Furber Farm. This makes the choice of a coordinator so much easier, as couples have a limited but high-quality selection.
John Furber Farm also helps with the choices of other vendors. If couples want a DJ, they are required to use award-winning Adagio Djay Entertainment. Adagio Djay knows the venue, and will ensure that the music is well-suited to the acoustics of the space. Additionally, the farm has a preapproved list of caterers and bar services with competitively priced options for their packages.
John Furber Farm truly shines in the care it takes to guide couples before their wedding day. The coordinators work hard to ensure that all of the couples' needs are met and that their vendors are able to deliver on everything they want.
And even for couples who choose not to hold their weddings at John Furber Farm, the team encourages them to find the correct information about their venue. "We always try to coach couples on questions to ask as they are looking for a venue and to look for a safe barn," Angi said. 
Still, couples who do hold their wedding at John Furber Farm know that they're holding their event at a safe and secure place. "We have done so much structurally to our barn, yet still preserving the barn feel, to ensure we have one of the safest barns in Minnesota," she said. "We also like to explain what other couples have done and paint a picture for them of what their wedding day will look like as we give the tour."
John Furber Farm is a Gorgeous Destination 
While John Furber Farm primarily serves those in Minnesota, the venue is desirable enough to be a destination across the country. With three beautiful ceremony sites and its picturesque white barn, John Furber Farm is well worth the travel for those coming from out of state. 
John Furber Farm certainly has a primarily rustic aesthetic to begin with, and couples also have a great deal of creative freedom to decorate the space to suit their tastes.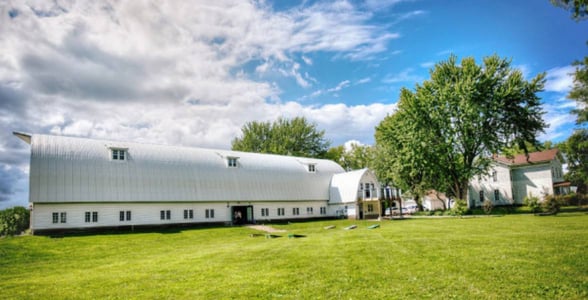 "Couples really love how versatile our space is in regards to décor," Angie said. "They can dress it up as little or as much as they want and it is always beautiful with the chandeliers and twinkle lights provided.  They are able to follow the trends if they like."
No matter the background or interests of the couple, John Furber Farm has something for everyone. The space is gorgeous year-round and with any styling choices.
Lauren S., who got married at John Furber Farm, shared her love of the venue on The Knot. "We got so many compliments on the venue and how beautiful the day was," she wrote. "There are so many beautiful spots for photos, and the patio was a great outdoor space for people to hang out. I could go on and on. We had our perfect wedding day at Furber and we wish we could relive it all over again!"