The Scoop: After nearly 30 years in business, the Snake River Grill still packs the house with diners every night. Partners Alan Hirschfield and August Spier opened the restaurant in 1993 to bring the contemporary cuisine and seasonal flavors popular in California eateries to Jackson, Wyoming. Three decades later, couples still flock to the restaurant for its high-end menu and ski lodge-inspired decor. Snake River Grill is also a popular date spot where couples celebrate special occasions.
In the early 1990s, partners Alan Hirschfield and August Spier moved to Jackson, Wyoming, from Los Angeles. They were impressed by the town's beauty but missed the high-end dining experiences they had enjoyed in California.
They saw a need for an upscale restaurant in the small mountain town that could provide the same quality ingredients found in LA restaurants in the early 1990s. With that inspiration, Snake River Grill was born.
Snake River Grill opened in Jackson's Town Square in 1993, offering a rustic-elegant dining experience. The dining room is modeled after a ski lodge and has wooden beams and a large stone fireplace. Booths line the exterior of the dining room, and warm finishes provide a romantic setting.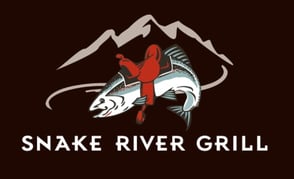 Snake River Grill remains a hit in Jackson. Locals and tourists flocked to the eatery when it opened — and they haven't stopped coming since. As one of the only fine-dining restaurants in Jackson at the time, it quickly became the hotspot for couples wanting a memorable date night.
The grill's first chef, Jeff Drew, set the tone for the establishment by using local ingredients and inspiration from Jackson's picturesque setting and natural resources. He added many dishes to the menu, including Applewood smoked Idaho trout and roasted elk chops. He now serves as the restaurant's Managing Partner.
Today the Snake River Grill's Executive Chef is Colin Hemens, who has worked in restaurants in San Francisco and Portland's noteworthy food scenes before taking over.
The restaurant has only grown in popularity over the last 30 years. Couples should still plan to make a reservation if they want to guarantee a table, though the restaurant also accepts walk-ins if there's room — which is rare.
A Comfortable Log Cabin-Style Atmosphere
While a meal at Snake River Grill is a fine dining experience, couples don't feel the atmosphere is stuffy or over the top. In addition to the dining room or bar, diners can choose to sit outside when the weather is nice. Snake River Grill recommends couples plan ahead by booking well before travel or anniversaries.
Diners looking for a more intimate meal can reserve a private dining room for up to 16 guests.
The private dining room is typically booked two months in advance. Many see it as the perfect place to celebrate special occasions, including wedding anniversaries or engagements, with friends and family. Small wedding parties can even host their rehearsal dinners in the space.

Snake River Grill has hosted many engagement and anniversary celebrations through the years, and the staff is happy to accommodate any requests.
Many satisfied patrons also share their experiences at Snake River Grill experiences on review platforms, including Yelp.
"Insanely decadent and delicious meal … When we arrived, they were able to set us up at an outdoor table, which made the meal that much more enjoyable because the weather was so nice. Skipped lunch to indulge in this dinner, and my husband and I shared the potato pancakes, Caesar salad, foie terrine, duck, bison ribeye, truffle fries, and lemon lavender sorbet," wrote one reviewer. "And we finished all of it, no joke. There wasn't a bad dish in the bunch. Our server was attentive, courteous, and friendly, and so was the host at the front."
Menu Features Local and Seasonal Food
Chef Hemens continues the tradition of serving seasonal and locally sourced items. The menu is organized into starters, first courses, small plates, main courses, specials, and desserts. Some items stay on the menu throughout the year, including staples like halibut, bass, pork loin, and rack of lamb, while specials rotate based on seasonality. For example, in springtime, the restaurant serves main dishes made with morels, venison, and Atlantic turbot, to name a few.
Couples dining at the restaurant can start out with Snake River Grill's must-have appetizer, the Branding Iron of Green Chile Onion Rings, battered in Snake River Pale Ale and served with dipping sauces. Diners also recommend the Wood Oven-Fired Housemade Focaccia appetizer served with Lark's Meadow Farms cheese dip.
First course options include a tasty Green Garlic Potato Soup with smoked trout, leeks, and dill, and Foie Gras Torchon with poached rhubarb, almond coriander streusel, and brioche.

The restaurant's signature entrées are the Steak Tartare Pizza, made with Mead Ranch Beef, garlic aioli, capers, parsley, and red onion.
Diners may also decide to share small plates of truffle fries, wood oven-roasted asparagus, or potato gnocchi. Diners searching for a truly elevated experience can also order the restaurant's Caviar Service, which comes with potato gaufrette, Crème FraÎche, egg yolk, and chives.
"I have been fortunate to eat in some truly spectacular restaurants on three continents. Count this place among them. On very few nights is every bite perfect. Our meal here was one of those nights. The food was magnificent, and the waiter was knowledgeable and unobtrusive. When I plan another trip to Jackson Hole, the first thing I'll do is book dinner here," another diner wrote of the experience.
Preserving a Legacy of Memorable Dining Experiences
Snake River Grill owes its longevity and popularity to its delightful menu and its refined yet relaxed atmosphere.
Diners appreciate that they can enjoy a sophisticated experience that's also comfortable and down-to-earth. Plus, the concept of local, farm-to-table food — the restaurant's philosophy from the start — has grown even more popular over the years.
The restaurant has many famous fans. Giada De Laurentiis, of Food Network fame, named Snake River Grill's Eskimo Bars as her choice on the show "The Best Thing I Ever Ate." Classic eskimo bars are layered desserts made with a brownie base, vanilla ice cream, chocolate sauce, and warm caramel dipping sauce.
Giada chose Snake River Grill's Eskimo Bars because the restaurant makes them from scratch with dark chocolate out of San Francisco, spins the vanilla ice cream from scratch, and then dips the brownie and ice cream in dark chocolate.
"The best part is the whole thing gets dipped in this hot, gooey, rich caramel sauce," she said. "If that doesn't pique your interest, I don't know what will. Mm, I'm tasting it now."
With fans in Jackson and worldwide, Snake River Grill remains as relevant today as it was three decades ago. When couples visit the national park, or the beautiful Wyoming city, they should plan a trip to Snake River Grill. And they should try to make reservations about two months in advance.