The Scoop: American Blossom Linens is a family-owned and -operated business that uses organic cotton grown and harvested in the United States to make high-quality sheets, towels, and other linens. Owned by the same family for half a century, the company has created jobs in American communities that have lost textile manufacturing jobs to outsourcing overseas. With mills in North Carolina, South Carolina, and Georgia, American Blossom Linens is dedicated to making the highest-quality products while supporting American industry.
The power of a great night's sleep should never be underestimated. If I'm shorted a few hours in the sack, or can't stop waking up covered in sweat, you bet it's going to affect my mood the next day. Strategies to obtain better sleep, like implementing a bedtime routine or eliminating screen use an hour before it's time for bed, only go so far. If the bed isn't comfortable, there's little hope for restorative sleep. 
Sheets, pillowcases, and duvet covers are all crucial aspects of a comfortable sleep environment. A good pair of sheets can promote relaxation, provide temperature control, and open airflow, securing important elements of a good night's sleep. Not all sheets are created equally, especially in the current market, which features hundreds of options with a variety of materials, making selecting a good pair of sheets a difficult task.
American Blossom Linens Made in USA Sheets simplifies this process. The company offers a refined selection of sheets, pillowcases, towels, duvet covers, and other household linens, and all of American Blossom Linens' products are made of 100% organic cotton that is grown, harvested, and manufactured into linens in the southeastern United States.
Janet Wischnia, founder and past owner of American Blossom Linens, told us about the company, her family's legacy and business philosophy, and, most importantly, the wonderful products they offer. "Everybody wants a good night's sleep," Janet said, "And for me personally, the best night's sleep is with our cotton sheets."
Family-Owned for 92 Years
The story of American Blossom Linens begins with Janet's grandfather, who founded and operated what began as a small retail business. As the company grew, it became a bedding distributor for the hospitality and healthcare industries, as well as the government. As the distribution company expanded and the demand for bedding from American Blossom increased, Janet's father decided to move into production and open a factory.
American Blossom resisted the trend in the textile industry in the late '80s and early '90s to outsource operations. In 2001, American Blossom bought a factory that had previously been a textile company that had been bankrupted. This factory was in the small town of Thomaston, in central Georgia, and is now one of several factories American Blossom owns.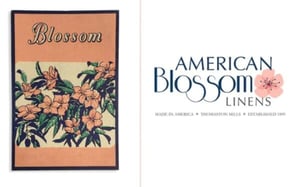 By the time the Thomaston factory was acquired by American Blossom, the textile industry in the United States had witnessed a transformation. A total of 516,000 textile industry jobs were lost from 1990-2016, according to statistics compiled by the U.S. Bureau of Labor. This had serious economic consequences for textile towns in the American South, where communities largely relied on manufacturing for jobs.
American Blossom Linen's decision to stay and grow in the U.S. was a game-changer for people living in the cities surrounding their factories and fields. Residents there could keep the jobs that were familiar to them while enjoying the perks of working for a small, family-owned company.
Janet and the other current owners of the family business wanted to expand her grandfather's company to direct-consumer retail. American Blossom makes a good portion of its revenue as a linen distributor, still working with the government and healthcare, but now it offers the same high-quality sheets to consumers through its website.
Organic Linens for Conscientious Couples
American Blossom offers an assortment of linens on its website. All products are eligible for free shipping within the United States. The folks at American Blossom are so certain couples will appreciate the high-quality and supreme comfort of their bedding that they have a 2-year guarantee within which customers can return the product for a full refund.
A selection of organic cotton sheet sets and separates are sold online. Couples searching for new sheets can choose between the dye-free set, a set with decorative piping, or the classic American-made organic cotton sheets. All sheet varieties offer the highest level of comfort and airflow.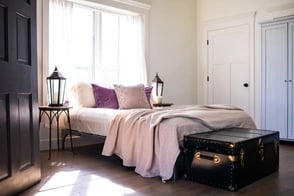 Customers who want to upgrade one piece of bedding at a time can buy just a fitted sheet or flat sheet and build their collection from there. Pillowcases are another great product for couples who don't have room in the budget for a full sheet set but want to elevate their sleep game. American Blossom's organic cotton pillowcases come in classic and dye-free styles and are sold in packs of two.
Wool pillow and duvet inserts from American Blossom are made in a 112-year-old Michigan factory. Janet describes these products as heirloom quality, meaning they are designed and constructed to last a lifetime. The covers for both of these products are made from organic cotton grown in the U.S.
For couples who are trying to make their bed as aesthetically pleasing as it is comfortable, American Blossom's collection of duvet covers and throw blankets in simple, muted colors is perfect for a cozy bedtime ambiance.  Their cotton and wool throws with beautiful herringbone designs are a charming accent for a bed or couch.
The towel selection includes luxurious and oversized bath towels and hand towels. These towels are plush and soft, won't fray or tear, and bring 5-star hotel luxury to the home. All towels are free from synthetic dyes, are fully machine washable and dryable, and are made to last a lifetime.
American Blossom Linens makes products designed to last a lifetime. In a world where many products are cheaply made and meant to be replaced within five years' time, American Blossom knows that quality that lasts a lifetime is a big selling point. 
Why Good Sheets Matter
Janet admitted she may be biased, but she thinks cotton gives you the best night's sleep. "Microfiber has polyester, meaning it barely breathes at all," she told us, "and with microfiber, you're definitely going to have to replace the sheets after some wear and tear." The organic cotton products American Blossom offers are meant to be slept on for years.
So what does organic cotton even mean? And why does it matter? The cotton American Blossom uses is grown in the West Texas High Plains by the Organic Growers Co-op. This co-op is a collective of organic farmers who have been farming without pesticides since the early '90s. They use non-GMO seeds and regenerative farming practices that protect the soil and promote conservation.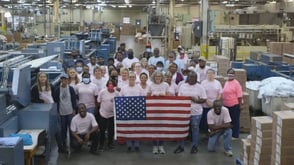 Regenerative farming techniques include crop rotation, cover crops, conservation tillage, and the use of compost and manure. Organic cotton tends to be rainfed, which alleviates much of the burden cotton farming tends to put on water resources. The crux of organic farming is the disallowance of any synthetic chemicals and fertilizers.
This means that when couples buy from American Blossom, they are buying the highest-quality organic cotton sheets on the market while supporting a family-owned and operated business that believes in American jobs and industry. Good sleep is often an investment, and an investment in sheets made to last for a long time is a smart one.
Whether couples want to upgrade their whole bed set-up all at once or want to slowly build piece by piece, American Blossom Linens' selection is a great place to start. Its selection is perfect for environmentally-conscious couples who want to avoid harsh chemicals and support sustainable harvesting processes. "The idea behind all our products is we want to make them feel and look like they're right out of a five-star hotel," Janet said. "Everyone deserves that kind of high-quality."