The Scoop: Elite Dating Managers are a group of online dating professionals who are helping singles find dating app success. The profile and relationship management group was founded by Janell O'Leary after she observed how dating apps could quickly become time-consuming. Elite Dating Managers helps singles create their online profiles, and teaches them how to navigate dating apps and manage their online dating accounts.
Being on dating apps can be a wild ride. I go through cycles of being on and off dating apps. The process usually begins with a little bit of initial excitement about meeting potential romantic connections. It can be exciting to pick out my favorite photos of myself, create a profile, and fill out prompts.
The first few swipes, likes, or matches are usually pretty exciting, and so is messaging new people. I typically go on a very mediocre date or two, and then decide to take a break with the apps. I rinse and repeat that process again and again, usually yielding the same results.
Online dating can lead to burnout. Connections that go nowhere, disappointing profiles, and getting ghosted can make it difficult to find fulfilling relationships through online dating. Sometimes, singles just need a little help to get their profile in tip-top shape.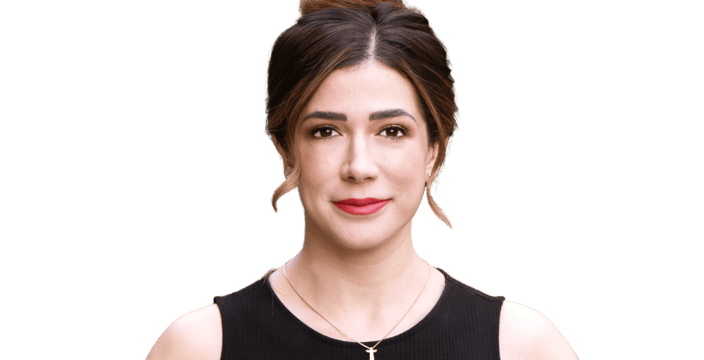 That's where Elite Dating Managers comes in. Elite Dating Managers is a dating profile and relationship consulting group that helps singles who are spending too much time on dating sites without making genuine connections. The experts at Elite Dating Managers help daters create attractive and authentic profiles, navigate dating app usage, and start great conversations.
Janell O'Leary is the founder of Elite Dating Managers and leads the group of dating pros. She talked to us about the group, their online dating expertise, and how they help singles find digital dating success.
"I got the idea for Elite Dating Managers because I was a professional using dating apps, and it became very time-consuming for me," Janell said. 
The Reality of Dating App Burnout
Janell created Elite Dating Managers because of her own experience with online dating. She was a working professional and loved using dating apps. When they became too time-consuming, she realized this was a problem a lot of other singles encountered in online dating.
There are a different set of rules when it comes to online dating. Sometimes, this means that traditional dating etiquette is swept under the rug. Habits like ghosting, or randomly dropping communication with someone, are standard on dating apps.
Dating apps also present a whole new landscape. Dating looks completely different online, and creating a stellar profile is one of the most important steps to have success dating on the internet. Some singles need help making a profile that represents them authentically while being approachable.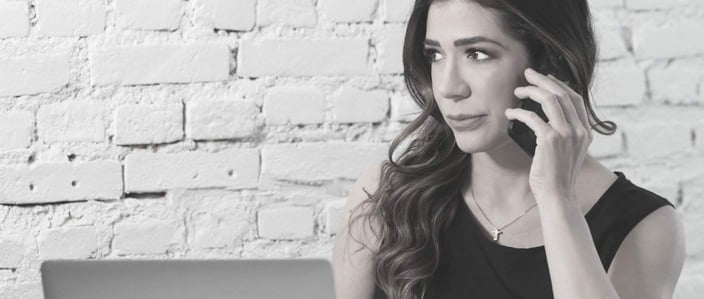 Janell told us that many of her clients are a little older than the average dater and have been divorced or out of the dating game for a bit. They're often confused about all the different apps and sites and how to present themselves while online dating.
"I find that with many of my male clients, they don't smile in profile photos and can look aggressive," Janell said. "Sometimes they present themselves in ways that don't come off as dateable."
She started Elite Dating Managers as a time management service to help singles balance their time while looking for love online. The company grew from there, adding dating app management services, profile consultation, and dating coaching.
Elite Dating Managers Gives Ongoing Support
Elite Dating Managers offers a wide array of online dating services. Janell offers personalized dating consultations to help singles succeed on dating apps. This personalized service is an excellent choice for singles who aren't making satisfactory matches, have questions about online dating, and want to go on more dates.
Janell helps her clients with profile and messaging strategy, selecting the right dating app or site, reviewing the common online dating pitfalls, and discussing dating troubles. She offers expert, high-quality advice and guidance through a fully customized approach.
Consultation offers include one-hour and 30-minute sessions. During these sessions, Janell discusses all things online dating with her clients. They can review their current profile, strategy, photos, bios, written prompts, app choices – the list goes on. Janell can help with every base of online dating.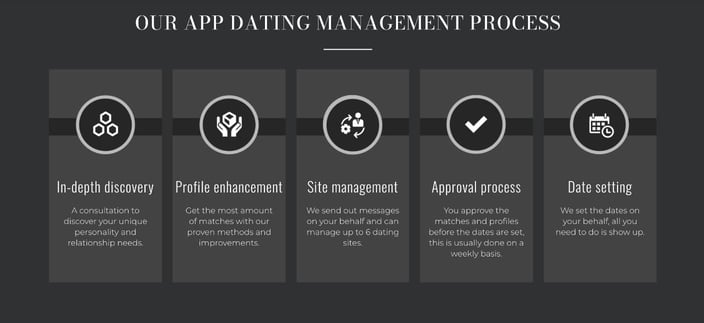 Virtual consultations are a great way to ask Janell a few burning questions. Elite Dating Managers' online dating app management is a service for singles who want a more hands-on and in-depth approach. Janell said this option is perfect for daters who are frustrated with or too busy for online dating.
The online dating management process has several steps. First, Elite Dating Managers has a consultation and in-depth look at a client's current online dating situation. They also get to know the client, what they are looking for in online dating, and details about their personalities and values. 
Elite Dating Managers then helps its clients do profile enhancement, site management, and make matches. Elite Dating Managers will manage all of a single's selected dating sites, reducing the time they spend on dating apps and decreasing the risk of burnout.
Janell told us that the Elite Dating Managers' website offerings are only the tip of the iceberg. "I have my core services there, but I offer a lot more. It's just overwhelming to put it all online in this long menu," Janell said.
Helping Singles Find Online Dating Success
For singles who aren't as familiar with technology, online dating can be a daunting endeavor. While it's easy to become discouraged when dating apps aren't yielding the desired results, daters should keep their heads up.
It can take some time to make a great connection through dating apps. Singles should be patient and trust the process. If online dating is still lackluster after some time, daters can reach out to Elite Dating Managers for help. Janell can give support and guidance with virtually every aspect of dating online.

Testimonials tout the expertise of Elite Dating Managers. David from Spain wrote, "Janell was a fast communicator. She delivered quickly. She gave me some great and personalized pointers for changes to my dating profiles."
Michael from London gave Elite Dating Managers high praise, saying in a review, "I learned more in one hour from a dating consultation with Janell than I have in 20 years of dating on my own."
Singles should reach out to Janell and Elite Dating Managers before they reach dating burnout. She can answer their questions and share the task that online dating often becomes. "My advice is to consult with a professional when you have questions," Janell said. "A lot of singles need honest advice that comes from an outside perspective."