The Scoop: For the past 12 years, biological anthropologist Dr. Helen Fisher has worked with Match to lead Singles in America, a representative study of the dating habits and beliefs of over 5,000 annual single American respondents. Her research shows that many Americans are getting serious about commitment in their relationships. Over her illustrious career, Dr. Fisher has also studied the brain scans of individuals in long-term relationships and developed a neuroscience-based classification system for how personalities affect who individuals date.
Sometimes, it feels like all news is bad news. Murder rates are increasing. The economy is approaching a recession or facing staggering inflation. The housing market is about to collapse, but no one can afford a home. Climate change will bring on the apocalypse in 100, 50, or maybe eight years.
The front-page headlines aren't necessarily wrong; in some cases, they've proven right. But they aren't the whole story. Terrifying headlines make you want to click on them. They scare you into reading the article from start to finish. 
But there is good news out there. It's just harder to find.
Dr. Helen Fisher, Biological Anthropologist and Senior Research Fellow at the Kinsey Institute, wasn't sure what she would find when she supervised the design and interpretation of Match.com's Singles in America study.
"Every year, my colleagues and I create about 200 questions for singles," said Dr. Fisher, the author and creator of The Anatomy of Love, and Chief Scientific Advisor to Match.com. "About 5,000 people answer the questions each time. We do not poll the Match members; we use a nationally representative sample of singles based on the US Census."
But over the 12 years since the inception of the Singles in America study, Dr. Fisher has seen many changes in the way Americans date. Many of them are for the better.
Since 2019, Dr. Fisher has seen changes in how singles think about relationships now compared with their perceptions a few years ago. The overwhelming trend? Singles have started thinking of the big picture.
"The most interesting thing from this year, which I loved, is that singles have grown up," Dr. Fisher told me. "It's post-traumatic growth: Cupid beat COVID. Most are eager to marry now, so they're doing what I call smart dating."
COVID showed many Americans the importance of having a solid support system. It made them realize their physical and financial vulnerability to catastrophe. In the face of the pandemic, many people began to understand what matters in relationships: mutual respect, support, maturity, and of course, love.
Singles Are Growing Up
The COVID-19 pandemic jumpstarted many Gen Z and millennial singles into earlier or accelerated maturity. I know it's true for me, but I'm not the only one. The pandemic sobered many people to practical concerns and made it more important than ever to get their lives in order.
At the start of the pandemic, I more or less lived with my parents when I wasn't at school. With the pandemic, I had to decide to move my life out to the Southeast and to seek a new support system of my friends, family, and, eventually, a romantic partner. In short, I decided to grow up a lot faster than I probably would have otherwise.
When it comes to dating, many singles have started focusing on finding partners with traits that could lead to a long-term relationship. They aren't choosing partners based solely on immediate attraction but on the potential for a joyful partnership that may even stand the test of time. 
In the Match survey, 80% of young singles said they would like a long-term relationship. And 70% of singles overall said they are open to a relationship. Plus, 48% of singles said they're more eager to meet a partner than before.
That's a significant number of singles who are open to relationships. But it is more interesting to see the difference between the number of singles who were open to relationships before and after the pandemic.
"In 2019, 58% of singles said they'd like to meet somebody who wants to marry," Dr. Fisher told me. "In 2022, 74% of singles said they wanted to meet somebody who wants to marry. Singles are settling down."
According to Dr. Fisher and the Singles in America study, singles are willing to look past more of the small stuff when looking for a partner. More than ever, singles are willing to start long-distance relationships, overlook different political affiliations, and even date those to whom they weren't instantly attracted.
"Singles are giving people a chance," Dr. Fisher said. "They're no longer saying, 'I didn't feel any chemistry; it's over. I'm not going to try.'"
How to Sustain Long-Term Love
Wanting to start a long-term relationship is one thing, but maintaining a partnership for the long haul is a whole different beast entirely. Fortunately, people in successful relationships share a few traits in how they think and feel that is backed up by neuroscience.
Dr. Fisher hasn't only researched those looking for love; she's also studied the brains of people already in love. She and her colleagues were the first researchers in the world to study love patterns in the human brain through functional magnetic resonance imaging (fMRI) scans. 
In one of her studies, Fisher and her colleagues scanned the brains of people who were married an average of 21 years; most had grown children. 
"The brain regions that become activated in long-term, happy partnerships are the brain region linked with empathy, the brain region linked with controlling your own stress and your own emotions, and the brain region linked with overlooking the negative," Dr. Fisher said. "That last one is called 'positive illusions,' or the ability to overlook what you don't like about somebody and focus on what you do."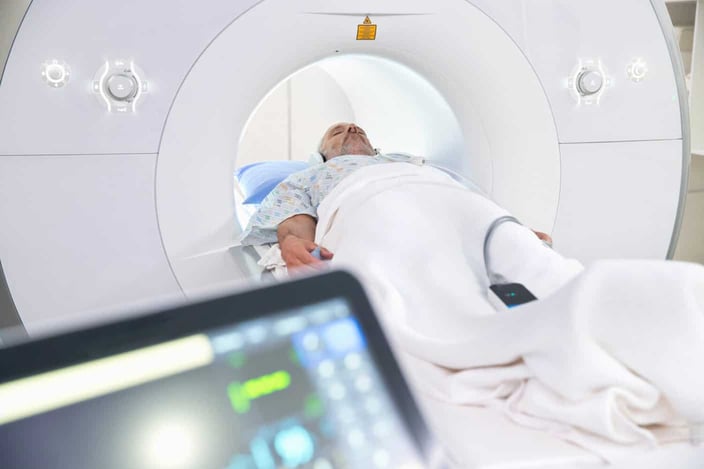 People in serious relationships are more empathetic. They're used to seeing things from their partner's perspective, assuming good intentions, and being considerate of their emotions. 
They're also good at controlling their own feelings and, by extension, their happiness. While they may (and should) lean on their partners for support, they don't consistently take out negative feelings on them or need them to be a constant source of reassurance. They form secure attachments.
Long-term partners learn to overlook each other's flaws or icks. They can handle some annoyances or bad habits because these small issues are insignificant in the grand scheme of their relationships.
It's worth noting that these traits aren't usually innate; they're patterns and habits of thought that increase over the course of a good relationship, sometimes on purpose and sometimes by accident. 
Just because you've been anxious in past relationships doesn't mean that you're doomed to a romantic life of neediness. Just because you couldn't get over your ex's poor interior design skills (or lack thereof) doesn't mean you'll be judgy with the next person. Although, if he passes off used liquor bottles as decor, you may be right to judge.
Dr. Fisher's Research Helps Singles Understand Relationships
Through her research and work with Match, Dr. Fisher has developed tools for singles and couples to gain a better understanding of themselves and their motivations, and why they find themselves in relationships with specific types of people.
She created her own personality questionnaire, which over 15 million people have taken so far. 
By using brain scanning, Dr. Fisher and her team have found four foundational styles of thinking and behavior linked with an individual's dopamine, serotonin, testosterone, and estrogen systems. Everyone uses each of the four styles to some degree, but certain styles are more prominent in some people.
People who are dopamine-dominant are what Dr. Fisher calls "Explorers." These individuals love change, spontaneity, and fun. They tend to be drawn to people who are also Explorers.
Those who are serotonin-dominant are "Builders." They crave routine, order, and discipline. Like Explorers, Builders tend to be drawn to other Builders.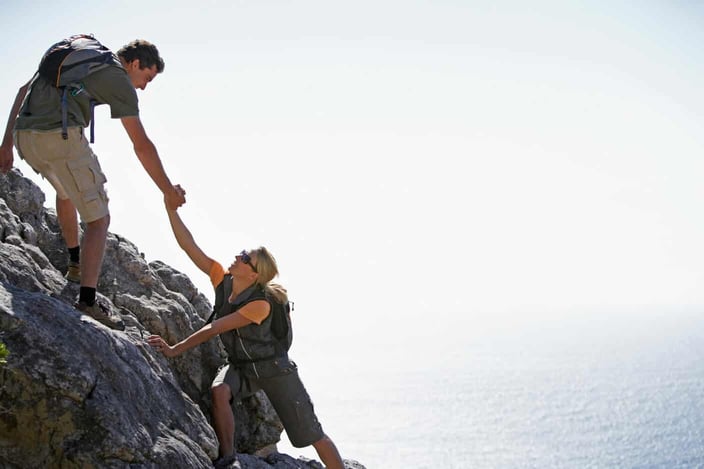 The other two systems are testosterone-dominant and estrogen-dominant. Those who are high in testosterone – the "Directors" — are usually drawn to the estrogen-high "Negotiators." Directors tend to be analytical and logical, while Negotiators are empathetic, intuitive, and good with people.
Most people have a primary system and a secondary system, which influence their beliefs and behavior. My primary and secondary systems are Negotiator and Explorer, respectively. I love to try new things and creative pursuits, but ultimately, my relationships with others are the most important things in my life.
Knowing your dominant systems can help you understand why you date who you date and give you insights into your relationships. It gives you a biological perspective of why you act the way that you do.
"The questionnaire is the only one in the world that was based on fMRI brain scanning," Dr. Fisher told me. "It's based in real science."
There's a lot of information out there about why relationships work and how to choose the best partner. But with Dr. Fisher's suggestions and research, you're getting insights that are based on facts. And the facts are often encouraging.
More About "Smart Dating Insights With the Anatomy of Love's Dr. Helen Fisher (Sep. 2023)"
We hope our guide "Smart Dating Insights With the Anatomy of Love's Dr. Helen Fisher (Sep. 2023)" has been helpful to you in meeting your dating needs. If you're still unsure of your next steps, we highly recommend trying the Match free trial, our top recommended site in this guide. If you're new to Match, here's a brief introduction to the site from our dating experts:
Match.com has come a long way since it launched in April 1995. This well-reputed dating site has honed its match algorithm to identify long-term compatibility and facilitate countless first dates, serious relationships, and successful marriages. Match's esteemed dating experts go to great lengths to guide singles to a seriously good match.
Our experts rate Match a 4.9/5.0 in the Online Dating category, which makes the site a highly-rated option in its niche.
If you prefer to explore other options, see our latest guides for sites like Match, which can help you break down Match's reputation and features versus those of other sites.
Advertiser Disclosure
DatingNews.com is a free online resource that offers valuable content and comparison services to users. To keep this resource 100% free, we receive compensation from many of the offers listed on the site. Along with key review factors, this compensation may impact how and where products appear on the page (including, for example, the order in which they appear). DatingNews.com does not include the entire universe of available offers. Editorial opinions expressed on the site are strictly our own and are not provided, endorsed, or approved by advertisers.
Our Editorial Review Policy
Our site is committed to publishing independent, accurate content guided by strict editorial guidelines. Before articles and reviews are published on our site, they undergo a thorough review process performed by a team of independent editors and subject-matter experts to ensure the content's accuracy, timeliness, and impartiality. Our editorial team is separate and independent of our site's advertisers, and the opinions they express on our site are their own. To read more about our team members and their editorial backgrounds, please visit our site's About page.