The Scoop: People have been attending opera performances for more than 400 years in breathtaking venues around the world. A night at the opera can translate into a memorable date, whether it's a dramatic love story or a lighthearted comedy. The Academy of Vocal Arts, or AVA, has made opera even more accessible for those who don't have much experience with the art form. As the only tuition-free institution dedicated the training of opera singers, the academy presentes three or four fully staged opera productions a season. It even offers supertitles during performances to make opera available for all to love.
Opera started in the late 1500s in Italy with composers often creating comedies for widespread enjoyment or stately pieces for royalty. An opera invitation was probably a good way to impress a date during the Baroque era. Viewers enjoyed the spectacle of elaborate costumes and dazzling sets.
Around 1750, the Classical period began to change some of opera's style elements. The pieces were less extravagant, but the work was still filled with high drama and woven tales based on the daily happenings of the times. That lasted until the Romantic period when the bel canto movement developed to emphasize "beautiful singing."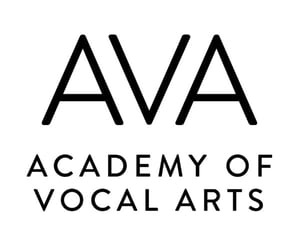 Though opera has a long history, the stories that it tells still ring true today.  Many couples will find performances a special and sophisticated way to spend an evening. Couples who visit the Academy of Vocal Arts (AVA) will see young singers at the start of their professional careers.
One of the most famous opera composers from the early 20th century was Giacomo Puccini, who wrote "La Bohème." AVA singers and actors will perform the timeless classic on the stage in Philadelphia, Pennsylvania, as part of the 2022 season.
"Puccini's masterpiece, 'La Bohème,' is the perfect opera for opera newcomers to see, as it is one of the most beloved operas of all time," said Camille Mola, Director of PR and Communications Manager for AVA. "The music of 'La Bohème' is sublime, and the story is poignant and heartbreaking — definitely a tearjerker!"
Its storyline may even sound familiar to modern theatergoers. Puccini's opera was the source of inspiration for Jonathan Larson's "Rent," which earned a Tony and a Pulitzer and was one of the longest-running Broadway shows ever.
Sharing the Gift of Opera with Audiences and Voice Students
AVA first opened its doors in 1933 as the United States was in the grip of The Great Depression. People struggled to put food on the table, and education — especially voice training for opera singers — was too costly for most people to afford. Talented singers weren't getting the training they deserved, and a Philadelphia philanthropist named Helen Corning Warden wanted to do something about it.
So she gathered her friends and a voice teacher named Edgar Milton Cooke to create the Academy of Vocal Arts, which is still the only tuition-free institution in the world dedicated exclusively to the study of voice.
"Mrs. Warden and her friends established a school for professional singers, and AVA is now in its 87th year," Camille said.
Singers audition for up to 30 slots as Resident Artists who can immerse themselves in the intense study of opera. Currently, 24 resident artists attend AVA.
"They join us from around the globe, from places including Mexico, China, Sweden, and throughout the US," Camille said. "Attending an AVA opera is an opportunity to see future opera stars before they perform on the world's greatest opera stages."
AVA is located on Spruce Street in Philadelphia, in a historic brownstone that was built in 1868-69 as part of the development of the city's famous Rittenhouse Square neighborhood. A grant from the William Penn Foundation in 1996 funded restoration work in the first-floor entrance hallway, the main offices, and the Furness Lounge. "Visitors often marvel at the architecture of the building before heading into our theater," Camille said.
The theater is on the Philadelphia Register of Historic Places. The French Second Empire style home is covered in carved flowers, leaded glass transoms, rare mahogany woodwork, and ornate pilasters that are sure to impress any date.
Dates Can Include Dinner Reservations and Fancy Attire
The Rittenhouse Square neighborhood is home to the AVA theater and some of the city's best restaurants. Vernick Food & Drink, Harper's Garden, or Parc are just some places to consider when planning special dates that include a night at the opera.
"Prior to the opera, treat yourselves to a lovely dinner to make it a fantastic night out," Camille said.
Patrons attending any AVA shows are required to wear masks, per a mandate implemented by the city of Philadelphia. Couples will also need to show proof of vaccination to enter the theater.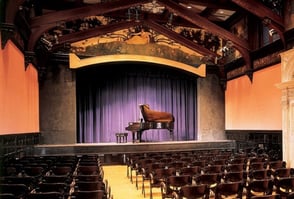 Camille said the performers and theater staff are simply excited to be open again for performances after the struggles many arts organizations have faced during the last two years. Full-capacity performances at AVA have also resumed.
"It was an opportunity for us to readjust and reconnect with our audiences," she said of 2020 and 2021. "We offered several virtual performances and introduced ourselves to a more global audience. But nothing compares to performing to a live audience, which we are so thrilled to do again."
Camille recommends making an early dinner reservation, so couples have time to settle into their seats before the performance begins. Guests who arrive early will be thrilled to hear the orchestra tuning up before the curtain lifts.
AVA: Making Opera More Accessible to Everyone
Camille said some people find opera intimidating. That's why AVA works to make it accessible to everyone. Its performances include supertitles that translate the lyrics, making it easier for all guests to follow along with the plot.
"I hope every once and a while everyone stops reading the supertitles and just lets the music wash over them — you'll know exactly what's going on," Camille promised.
In 2022, AVA plans to host a special performance of "La Bohème" for young professionals, with tickets priced at $25.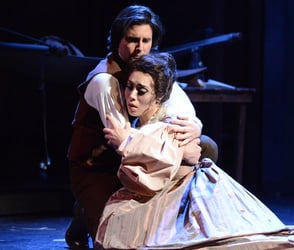 "Opera is for everybody, and we want all of our audience members to feel comfortable and welcome," she said. "For couples who have never been to an opera before, this is a wonderful opportunity to experience something new together in the most intimate venue in Philly."
Along with Puccini's masterpiece, the academy will also present Tchaikovsky's "Eugene Onegin." Visitors can view the season calendar online, where they can also purchase tickets. Past seasons have included performances of "Le Nozze di Figaro," "Cosi Fan Tutte," and "Grand Passions," among many others.
The goal is to spread the love of opera, especially to people looking for a sophisticated and romantic escape from the drudgery of Netflix and pizza.
Whether someone is an opera enthusiast or experiencing the art form for the first time, there's something magical about hearing budding talent. More than 50 resident artists at the AVA have gone on to join the Metropolitan Opera. Even more impressive, AVA alumni now perform in opera houses around the world from Palm Beach to Barcelona and everything in between.  
"Knowing that the future of opera is being fostered within our walls is inspiring and motivating," Camille said.