The Scoop: Going through a breakup is one of the most painful experiences that an individual can expect to experience in their adult lives. Yet there are few serious resources dedicated to helping the heartbroken heal. The team at the Mend app wants to change that. Its breakup recovery program uses audio recordings and self-check-ins to help the newly single person get through their breakups.
Anyone who has been through or witnessed a breakup knows how devastating it can be. The pain of losing a relationship with someone who you loved and pictured as a life partner can be excruciating. It can seem as if your sense of self and direction has been ripped out from under you. Worse yet, you may even feel that your anguish is a consequence of your own actions or behavior in the relationship. You may blame yourself.
The vast majority of adults have experienced a breakup in their lives. Romantic heartbreak is such a common experience that its significance can be downplayed. Going through a first breakup as a teenager or young adult may feel like the worst hurt you have ever felt. Yet the universal tale of ill-fated young love can lead some adults to dismiss the young person's feelings as childish, trite, or fleeting.
While the heartbroken will (hopefully) eventually get over their feelings of loss and grief for their ended relationships, those feelings are no less real and significant in the moment. Going through a painful breakup can be traumatic, and that trauma needs to be processed. 
The creators of Mend understood this need to process the pain of a breakup. That's why they created Mend as an app and online program that help the heartbroken heal and grow in the face of a lost relationship. The online program offers on-demand access to a library of nearly 400 audio training sessions and accompanying journal prompts.
Originally a newsletter created by founder Elle Huerta, the app focuses on the journey of self-care, complete with daily check-ins, a place to log their healing activities, journal prompts, and daily audio training sessions.
By using the Mend app or online program, the team hopes "Menders" can get through their heartbreak and grow as individuals. 
"Breakups are painful, there's no way around that, but they also present us with a really big opportunity," Kat Torres, CEO of Mend, told our team. "It's one of those experiences in life that can be so transformative. The benefit of becoming a Mender is that you have a supportive guide and companion on that journey."
Turning Pain Into a Chance to Grow
The team at Mend wants those going through a breakup to look at the loss of their relationship as an opportunity to grow as an individual. Breakups give people a time to look inward and focus on taking care of themselves instead of constantly worrying about others. 
When you're in the middle of a breakup, it can feel like you're never going to get through it. The pain can seem infinite. But in reality, people will bounce back from the heartbreak with time and care. Those who enroll in a program like Mend have already taken the initiative to heal faster. When you commit to your healing journey, you give yourself an extra edge in the process.
"Menders are incredibly resilient people," Kat said. "I'd say that's the one thread that ties all Menders together: their resilience. They're committed to turning a painful experience into an opportunity for personal growth."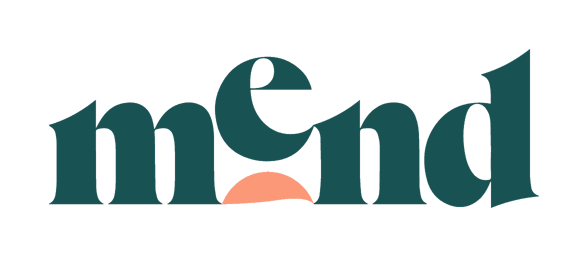 Of course, even the strongest people will struggle through the pain and loss of a breakup. There is no shame in getting help from friends, family, and services like Mend. Asking for help is not a sign of weakness or the inability to recover, but rather a show of a person's agency in healing from their present situation. 
Being kind to yourself as you grieve is incredibly important to the healing process. The team at Mend emphasizes the importance of self-compassion for anyone experiencing a breakup. "We go through such a range of emotions after a breakup, and they're all completely normal," Kat said. "But sometimes we can be so hard on ourselves about feeling the way we do, and that definitely doesn't help us move forward. We have to allow ourselves to go through the feels."
A Burnout Program That Encourages Resilience
While heartbreak is one of the most common and gut-wrenching forms of emotional trauma, it certainly isn't the only type of trauma. Since the start of the COVID-19 pandemic, burnout has been on the rise for many adults. It's not uncommon for people who have spent years grinding away at a job without taking necessary time to recharge and work on mental health to become undone. 
Much like going through a breakup, managing burnout is made more difficult by the lack of space for individuals to process and heal. Most people cannot afford to stop working while they recover, so they continue to struggle with their emotions.
The Mend team understands how necessary it is for people experiencing burnout to have a space to recover. In addition to their breakup recovery program, the team now has a dedicated program to help people recover and heal from burnout. "Launching a burnout program in 2020 felt like a really natural expansion for us," Kat said. "And with burnout being as prevalent as it's been over the past few years, we're really focused on how we can best support burned-out Menders."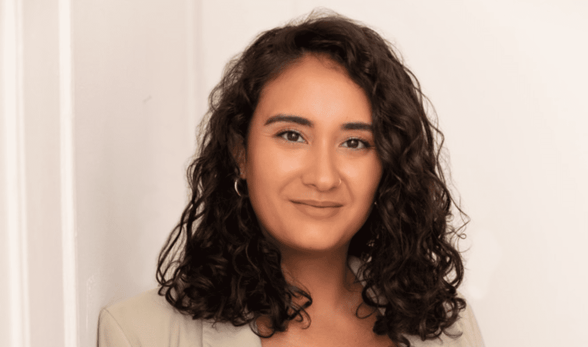 The audio recordings are beneficial for individuals experiencing grief unrelated to burnout and breakups. "Some Menders have shared that using Mend has not only helped them process their breakup, but also other forms of grief they've experienced, like the loss of a friend or family member, or losing their job," Kat said. "It really speaks to how helpful the tools you learn as a Mender can be in other areas of your life beyond breakups."
Mend is a useful tool that promotes self-care for people who are dealing with grief. But the team also knows how important it is for individuals experiencing some form of loss to find community. That's why Mend is relaunching a retreat program so Menders can meet in person and heal together. "It's a great opportunity for a small group of Menders to get together, unplug for a few days, and refocus their energy on themselves," Kat said. 
Whether you're experiencing burnout, a breakup, or another loss in your life, you can find support in the Mend community.
Mend: Curated for Your Needs
Using a breakup recovery program is a fantastic way to get through the loss of a relationship ending. You can find support privately, without the cost of seeing a therapist or the expectations that come with relying exclusively on friends and family to meet your emotional needs. At the same time, some people struggle with the one-size-fits all model in automated programs. Breakups are deeply personal, as is the healing journey. No two experiences of heartbreak are the same.
The team at Mend recognizes how deeply individualized breakups can be. "I'm most excited about the on-demand version of our heartbreak program that we recently launched," Kat said. "It's a self-paced online program, so Menders are able to curate their own experience, which is great because there are so many ups and downs on the mending journey and it's helpful to be able to select the training that you need most on any given day."
Mend now offers both an iOS app and online programs. They have the same audio training content but offer different experiences. The iOS app offers features like daily check-ins, logging healing activities, tracking your breakup and no contact days, and a daily audio training and journaling. The Online Program offers on-demand access to a library of nearly 400 audio training sessions and accompanying journal prompts for self-reflection.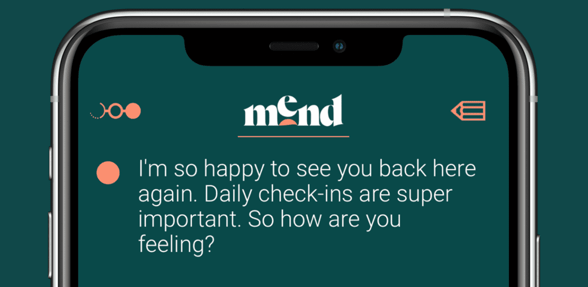 When going through a breakup, it can often feel like you take one step forward then two steps back in your healing process. But Mend is there to meet you where you are on any given day. The curated experience is designed to help you get through the hard days and celebrate the good days. 
Kat said she thinks it's important for people experiencing a breakup to embrace the tiny steps they take forward in their healing process. "When you're mending from heartbreak, the grief can often overshadow the progress you've made," she said. "Give yourself a few minutes each day to honor even the smallest step forward that you've taken. Celebrate every single step forward no matter how small you might think it is because I promise you, it makes a difference."