The Scoop: Intimately Us is an app helping married couples reintroduce fun to the bedroom. The app includes conversation prompts, intimacy challenges, bedroom games, and the opportunity for couples to connect with each other on a whole new level. Dan and Emily Purcell co-founded the app after discovering how much a vibrant sex life strengthened their marriage, family, and faith.
How are you supposed to have good sex if you don't know anything about it? Many people from conservative backgrounds in the United States go most of their lives with limited knowledge about sex. If they get married, this lack of knowledge can cause some marital problems.
After all, sex within marriage is about more than making babies. It's also about maintaining and reinforcing intimacy between the married couple. Healthy, fun, and exciting sex in marriage only brings couples closer.
Dan Purcell is the co-founder of Intimately Us, an app that's helping married couples who may not know a lot about sex find connection in their sex lives. Dan founded the app with his wife, Emily, who are both Christians from conservative backgrounds.
He told us about the app and how married couples can use it to learn more about sex, try out new things, and grow closer, all in a wholesome and safe environment.
"In my own marriage, we had a great friendship and a happy marriage, and we felt like we had done a lot of things well," Dan said. "But when it came to sex, it was always an awkward conversation. Neither of us had a good sex education, and just didn't know what we were doing."
Vibrant Sex Lives Make for Healthy Marriages
Dan told us that while his marriage was wonderful in so many ways, he and his wife didn't necessarily find an intense connection during sex. "We knew how to make babies, and that's about it," he said.
Everything changed when a family friend opened up to Dan about his and his wife's sex life. He said that he and his wife had been putting more effort into their sexual relationship, and so many good things came from it.
Dan said his friend didn't share this information in a boastful way, but rather in a way to express just how putting more effort into their sex lives had reaped impressive results. Dan said he was a little embarrassed at first, but his friend's forthrightness inspired him. He realized there was something very important missing from his marriage.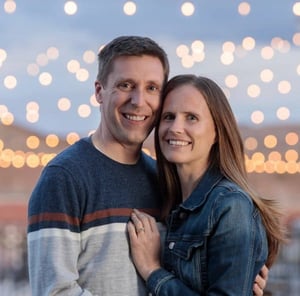 "This conversation rocked my world," Dan said. "Seeing this couple that's really thriving in their sex lives made me realize mine was stagnant. We never talked about sex specifically, only in the abstract, and there was often shame around it."
With the realization that better sex leads to a stronger relationship, Dan and his wife decided to begin to make changes. But Dan said it felt like a huge mountain to climb. 
They had to unlearn a lot of things they had been taught about sex, and Dan said deconstructing harmful ideas around sex in marriage brought him and Emily to an important realization.
They realized that deeper pleasure and connection in marriage through sex was critical in upholding their faithful, Christian marriage. With closer sexual intimacy, the two found that their relationship flourished in new and wonderful ways. Sex became fun, passionate, and, most importantly – connective.
Dan, who has a background in app development, decided to create a tool that he and his wife would have found incredibly useful in the first stages of their journey to better sex. What came out the other end was Intimately Us.
Combining Fun, Connection, and Education
Intimately Us is an app that combines fun, connection, and education specifically geared toward married Christian couples. The app helps couples play, discover, dream, and learn together, and is available on the App Store and Google Play.
The app is 100% clean, meaning no nudity, porn, crass or raunchy material, making it ideal for Christian couples.
"Intimately Us is a bedroom game, and while it's not original, I made it so it was the kind of app my wife and I would want," Dan said. "We released it, and to our surprise, it was really popular."
One of the main features of Intimately Us is the play feature. The play feature presents couples with fun bedroom games that they can customize to their comfort level. Bedroom game prompts include suggestions like: "Describe in detail your two favorite parts of your spouse's body" and "Gaze into your partner's eyes. No touching."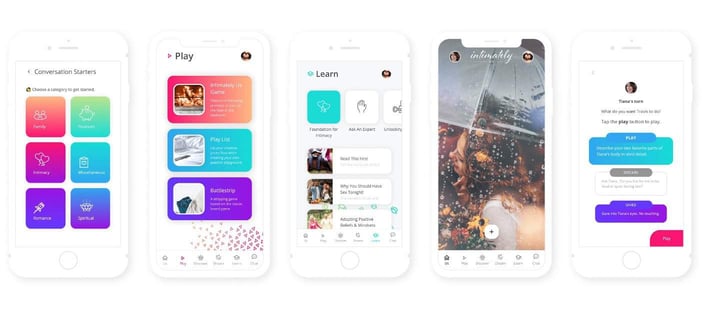 The app's conversation starters include topics beyond sex, like family, finances, intimacy, and spirituality. Dan said that intimacy is more than just sex, and since Intimately Us is attending to the whole of a married couple's intimacy, there are plenty of topics to discuss within the app.
Dan said that one of the most important features of Intimately Us was the learn section. That's where couples can find reliable and safe information about sex and relationships. This information can help them understand how they've engaged with sex in the past and what changes they would like to make in the future.
Intimately Us helps married couples change the tone and conversation around sex. "A lot of times when couples have sex, it's too much about work and not about play," Dan said. Intimately Us is giving spouses the opportunity to rediscover the fun that can be had in the bedroom.
Creating Intimacy in the Bedroom and Beyond
Dan said that Intimately Us changed the course of his and Emily's lives. "Since the app launched, I've had a big career change. I now work with couples and help them in their marriages and relationships as a relationship and sex coach."
Beyond Intimately Us, Dan and Emily founded a digital platform called Get Your Marriage On. The mission of the platform is to improve intimacy in marriage with sexy apps, helpful podcasts, hands-on coaching, and in-person events.
Get Your Marriage On offers other apps for couples. Just Between Us is a secure, private, and flirty messaging app for couples, where no one can see your messages other than your partner. Anatomy of Marriage is an app created by marriage counselors to bring couples closer through science, therapy, and plenty of useful tools.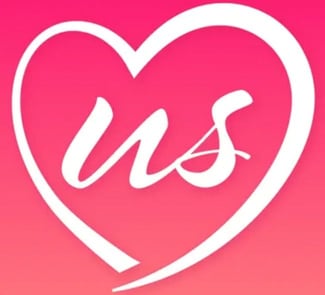 Dan gave us some advice he has for couples who are having a hard time connecting through sex. "Most of the time, it's coming from a scarcity mentality. Sex is rare, which creates anxiety, and couples often also deal with differences in sex drives," Dan said.
"So the biggest piece of advice I have is to understand your relationship dynamic and to understand and reflect on how you approach sex within that dynamic. After that, pursue a well-rounded sex education."
Testimonials from married couples who used Intimately Us rave about the ways the app transformed their sex lives. One reads: "This is by far the best sex app for Christian couples! Sparks are flying, and we've never felt so close. Thank you!"
With the right mindset and proper dedication, married couples can turn around a decaying sex life and transform it into something amazing.
"Couples should experience that feeling of closeness during sex, that feeling of being seen and known," Dan said. "We want to help couples capture that."